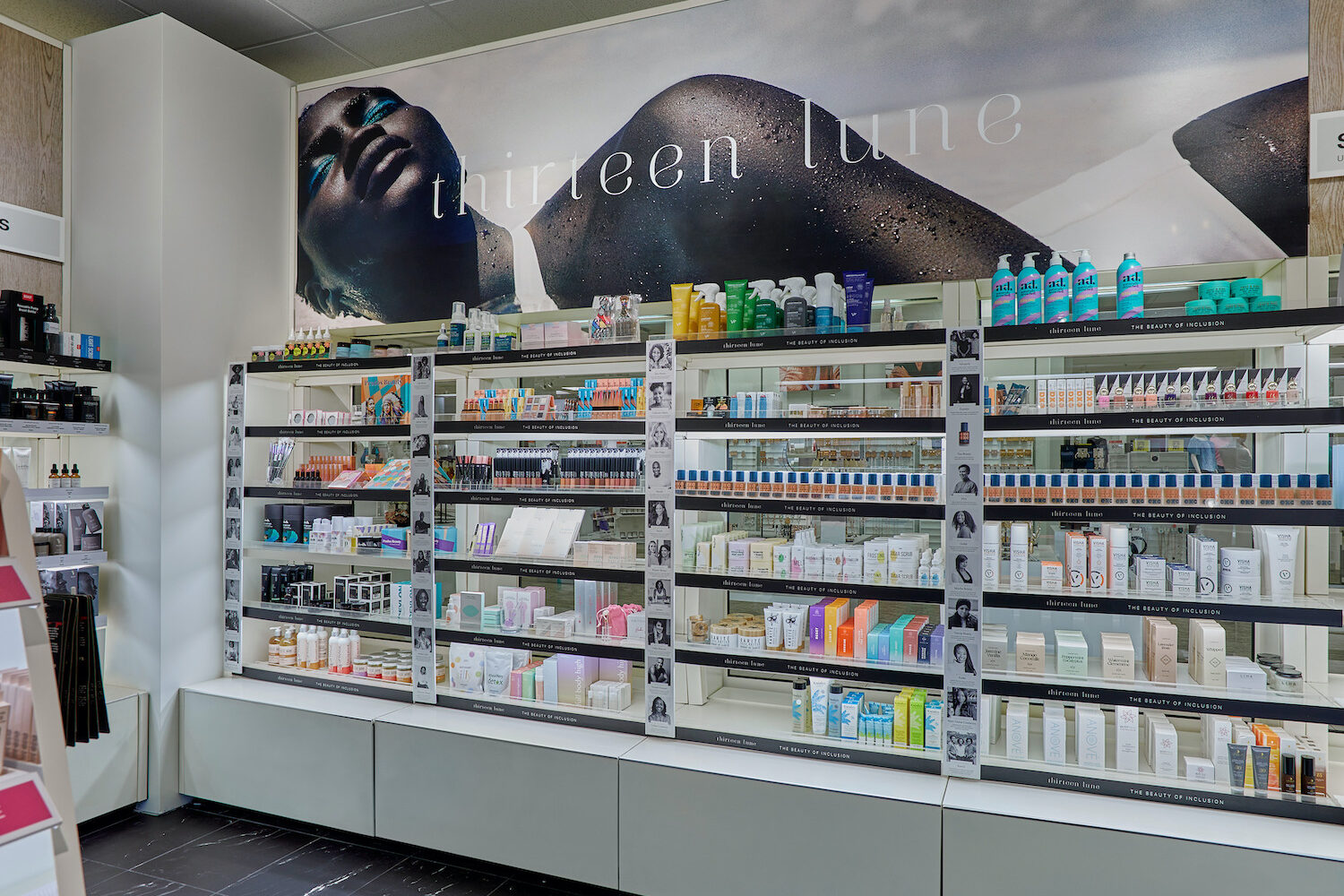 Thirteen Lune Closes $8M Funding Round
Update: Inclusive beauty e-tailer Thirteen Lune has closed an $8 million seed plus round to bring the total amount of funding it's raised to $12.5 million.
Funds from the latest round, which BrainTrust Founders Studio participated in, will go toward driving its presence online and in brick-and-mortar as well as Relevant: Your Skin Seen, its in-house brand. Thirteen Lune started as an e-commerce destination, but has rolled out selections at J.C. Penney and has a standalone Los Angeles flagship in Larchmont Village on the way.
"Since we launched Thirteen Lune in 2020, we've had the honor of helping to shape the landscape of inclusive beauty," says co-founder Nyakio Grieco. "With this funding raise, we'll continue the expansion of Thirteen Lune across channels, ultimately working to support and uplift the next generation of BIPOC entrepreneurs."
Thirteen Lune has experienced 2,000% year-over-year growth and reports it will become profitable in 2023. Last year, it informed Beauty Independent it would be in 300 J.C. Penney stores at the outset of this year and 600 stores by April, representing a 6,000% increase.
In 2021, Thirteen Lune closed a $3 million funding round led by Fearless Fund. Along with Fearless Fund, the venture capital firm from Arian Simone, Keshia Knight Pulliam and Ayana Parsons that focuses on women of color founders and has backed Range Beauty, Hairbella and Amp Beauty LA., Capstar Ventures, Fab Ventures, Swiftarc Beauty Fund and Gaingels participated in the round.
Prior to the $3 million round, Thirteen Lune raised $4.5 million over two rounds. Previous friends and family investors include Gwyneth Paltrow, Sean Combs, Naomi Watts, Beautycounter CEO and founder Gregg Renfrew, Mèche Salon principal and colorist Tracey Cunningham, venture capitalist Patrick Finnegan, The Urban and The Mystic co-founder Sydney Holland, and Nicole Avant, a former United States Ambassador to the Bahamas.
Grieco says she's been raising money for the greater part of the last 18 years, but the $3 million round was especially meaningful to her. "To have the opportunity for Fearless Fund to be leading this round, and it be founded by Black women is a testament to the way the world is moving," she says. "It's so validating as a Black female founder and co-founder to be able to have people lead the charge in helping fund a company that is doing good and can build a profitable and sustainable business at the same time."
Grieco launched Nyakio Beauty in 2002 as a brand based on her Kenyan family members' beauty secrets. It was sold to Sundial Brands, which is now part of Unilever, in 2016. The acquisition enabled Nyakio Beauty to expand its range of skincare products. Target picked up the brand in February 2020.
Grieco shares the biggest hurdles in her entrepreneurial journey have stemmed from a lack of access to capital. "I've had to step away from my business for sometimes years on end to just solely focus on getting small checks so that I could meet my inventory so that I could expand my innovation," she says. "When I looked around at my colleagues and other people I've grown up in the beauty business with that don't happen to be Black or brown—and it was tough for a lot of the women don't get me wrong—the trajectory of their businesses over time with that support of strategic partners and the right capital helped them to get to success quicker."
Financial statistics illustrate the rare company Grieco is in having raised millions of dollars. Of the $130 billion raised in venture capital funding in 2018, less than 1% was allocated to businesses founded by women of color, according to nonprofit Digitalundivided's ProjectDiane. Before 2021, only 93 Black women had raised more than $1 million in venture capital funding.
While the funding process isn't getting much easier, Grieco believes there have been improvements. "The paradigm shift comes from more investors that look like me creating funds and having the ability to see us in a way that maybe I hadn't been seen in my career previously when it came to investment," she says, noting that Black and brown women over-index on beauty spending. "From an investment in a business standpoint, it's a really smart move."
Thirteen Lune's earlier funding was poured into building out a robust executive roster, shoring up its supply chain and producing its in-house collection of products. Grieco says she's interested in filling "holes where I think there's still opportunity to speak to all, but to really focus first on melanin-rich skin and textured hair." Thirteen Lune was seeking a head of supply chain and operations in 2021, and Grieco notes the company is hoping to hire employees reflecting its diverse mission.
"Putting all your eggs in one basket to do the right thing is a really good business move."
Grieco developed Thirteen Lune with 11 Honoré founder and CEO Patrick Herning. The idea was sparked amid the Black Lives Matter movement in the wake of the George Floyd's murder when Grieco struggled to shop for Black-owned brands in one place. On Thirteen Lune, 90% of the brands are by Black and brown founders. The other 10% are so-called "ally" brands that Thirteen Lune deems as having consistently shown inclusivity in products and messaging.
Its selection began with 13 beauty brands and has ballooned to 90-plus indie and established brands spanning skincare, haircare, cosmetics and wellness. Grieco says Thirteen Lune's 2021 revenues increased 100% from online sales alone.
A huge moment for the company took place last month upon the launch of its partnership with the retailer J.C. Penney, where it assisted with the curation of the selection in 10 in-store shops introduced in 2021. Grieco always envisioned Thirteen Lune to be omnichannel, but the original plan concentrated on its own brick-and-mortar stores. The plan shifted when Grieco received an email from J.C. Penney 90 days after Thirteen Lune's debut.
She says, "I'm just so proud that I and Patrick were able to create something that could truly, truly change the face of beauty retail and show that putting all your eggs in one basket to do the right thing is a really good business move."
Grieco's also proud of the brands she's been able to bring along for the ride. Coming up on Thirteen Lune's first anniversary next month, she just signed on the site's 100th brand, Plantkos. She highlights Prados Beauty, Sarah Happ, Bomba Curls, Switch2Pure, Shaz & Kiks and Buttah as among the standout brands carried by Thirteen Lune. "Finally, at 48 years old, I'm realizing exactly why I chose this crazy beauty industry," she says. "Now, I truly feel that I'm living in my purpose."
This article was originally published on Nov. 3, 2021.