The Next Beauty Industry Unicorn? Thrive Causemetics Is Quietly Building A Major DTC Business
Established a year after Glossier, direct-to-consumer beauty startup Thrive Causemetics receives little of its cool-girl hype. While Glossier sells aspiration in a minimalist package, Thrive exudes relatability from its signature turquoise tubes. If you haven't heard of the philanthropic vegan cosmetics brand, it might be because Thrive hasn't reeled in big-time investors, plastered cities with billboards, popped up to fuel Instagram posts or paid famous social media gurus to plug it. "It wasn't an influencer shout-out that put us on the map. It was the everyday woman who's working 9 to 5 and being a badass," says Karissa Bodnar, the 29-year-old founder of Thrive. "They influence us in the product development process, and they influence each other by spreading the word about the products they love."
Thrive is perhaps the beauty industry's most low-key breakout brand. Although it remains under-the-radar, one of Thrive's bestselling Liquid Lash Extensions Mascara products is snapped up every nine seconds, and it's turning into a rouged Robin Hood, doling out goods and money when societal and environmental problems demand action. The brand dedicated $25 million worth of merchandise to more than 50 organizations fighting cancer, domestic abuse and homelessness to mark its fourth anniversary earlier this year and, last year, donated a day's profits of $250,000 to help with California wildfire recovery efforts. Extrapolating based on its single-day donation, Thrive's annual profits surpass $91 million. Beauty Independent chatted with Bodnar about sustaining her brand's growth, being rejected by retailers, hiring an in-house therapist, slowly creating new products, expanding into skincare and whether altruism impacts sales.
How did the brand come to be?
Early in my life, I developed a passion for beauty. I grew up on a farm that was literally on a dirt road in a town outside of Seattle called Stanwood. I didn't have cable. I had lots of animals. I loved the way that beauty made me feel confident, but I didn't have access to makeup stores because they were so far away. The closest makeup store was over an hour away. I would go into the garden and grab whatever I could find to make makeup like spirulina and rose petals that I would mix with crayons to make lipstick. They weren't extremely sophisticated formulas, but I loved creating beauty products.
I started working as a makeup artist as a way to pay for college. I did that up until I graduated. Then, I worked for Clarisonic when it was a small startup. I worked in product development, and it was such a great experience to learn about what it takes to build a company and a brand. At Clarisonic, we were really changing the industry with a device that had never existed before. When Clarisonic sold to L'Oréal, I went to work to work for L'Oréal in its luxury division. I was traveling the world in my early 20s sourcing ingredients and developing formulas in the lab. I was really living my dream job.
I was in Paris for L'Oréal's annual conference, and my friend Kristy called me. She was in Chile teaching English in an orphanage. I had been hell bent on climbing the corporate ladder, and she was hell bent on philanthropy. When she called me, she told me she had something that could be cancer. When you are 23- or 24-years-old, you don't think something like that is going to take somebody's life. Unfortunately, less than a year later, it took Kristy's life.
That caused me to think about my purpose. What's my why? Why am I here? I knew I was born to be in the beauty industry, but there wasn't a brand I could work for where I could also give back the way I wanted. Kristy was the catalyst for me having a carpe diem moment. If I didn't do this now, when would I do it? She inspired me to build a brand that was much bigger than beauty.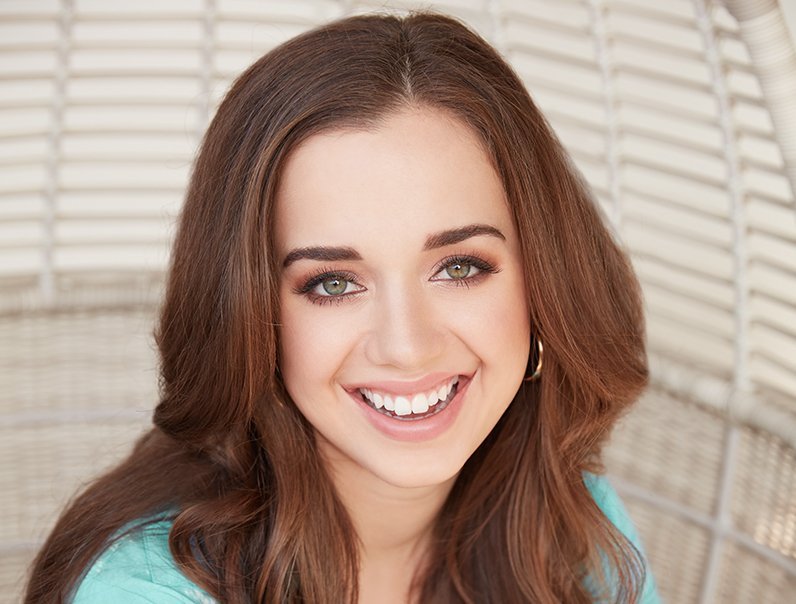 What did you start Thrive Causemetics with?
From the very beginning, I wanted to create a brand that was about more than just selling makeup, a brand that was giving back. My idea was for it to have really high-performance, vegan and cruelty-free formulas. Back when I started Thrive over four years ago, there weren't really products that were vegan, cruelty-free and also high-performance. That was something I wanted to lead with and, for the give-back mission to start, for every product purchased, one was donated to help a woman.
We just had lashes and adhesive. I literally made the adhesive in my blender at home. There wasn't a formula out there that was free of latex, sulfates and formaldehyde that was really waterproof. It's a 24-hour lash glue. It's so strong even though it only has two ingredients. A funny antidote I've heard from Jessica Simpson's team is she will put on her lashes with the adhesive on Monday to fly to New York, be there a whole week, and come back with the same lashes on. It's a very effective product without the latex, sulfates and formaldehyde that can be damaging. A lot of times women who wear lash extensions have to stop wearing them because they develop an allergy to latex. That was the inspiration for our lashes and, ultimately, for the Liquid Lash Extensions Mascara that I was working on at the same time that I was working on the lashes.
How have you evolved the brand's giving program?
Up until November 2018, for every product purchased, one was donated to help a woman thrive. When the horrible fires hit Northern and Southern California last year, I was watching the news on a Saturday, seeing the devastation and thinking that we have to take action. One of the things I love about being an independent beauty brand is that we can act very quickly. We came up with the idea of donating 100% of our profits from one day to help the recovery from the fires. Just a few days later, we were able to donate over $250,000 to help those impacted by the fires.
We are still giving products for every purchase, and we have also introduced what we call responsive giving. We give back in three different pillars: one is to help women emerging from homelessness and reentering the workforce, the second is domestic abuse, and the third is cancer. With work with hundreds and hundreds of charities. We provide them with products that they're looking for and, if they need financial assistance, we partner with them that way.
There are also moments in time where we mobilize whether it's because of a natural disaster or an occasion like International Women's Day. When the wildfires hit, there were animal groups that we partnered with, which was a very natural extension of our brand being that it's vegan and cruelty-free. Animal shelters saved the lives of thousands of animals that had been displaced by the fires.
On International Women's Day, we donated 100% of the profits from sales of our Buildable Blur CC Cream and Blend + Blur Sponge to She's The First. There are 130 million young girls who don't graduate from high school in the world, and that's just staggering to me. The great thing about She's The First is that girls are a part of a program that may allow them to be the first person in their families to graduate from high school. The fact that Thrive can be a part of building the next generation of strong women is one of the most amazing things we decided to do this year.
Do you think your give-back component influences purchasing decisions?
We have data on that from our community. Really, they are purchasing the products because they love the products. Our giving really matters to us, and I wouldn't be doing what I'm doing if I didn't have this incredible desire to give back. I know our employees really care about it. Our community cares very much about the giving, but, if we didn't have amazing products that are very high-performance, we wouldn't have a company.
How many products does Thrive Causemetics have today?
We started with a couple and, today, we have over 100 SKUs. I started working on our CC cream, mascara and eyeliner at the very beginning in my kitchen. In this world of fast fashion and fast beauty, we are taking time to create new formulas. We develop and own the formulas ourselves. I first started developing the CC cream, which was the first inclusive CC cream on the market, in 2015, and it didn't come out until August 2018 because it just took us that long to do. The line has developed to always have really purposeful skin-loving ingredients and super high-performance, and be vegan and cruelty-free. We develop products with our Thrive Tribe, which is our community online. They help test the products. We had thousands of women with different skin tones and types testing the CC cream formula, giving us feedback and helping us fine-tune it until the shades and formula was perfect.
The bestseller is Liquid Lash Extensions Mascara. What really put us on the map was Infinity Waterproof Eyeliner, and that is still neck and neck with Liquid Lash Extensions Mascara as is our CC cream. Those three are really strong with our community. We created Liquid Lash Extensions Mascara with our Thrive Tribe. When it launched, I had high hopes for it, but it sold out in 48 hours. We would have it and, then, we'd sell out. For the first year, we could not keep it in stock at all, and we are just now getting to the place where we are able to satisfy the demand, which I'm so grateful for. It definitely surpassed my expectation.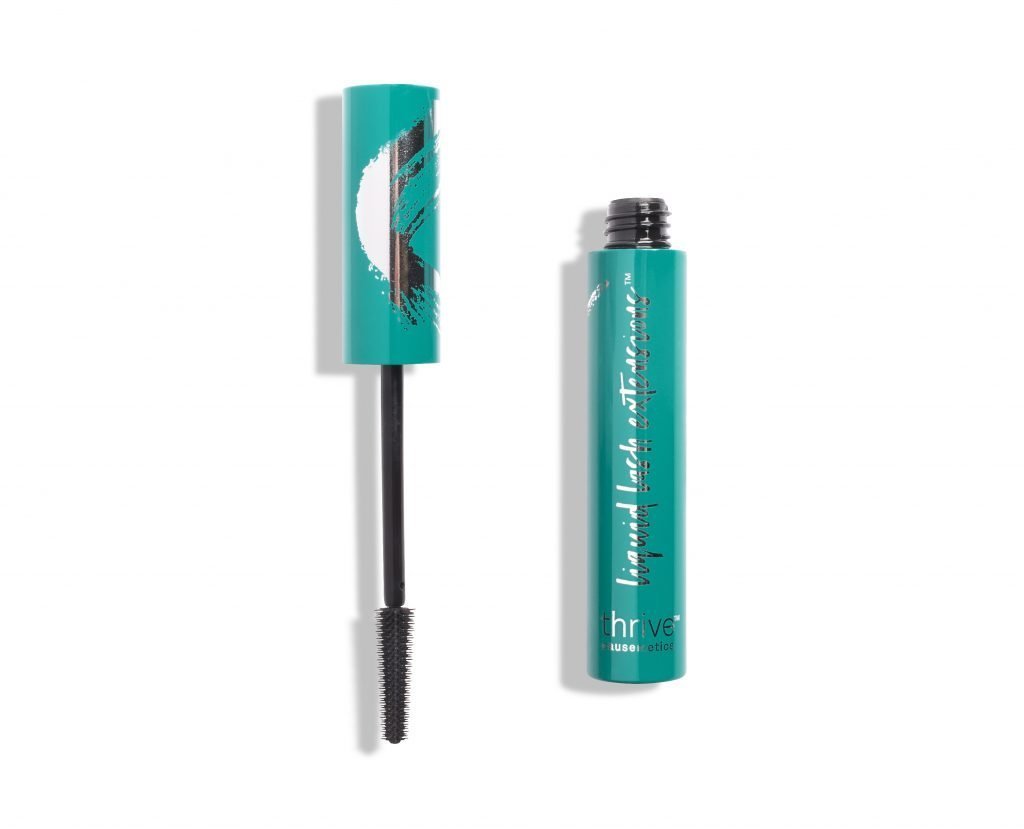 What are areas where you believe there are opportunities for Thrive Causemetics in products?
Due to the feedback from our community, we launched the sleeping mask Overnight Sensation. It's a game changer. Our community absolutely flipped out when we launched it. The loyalty on that particular SKU had been off the charts. Because of the success of that, we have continued to develop our skincare line. I'm really exciting about building our skincare portfolio.
What's your distribution strategy?
If you asked me four years ago, I would've thought we would have built the brand at retail. What wound up happening was we had this incredible community that mobilized online, and it wasn't because of an influencer shout-out. It was because people loved the product and loved that we were giving back, and were vegan and cruelty-free. We couldn't keep up with demand online, and we still struggle to keep up with the demand on thrivecausmetics.com, where we're exclusively sold. Because of the direct connection we have with our Thrive Tribe, we can talk to them about what they are looking for from us. That's been a gift I didn't realize when I was first starting the brand.
What was it like pitching retailers?
Right now, we are very focused on thrivecausemetics.com. We have a rapidly growing direct-to-consumer business, so we're not looking to go into retail. In the beginning, when I was walking in with lab samples and a dream, and running the brand out of my apartment, they weren't particularly interested in partnering with us. It wasn't a bad experience, but I learned a lot.
When did you see the business tick up online?
At the end of 2016, we had this incredible virality with our community. We still had very few SKUs. We didn't even have Liquid Lash Extensions Mascara. It was because of the Infinity Waterproof Eyeliner. They went crazy for it. It started with one woman talking to another woman. We have posts that have thousands of comments of people referring their friends to the products. There was no flash sale. It was really our community coming together.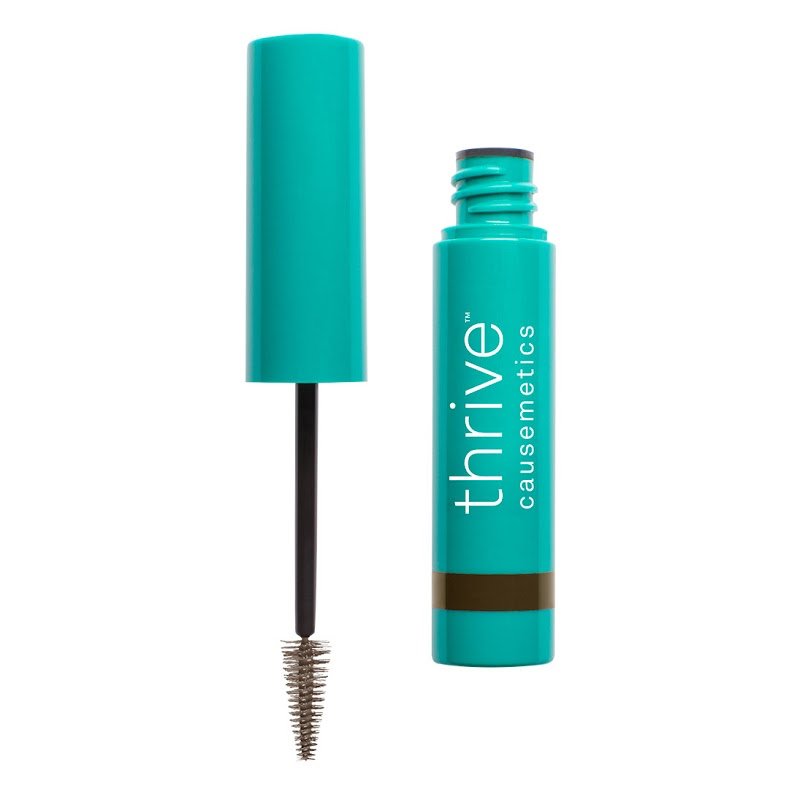 Can the brand keep up the growth it's been registering?
I believe it can. Our customers have built our business very rapidly and profitably. We have been profitable since day one. One of our greatest assets is our community and the way that they are so loyal to us. Once a woman buys our CC cream, she is coming back and buying that in addition to the mascara and perhaps an eyeshadow palette. I think that is because of the thoughtful way that we are creating products with them versus for them. It's really the difference between a monologue, which is the old way of luxury brands, and a dialogue.
In addition to product development, how do you include the Thrive Tribe?
We include them in our giving back. When the wildfires hit, they helped us choose all five charities we gave back to. They helped me name my dog when I rescued a puppy. We name our products after inspiring and powerful women and, a lot of times, those women are in our Thrive Tribe. They are involved not only in helping us create the product, but also name it.
The brand's signature color is turquoise. Why did you select that color?
When I was starting Thrive and, even today, most cosmetics are in black or white packaging. Because we are a beauty brand with a purpose and all of our ingredients have a purpose behind them, I wanted our brand to evoke the feeling of joy. I started researching the meaning behind different colors, and I found out the meaning of turquoise is joy. One of the original mantras we had was, "Joy is the best makeup," and that's the reason I chose turquoise.
People thought I was crazy with a lot of things when I was starting the business, but two of the things that I got the most feedback on was the turquoise packaging and selling the way we are selling online. Those were experts in the beauty industry giving me that feedback, but our community is always raving about the turquoise packaging and how it makes them happy. It's easy for them to find our products in their makeup bags, and we've kept the turquoise because they love it.
What digital outreach has worked for Thrive Causemetics?
What has worked is taking a multipronged approach. I think that, if you just focus on one area of digital—if you have an amazing site, but nobody knows your site exists—then you are going to be dead in the water. We have focused on all of the different touch points. Take customer service, for example. We hire makeup artists and aestheticians to be the ones having direct conversations with our customer. We respond to every DM, and we are getting thousands of DMs. In fact, that is one of our biggest customer service channels. We have live chat on thrivecausemetics.com. We have built a proprietary system that integrates all of our channels to make sure that we know who we are speaking to and the questions she may have asked in the past, so we can be really helpful to her.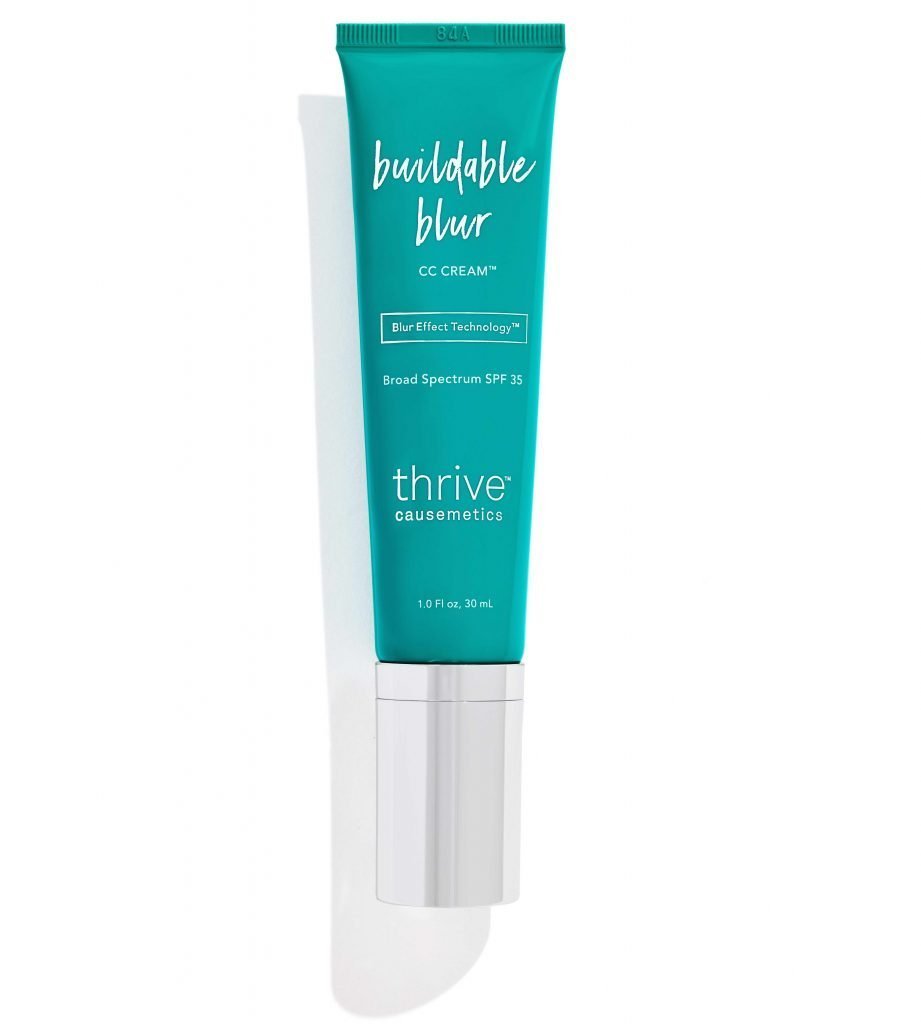 Have you taken outside investment?
I funded the company myself in the beginning, and it was with my life savings of $100,000. Then, [friends and family supplied a] very small amount once we got off the ground for inventory purchases.
Would you be interested in taking outside investment now?
We are growing really rapidly and profitably, so it's not something that we are pursuing.
How has your role shifted?
In the beginning, I was making the products, printing the labels, packing the products into mailers and shipping the products out of my one-bedroom apartment. I was customer service. I was social media. I was digital marketing. Now, we have a team of about 40 employees that are so passionate about what we are building and the way we are giving back. I'm still in the lab making the formulas, and that will never change. I'm at every giving event. I'm very involved in anything that touches our customer. I'm kind of addicted to Instagram Live and Facebook Live. I love talking to our community. I'm still overseeing finance and operations, but I have a team that supports me on that. My priority is always the customers and the product, and I'm very involved in the day-to-day.
How have you found being a manager?
That has been a journey for me. Before Thrive, the biggest team I managed had four people. About a year ago, we hired a psychologist to work for us, which I think is something that is really groundbreaking, not just in beauty, but beyond beauty as well. Her name is Erin Brower, and she's an incredible person, therapist and mentor. She's helped me create the culture that I've always dreamed of. The North Stars for our culture is that we are clear, kind, boundaried and honest. The reason why having someone like Erin is so important is because, if we can make our team members feel that Thrive is a safe place to voice their opinions, we are able to be much more efficient, and people will live happier lives. They will able to thrive outside the workplace and inside of it.
What advice do you have for beauty entrepreneur hopefuls?
Whether they want to build a brand or they are looking to get their dream job, my advice for others who are pursuing their dreams is to focus on their why. My why has always been the women that we are helping. They are the ones that inspire me. Your why is what keeps you going as you are filling customer orders or staying up until 2 a.m. answering customer service emails.