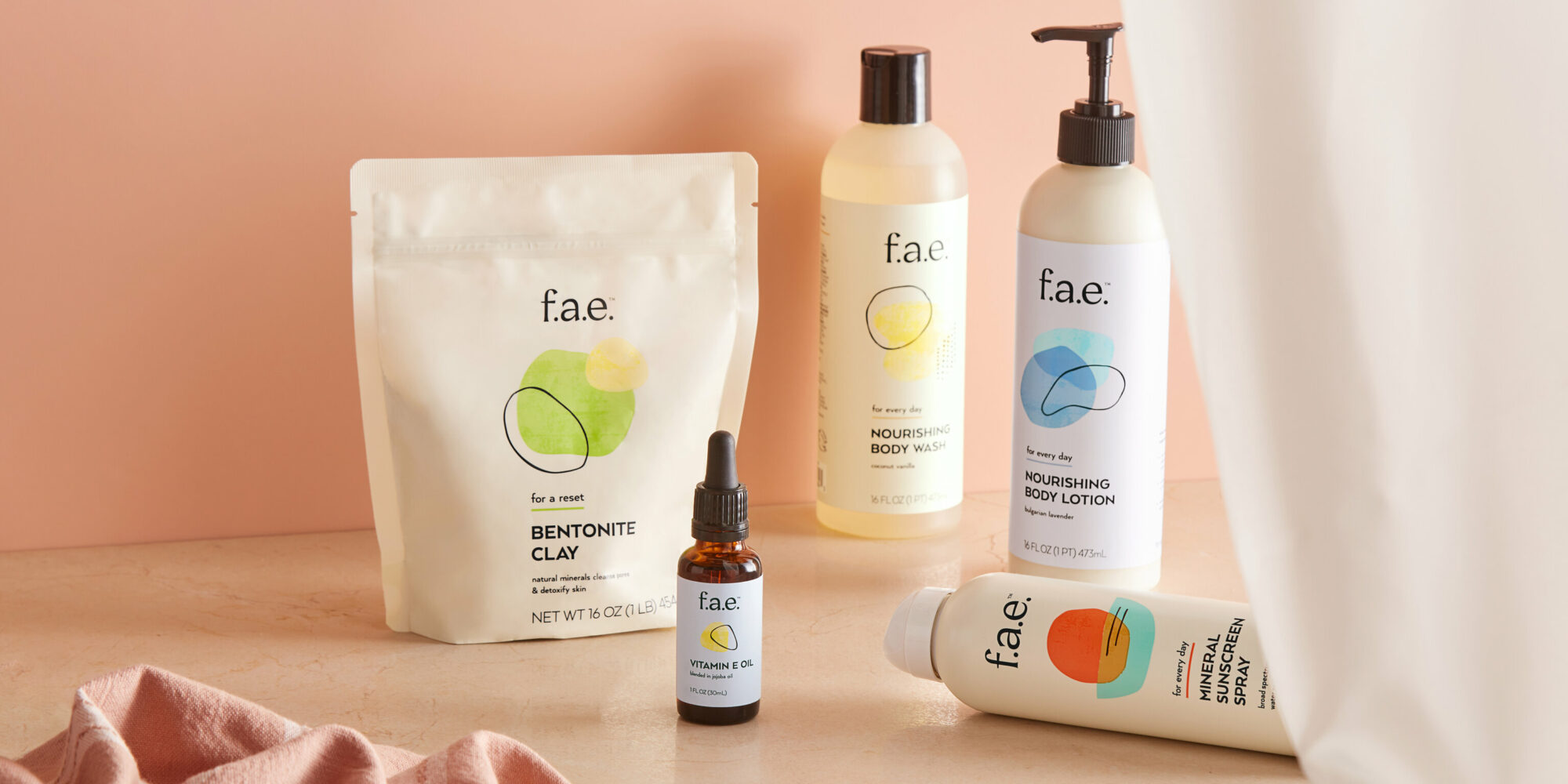 Thrive Market Steps Into Private-Label Beauty With The Launch Of F.a.e.
Thrive Market, the direct-to-consumer members-only retailer aiming to disrupt the $100 billion online grocery industry, has launched its first private-label beauty brand.
F.a.e., which stands for "for all everywhere," features 26 body care, skincare, haircare and sun care products. Among its products are body washes, body lotions, shampoos, conditioners, facial oils and sunscreen sprays individually priced under $15, including over half that ring in under $10. The products don't contain parabens, phthalates, silicones or synthetic dyes and fragrances. 
Christine McNerney, senior director of merchandising for home, health and beauty at Thrive Market, says F.a.e. aligns with the retailer's value proposition. "F.a.e. is an investment into our mission to make healthy living affordable and accessible to all, only now we're going beyond the grocery aisle. We wanted to signal that larger company ethos of being accessible in the brand name," she expounds. "Ultimately, we want to be a clean beauty brand that's made for all everywhere." 
McNerney adds, "Historically, the health and wellness or organic or natural product space has felt a little bit unattainable for consumers, almost like there's a privilege to be able to access those kinds of products," she says. "So, we really want to take that privilege out of wellness, make it easy, but make sure it works."
McNerney believes it was important for Thrive Market to introduce a beauty brand with a broad array of products rather than dabble in a few products per category here and there. "We really wanted to meet our members no matter what step in the beauty routine they were in," she says. "We felt like that spanned across all three categories—skincare, haircare, and body care."
A certified B Corp, Thrive Market started in 2014 as an affordable purveyor of natural and organic foods by selling products at prices around 30% lower than competitors. It soon branched into pet, home, vitamins, baby, personal care and beauty, where its prices generally hover 10% below its competitors on average. It currently has 1.2 million members paying either a $60 annual membership fee or a $12 monthly membership fee. There's no yearly or monthly spending limit for members.
Private label is nothing new to Thrive Market. It's been a core part of its business since 2016, providing members with competitive entry-level price points across its category offerings. The retailer now offers a whopping 700-plus private label products in its assortment. They accounted for a quarter of its 2021 sales. McNerney points to Rosey, a plant-powered home cleaning line, and Wellmade, a supplement line, as particularly successful private-label brands at Thrive Market. 
McNerney emphasizes private label at Thrive Market isn't simply about slapping a label on products. The private-label products are designed to be efficacious and stick to its values. "We feel like we're really building more than just a private-label program," she says. "We are working on what ingredients we want or don't want in the products. We handle the branding, the design, the marketing and what we want the brand to stand for. So, for us, f.a.e. is really our own brand." 
Beauty is a thriving category at Thrive Market. Its third-party brand roster has expanded by 16% to 175 brands since the fourth quarter of 2021. Sales in the category grew 10% between the first half of 2021 and the first half of 2022. Ursa Major, Acure, W3ll People, Hero Cosmetics and RMS Beauty are examples of bestselling makeup and skincare brands. 
To demystify the experience of shopping F.a.e.'s extensive assortment, Thrive carved out four main product categories signaling how and when to use its products. There's For Every Day with everyday essentials, For A Reset with detoxifying and clarifying products, For Hydration with deep moisture products, and For Soothing with relaxation products. 
McNerney's favorite product in the initial lineup is For Every Day Instant Refresh Face Wipes, which retail for $9.99 for 15 wipes. The single-use wipes are made from biodegradable bamboo viscose, and the metal tin they're housed in is reusable and recyclable. Thrive Market members can buy a 35-count refill of the face wipes for $17.99.
"They're waterless facial wipes compressed into a nickel-sized coin. You add a tablespoon of water and then they unravel into moistened facial towelettes," says McNerney. "They're really big and sturdy with a beautiful rose and frankincense aroma. It's a real spa moment." 
Thrive Market developed a comprehensive marketing strategy to publicize F.a.e.'s launch on social media and its owned digital properties. The strategy encompasses category page banners on its website, email blasts, in-app SMS targeting, social media posts and influencer marketing. "It's going be a full launch for us," says McNerney. "We're really excited about the brand and what we think we can do with it."
Thrive Market is hardly alone in private-label beauty. Retailers online and offline such as Grove Collaborative, Sephora, The Detox Market, Credo, Ulta Beauty and Erewhon have taken the in-house brand plunge. As economic jitters multiply in the United States, it could be an auspicious moment for the private-label business to capture consumers trying to stretch their dollars.
F.a.e. went live on Thrive Market's website last week, and certain products are already gaining traction with members. According to McNerney, Nourishing Body Wash and Nourishing Body Lotion, notably in the Coconut Vanilla scent, have been standouts so far.  Up next for F.a.e. is a larger skincare selection as well as beauty tools like scalp and body brushes. McNerney says, "We're going to continue to build out the basics of what people need in their bathrooms."