TikTok Tips From Beauty Brands That Have Gone Viral On The Platform
When
K18
launched its
biotechnology-powered hair treatment
at the height of the pandemic less than two years ago, interruptions to brick-and-mortar retail gave it no choice but to leverage social media to fuel awareness and sales.
To connect with consumers and hairstylists across the globe, it pursued a cohesive digital-first strategy to reach nearly 46 countries within its first year.
"TikTok simply happens to be the leader on the culture," said Suveen Sahib, co-founder of K18 and Aquis, during last Wednesday's episode of Beauty Independent's In Conversation webinar series. "It was about how do we drive inspiration, simplicity and speed in terms of what the brand is, and TikTok simply resonated." According to Sahib, beauty content represents about 7% of the total content on TikTok, and the category has racked up around 33 billion views.
The highly demonstrable effects of K18's hair repair product are ideal for stylists and consumers to create content about. "It was about our stylists and their customers, how they work together," said Sahib. "You could create a lot of compelling hair content through transformations, before and afters, a lot of education. That's when we took a leap of faith and said this is where we want to be investing in versus anything else."
For the webinar, Frances Tang, founder of feminine hygiene brand Awkward Essentials, and Tamika Gibson, founder of wig and lace accessories maker The Hair Diagram, joined Sahib to discuss TikTok best practices and what sets the short-form video app apart from other platforms.

TikTok Versus Other Social Media Platforms
TikTok offers a variety of advantages over Instagram, Facebook, Pinterest, Snapchat and Twitter. For starters, Gibson noted it has a user-friendly interface and simple production tools. "I started creating there, and it was just so much easier," she said. "And there are so many more are tools on TikTok, I basically do everything in TikTok and put it on the other platforms because it's just so much easier for me."
Gibson began tinkering on the app about a year and a half ago at the behest of her daughter, who praised the ease and entertainment value of the rising social platform. While the number of TikTok users (1 billion active monthly global users) trails Facebook (2.91 billion), YouTube (1.7 billion) and Instagram (2 billion), viral moments on Facebook, YouTube and Instagram is less frequent as they've increasingly cultivated pay-to-play content environments. 
Retailers have noticed the platform's power. Sahib divulged that TikTok is the largest traffic driver to Sephora's website. He said, "We were the No. 4 traffic driver on Sephora at launch because of TikTok and engaged content creators who were propagating in the ecosystem."
Content Strategy
If Instagram is the home of curated, filtered content, TikTok is the place for off-the-cuff videos that aim to entertain. Tang pointed out that, when she's too fussy about TikTok production, it tends to turn TikTok users off. She said, "The stuff that goes viral for us, ironically, is the stuff we spend the least amount of time on." A simple video made by an Awkward Essentials gen Z staffer casually talking about how to use Dripstick, the brand's sponge that absorbs excess fluids after sex, has drawn 20 million views and was shared more than 200,000 times.
Tang said brands should lean into trending sounds, hashtags and challenges. "Always have a gen Z person on staff because they know what's popular," recommended Tang. Awkward Essentials creates content specifically for TikTok and recycles some of it on Instagram Reels. It prioritizes quick, educational videos. Tang said, "One thing that I'm always reminding my team is that we need to treat TikTok like no one's ever heard of our brand before…[because] it's very likely that someone who sees your TikTok will have never heard of you."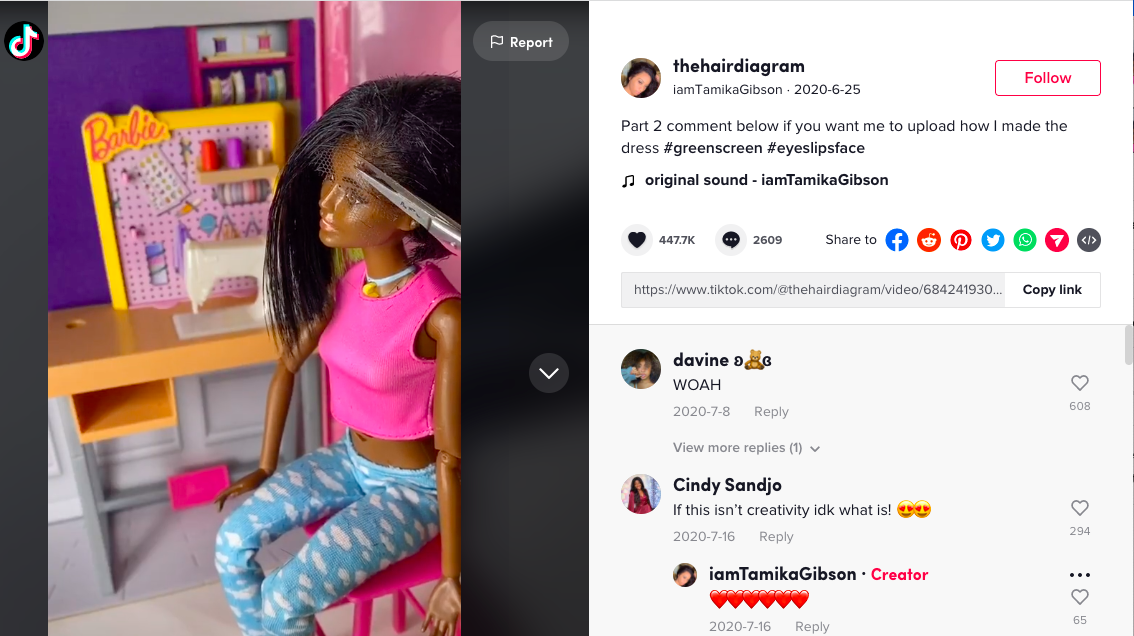 Gibson and Sahib agree that straightforward content is effective on TikTok. The Hair Diagram's audience "like for it to look like something they could do or they could relate to," said Gibson. She typically just uses her iPhone and ring light when filming for TikTok. Sahib said, "Sephora tells us all the time not to overcomplicate it."
He advised brands to think strategically about two buckets of TikTok content: evergreen content reinforcing their core pillars and regular content that hops on trends in a way that's true to them. Sahib said, "Once we can see something strongly resonating and sticking, then we use some money to boost it." 
K18, The Hair Diagram and Awkward Essentials stress that genuine rather than transactional TikTok creator relationships are key to generating buzz. Rather than seeking out macro-influencers with large followings, Gibson suggested brands find people already loving their products. The Hair Diagram has experienced the most success with partnerships when brand recognition and resonance predates them. 
Brand encouragement of co-creation by the community is superior to pouring money into paid advertising and expensive partnerships. "It's not a platform where you spend money to create content. It's not going to go anywhere," said Sahib. "TikTok is about inspiration, and how does that inspiration drive co-creation? That's the beauty of TikTok."
He disclosed the hashtag #K18HairFlip, which was introduced with a song developed by the agency Song Candy and performed by "The Voice" finalist Tamara Jade, has been adopted close to 10 billion times and is associated with over a thousand creators' videos. K18 informed the publication Glossy that the budget for its #K18HairFlip campaign was $600,000. 
At The Hair Diagram, Gibson said, "In the last four to five years, we've done eight figures, and I believe that a lot of it in the last two years was because of TikTok. We generate well over $28 to $30 million a year from our products. There is a lot of money to be made on TikTok."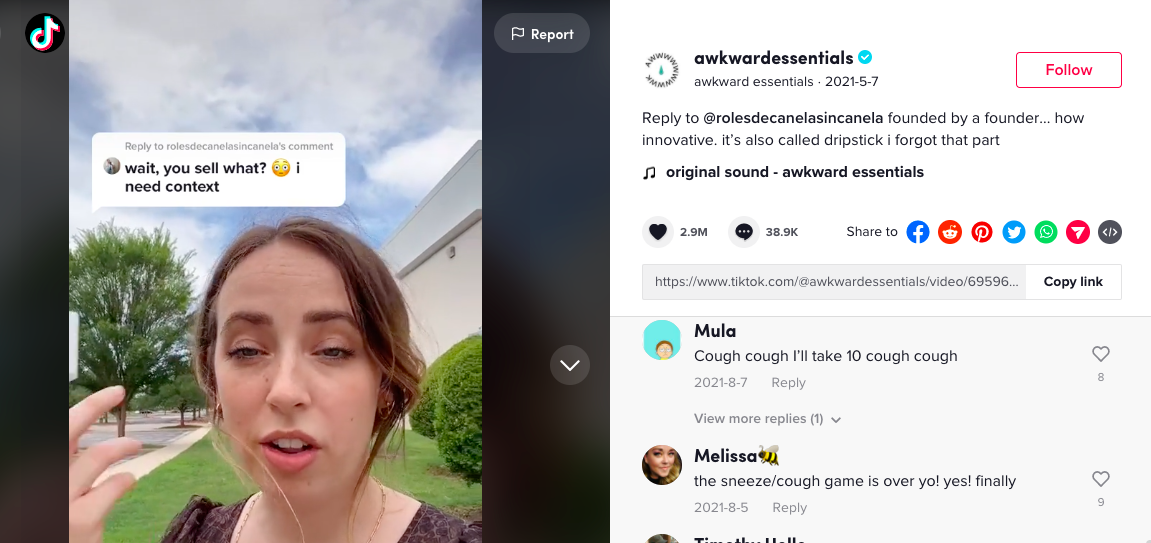 Metrics To Track
TikTok best serves as top-of-the-funnel marketing for fomenting awareness and attracting consumers into a brand's ecosystem. Brands should be paying close attention to TikTok engagement from likes, comments and shares, follower counts and referral sales. Gibson said, "Engagement is very important because I know that I am talking directly to the consumer and they're talking back and the content is resonating with them
TikTok provides users with business accounts the ability to measure weekly and monthly growth as well as total video playtime. It also provides information about who's watching videos that's helpful to brands and access to exclusive, royalty-free sounds and music.
"When there is a high number of views, that translates into virality, and the only way we've found thus far to track it is either doing a custom Bitly link in our bio so we know that they came from TikTok or when we see a spike in Google search traffic because a lot of people will go from something they saw on TikTok and then Google it," said Tang. "We haven't found any other times where the spike in Google search has correlated with anything else that we've done."
To watch a replay of the TikTok episode of Beauty Independent's In Conversation webinar series and replays of other episodes, visit the replay library.