True Beauty Ventures Raises $42 Million Debut Fund, Partners With Beauty Independent On Indie Beauty Mentorship Program
As independent beauty brands continue to steal market share from legacy players, those companies, and the entrepreneurs behind them need not only cash, but also deep expertise to grow efficiently in a crowded market. True Beauty Ventures is poised to offer both.
The fund, led by Rich Gersten and Cristina Nuñez, has just closed its debut $42 million fund, exceeding its initial goal of $30 million. "We knew with 30 you've got a viable model where we can execute our strategy of investing between one and 3 million into emerging growth brands," details Nuñez. "That was our target, and we had a cap of 50. We landed roughly in the middle, which is a good spot because it allows us to execute our strategy and also gives us the ability to follow on with the brands that are doing well." 
Gersten, who has decades of beauty investing experience from tenures at North Castle, L Catterton and Tengram Capital Partners, was behind many notable deals like Lime Crime, Nest Fragrances and RéVive Skincare. Perhaps part of his inspiration for True Beauty was Moon Juice, a brand he invested in as an individual because, while the check size was too small for Tengram, he knew the brand and founder, Amanda Rogove (née Chantal Bacon) was going places. 
 "We've raised it primarily through individuals," shares Nunez. RéVive Skincare's CEO Elana Drell Szyfer, and CFO & COO John Elmer are examples. "Founders who have sold their businesses successfully that understand the strategy and see the need for what we provide; executives, current and retired from the beauty industry. Those conversations were some of the easiest to have because they just understand why we exist and the need for it. This is a way for us to curate a portfolio of diversified brands that offer them a more risk-adjusted return profile. And then we've got some that also backed us, which is really exciting."
Other members of True Beauty's advisory board include Kelly St. John, Founder of KSJ Collective and former Neiman Marcus beauty executive; Joel Palix, former Feelunique CEO and Founder of Palix Unlimited; and Emily Dougherty, former Editor-in-Chief of NewBeauty. "I don't think we've ever looked at a brand that we took seriously and didn't run it by Emily," Gersten says of the editorial veteran. "She just knows so much about brands and products and trends."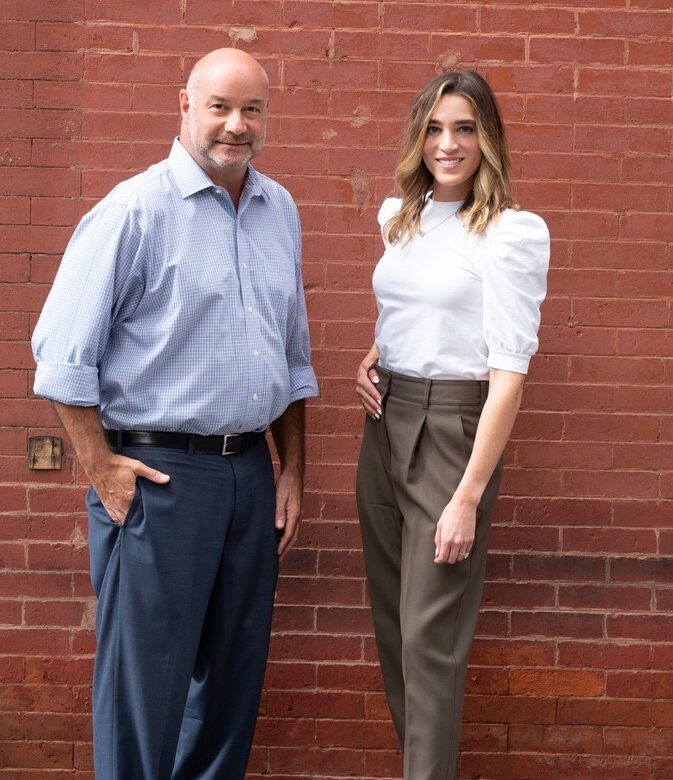 To date, True Beauty has made six investments across the beauty and wellness space, with an ultimate goal of about 12 brands. Current investments include microfiber hair towel specialist Aquis as well as Aquis co-founder Britta Cox's science-based hair care product line K18, Into the Gloss alum Dianna Cohen's luxury hair care and accessory range Crown Affair, gen Z-focused clean skincare line Kinship, and a pre-launch prestige clean color cosmetics brand. 
Gersten and Nuñez have also already ventured into territories other investors deem off-limits: cannabis and sexual wellness. In the True Beauty portfolio are direct-to-consumer CDB ingestible company Feals and modern intimacy brand Maude, which closed a $5.8 million series A round led by True Beauty. "True Beauty fundamentally understands both the art and the science to building impactful, world-changing brands," says Maude founder and CEO Éva Goicochea. "Cristina and Rich's thoughtful approach and deep expertise in beauty and personal care make them additive partners throughout the journey of building the business." Nuñez also joined Maude's all-female board of advisors. Nuñez says True Beauty is committed to investing in women and diverse founders. "As of now, 80% of our brands have a female co-founder or a diverse founder. There are incredible female founders, and, in our industry, being able to support women is not hard to do."
Though Nuñez considers True Beauty a small fund and team investing in emerging brands, she and Gersten are also interested in supporting the brands that may be ready for a True Beauty-sized investment in the future. The pair have partnered with Beauty Independent to create a mentorship program that will identify brands embarking or about to embark on the fundraising process that Gersten and Nuñez can advise on topics that beauty entrepreneurs most often have questions about. 
"How do you fundraise, how do you present a pitch to investors? What are investors looking for? How to read a term sheet?" lists Nuñez. "Others will be around how do you scale distribution, how you should think about supply chain and building out your team. It's about making a difference and giving these years of experience, knowledge, network that we have to these brands." Applications for the program will be available in September on Beauty Independent. Three to five brands will be chosen on a quarterly basis for the three-month-long mentorship program, which will also include editorial coverage in Beauty Independent. 
The mentorship program will allow invaluable conversations he and Nuñez have had with founders, where they were able to provide key industry knowledge to new founders, to be formalized. Gersten says that he and Nuñez try to answer every inbound they get. To date, they've spoken to over 500 brands. Even when they say no, they aim to be thoughtful and offer constructive criticism, as well as an opportunity to ping them along the way. "It's so rewarding to give back to founders and to be able to share our experiences and answer questions they have," he says.