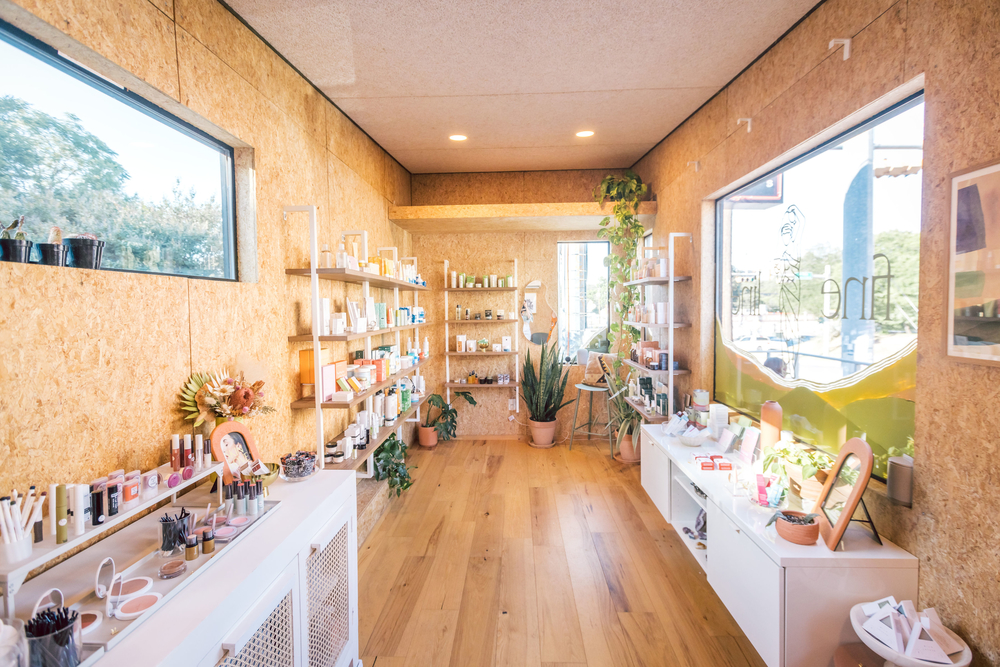 Two Pandemic Transplants Are Bringing Clean Beauty Retail To Austin
Best friends for nearly ten years, Ashley Grabill Young and Cissy DeLuca bonded over their love for all things clean beauty and wellness while working at technology firms in San Francisco. "We were always trying new treatments and services together, and running product recommendations by each other," says Grabill Young.
The pandemic fortuitously brought the BFFs to Austin, where they found a vibrant emerging wellness community, but no substantial retail to serve it. "There's no Credo here nor is there an influx of independent specialty stores that you'd find either on the coasts or even in Atlanta or Chicago," says Grabill Young. "The nearest Sephora is in a broken down strip mall. We saw a real blue sky opportunity."
The friends got to planning, and six months later, clean beauty specialty retailer Fine Line was born. In December last year, it debuted as a 5oo-square-foot pop-up on Austin's up-and-coming East Side in an off-the-beaten-path location that drew sparse traffic. After six months at the pop-up, Grabill Young and DeLuca decided to trade space for location and opened Fine Line a week ago in a 250-square-foot trailer on the busy North Lamar Boulevard in Central Austin.
A beauty store in a trailer on wheels isn't as curious as it sounds, especially in Austin. "That's actually a popular format here because of the food truck culture," says DeLuca. Grabill Young refers to Fine Line's current area as "retail heaven." The store is surrounded not only by large retailers like Anthropologie and REI, but by thriving local businesses that yield consistent foot traffic, too. "There's a sunglasses store near us that's also in a trailer as well as the juice shop next to us that's really popular with the community," says Grabill Young, noting Fine Line's goal is to double foot traffic at the present spot.
For the store, Grabill Young and DeLuca have built an assortment centered on their go-to beauty brands. "We knew the majority of the assortment mix was going to be skincare, followed by makeup," says Grabill Young. "Then, you've got this random 10% of treatments and tools and specialty items." Fine Line stocks 350 products from 30 clean beauty brands, including Ursa Major, Patchology, Henne, Golde, Fur, Axiology, Ere Perez, Kinfield, Everyday Humans, Olio E Osso, Furtuna Skin, Goldmine and Solara Suncare.
OSEA and Common Heir recently joined the assortment. "OSEA had an exclusive agreement with the spa Milk + Honey down here, so we worked hard to win them over," says DeLuca. She points out the brand has been selling "really well" at Fine Line over the past month. Of Common Heir, Grabill Young says, "I adore their Vitamin C Serum and don't really want to use anything else. Now, we're their first retail partner outside of Credo and Anthropologie."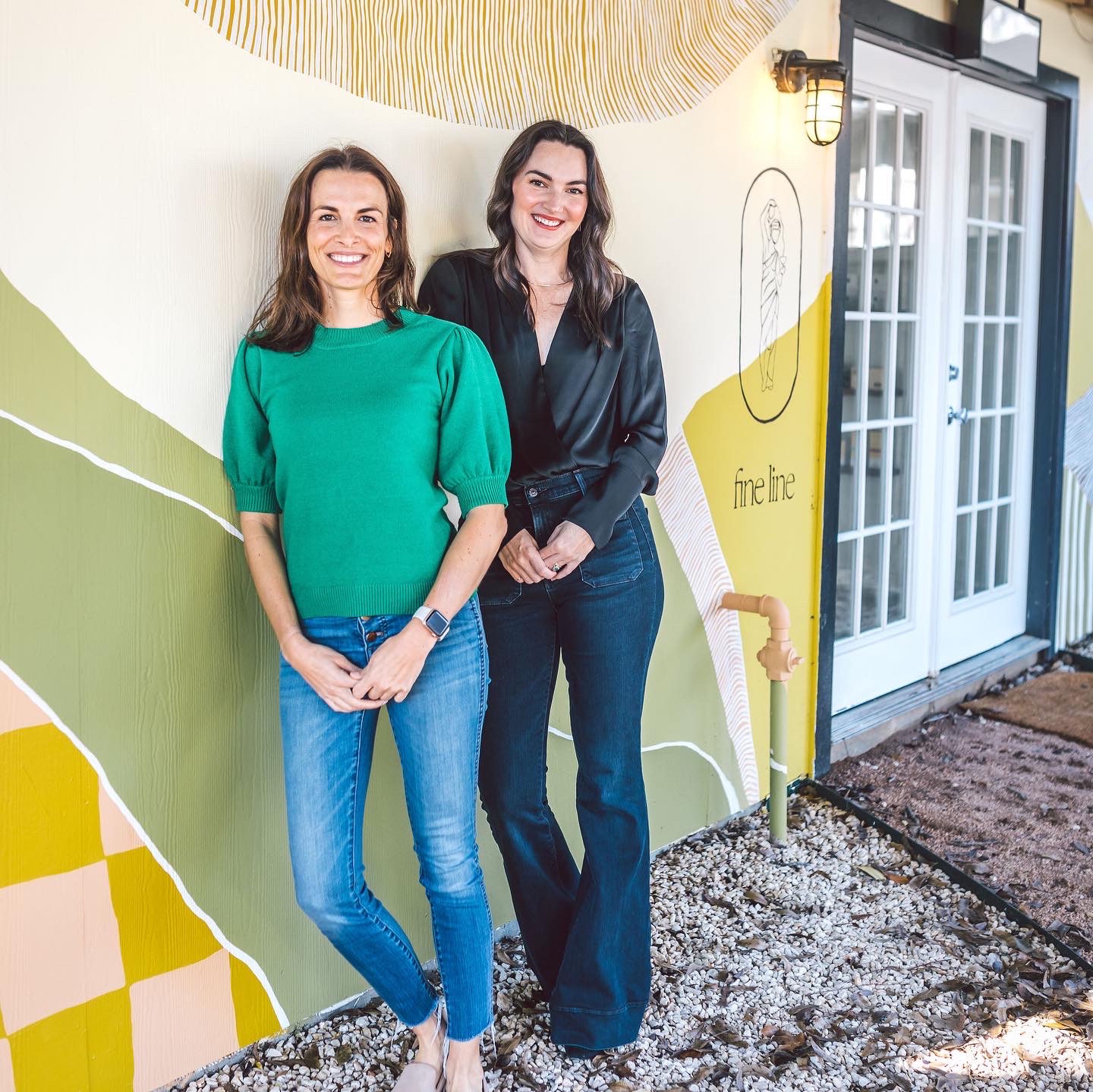 Among the bestselling brands at Fine Line so far are Goldfaden MD, Indie Lee and One Love Organics. According to DeLuca, Goldfaden's Needle-Less Line Smoothing Concentrate and One Love Organics' Botanical B Cleansing Oil "fly off the shelves." Brands with strong social media presences—Fur, for instance—generally see traction in the store. "There's a lot of people who moved here from California and New York, and so some people who come in already have their favorites from when they shopped at Credo or online," says Grabill Young. She reports Fine Line customers tend to be women in their 30s, 40s and above.
Due to popular demand, haircare is the next category Fine Line's assortment will venture into. "We didn't know how far into clean beauty we wanted to go with the assortment initially. We don't use much clean haircare ourselves. Often, question marks for us become question marks for the community. That's how we make a lot of our assortment decisions," says Grabill Young. "If our customers have a strong point of view on something, we love to hear that. We try to be very accessible with our attitude here." Fine Line customers have frequently requested haircare from the brands Innersense Organic Beauty, Rahua, Acure and Josh Rosebrook. Along with the requested brands, Grabill Young and DeLuca are considering picking up Playa and Flora Flora for the assortment.
In-store events with Austin entrepreneurs, practitioners and women's clubs are important marketing tools for Fine Line. On top of events at the store, it's been doing mini pop-ups at cafes and fitness centers. "It's not about sales necessarily. It's more of an advertising play and to accelerate that word-of-mouth marketing that has been so huge for us," says Grabill Young. She adds, "Some advice that we got from mentors early on here was to really become a part of the community. Get out there. Don't just open your door and expect people to come in." Instagram and targeted Google advertisements help attract customers to Fine Line as well.
Fine Line's small space and tight edit are conducive to selling clean beauty in a growing community, but Grabill Young and DeLuca don't intend to keep it small forever. "We would love to eventually get a bigger space and carry more brands," says DeLuca. "It's very competitive to get commercial space in Austin, though. You have to have a track record of success that we just don't have yet."
Beauty services such as facial steams are in Fine Line's plans for the future as are Fine Line-branded beauty products. At the moment, however, Grabill Young and DeLuca are focused on cultivating a following of clean beauty enthusiasts. Grabill Young says, "We're working to make Fine Line synonymous with clean beauty, not just here in Austin, but potentially other locations as well."