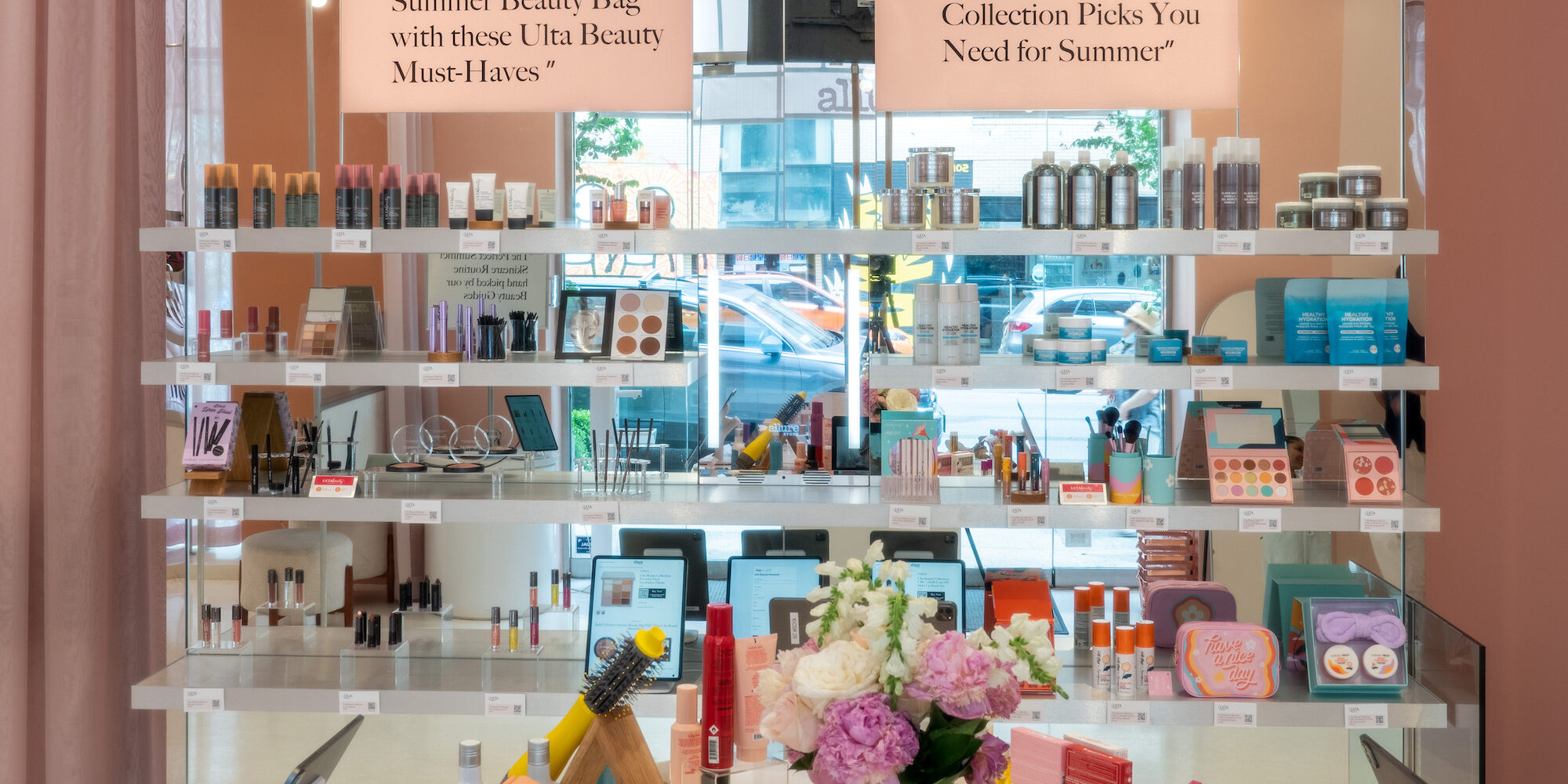 Ulta Beauty Partners With Allure Store For 3-Month New York City Pop-Up
Ulta Beauty has landed prime media real estate.
The specialty chain will have a presence in key areas of the Allure Store from July through September featuring a range rotating monthly with established and emerging beauty and wellness brands, including Ulta's in-house brand. The relationship puts Ulta inside a venue that's been a hopping New York City destination for beauty insiders and enthusiasts in the year since its opening. 
The pop-up will highlight brands from the retailer's curated collections like Conscious Beauty, The Wellness Shop and Sparked at Ulta Beauty as well as its commitment to BIPOC-founded brands. The selection is chosen to meet a variety of beauty wants and needs. Each month, the range will follow a different theme, and events will be held at the Allure Store adhering to the theme. On Thursday, there will be a party introducing the concept to consumer and trade press, and a clean beauty panel will take place next month. 
At launch, the brands in the range will include Fenty Beauty, Billie Eilish Fragrance, Charli D'Amelio, R.e.m. Beauty, About-face, Andrew Fitzsimons, Drybar, Olaplex, Supergoop, Black Girl Sunscreen, Tula, Keys Soulcare, The Ordinary, Peter Thomas Roth, Maelys, CosRX, Beekman 1802, Hero Cosmetics, Glamnetic, NYX, Morphe and Juvia's Place.
Maria Salcedo, SVP, merchandising at Ulta, says, "Not only does the pop-up create new opportunities to engage beauty enthusiasts and highlight our important initiatives in an innovative way, but it also provides a unique and exciting new touch point to engage passionate beauty consumers."
As is the case with products normally carried at the Allure Store, a fee is paid for entrance into the store, but 100% of sale proceeds go to the brands. Usually, brands have six-month stints at the store. In the store, customers can browse reviews and product information in real time using iPads situated throughout the store, and purchase products by scanning a QR code. A store associate brings them the item after they order it.
Members of Ulta's Ultamate rewards program will be able to earn points on Ulta purchases at the Allure Store. Customers who aren't Ultamate rewards members will have the chance to sign up for the rewards program at the Allure Store and receive $5 off a $10 or higher purchase.
Allure Store co-founder Sonny Gindi, founder of marketing and retail company Stour Group, views Ulta's relationship with the Allure Store as symbiotic. "The Allure Store was built to be media as retail," he says. "Ulta Beauty coming on, which is really cool for a player like that, is them recognizing that this stage was built for brands, from the smaller brands to award-winning brands to major retailers, for them to tell their story experientially." The Allure Store operates through a licensing agreement with Stour Group. 
Gindi believes the Allure Store's technology-infused, experiential format suits how consumers shop today. "Retail was built for our grandparents," he says. "It wasn't built for how we engage. The iPhone came out, Instagram came out, TikTok is out and retail hasn't evolved with technology. When building the store, we looked at how to take what was really working on social, what's really working online and bring it into the physical."
For Ulta, the Allure Store pop-up is the latest in a series of strategic partnerships aimed at exposing Ulta to new customers. According to the beauty chain, its buzzy shop-in-shop partnership with Target has exceeded its expectations for familiarizing mass-market shopper with it.
In March, Ulta reported it linked
more than 1 million people
between the two retailers' loyalty programs. One hundred shop-in-shop locations at Target stores opened in 2021, and an additional 250 are scheduled to open this year. Ulta has also struck partnerships with livestreaming app
Supergreat
and clean beauty retailer
Credo
.
It's long been Ulta's geographic approach to favor suburban strip malls over chic city streets for its store locations, but, in Manhattan, that approach has put it at a disadvantage to its closest competitor Sephora, operator of about 15 Manhattan locations compared to Ulta's two. Setting up shop, albeit temporarily, in a bustling New York City location can show Manhattanites what Ulta has to offer. Gindi says the Allure Store has about 250 visitors per weekday, and even more on Saturdays and Sundays.
Retail was built for our grandparents. It wasn't built for how we engage. The iPhone came out, Instagram came out, TikTok is out and retail hasn't evolved with technology.
Ulta has registered substantial gains as other chains confront inflation-induced setbacks. For the first quarter this year, its net sales rose 21% to $2.3 billion, with every major category notching double-digit comparable-store growth. Net income was $331 million, up from $230.3 million in the same period a year ago.
The Allure Store debuted in the city that never sleeps last July at a time when it was waking up from life under lockdown. The stylish and centrally located 2,900-square-feet space has hosted over 500 events in the year since it opened. There were 38 in the 30 days of last month alone by the likes of aesthetic technology company Cutera, clinical skincare brand Theraderm and search intelligence term Spate.
As Gindi glances to the Allure Store's future, he hopes it will start producing its own events that brands on its shelves can participate in. "Our next release are different versions of these events that our brands are able to opt into, on both the consumer and trade level, to reach their goals," he says. "Right now, brands opt into trade shows, they opt into press events. We want to build things around that that are able to give our brands that awareness."