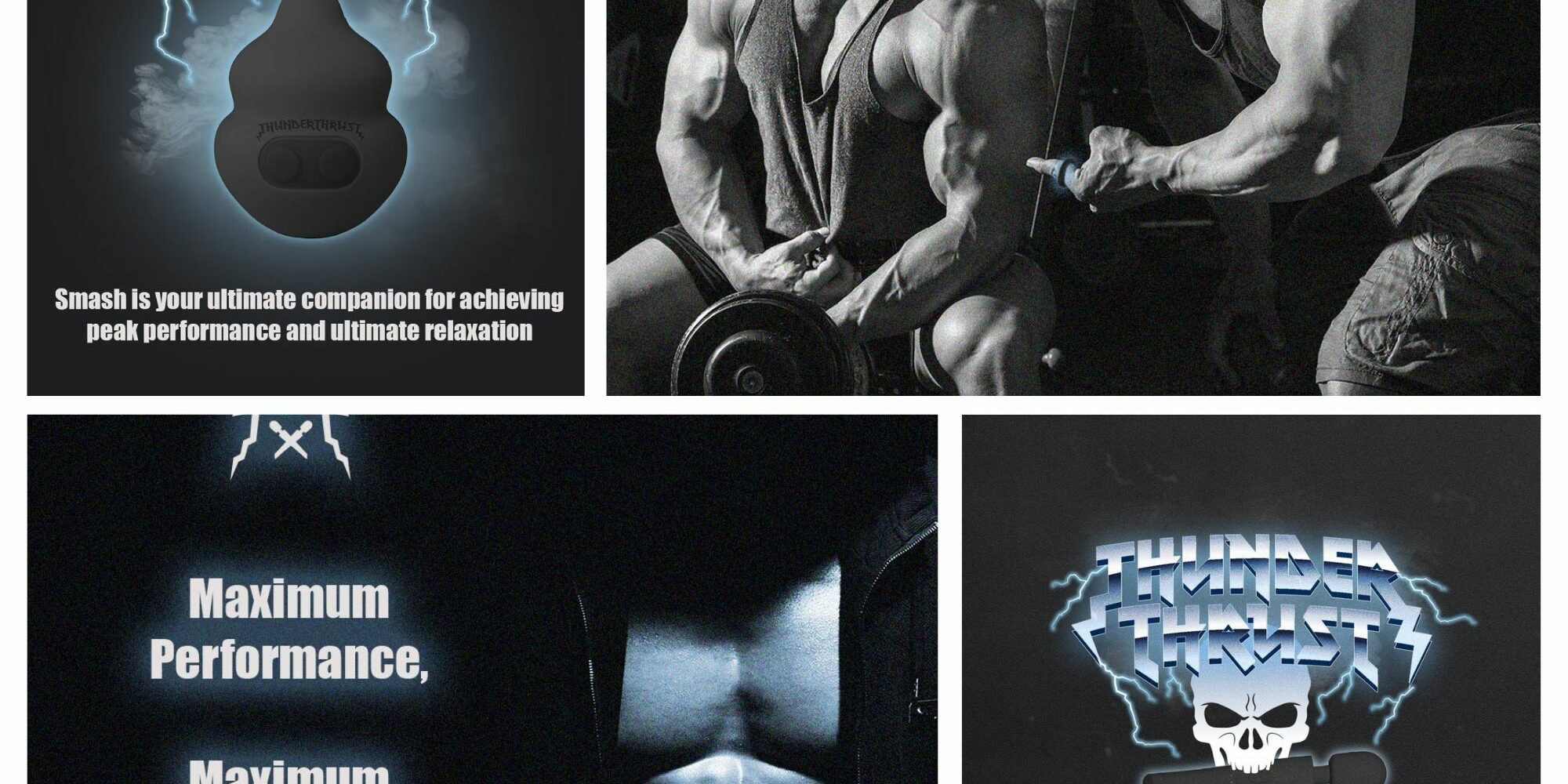 Unbound Created A Fake Brand To Expose Meta's Unequal Treatment Of Ads For Women-Focused Sexual Products
Fitness bros on Facebook and Instagram were recently introduced to a new workout and recovery brand called Thunderthrust. It promoted massage and grip tools with darkly hued and aggressively worded advertisements targeting a mostly male demographic on Meta-owned social media platforms. 
Thunderthrust doesn't actually exist. However, its Recovery Massage tool, Undying Loyalty Silicone Finger Ring and Smash Tension Grip Tool are actual products from sexual wellness brand Unbound. It created Thunderthrust to test that Meta applies a double standard to bans on ads from women-centered sexual wellness brands, and it unearthed evidence of that double standard. Male-focused Thunderthrust could advertise Recovery Massage tool, while female-focused Unbound can't advertise Ollie Wand Vibe, the same exact product. 
"There's so much sexuality in advertising in general. Is it really the products that are offensive or is it just the notion of women, femme, nonbinary people, anybody but a cis man owning their own body and using pleasure on their own terms? That is ultimately what we were trying to hit the nail on the head of. That's the problem for these platforms," says Polly Rodriguez, founder of Unbound. "It's not the products because, when they're framed in a different light, especially one that society more often than not deems appropriate, which is through the lens of toxic masculinity, they're not offensive. It forces them to acknowledge that the products aren't the problem. They're not offensive just by looking at them."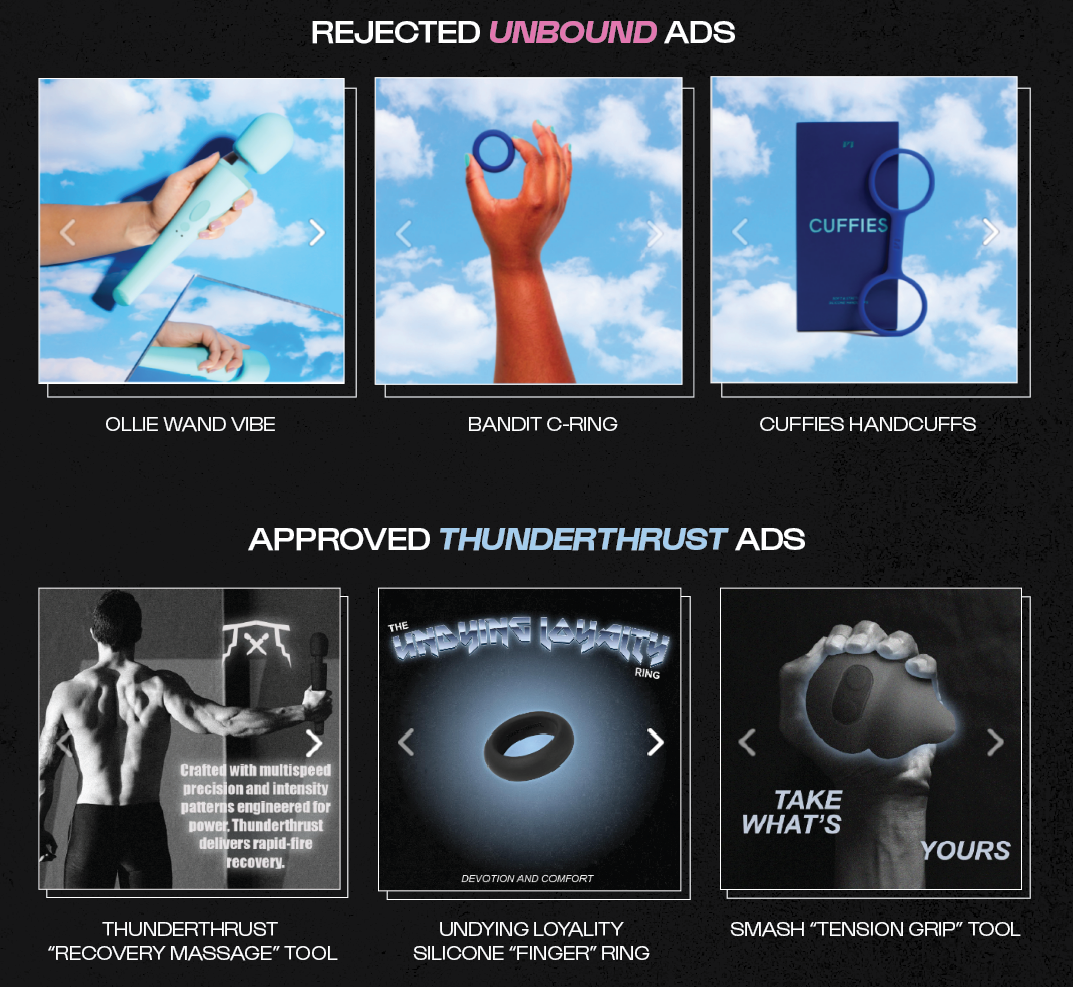 Unbound has been fighting to convince Meta and other social media companies to change their sex product-related ad policies for nine years. Meta's policy states that "ads must not promote the sale or use of adult products or services. Ads promoting sexual and reproductive health products or services, like contraception and family planning, must be targeted to people 18 years or older and must not focus on sexual pleasure." The digital behemoth updated its sexual health ad policy in October 2022 to state that "advertisers can run ads that promote sexual health, wellness and reproductive products and services," but brands like Unbound have seen little material impact from the update. 
Unbound estimates it's lost tens of millions of dollars in sales from Meta banning its product ads. The brand has designed ads to not have sexual overtones, yet they're still banned. Referring to male-oriented companies such as Hims, Rodriguez says there are "billion-dollar companies that were built off of social media marketing. We're profitable, which is great, but I went out to try to raise a series A and, not to the fault of the venture capitalists, but they're like, 'Where are you going to allocate spend?' And I was like, 'We're going to get the policies changed. They're like, 'OK, when you do, we're happy to invest in this series A.'"
Advertising Thunderthrust was a risky move for Unbound. Technically, it's a violation of Meta's terms of service that disallow false product advertising. Unbound originally conceived of the idea to test Meta with a fake brand in 2019, but the brand held off due to fear of repercussions from Meta. Rodriguez says, "What if they just kick us off forever? But we've been trying to get them to change these policies for nine years now. It got to the point where it's like, 'What do we have to lose?'"
The Thunderthrust campaign was active from October 16 to 26. Over the course of a week, Unbound spent $1,000 to run 20 different variations of Thunderthrust ads. The ads ended up reaching 167,706 individual accounts. Rodriguez emphasizes the reach shows "how much opportunity is missed when small brands like Unbound can't advertise."
Unbound chronicled its Thunderthrust experiment on Instagram. Some of the men who saw the faux "bro-tastic burner" brand's ads weren't fooled by them and demonstrated their support of Unbound's initiative in social media comments. Rodriguez says, "We targeted fitness guys to see what their reaction would be, and they knew. They were like, 'This is hilarious. We applaud this marketing.'"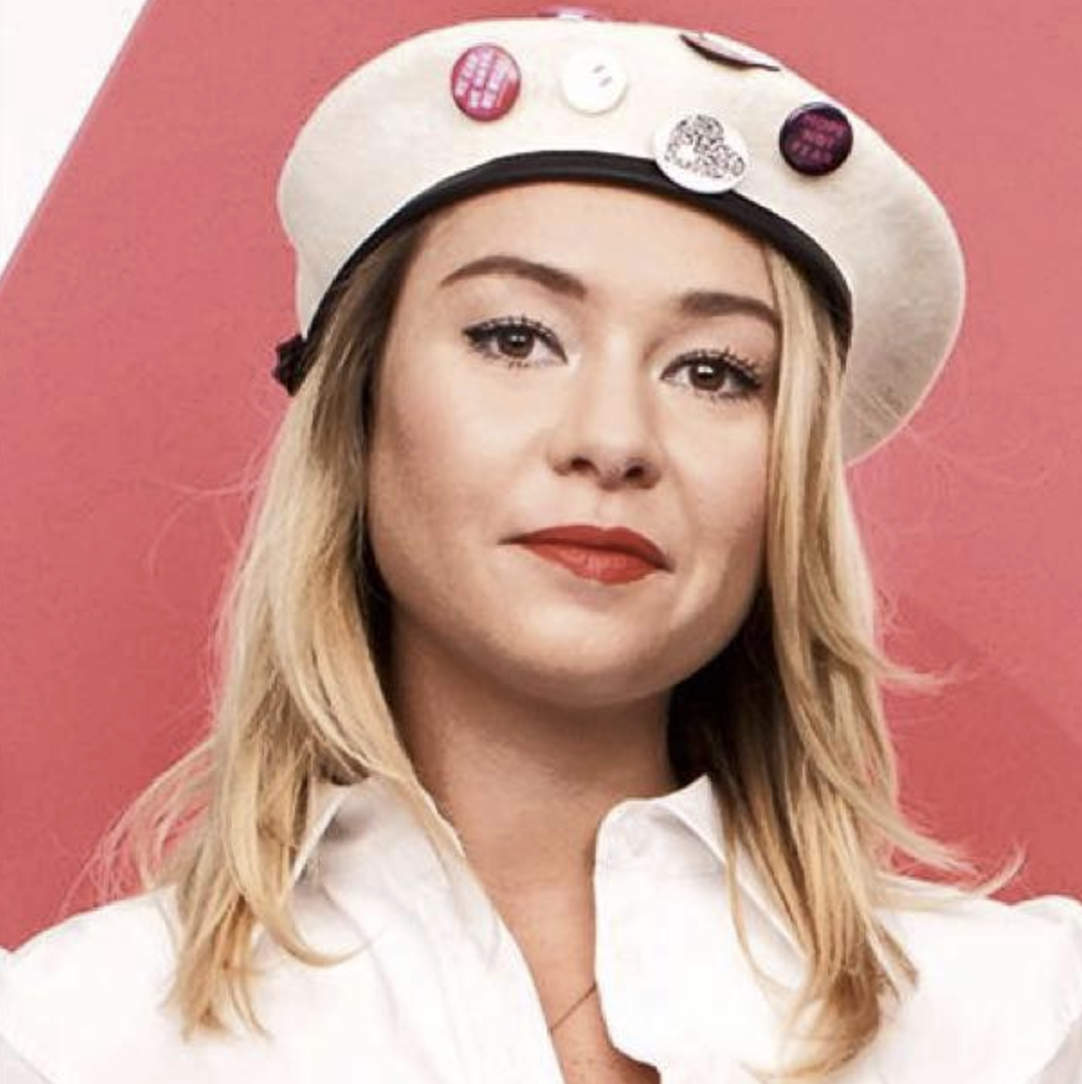 Jackie Rotman, founder and CEO of Center for Intimacy Justice, an advocacy group that's published research on Meta's barring of health ads for women and people of diverse genders, reports that hundreds of organizations, content creators and businesses directed toward women and nonbinary customers continually tell Center for Intimacy Justice that they're facing pervasive information suppression of ads and content on Meta as well as TikTok, Amazon, Google and Apple's App Store. 
"At the same time, many men's sexual health advertisements including ads for erectile dysfunction are still allowed, with slogans like 'Get hard or get your money back,'" she says, underscoring that the prohibition of ads and content directed at women and nonbinary people "sends messages that many of our wellbeing, intimate health, pleasure and sexual rights aren't worthy or valid."
Rodriguez adds, "They think if they allow us to advertise there's going to be pornographic images everywhere. Actually, sex ed in the country is the worst it's ever been, and kids are desperate for quality information and education around these issues. By just cutting it off at the knees and saying we can't have any of it, you're denying actual factual information that is helpful."