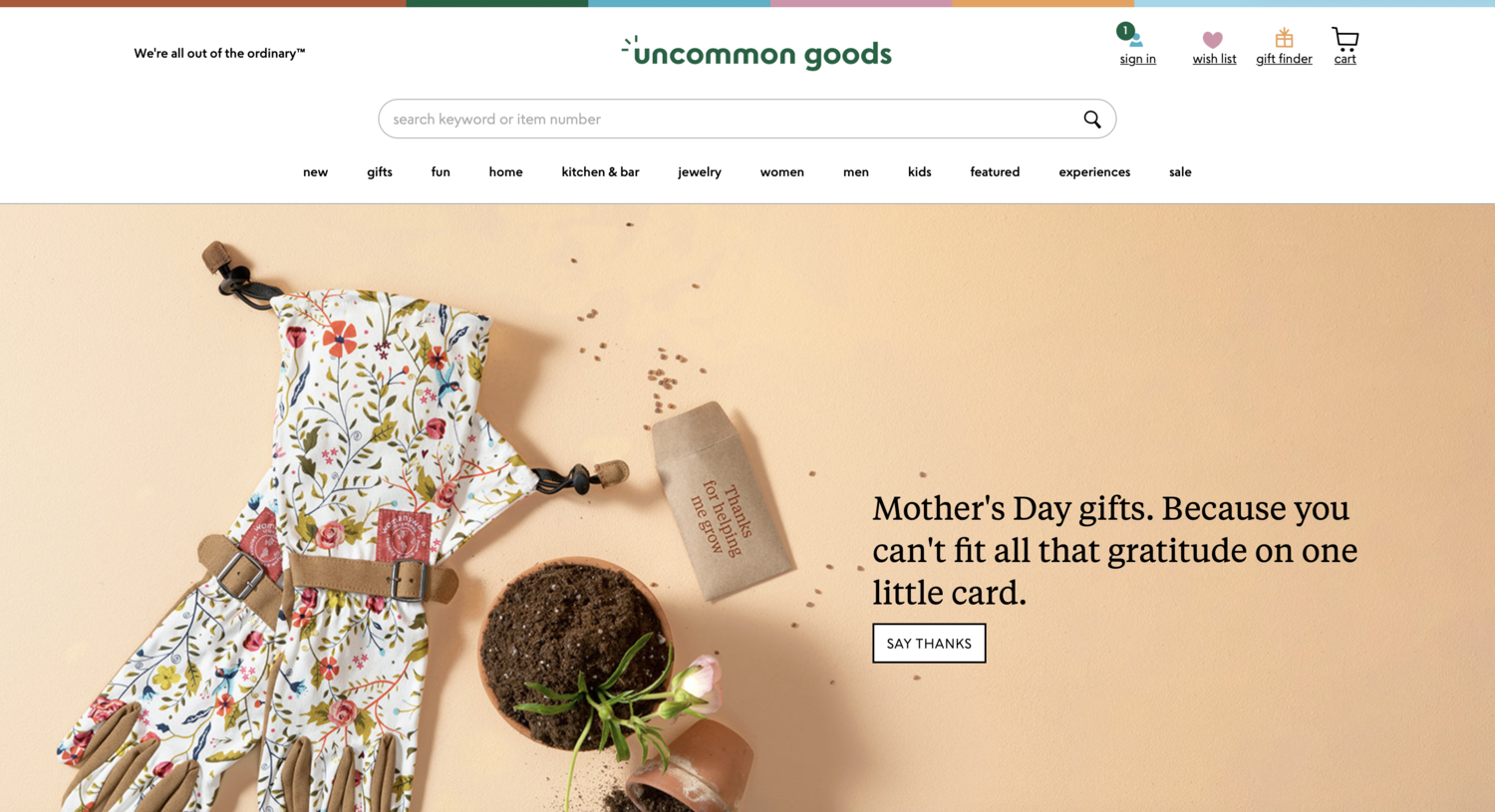 Uncommon Goods Was A Pioneering Sustainable E-Tailer In The Early Days Of E-Commerce—And It's Still At It
In many respects, Uncommon Goods is a first mover.
Early to online selling, the multi-category lifestyle e-tailer launched in the period leading up to dot-com boom in 2000. The idea of selling on the internet was so new back then founder and CEO Dave Bolotsky had to break it down for potential vendors. "There was a ton of skepticism by artists and makers," he recalls. "I would get questions like, 'Where are you based?' At the time, we were in Greenwich Village, and people would say that they couldn't sell to us because they sold to a store in Greenwich Village, and they had to protect the retailer's territory. I'd have to explain what online meant because they just didn't understand. A lot of people were very reluctant to sell to online retailers and, in fairness, a number of online retailers went bankrupt and didn't pay their vendors at the time."
Uncommon Goods survived the subsequent dot-com bust and has since carved out a specialized niche focused on unique craftsmanship in an increasingly crowded retail landscape. It offers some 5,000 products from independent artisans and small brands, most of which are either handmade or exclusive to the site. The products span the categories home, kitchen, apparel, accessories, beauty, wellness, personal care, jewelry and kids. Sustainability and social impact have been key pillars of now Brooklyn-based Uncommon Goods since its founding. It became one of the first companies to earn B Corp certification in 2007.
Beauty Independent recently caught up with Bolotsky to reminisce about the beginning of online selling, define what makes merchandise "uncommon," and discuss sustainability trends.
What was it like starting an e-commerce website in 1999?
It was like the Wild West. Amazon had demonstrated that it could work from a revenue perspective in books and music, but it was not yet making money. There were lots of companies losing lots of money at the time and the audience was largely male in terms of online shopping. It was largely functional. I think computer equipment was the largest category. 1999 was a time of great hope and excitement. Then, in the spring of 2000, the internet bubble burst.
We were kind of caught in the middle of that, and it was a very challenging time. It was extremely difficult to get funding in 2000. There were a lot of people very skeptical about our business because we were appealing to a more diverse audience. We were not focused on a male customer, and we had much less of a functional focus and more of a browsing/inspiration focus similar to an online version of a craft show and specialty boutique rolled into one.
Did the company launch with a similar concept to what it has now?
Part of the original idea for the company had been like what Etsy is now. This was before digital cameras were popular, but, when the internet bubble burst, we had to choose one path or the other. I made the decision to take the path of a more traditional retailer and be less of a marketplace.
Other than that, I would say the concept has been pretty similar since the start. We were more focused on the home then. We still have a major home focus, but I would say the way the business has shifted from 2000 has been more toward jewelry, wellness and accessories. Our customer uses us more as a place for gifting than we had originally anticipated as well.
Why was social impact a founding principle of the company?
My mom was a social worker, and my dad worked for the United Nations. They raised me to have a positive impact in the world. Ironically, I ended up working for Goldman Sachs as a research analyst studying the retail business after graduating from college. I did a lot of volunteer work at the time and helped start an education nonprofit. I never planned to stay on Wall Street. I always thought that I'd do it for a year or two to pay off my student loans. I didn't know what I was going to do next and thought about working in the nonprofit world.
Then, I learned about the internet and thought it was the coolest thing I'd ever seen. So, I decided that I wanted to start an internet retail business, but I really wanted to do it in a way that had a positive impact. If you asked me what's most important, I would say it's the impact we have as individuals on other living beings on our planet as well as on the overall environment.
Making money is not enough for me. Since our beginning, we've never sold any product that involves the killing of an animal, and we've always paid our lowest-paid workers well above the minimum wage. Today, our starting wage is $20 an hour, and our warehouse is here in Brooklyn. That's part of my DNA as well as the company's DNA.
What are your standards for entry?
On the simplest basis, the product has to answer the following questions affirmatively: Is it "uncommon," and is it good? Is it something that is ideally exclusive to us? Nearly 40% of what we sell is exclusive to us, so you can only buy it at Uncommon Goods.
If it is available elsewhere, the distribution is usually limited. We tend to avoid items that are sold on Amazon, but, on occasion, we'll make an exception. If it's sold by the artist or the maker themselves on their own website, for example, we will typically offer it. So, distribution is one consideration.
In regards to a product "being good," which is certainly in the eye of the beholder, we typically ask ourselves: Do we think this product will appeal to our customer because of its beautiful design, innovative design, innovative functionality? Does it have a material story? Is it made in the U.S.? Is it handmade? So, there are a number of criteria that we look at that I would say are positive attributes.
There's no universal formula for buying. We give our buyers a fair amount of autonomy in making decisions, but more than half of our assortment is handmade. The majority of what we sell is made in the U.S. as well. We will not sell any product that contains leather, feathers or fur, so nothing that involves killing animals. We also steer clear of products containing BPAs or other harmful materials.
By far the most important thing is that we find products that delights the customer. Sustainability is secondary to the features and benefits of the item. We've always had to ground ourselves in that. As much as we may love the story behind the product, if the product doesn't deliver on price or performance, it's not going to sell on the site.
How many submissions do you get every year?
We're more proactive than reactive. In other words, our buyers go to trade shows around the world. They comb the web looking for product. I mean, it's kind of like if you're a recruiter. The best candidates typically are the ones that you seek out as opposed to the ones that come looking for a job. A lot of times the best products are ones that we find when we're hunting around as opposed to ones that are submitted to us, but we probably look at between 30 and 50 items for every one that we add to our assortment.
What is the breakdown between bespoke artisan-made products and brands?
I would say 70% to 80% are small independent makers. We actively market the names of the artists and independent makers on our site, regardless of who they are. A big part of our value proposition to the sellers is that we're going to highlight you and your story. However, unless you're a B Corp or meet our sustainability standards, we're not in the business of promoting other brands.
Customers can shop by recipient, category and occasion, but not by brand.
Yes, and even on the product detail page, you won't see brands really highlighted. Look, we're not going to go as far as to obscure a brand in a photograph. Part of being "uncommon" is encouraging people to think for themselves and not buy something because a celebrity is behind it, for instance. We want them to buy it because they're an independent thinker supporting an independent maker who's created something that's terrific. We provide lots of customer reviews where the brand can build their credibility.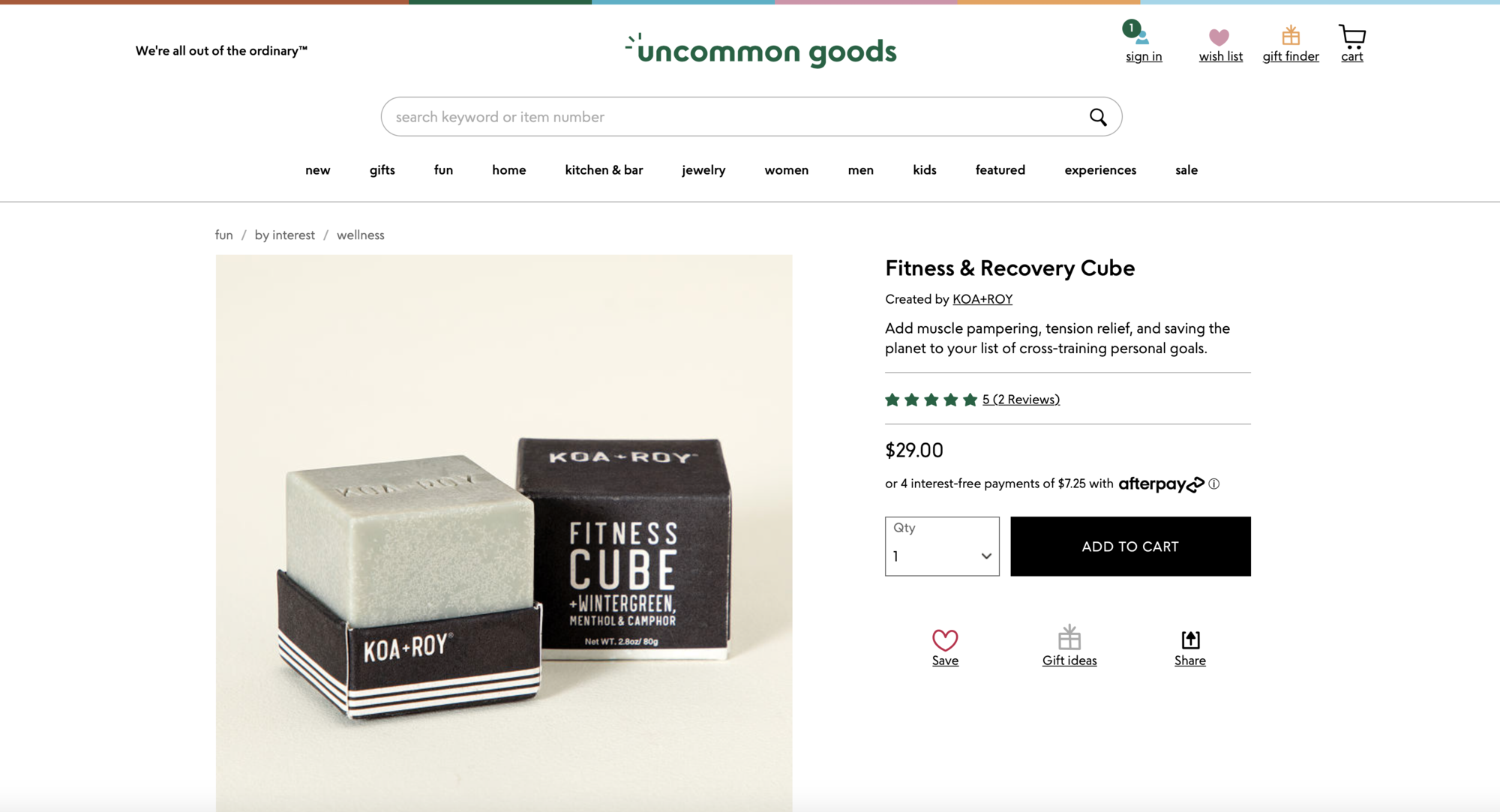 How does wellness perform for you as a category? 
It is one of the fastest-growing categories on the site. It was not one of the original areas of focus of the business when we launched 20-plus years ago, but we've seen a lot of growth there. We started capturing wellness sales as a separate category in 2018. From 2018 to 2021, the category grew by 137%.
Keeping in mind that gifting is a big focus for our customer, we see people looking for things like shower steamers, bath bombs, aromatherapy and massage cubes. Those kinds of products do very well as well as anything with lavender.
How has your customer base evolved over time?
Since I founded the company, I've wanted everyone to feel welcome on the site, so we haven't really ever catered to a particular demographic. At the same time, we have looked at who is shopping with us. For example, 80%-plus of our customers identify as women and have from the time of our founding. Our customer is well-educated with above average income and has gotten slightly younger over time. So, I would say women in their thirties and forties on either the East Coast or West Coast are our main base.
Why did Uncommon Goods go through the B Corp certification process? Do you think it has any measurable effect on business?
I met the founders of B Corp in 2006 before anybody was certified. We were one of their original companies. The motivation was 100% about how we could be a better corporate citizen. What we were doing around sustainability, which really wasn't even a term back then, was based on my best guesses, my reading, and my talking to experts, but it was anecdotal knowledge.
What was great about the B Corp assessment is that it's a comprehensive report card. What it showed me was how many blind spots we had and the areas that we really had to work on. If you think about the fact that you can score 40% out of 100% and be certified, you're going to feel pretty inadequate. So, even though you get certified, and you can say that you're a part of the 1% of companies that's B Corp certified, you know that there are many things that you could be doing a heck of a lot better. That was the primary motivation and the primary benefit. It's a yardstick by which we can measure ourselves and our efforts to continuously improve the company.
Being a B Corp was unknown back in 2007. Patagonia really helped to put it on the map a few years later. That being said, I don't think it helps us a lot from a marketing perspective. I mean, it's hard to measure, but I think, for us, one of the unintended benefits has been with recruiting. If somebody who doesn't really know us sees that we're a B Corp, they may think, "I'd rather work at this company because they're the real deal."
Do you feel like you helped educate customers early on about what sustainability was?
I think we did help raise awareness, both with retailers and with customers. I once met a buyer from Target at a trade show, and she told me that they would get our catalog and look at what we do. If Uncommon Goods can influence a $15 billion company through our product assortment and policies, that likely will have more of an impact in the industry than influencing a certain group of customers, for example.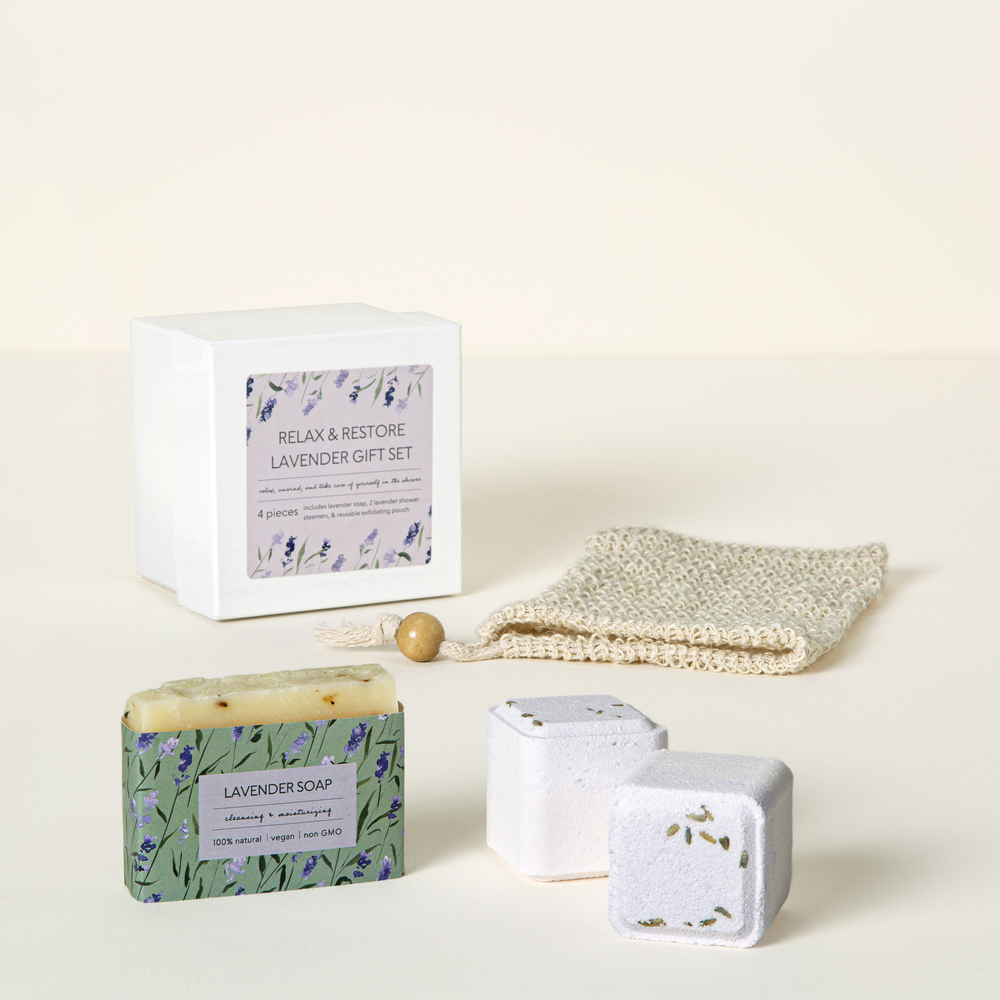 Do you still circulate print catalogs?
We do four major creatives a year, with the biggest being our holiday book. We mail millions a year, and we've been doing it since 2001. Online advertising was way too expensive even back in the days of AOL. AOL would charge something like $50,000 to $75,000 just for the opportunity to advertise with them.
So, we were looking at various forms of advertising and our head of marketing at the time thought that we should do a catalog. My initial reaction was, that's so retro but in a bad way! Why would an online company put out something archaic like a print catalog? But when I looked at the economics, I thought it was worth a shot. It worked out well for us. We print only on Forest Stewardship Council-certified paper to try to limit the environmental impact, which is the thing I like least about catalogs.
Are the catalogs more for customer acquisition or retention?
It's both. In our early days, it was more acquisition than retention. Today, on a full-year basis, it probably leans a little more retention than acquisition.
What's your customer retention like?
About 50% of our existing customers buy from us again within a year. Overall, including new customers, it's around 40%. Customers acquired during the pandemic have been a bit less loyal, though it's tricky because we've acquired a higher proportion online versus via catalog, and catalog customers tend to be more loyal.
What trends are you seeing among sustainable brands on your platform?
We were very unusual 20 years ago in our focus on not carrying any leather, feather and fur. Being animal-friendly to the point of vegan is really a growing trend, so we're seeing not only no leather, feather and fur, but no animal byproducts. That's something that we're actively researching in terms of, if we are going to have animal byproducts, is there a humane standard for that? Is there an equivalent of a B Corp for dairy or wool? That's something that is of personal interest to me, and I think to our customers as well.
I would also say just general impact on people. The focus of sustainability over the last 20-plus years has been almost exclusively on environmental sustainability. I've always felt that that's an elitist view. It's not that it's not important, but if I don't have enough to eat or I can't pay for my son or daughter to go to college or I can't pay for health insurance…you see what I'm getting at.
I care about the trees, sure, but I care about my family a lot more. I would say that there's greater awareness of issues around social justice and economic inequality. Vendors are taking differing approaches to that, but certainly they are more aware and more thoughtful in how their product is getting made.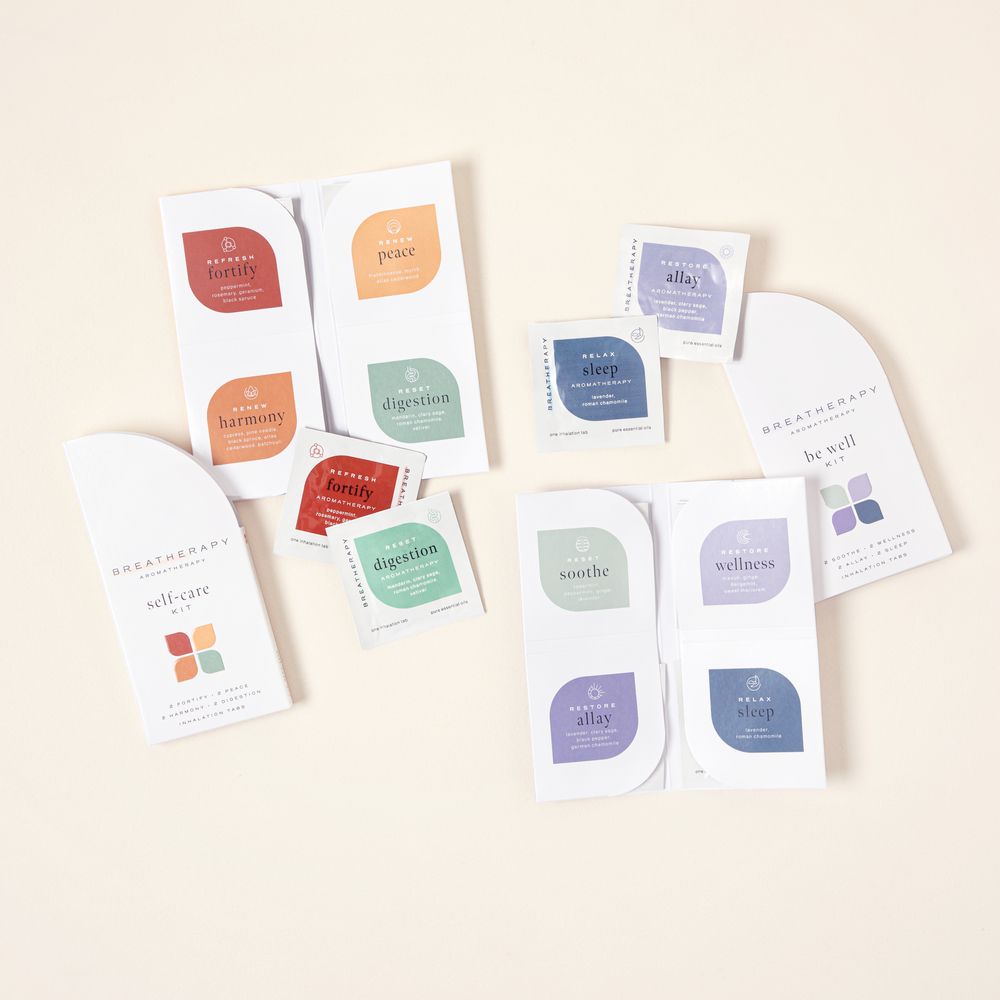 What would you say to a brand that's considering selling on Etsy or Uncommon Goods?
I think Etsy is a wonderful platform, but anyone can sell on there. We hand-pick every vendor that we work with. There are 50 million products, give or take, on Etsy. There are 5,000 on Uncommon Goods, so the average product sells 10 times more on Uncommon Goods than it does on Etsy. You'll do a lot more volume with us if you're selected by our buying team.
It's also a question of, what do you want to spend your time on? Are you a designer and a maker or are you a warehouse fulfillment person? Are you a customer service person? Do you want to deal with returns and shipping? Do you want to handle advertising yourself? Those are all things that we handle for the seller so they can focus on what they do best. We coexist with Etsy, but, if you are a maker who wants to focus on developing new products rather than putting your energy behind managing warehouse distribution and customer service, we're a better partner to have.