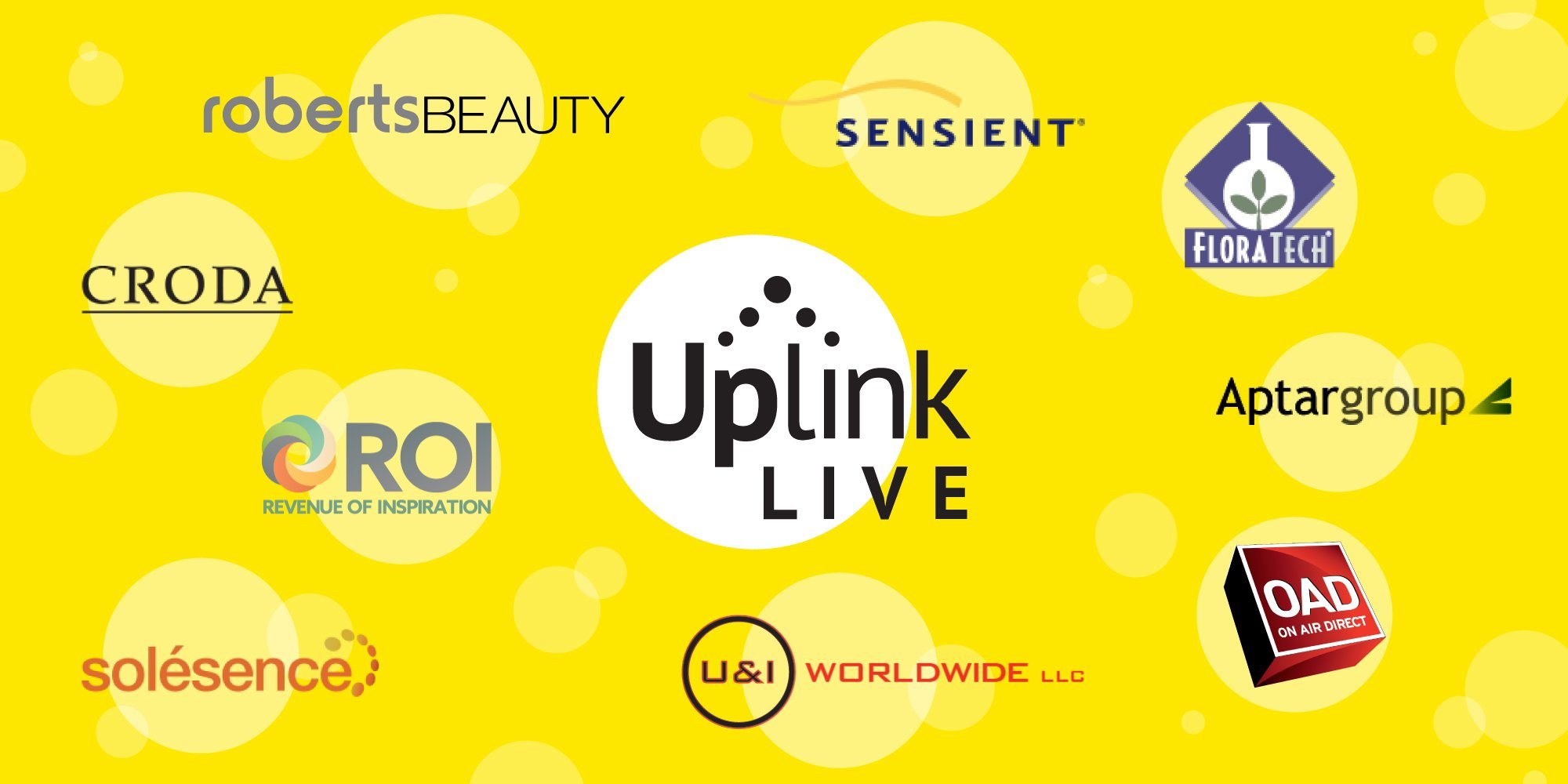 Uplink Live Builds Source For Growth With Launch Partners And Referral Program
With the onboarding of packagers, logistic companies, ingredient suppliers, distributors, product manufacturers, and the addition of a referral program,
Uplink Live
has quickly developed into a new source for growth for independent beauty brands. Shortly after Uplink Live was announced, over a dozen solution providers applied to join as launch partners for the event. They will anchor a group of 50-plus exhibitors eager to work with independent and emerging brands that will occupy a wing within
Indie Beauty Expo New York
at Pier 94 on August 21-22.
"I am beyond thrilled at the positive response we have been receiving from solution providers about participating in Uplink Live," said Jillian Wright, co-founder of the Indie Beauty Media Group, the authority independent beauty that produces IBE, Uplink Live, BeautyX Summit and this publication. Wright has been spearheading the outreach effort for Uplink Live. "Our partners recognize the speed at which independent brands are changing the beauty industry, and they are focused on identifying the next big brands so they can grow together in the future."
Uplink Live was developed as an extension of Uplink, a digital platform within Beauty Independent that addresses a major need for brands: sourcing critical business functions from outside suppliers. With many independent brands operating with a staff of 5 or fewer people and no procurement department, finding trustworthy business partners with speed and ease is critical (and a top concern according to IBMG surveys of brand founders).  Hosting an opportunity for solution providers to exhibit within the world's largest exposition of independent brands and beauty entrepreneurs is another development towards bringing together innovators at every step of the supply and demand chain of today's beauty business.
"There is no better way for us to show our continual commitment to the indie beauty community than being present at Uplink Live—we get to meet and work with innovative people who truly inspire us."—Jaimee Given, Aptar
"Indie brands have a lot of questions and it's important they feel that who they choose to partner with really understands their vision and what their needs are at every stage of growth," said Gina Jacoby of Uplink Live launch partner and specialty distributor, Revenue of Inspiration. "Meeting eye-to-eye in person, to get to know the brand and their team, to listen to their needs is extremely exciting for us." Like the best indie brands, ROI is an example of a company crossing categories and innovating, as demonstrated with its digital showroom that connects brands with buyers.
The Uplink Live wing will also feature 30-minute presentations from participating exhibitors. The various ways of interacting with attendees appeal to such exhibitors as ingredient supplier and market leader Croda, Inc. "I think indie brands will benefit from our formulation and technical expertise," said Croda's Donna Petretti. "We are excited to have the opportunity to meet with indie brands in a more intimate setting to understand their challenges and find ways to support their growth and future success."
According to Wright, the IBMG team is determined to bring a diverse range of companies to the show floor, from smaller branding and public relations consultants to large manufacturers. Another part of the mission is to attract indie-attuned companies that understand the growing pains experienced by emerging brands. "Our company started by going down a road not often travelled," said Drew Hoffmann, president of On Air Direct (OAD), a fulfillment and logistics (3PL) firm. "We took a chance and lived by the mantra, 'How hard can it be?' So we are able to help brands launch—guiding them through the process, holding their hand and preventing mistakes that often result in chargebacks.  We also have the capacity and technology to support them as they grow into a larger well distributed, mature brand."
Aptar Beauty & Home  launched the IndieBoutique one year ago at Beauty X Capital Summit. "IndieBoutique is a curated collection of our top-selling dispensing products that are available with shorter lead times and smaller minimum order quantities available in stock colors," said Aptar's Jaimee Given. "There is no better way for us to show our continual commitment to the indie beauty community than being present at Uplink Live—we get to meet and work with innovative people who truly inspire us."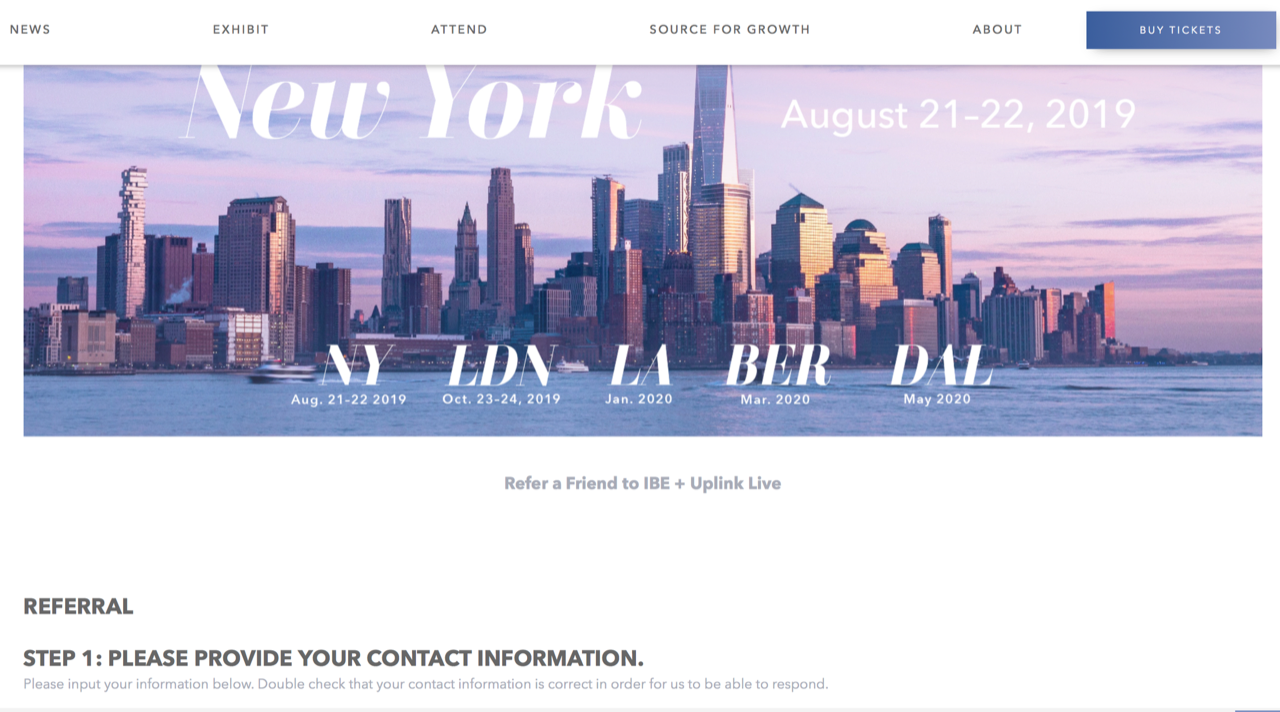 To help build the strength of the network, Uplink Live launched a referral program to encourage brands (and solution providers) to share good working relationships. "Uplink digital provides four key attributes for brands: choice, speed, trust and confidence," said IBMG co-founder Nader Naeymi-Rad. "With the new referral program, we're bulking up our commitment to the trust and confidence IBE's brands can have in the vendors who join us. It's another layer of third-party validation where people within the community can directly help each other." The program, which encourages both brands and solution providers to refer companies to IBMG for inclusion in its expos—and receive a reward for doing so—kicks off today. Applications can be found on IBE's website.
Indie Beauty Expo New York will be celebrating its fifth year in August, and Uplink Live will make IBMG's signature event considerably larger. In addition to the approximately 300 independent brands expected to exhibit, another 300-plus non-exhibiting brands are anticipated to attend (one ticket provides entry to both shows), with an equivalent number of press and influencers and nearly triple that in retailers and industry trade professionals. In addition to the exhibitors referenced above, the Uplink Live Launch partner exhibitors also include:
Roberts Beauty: Offers a wide range of services, including unique turnkey formulations, with color cosmetics a specialty.
U&I Worldwide: Supporting brands with packaging, influencer programs, print, display, video and GWP promotions.
Sensient Technologies: A leading global manufacturer of colors, fragrances and flavors.
Floratech: Formulation solutions that are derived from plants and offer eco-friendly, sustainable ingredients and alternatives to plastic microbeads.
Solescence: Provider of a range skincare from market-ready solutions to custom-product development; and a dedicated BeautyX Summit sponsor.