Ursa Major Aspires To Be The Patagonia Of Natural Skincare: Purposeful, Outdoorsy, Well-Crafted And Successful
At Ursa Major, basics aren't boring. The nearly eight-year-old brand has proven well-crafted entry-level premium natural skincare products don't generate exits to pricier fare. "We have a small, productive line. If someone is a newbie in this space, retailers often start them on Ursa Major. Then, we get them hooked on Ursa Major, and they become loyalists," says Oliver Sweatman, co-founder of the brand, which is available at Credo, Follain, Goop and The Detox Market. "We refer to Ursa Major as the Patagonia of skincare. We want to be a one-stop shop for discerning, health-conscious men and women, and their kids who have an affinity for the outdoors." Beauty Independent chatted with Sweatman and his partner Emily Doyle about selling on Amazon, creating a desirable company culture, breaking through gender divisions in the beauty marketplace, stumbling with mineral SPF and the emergence of Vermont as a beauty hotspot.
What were you doing before you launched your brand?
Sweatman: Emily and I were living and working in New York City, and we were both really enjoying that. After doing some work in pharmaceutical sales, Emily joined Bumble at an early stage and ran their sales team. I started out in finance, but have always been an entrepreneur at heart. I started a company called Sharps, which was a men's grooming brand. Em and I met at Sharps, where she worked for a short amount of time. We really bonded over this idea of curating an awesome company culture and sustainable business.
In New York, she went on to work for Jurlique and other brands. During this period, we were on a health and wellness kick. We did a 30-day cleanse together that was a bit extreme. As we were doing that, we were reading this book that talked about detoxing your lifestyle. There was a chapter in it about the ingredients in personal care. Even though we had been in the industry, we weren't chemists. It was a wake-up call for both of us. It precipitated this big audit of our lifestyles.
We had been in New York for years. We loved the city, but we also loved the mountains. We wanted to reboot and chose Vermont because I have family connections in Vermont. The recession had just hit full force. We needed to make a living. We know personal care and love skincare, and have experience in it. The Holy Grail has always been effective, truly healthy personal care that delivers a wonderful experience from a brand you can relate to and trust. We said, "Let's do this." Let's build a cool, sustainable skincare company. We grossly underestimated how difficult to it was to make natural beauty products. We spent the first year-and-a-half making products that weren't great, but we ultimately developed formulas we liked.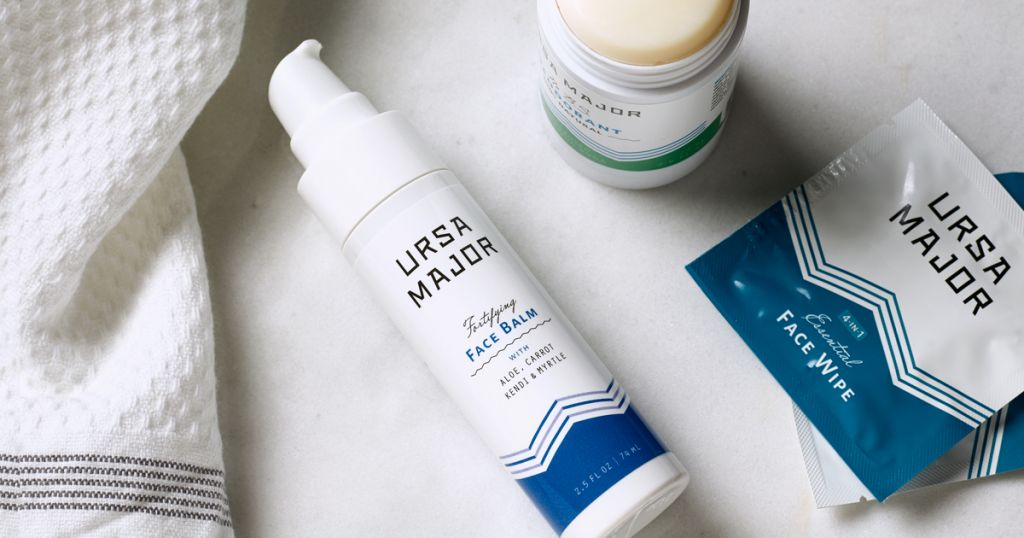 What was the first Ursa Major product?
Sweatman: Our initial goal was to launch a simple daily face-care regimen. In December 2010, we launched Shave Cream. A year later, we launched Face Wash and Face Tonic. A year after that, we launched Face Balm. In mid-2013, we launched Face Wipes. We had a scrappy, slow start averaging one product a year. It was very intentional, and we poured ourselves into the products. The Shave Cream was meant to be an adjunct product. We thought we'd have other products three or four months later, but it ended up taking more like 10 months.
We were put in the men's box for the first couple of years even though we envisioned the brand for men and women. At a certain point, we started having more and more women reach out to us, which was really cool. Having become somewhat established in the men's market, we had an existential moment at the company in terms of our DNA. We decided to double down on gender-agnostic positioning. We reworked the copy on a few of the products and, from that point forward, we really pursued a gender-neutral point of view unabashedly. We knew there was a tiny bit of risk, but, in grooming, there isn't the equivalent of a Follain or Credo.
How much money has it taken to develop the brand?
Sweatman: We've spent roughly $2 million since we've launched the company, and we have raised capital basically every year. In total, we have raised roughly $3 million. We have done small rounds with the same group of individuals and, every round, we add a few more people. Fortunately, we have been growing, so we are able to go back to the group and secure more funding. We need the capital mostly to fund new product development and manufacturing.
What is Ursa Major's current distribution footprint?
Sweatman: Direct and wholesale are our two core channels. We have a store on Amazon that is coming on strong. We look at the discovery and replenishment aspects of wholesale. For replenishment, green beauty, beauty/grooming and natural foods are the channels we operate in. Green beauty is the one that has the most momentum. For the discovery side, we operate in lifestyle retailers like Madewell and Outdoor Voices.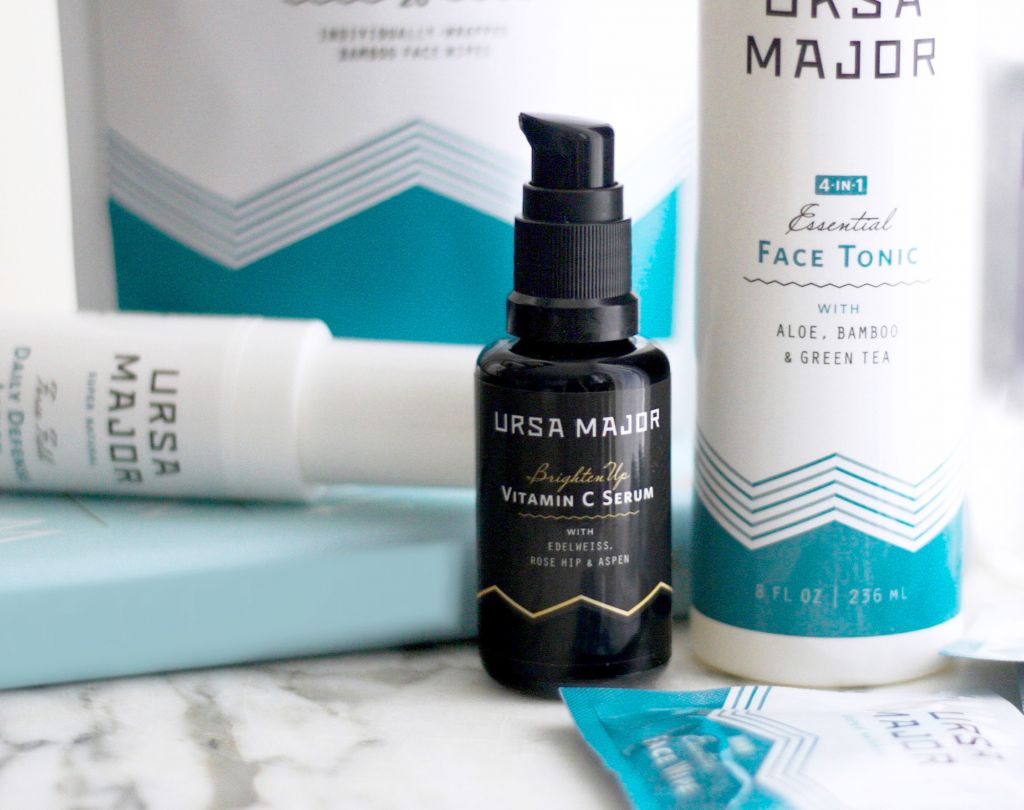 What's your plan to grow distribution?
Sweatman: We are very focused on supporting retailers curating premium destinations for natural rather than opening new doors. We are working with our key partners to grow sales in them. We are keeping our distribution pretty tight, and that's why we like having our direct and Amazon business because it allows us to reach out to more people without being available in every brick-and-mortar.
How is Ursa Major's business divided between wholesale and direct?
Sweatman: Direct and wholesale are our two main channels, and each make up about 40%. The rest is Amazon. Even within our wholesale channel, a lot of sales are happening online because the retailers have robust direct businesses.
What's your take on Amazon?
Sweatman: We had a guarded view of Amazon like a lot of others, and we dipped our toes into it two years ago. At the time, we had retail partners selling us on Amazon, and we had a hard time managing the experience. It was less about price than how the products and brand looked. In the interest of presenting a unified brand, we are now the only authorized seller of Ursa Major products on Amazon. We can put our own photos up there and keep a consistent presentation. We have started to get more adept at using Amazon marketing tools to prospect for new customers. We have a couple people internally who have showed interest in Amazon. They go to Amazon conferences and geek out on the stuff. We are also considering adding an agency to address some of our blind spots.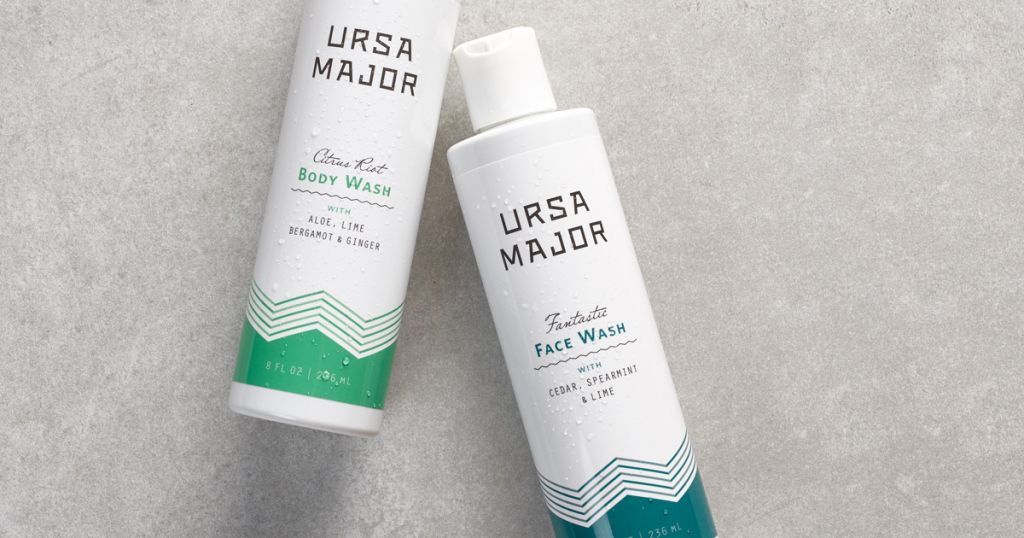 Is the Amazon customer different from Ursa Major customers elsewhere?
Sweatman: We have done some analysis and found there is very little overlap between our direct business and Amazon. That led us to believe that Amazon is getting us in front of a new customer base we haven't been able to get in front of through our own direct marketing efforts.
What is the brand's hero product?
Sweatman: You probably aren't going to believe me, but we don't actually have one. There are five or six products that are very close any given month. Our Face Wash, Face Wipes, Deodorant, Golden Hour Recovery Cream, Face Balm and Face Tonic are in that group.
Pretend we a retailer. Give us a quick pitch on Ursa Major.
Sweatman: Ursa Major has clean skincare essentials for people who want a low maintenance, but rewarding routine. It's positioned as a gateway to premium natural, and we have the sell-through to prove it. The positioning is supported by our simple, but elevated packaging, our accessible price point and generous portions. We don't have a bloated line with lots of choices.
What's the price range?
Sweatman: It's $20 to $50 with the weighted average being around $30. Basically, we make the highest quality product we can make, put it in a generous-size container and, then, figure out what's the lowest price we can charge for it and still make an acceptable margin given our channel mix. Our sizing is often bigger than our competitors. For example, our Face Wash is $28, and it's eight ounces. You might find a comparable product for $40 to $50, and it would be four to five ounces. As a result, we don't have as high a gross margin as some of our competitors, but that's partly why we have the channel strategy that we do.
Is there something a retail partner of yours does that you wish would become industry standard?
Sweatman: Some of them are getting better at smart sampling or allowing the customer as they are checking out to intentionally choose a sample. When the retailers do that, customers are much more likely to engage. Some of our retail partners are also getting quite adept at telling the brand story. We feel that's very important.
Ursa Major was named in a class action lawsuit involving Credo. What was that like?
Sweatman: One of our products was tagged in the lawsuit. Fortunately, we keep a lot of documentation on our ingredients and natural claims. When Credo requested paperwork, we sent them everything, and that's the last we heard of it. It wasn't really an issue for us. It's an issue for the industry because there is so little definition around natural, and there is really no consensus around a standard. I think it's going to be an ongoing issue for us all to grapple with.
Doyle: Credo does their due diligence and has an amazing brand list. You have to think through what you say, how you want to say it in terms of the message, and that you have all the documentation around your products and you know all the trace compositions in your products. It's a good thing to raise the standard and to make sure everyone keeps to the same standard around natural and organic. Standards are being created by the Credos and Follains of the world. They are holding the bar up pretty high.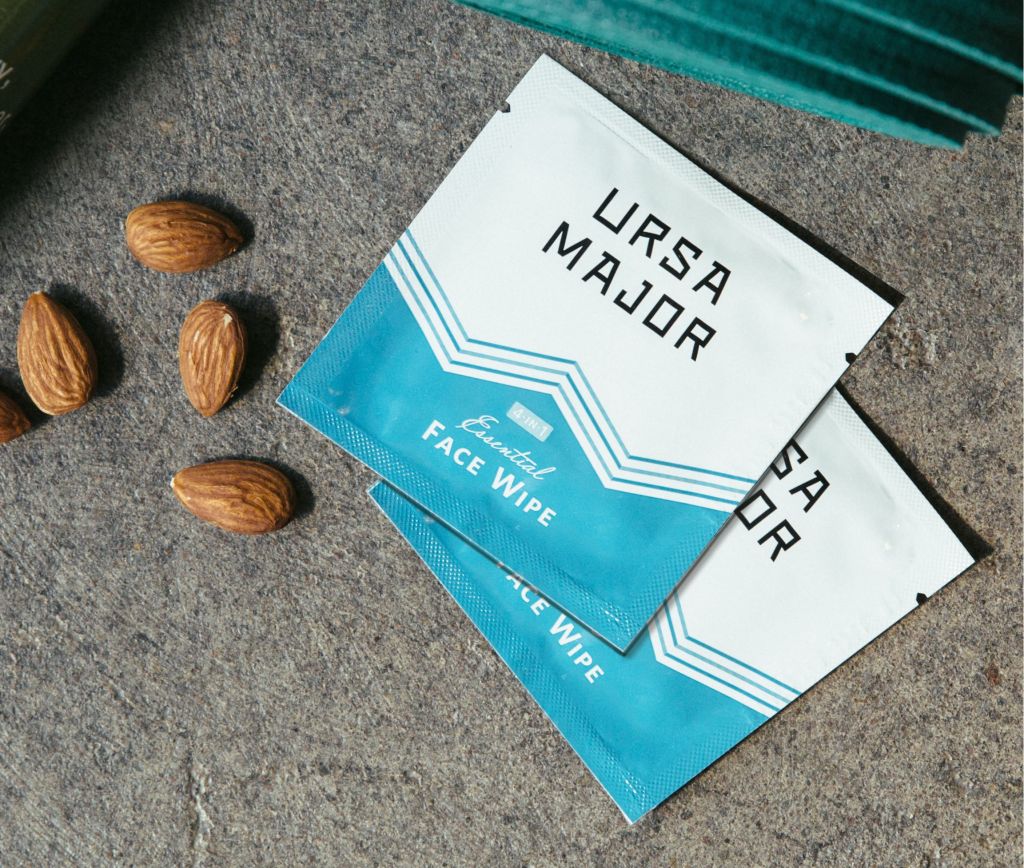 Have you had a product fail?
Sweatman: The very first product we tried to develop was a natural SPF for active people who spend a lot of time outdoors. We spent a year in Vermont trying to make that product, and we failed miserably. Everything we developed was something we would never use personally. That was incredibly disheartening because that's when we were trying to launch the business. After failing with that, we pivoted toward a daily skincare regimen. We will definitely revisit mineral-based sunscreen.
What's your product release cadence?
Doyle: Our approach has been pretty organic. We have a product wish list, which we revisit two to three times a year based on what we want and what our customers are telling us. We allow for loose development timelines because we know we're going to tinker for a while before we have something we truly love. If it takes two to three years to get there, so be it. Two to three new products per year feels about right. We've averaged about two a year since we launched. We don't want to overwhelm anyone or make anything extraneous.
How fast has Ursa Major's business grown?
Sweatman: We have grown 60% to 70% on average for the past five years. This year, we are hoping to grow 100%.
What's your approach to social media?
Sweatman: It's honestly an area where we could be doing better. We have the most success when we post content that inspires our customer in some way, and we have had success working with long-tail influencers that overlap with our target customer archetype, which we refer to as the mindful explorer. They are on the path to a healthy, balanced lifestyle with a connection to nature. The influencers have smaller followings and aren't necessarily household names, but they have loyal audiences.
What sort of company culture do you try to cultivate?
Sweatman: It sounds cheesy, but I think we have a nurturing environment. We have 12 people, and everyone is a shareholder in the business. We advocate a balanced lifestyle. That means we work hard while we are here, but we don't keep people late into the night, and we don't have people working on the weekends. We provide healthcare and also support education. This has been evolving because, obviously, as a startup, you can only do so much, but one of our goals is to become a favorite company for people to work for in Vermont. We are applying to become a B Corp, and that's helping us take a look at how we stay an awesome place to work.
Do you maintain work-life balance?
Sweatman: Balance is what our brand is about, and we think we need it, but we are not good at it, to be honest. Our staff teases us about not taking vacation. Em and I are partners in the truest sense, not just in business, but also in life. We have a child together. We often find ourselves talking about the business. It's a huge, huge part of our lives. Sometimes we read about entrepreneurs who sound like they have perspective and take vacations. We wonder, "How do they do that?"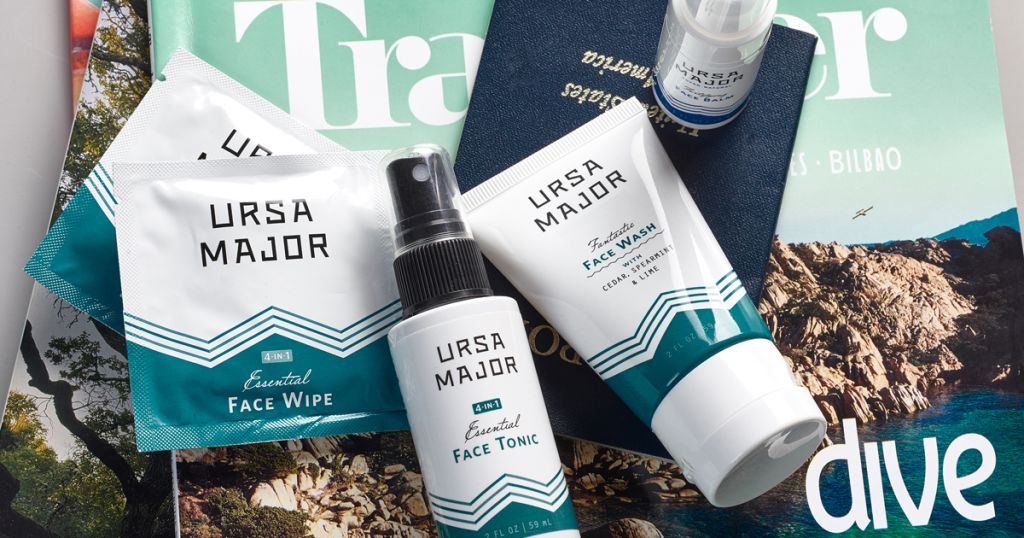 What key functions do you outsource?
Doyle: Fulfillment because it's resource- and logistics-intensive, and it's not our expertise or core business. That said, we did it in-house for the first four years until we couldn't handle it anymore, and I think that was the right call because it allowed us to stay close to the customer in those formative years. We also outsource PR.
Vermont is home to Ursa Major, Tata Harper and Ogee. Is it a beauty hotspot now?
Sweatman: Vermont has a lot of good will associated with it in terms of health, wellness and the outdoors, which works nicely for us. There are some [beauty] suppliers here as well as brands. It's natural for the state, and an extension of the food and craft beer segment. We hope there becomes a critical mass with more players.
What's your biggest fear as an entrepreneur?
Doyle: That we end up in the middle of the pack. Mediocrity terrifies us.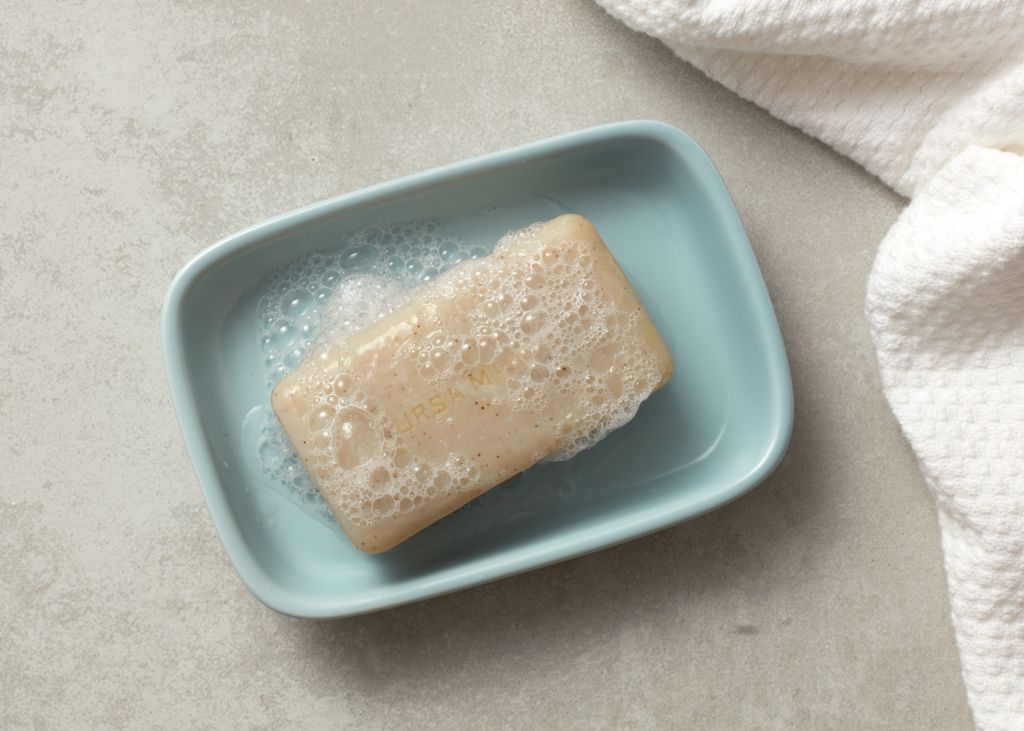 What are some of your major goals for Ursa Major?
Sweatman: We have a brand refresh that will hopefully flow through later this year. We are going to continue to grow our team. We have invested in four new members, going from eight to 12, and are looking to bring on a vp of marketing and designer. Becoming a B Corp will be a huge milestone. We are launching hair care later this year, which is one of the most requested categories from our customers. In natural, it's tough to find awesome hair care, but we think we can do it. Long term, we truly want to become a leader in this market.