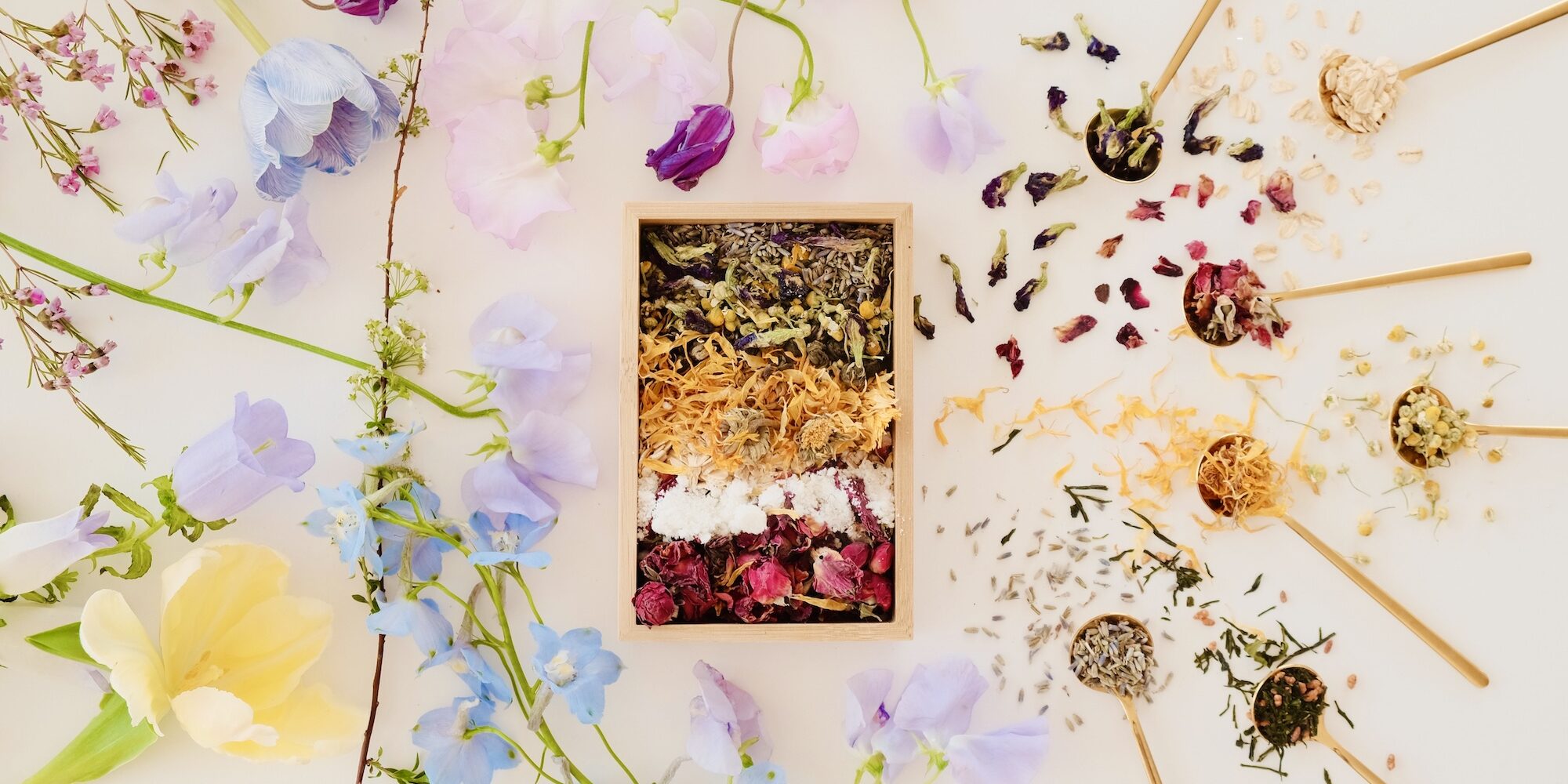 Viral Tea-Based Bath Product Brand Inoki Bathhouse May Be The Calmest Thing On TikTok
Helen Yin's mental health challenges reached an all-time high during the pandemic. Running her consulting company Onova from home with her partner Victor Li led to anxiety and sleeplessness. In addition to professional help, she turned to baths to relieve her stress.
Yin skipped Lush bath bombs she'd used before for her baths and, instead, made her own bath products for them with tea. "I grew up with tea in my childhood, and I just wanted something that was a bit more natural, sentimental and nostalgic," says Yin. She set the mood with music, light candles, place dried flowers in the water and indulge in chocolate or fruit. The curated experience reminded her to slow down and take care of herself in an intentional manner. Now, she's spreading the practice to others with the brand Inoki Bathhouse.
Inoki Bathhouse's $32 offering contains a 105-gram mix of herbs, large tea bag and curated Spotify playlist. Customers can also purchase a $38 kit that throws in six tea light candles, jasmine tea and lavender to sprinkle over the candles with the herb mix, tea bag and playlist. The herb mix is measured for a single bath, but can be divided to stretch multiple baths. Inoki Bathhouse currently works with a manufacturer to secure its ingredients, but Yin intends to work directly with farmers in the future to safeguard quality and fair wages.
In February, Yin developed Inoki Bathhouse's website, and a friend picked up its first kit. In the beginning, business was slow, and Yin and Li shipped out about 10 to 15 kits a week. But the brand promptly went viral on TikTok, and they moved to small-batch drops sufficient for 200 orders each and accumulated a waitlist of around 3,800 people. Inoki Bathhouse's debut drop took place in April, and it sold out in less than an hour.
Yin attributes a lot of the brand's success so far to TikTok, where it currently has over 60,000 followers. Two videos in particular have been instrumental to Inoki Bathhouse's early rise. One features Yin making Li a bath. It's drawn more than 650,000 views and 142,000 likes. "People really enjoyed seeing someone giving their partner an act of service, an act of love," says Yin.
The second was posted following the tragic Atlanta shootings in March that left eight people dead. In it, Yin refers to a mother killed in the shooting and shares the story her mother working tirelessly in a convenience store to support Yin. The video has 1.6 million views and almost 600,000 likes. "That was not the intent of the post, I was really just feeling some type of way, but it definitely got a lot of traction for the business," says Yin. She's discovered that her audience responds to soothing, calm TikTok content. "That goes along with the overall experience I'm trying to create with the bath experience as well," says Yin.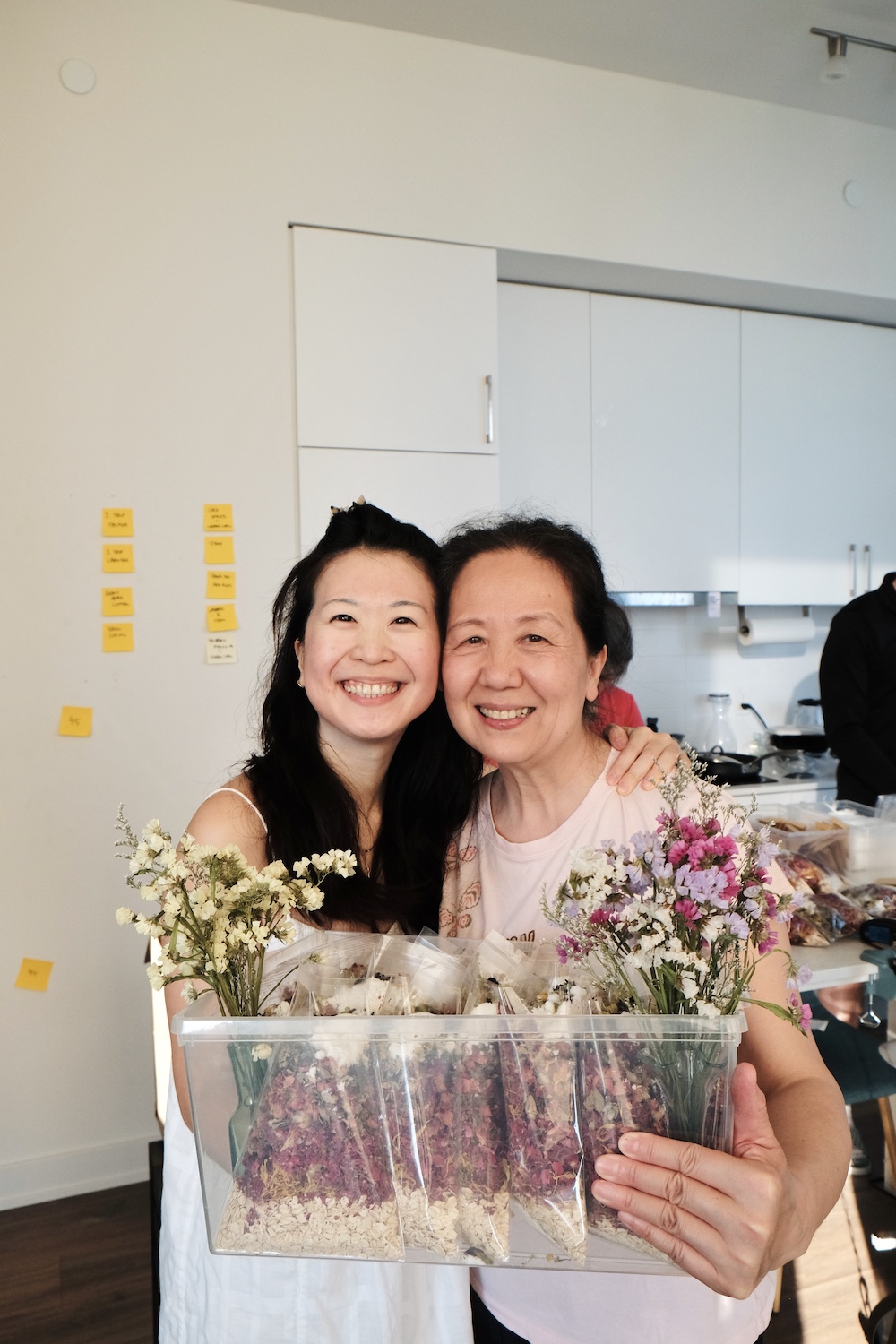 Before incorporating Inoki Bathhouse as a business in Toronto, where Yin and Li live, an important step Yin took was ensuring there was demand for its product. "A lot of companies idealize a product, and they think that it's the solution, but they never really test it in the market," she says. "And that's why, when they launch something, it could fail because they were too scared to launch into the market and get customer feedback." Yin shares that Inoki Bathhouse's formulations have gone through several iterations based on insight from customers and adds brands shouldn't be afraid to launch a product that's not perfect. She says, "You can iterate upon it to make it perfect."
The name for the company is derived from the Hinoki cypress tree common in Japan that complements bathing rituals at bathhouses. Customers have not complained about Inoki Bathhouse's name, but Yin explains on the brand's site that Inoki "is culturally exclusive to the Japanese families that honoured it as a last name. I'm so sorry, I was completely ignorant to that fact. I was eager to start my business journey and should have consulted more people."
Yin tells Beauty Independent that she "would never mis-present my brand as a Japanese brand, which is why I put Chinese characters on my packaging, take inspiration from China's culture around tea and medicine and talk openly a lot about my upbringing in Beijing. Although I don't plan to change the name, I'm committed to continuing to be more aware, conscientious and educated about different cultures that I take influence from so that I never offend or hurt anyone."
Looking ahead, Yin is gearing up to scale production to satisfy demand. Her objective is executing weekly Inoki Bathhouse launches. Currently, Yin, Li and family members package the products. A few employees from Onova assist with marketing and graphic design, but Yin hopes to hire on a part-time employee dedicated to Inoki Bathhouse soon. Once that happens, she expects to look into wholesale partnerships.
A price increase might occur down the line. "To be honest, I feel like we are underselling just because our profit margins aren't that great compared to large beauty brands," says Yin. "I think it's really hard for me because I don't want to charge people more money, but, at the same time, it doesn't allow for me to really grow the company unless I do." Inoki Bathhouse's 2021 revenue projection is 200,000 Canadian dollars or roughly $170,000. The projection is subject to change as a result of the brand improving its operations.
Yin doesn't plan to secure investors, although she's already received a number of investor inquiries. "When you bring in investors, you lose a lot of your authenticity in the brand because investors have different goals than the main founders," she says. "We don't want to lose control and the freedom that smaller startups have."
Yin is focused on Inoki Bathhouse's goal of transforming the bath product industry. "There could be so much done in the bath industry, but it's really not seen as a primary product," says Yin. "A lot of companies create bath products as a secondary SKU and not the primary selling point, but we want our entire business to be based on baths. Not even just the formulation, but the entire experience of relaxing in a bath at home. We really want to be the most innovative bath company that leverages tradition as a core element of the experience."