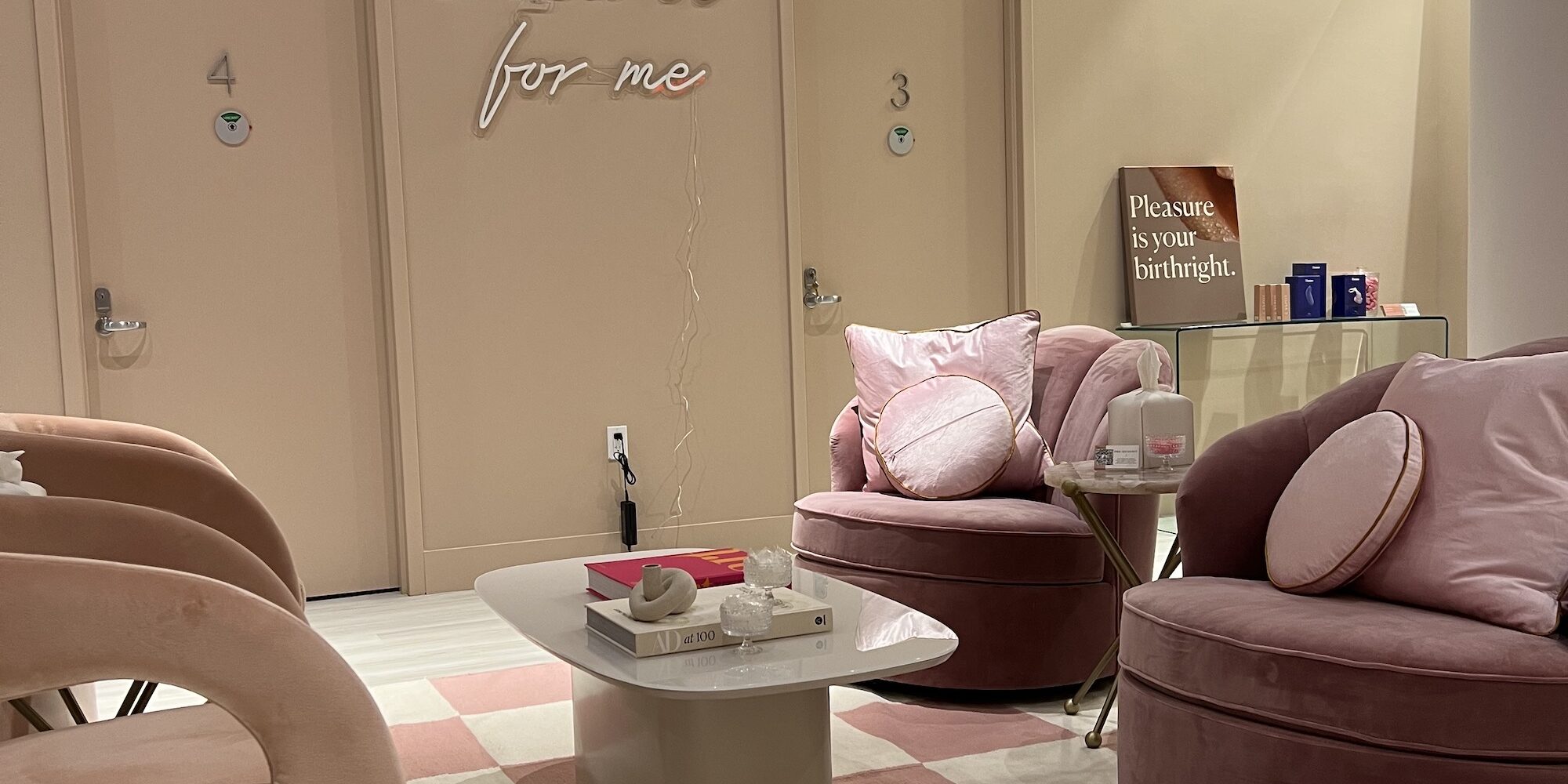 Vspot Adds Second New York City Location With Flatiron Flagship And Introduces New Treatments
Pioneering women's intimate wellness center Vspot has opened a second New York City location.
The new six-room location is street level on Fifth Avenue in Manhattan's Flatiron neighborhood, giving Vspot a more public-facing facade than its second-floor first NYC door a block from Central Park on Madison Avenue.
"We're in the middle of one of the busiest shopping blocks in Manhattan," says Vspot founder Cindy Barshop, a former "The Real Housewives of New York City" cast member. "I think the ground floor is going to be amazing for getting the conversation going. This is continuing education, letting more women know that this is out there and maybe start asking their gynecologist and creating more curiosity." 
The Flatiron district has become a nexus for modern women's health and wellness destinations in recent years. It's home to Yinova Center, Tia, Modern Age and Kindbody, which offer services ranging from Western medicine-based gynecological care Eastern medicine modalities like acupuncture designed to boost fertility. Barshop is excited Vspot is entering the mix. She says, "This is going to inspire and empower women to be like, 'OK, this is on Fifth Avenue, this is where I'm shopping. I'm not going to be embarrassed to walk in.'" 
For Barshop, women's pleasure and intimate health is important business. "For myself, I'm a much better woman, a better mom enjoying my intimacy, but we have to make sure that we are clarifying that for people," she says. "We're not talking about a product, and that's the scary part that we do." 
Vspot has intimate care products, including a serum to ease orgasms, but Barshop acknowledges there are limits to what topical products can accomplish. "We have the serum, which is great, but there's other things we have to look at and the different types of changes that each woman goes through in their life cycle of dryness, inability to orgasm, looseness, working out too much," she says. "A cream is not going to tighten your vagina just like a cream is not just going to tighten your face."
In addition to a bigger space and more treatment rooms, the new flagship will introduce two new procedures: non-surgical labiaplasty The Precision Plasty and bacterial infection preventative treatment The Vaginosis Treatment. The new procedures join Vspot's existing non-invasive treatments such as treatments for vaginal dryness, urinary incontinence, vaginal laxity and lichen sclerosus. Treatments are performed under the guidance of Vspot chief medical officer and gynecologist Monica Grover.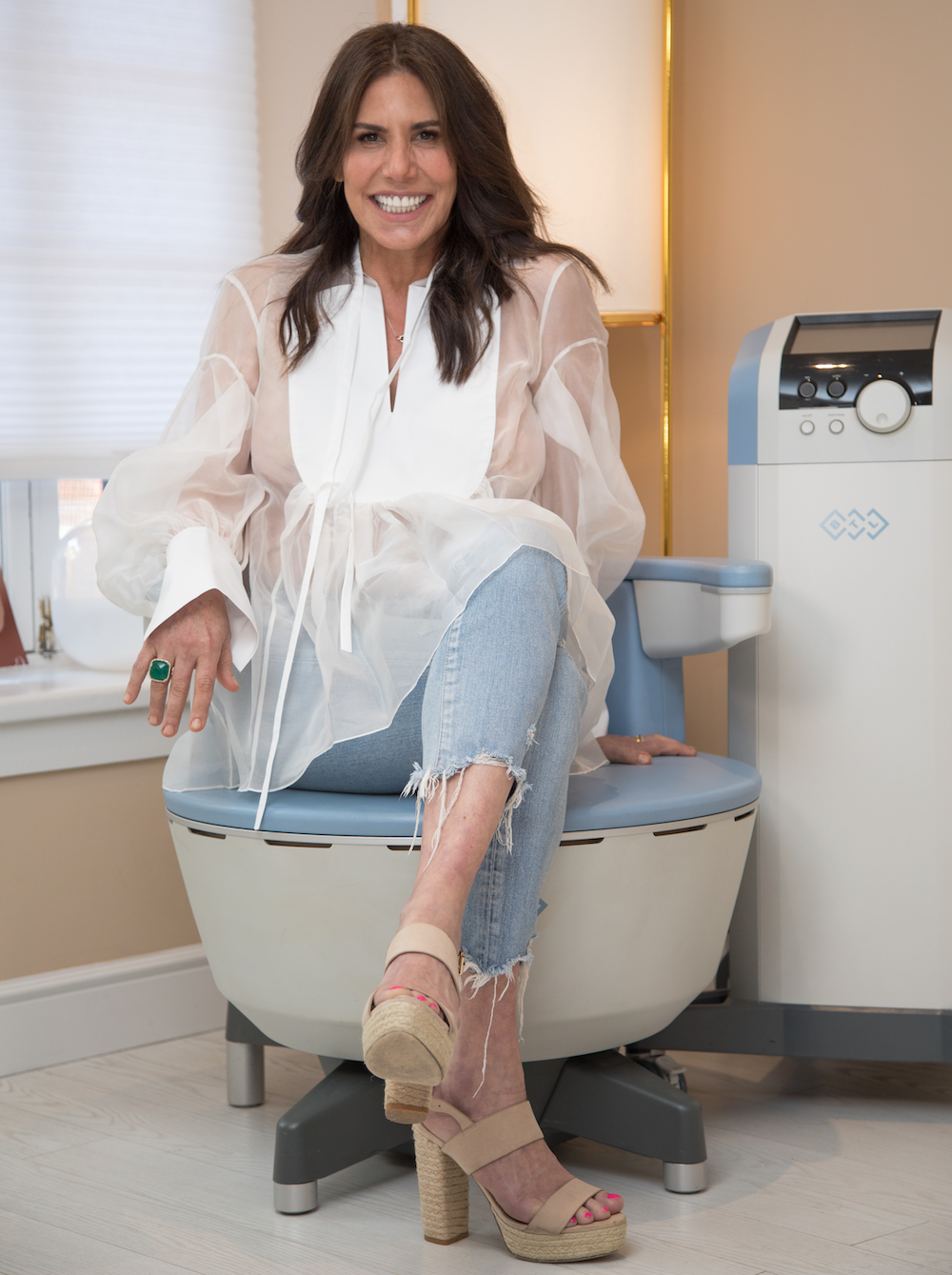 The two new procedures resulted from Vspot's leading position in the market as a women's intimate health service provider and the sheer number of clients it sees for issues like orgasm difficulties. "I have my own practice, and I've been part of other practices. I can't fathom anyone seeing as many women as we do for these indications," says Grover. "When patients come in and they're like, 'How many of these do you do a day?' I'm like, 'This is all we do.'"
After years of doing vaginal laser and radiofrequency treatments to address laxity or dryness, Grover realized the treatments were also helping patients dealing with recurrent bacterial and yeast infections by bringing the vaginal pH back to a healthy baseline. "We're able to restore the pH with the machines," she says. "That's one of the indications that we really want to highlight because there's such a need for it, whether you're young or postpartum or postmenopausal, that pH is always going to be disturbed in some way. This is a modality that can really help with all of those reproductive stages."
Vspot conducted clinical trials on the use of vaginal lasers like FemiLift for infection treatment. "You have doctors that have these pieces of equipment all over the world, but how can they be assured that they can definitively treat pH irregularities or vaginal atrophy when they don't have enough of the population requesting the modality?" says Grover. "Being that this is all we do, we're so much more confident that it works, and that's why we are able to promote the services because it's based on actual clinical based medicine."
For The Precision Plasty, Vspot harnesses helium plasma with radiofrequency to remodel the labia and clitoral hood in lieu of a traditional labiaplasty. It has the extra benefit of rebuilding collagen. Grover says she wasn't enthusiastic about the traditional surgery. She explains, "There's a high infection rate. You really don't know how women are going to respond to the suturing. Also it does absolutely nothing for collagen repair. We've gotten patients that have had traditional labiaplasty that are now having a recurrence of the same issue as they did originally because the tissues become relaxed again and lost their elasticity."
Downtime for The Precision Plasty is a fraction of that of a traditional labiaplasty, five to seven days as opposed to six to twelve months. "It's a much better alternative," stresses Grover, adding, "And the remodeling process is taking place now for the next, I would say even six to nine months, you're actively seeing the tissue change, and that's because we're inducing tissue cellular structure changes." 
Vspot's revenues have increased about 200% since its opening in 2017. Barshop funded the new location with proceeds from the initial location and small business loans. She was inspired to launch the business after birthing twins catapulted her into menopause, causing issues like painful sex and incontinence. The serial entrepreneur previously founded and successfully exited from Completely Bare, a hair removal service chain and product line that she bootstrapped into a $30 million business.
Barshop believes Vspot's new location will be impactful in destigmatizing its treatments. She says, "Once folks come in, they see the welcoming community, they speak to Dr. Grover or one of the clinicians there to help them, that's the way we change [the conversation] about optimizing that body part. If you have access to technology to make things better, let's do that."