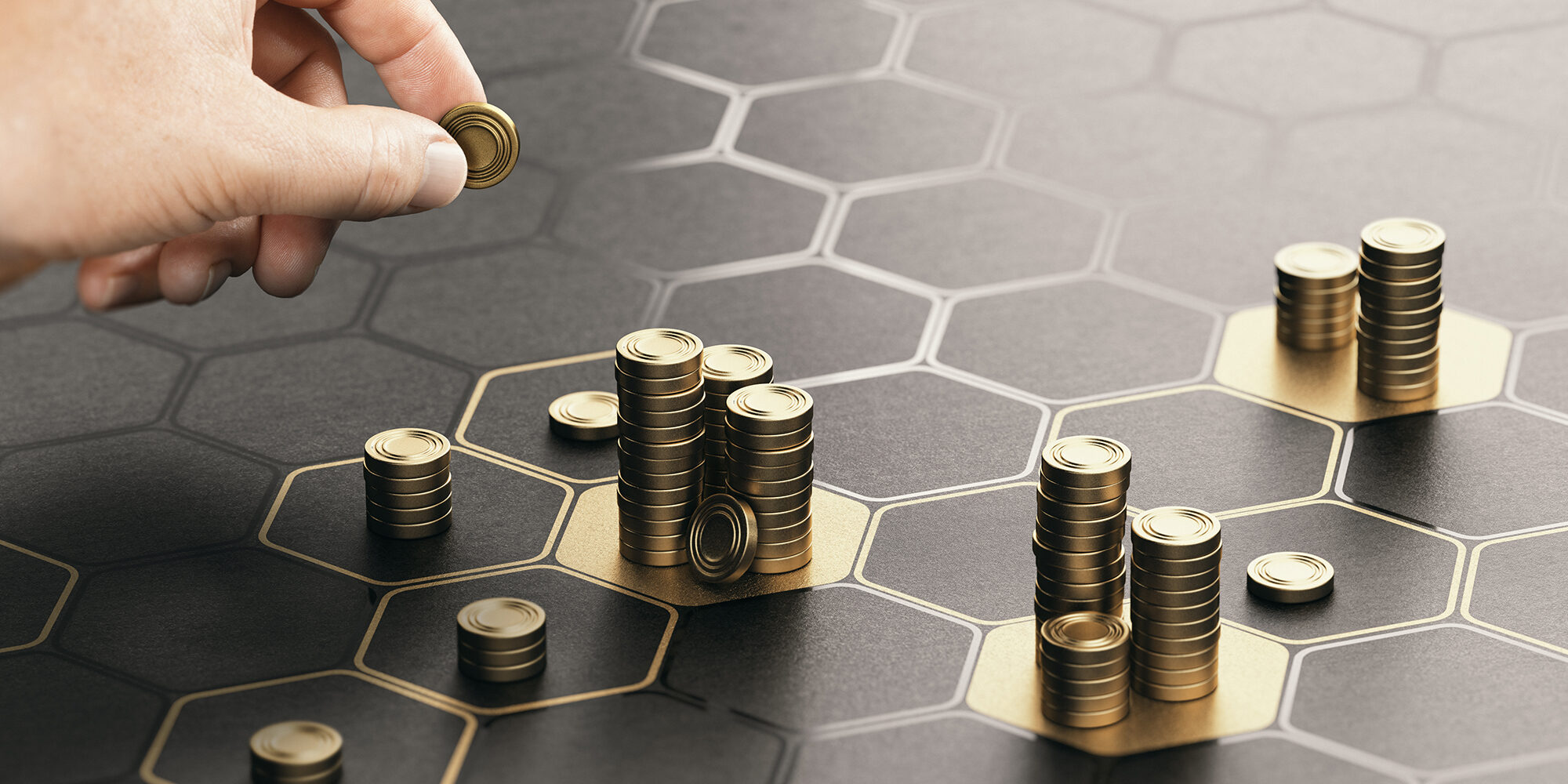 Waldencast's Michel Brousset On The SPAC Process And The Sort Of Brands He Wants To Back
The beauty industry is a magnet for all manner of investors—from angels to family offices and venture capital funds to private equity firms.
The latest money engines to enter the industry are special purpose acquisition companies or SPACs. A phenomenon that has hit many sectors, SPACs offer an alternative route to accessing capital markets without going public the traditional way. Called blank-check companies, they have no commercial operations at the outset and are intended strictly to raise capital through an initial public offering (IPO) for the purpose of purchasing an existing company.
A faster mechanism of becoming publicly traded than a typical IPO, a SPAC allows an entity to put capital together to form a company, list that company and, within 24 months, find a company to merge with. Once the companies merge, the merged business will go through a de-SPAC process and, at that point, it's public. According to SPAC Research, 294 SPACs accumulated $95.7 billion this year. Only a small amount of SPAC capital is directed at the consumer packaged goods segment. The median size of a SPAC is about $250 million, and the largest sectors of SPAC activity are technology, finance and media. 
Still, SPAC activity in the beauty industry has been climbing. HydraFacial went public via SPAC in a transaction valued at $1.1 billion and orchestrated by Brent Saunders, former CEO of Allergan. Powered Brands was set to raise $200 with a SPAC, but co-founder Katherine Power told Forbes it amassed with more than $1.5 billion in orders on its first pricing day. Power is the CEO and co-founder of Clique Brands, parent company of Who What Wear, Merit and Versed. Her co-founder at Powered Brands is Dana Settle, founding partner of venture capital firm Greycroft.
AF Acquisition Corp., a partnership between AF Ventures, Scharf Brothers and Mistral Equity Partners led by Andrew Scharf and Jordan Gaspar, filed for a $200 million IPO. It operates in the food and beverage, wellness, beauty, pet and personal care sectors. Digital healthcare player Hims & Hers' path to the NASDAQ included a $1.6 billion SPAC transaction that saw it receive almost $280 million in proceeds.  
Waldencast Acquisition Corp. is the latest SPAC on the beauty, wellness and personal care scene. Led by Michel Brousset, formerly group president of L'Oréal's consumer products division in North America, Felipe Dutra, formerly CFO of Anheuser-Busch InBev, and Hind Sebti, former general manager of L'Oréal, it has reeled in a war chest of $633 million and is expected to pursue deals in the $1 billion to $3 billion range. Brousset is also co-founder and CEO of Waldencast Ventures, an incubator and early-stage investor with majority stakes in clean cosmetics brand Kjaer Weis and Brazilian skincare brand Sallve.
Last Wednesday, he spoke with Nader Naeymi-Rad, co-founder of Beauty Independent owner Indie Beauty Media Group, for an In Conversation webinar discussion that delved into the current beauty investment environment, Waldencast Acquisition Corp.'s plans to deploy the capital its raised and advise for entrepreneurs considering SPACs.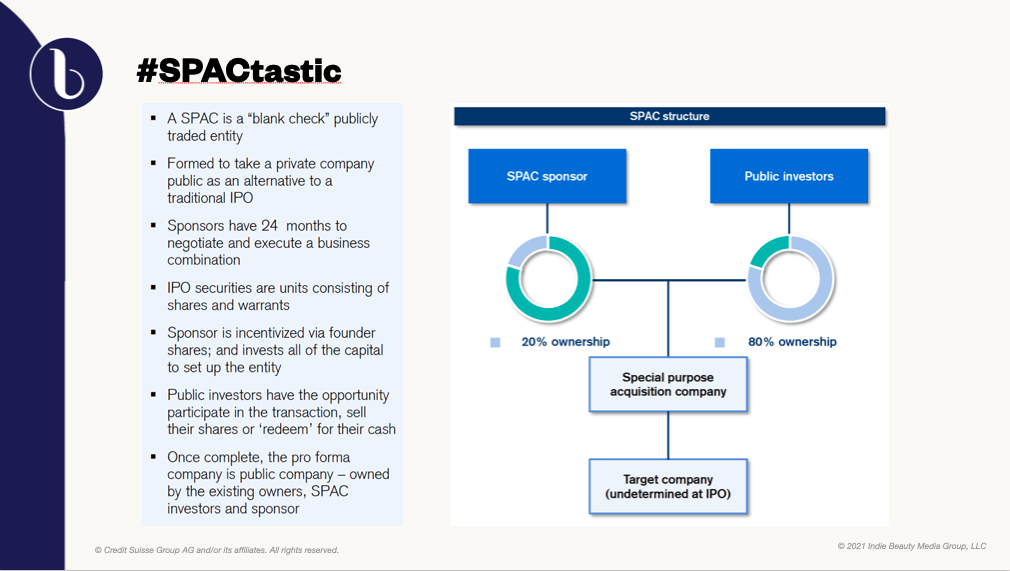 Why create an incubator arm in Waldencast?
I'd step back and ask, "Why launch another beauty brand?" There's plenty of beauty brands, and the world does not need another one, another lipstick or another skincare cream, right? And actually that is our bias when we look at both investment as well as running incubation. What the world needs is brands that connect with consumers in a meaningful way. What the world needs is brands that provide products, services and insight that serves a purpose, and that's the first filter we use. We know the business, there is still plenty of white space. Why there is still plenty of white space to be had is that there is the potential of having almost as many brands as there are women or men because the needs, the insights, the requirements that people have when it comes to a brand are almost infinite. As we developed these ideas and these ambitions, we started thinking more about doing larger acquisitions to anchor some of these brands.
What does a guy who's used to running an $11 billion business have to tell somebody who's running an $11 million business? How much of the skills developed at conglomerates are really transferable to smaller brands?
I started as an assistant brand manager running a very small business actually, but I think that the principles of how you build a brand, how you grow it, how you set up the right structural economics, how you set up the right team, how you motivate teams, how you engage with customers are the same. They are just applied on a different scale. Perhaps the biggest difference versus a big company is the human element is much more important in small brands. When you're a part of a big company where you have 4,000 or 5,000 employees, if you have a few that are not working exactly right, the "machine" supplements it. In a small startup, every person is critical and that human element is critical.
What's the strategic significance of having an "anchor"?
It provides two things we're looking for. Operational scale and financial scale that allows us to internally fund the development of these smaller brands and put together infrastructure that will be larger so we can reach our ambition faster. As a consequence, we started thinking about how to finance that as we were building the team, and we didn't set out to do a SPAC. In fact, if you would have asked me two years ago what a SPAC was, I would have had no idea. We set out to build this next generation best in class beauty and wellness company, and SPAC is one of the tools that we arrived at as a simple, efficient, and beneficial to everybody—companies and founders and investors—that we could bring to life faster.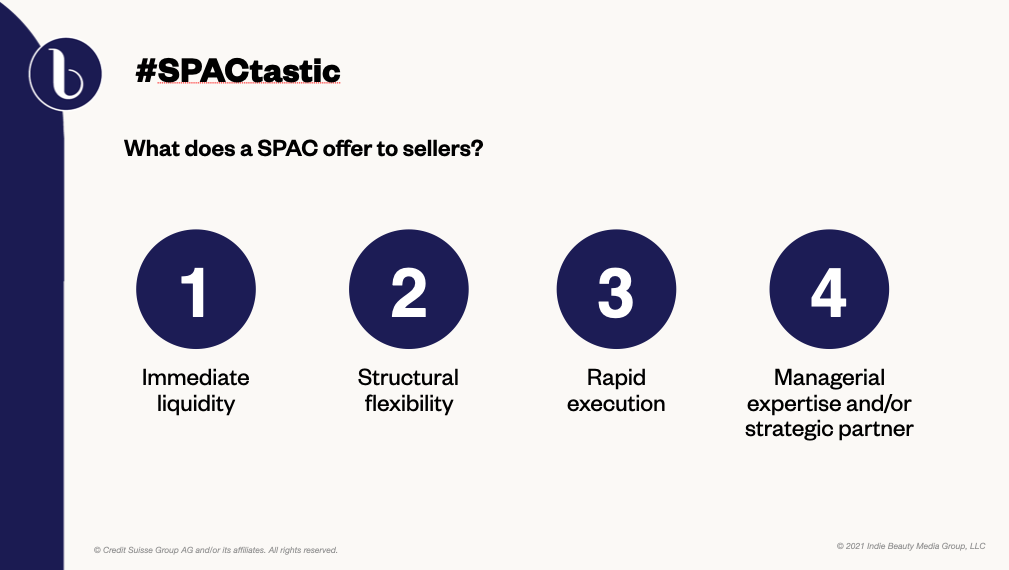 I understand the idea of scale and economies of scale, but can you give us a specific example where this has a meaningful impact?
Think about individual brands that are completely independent from each other and are run in the most entrepreneurial agile way by founders if they ideally want to participate by management teams that are rewarded, measured and completely accountable owners of the destiny of [the brands]. And think of that as the front end, meaning marketing, commercialization, product development, equity that protects brand DNA, all supported by shared services that are scalable and built to support these brands. So, think of all the back-office logistics, accounting and finance, tax and regulatory, and all these other functions that you need to support this company. It's not a new concept that companies are organized like that, but that they are supported in a way that is a bit more 21st century type of business with open development, with third-party logistics, with cloud-based systems, etc., which allow you to have that. The benefit is that it allows you to replicate best practices across brands. You obviously have some element of synergy throughout, so one CFO or accounting team, but, most beneficially, it allows you to capital allocate between businesses to be able to grab onto the best opportunity at the time.
Now, in order to orchestrate all of that, you need management expertise or people that have managed at scale and have been able to build these network connections to create this operational scale that a single brand cannot create. Most companies start to hit a wall around a $100 to $300 million in net sales. And this is where you need to start creating operational scale and expertise. This is where you need to start becoming omnichannel. This is when you need to start internationalizing, and this means you have a much more robust supply chain. This is where you start having a complicated matrix of things. It starts to require a different type of management skill, and that's why multi-brand portfolios trade at a premium and have better consistent results.
What was the next step in the process?
We launched a couple of processes in parallel. What's most important and is different from other SPACs perhaps is that, next to a $345 million SPAC IPO, we have $333 million on an FPA, forward purchase agreement, which is a fancy term for basically saying committed capital. That forward purchase agreement includes $130 million to $160 million of sponsors committing capital to the venture, which is truly our commitment and skin in the game next to the brands that would partner with us. Plus, the FPA is with what we call friends and family, just investors that are close to us that we've known for a long time and that are supportive in terms of what we're trying to do. Beyond that, we have potential access to pipe and many of these investors as well as the ones that we have in the IPO are long-term investors that want to participate. So, we have that flexibility to structure a transaction however we need to so that it makes sense for targets as well us. 
Can you comment on the type of companies or geographies that you're looking to?
Fundamentally, we are looking at four characteristics. It sounds silly, but first is that they are brands, meaning there is a connection to consumers. They are not what I call a collection of products. Brands have a beauty point of view that is clear, not a one product dependent company. It has an array of innovation and products that make sense. The second is, of course, attractive structural economics that allows us to build on top of that. Many brands that are on our target list are in the 60, 70 gross margin range. They are profitable. The third criteria is brands where we still can apply what I'll call mechanical levers to drive growth and improvement. [They are] in a growth trajectory, rather than being turning-around situations. And, lastly, brands that share our values. Conscious entrepreneurs, achieving sustainability, inclusivity or general responsibility to a world. They don't have to be perfect at this because nobody's perfect, but they have to have the same vision of what we want to create together because the idea is to invite people to do it with us. We want founders to be part of this journey and help us create this new vision.
Is international diversification something that you feel needs to be prioritized for beauty companies nowadays?
I think it depends on what stage the brand is in. I would say early stage and up to quite a significant size, my advice has always been don't diversify your geographic footprint too much because it's a distraction. It's difficult to manage. It's much better to just really crack one or two markets and really be successful in those markets. In our case, over time we're starting with a focus in North America and Europe, which are the regions where we already have a presence and home base where we can add the most immediate value, but our ambition is, of course, to be a global company.
What advice would you have for other executives or beauty entrepreneurs who are examining the SPAC path?
The SPAC market is very frothy, and I would argue in some ways saturated. One of our investors had described it to me as there's essentially three types of SPACs. There are the traditional good SPACs, which are put together by dealmakers that tend to be very good at sniffing out a deal and putting something together and making money. Those SPACs have existed, will exist and will continue to exist. Increasingly, there's SPACs built by operators with a specific subject matter expertise who are going to participate in the de-SPACing process and stay with the company for many years. And, then, there's the rest, which is a majority. The rest are put together by people that their objective is to do an arbitrage between the transaction and make money on what's called the promote (SPAC sponsors compensate themselves with a "promote" consisting of shares equal to 25% of the SPAC's IPO proceeds or equivalently, 20% of post-IPO equity).
In our case, we're not only operators, but the incentive of the promote is not significant to us. The incentive is putting $160 million to work and the years exponential growth that will be created. So, my advice would be it's crowded. You have to be unique, you have to be different, and you have to add concrete value because I think these just the arbitrage opportunity that is happening is not too sustainable. I'm not a specialist, to be honest. I know lipstick and skincare creams more so than high finance. But, overall, it's an efficient, very effective tool to do what you want if you are clear on what your objectives are. 
We're trying to provide another option for founders to be part of something that is significantly special and, hopefully, for the next a hundred years participating in building something great together while retaining the ownership, the spirit and everything that's made them successful so far, but just support them by building that infrastructure faster.
To watch this episode of Beauty Independent's In Conversation webinar series and others, click here.