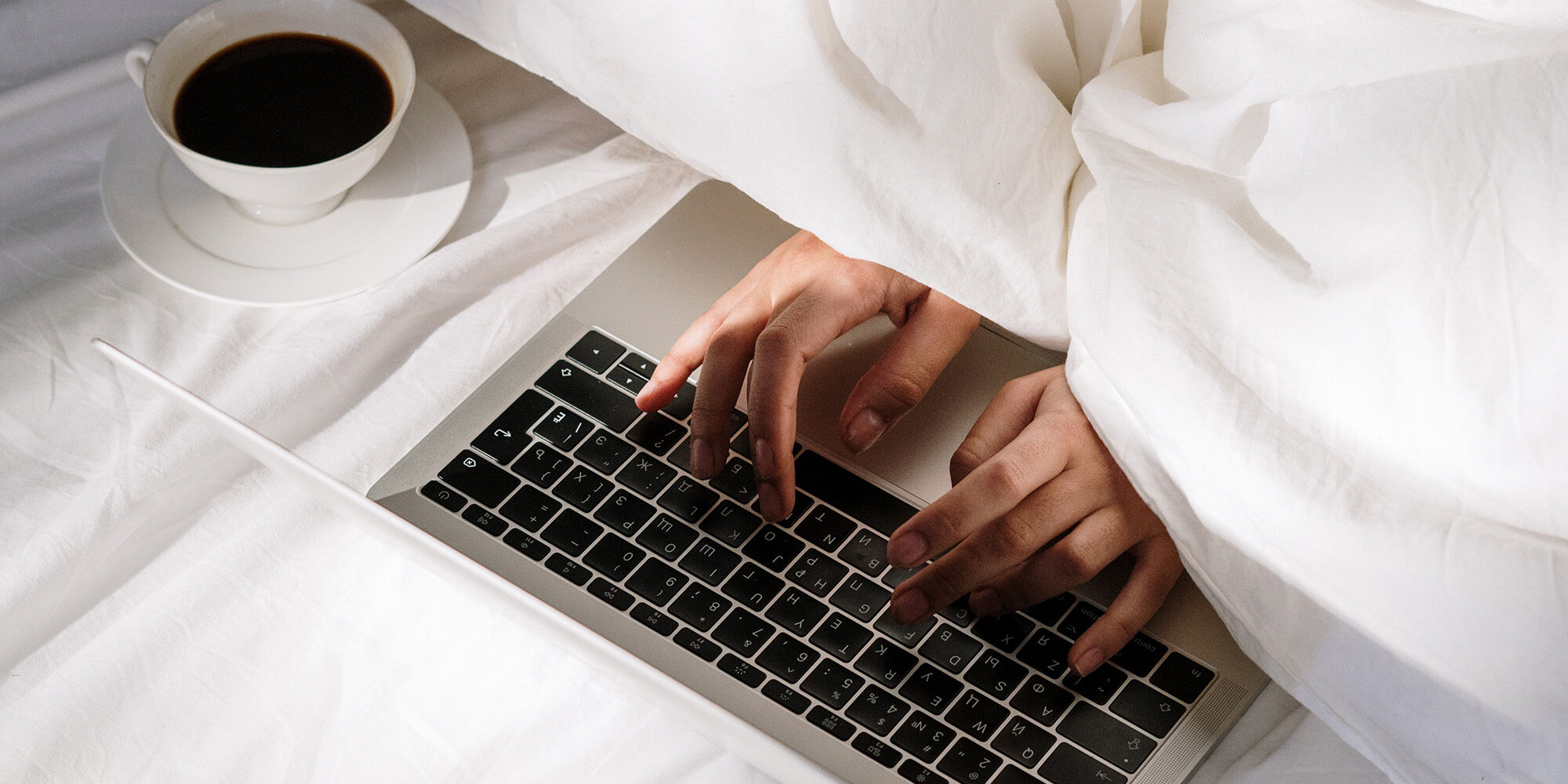 This Week In Social Media News: Banning TikTok And An End To The Facebook Advertising Boycott
In 2011, a teacher in Georgia was forced to resign after a parent complained about a Facebook post showing her with alcohol. Almost a decade later, our personal and professional lives are more blended than ever as we spend both online. In some instances, like social selling (e.g., hawking face creams to your friends), the integration is complete.
The shifts of social media ire are intriguing to observe. First, individuals' social media presences were scrutinized. Then, companies were held accountable via publicized callouts. Now, social media platforms are fighting against demands that they change their ways. This week in our wrap-up of digital news, we reflect on the effects of Stop Profit for Hate, the Facebook advertising boycott, TikTok's uncertain future and the toll social media is taking on our mental health.
1. Facebook boycott FLOP?
In July, more than 1,100 companies, including Walgreens, Honda, REI and Verizon, boycotted Facebook advertising as part of the Stop Profit for Hate campaign. The boycott seems to have had a negligible on Facebook's revenues and policies. But some of the companies and organizations participating in it, including Ben & Jerry's, are pressing on. Financial Times and Adweek caught up with Jonathan Greenblatt, CEO of the Anti-Defamation League, to discuss the global future of Stop Hate for Profit and Facebook CEO Mark Zuckerberg's congressional testimony. Read more here.
2. time's up for TikTok? 
On Thursday, President Donald Trump signed an executive order to ban TikTok in 45 days if it's not sold by its Chinese parent company ByteDance. India has already banned the short-form video social media network, and other countries around the world are contemplating bans. With TikTok experiencing an existential crisis, its competitors are aiming to take over its territory. Instagram launched rival Reels this week, and Snapchat is set to unfurl a TikTok-like feature in the fall. Check out Instagram's announcement of Reels and see if you think it can replace TikTok.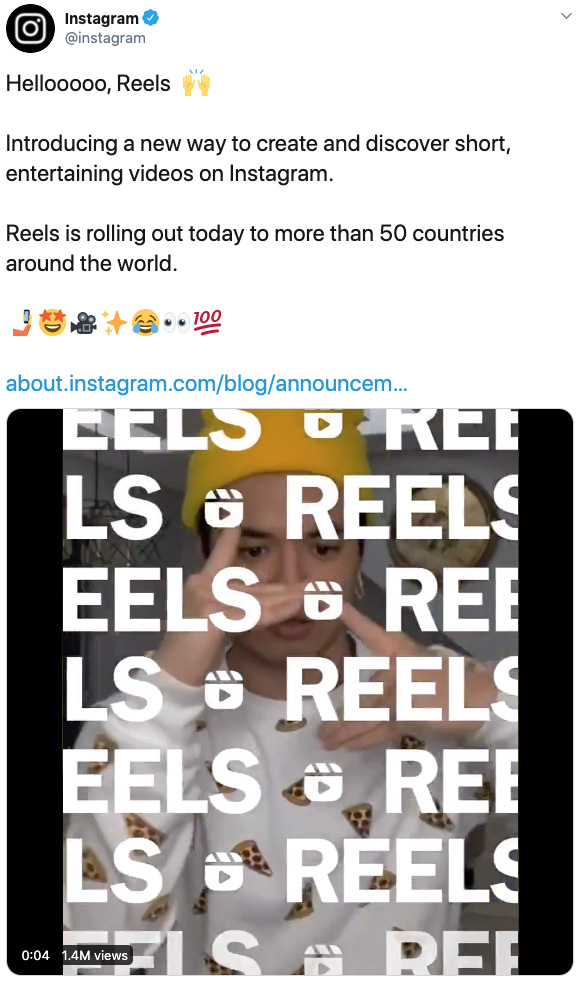 3. Are fake influencers the future?
How would you feel if you found out your go-to "influencer" was a complete fabrication? Last year, thousands of people were shocked to learn Omar, their favorite blue-collar anti-influencer, was coffee company Cuvée Coffee's marketing exercise. Matthew Johnson, a professor at Hult International Business School and author of, "Blindsight: The (Mostly) Hidden Ways Marketing Reshapes Our Brains," argues in a Psychology Today article that consumers are wising up to the covert branding of influencer marketing. Because consumers are catching on, brands are compelled to get more creative about integrating their advertising messages into social media content. Read Johnson's insights here.
4. Is your ConTent Accessible? 
Online accessibility is a topic that isn't talked about enough. There are 2.2 billion people in the world who have visual impairment or are blind. Some progress has been made to include them and others with disabilities in digital environments, but not enough. Kristy Viers, a blind YouTuber, is helping developers and designers create accessible tools for websites by sharing videos of her experiences online. Beauty brands such as Skin Owl and Victorialand Beauty have integrated accessibility features, and others are following suit. If your social media isn't accessible, it's worth looking into what video accessibility resource 3Play Media has to say about the process to make it accessible here.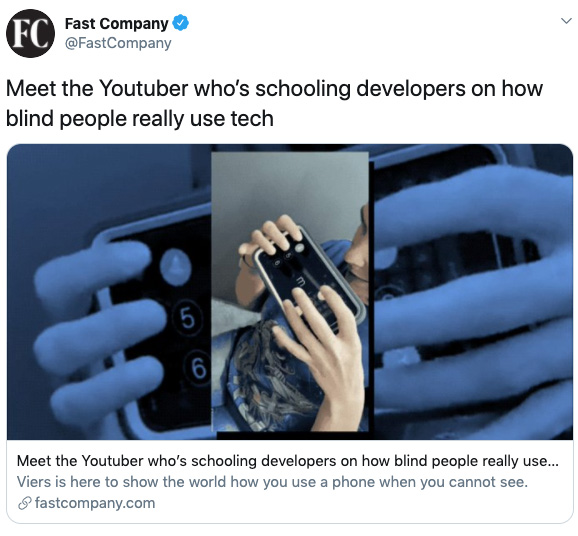 5. SOCIAL MEDIA MAKING YOU SAD?
Let's take a moment for a mental health check. How are you doing? More than half of adults are spending more time on social media during the pandemic. On top of the anxiety of living through a public health crisis and the related economic collapse, social media usage is associated with depression, frustration and isolation, not to mention serious FOMO. Nonprofit mental health website HelpGuide has advice, including removing social media apps from phones and turning off notifications, for how to modify your digital habits and improve your mood. Read more here.