Where Beauty Industry M&A And Sales Performance Stand
Amid the pandemic, mergers and acquisitions in the beauty industry have demonstrated remarkable strength.
In the third quarter, deal volume almost returned to historic levels, according to Nini Zhang, director of luxury, beauty and apparel at Credit Suisse. Throughout the pandemic, brand valuations haven't slipped as evidenced by large multiples paid by acquirers. L'Oréal purchased Thayers Natural Remedies for $400 million and Puig acquired Charlotte Tilbury for $1.2 billion. Both deals revealed in June reached EBITDA (earnings before interest, taxes, depreciation and amortization) multiples in the high teens to twenties.
"That's all very consistent with what we have seen in the past, which was kind of a surprise to us," said Zhang. She added, "But we're glad to see that people are still willing to pay for the right brand." Strategic buyers have looked past near-term disruption, and Zhang expects them to continue to be aggressive in pursuit of accretive assets. In line with rising trends, they're hunting for brands that are digitally-focused, have better-for-you merchandise and are mission-driven.
Zhang delved into the M&A landscape during Beauty Independent's In Conversation webinar last Wednesday to provide a data snapshot of beauty's recent performance. Joining her for the webinar were Emily Gerstell, associate partner at McKinsey & Co., and Larissa Jensen, VP and beauty advisor at The NPD Group, who assessed the categories that have characterized beauty's ups and downs in a challenging stretch.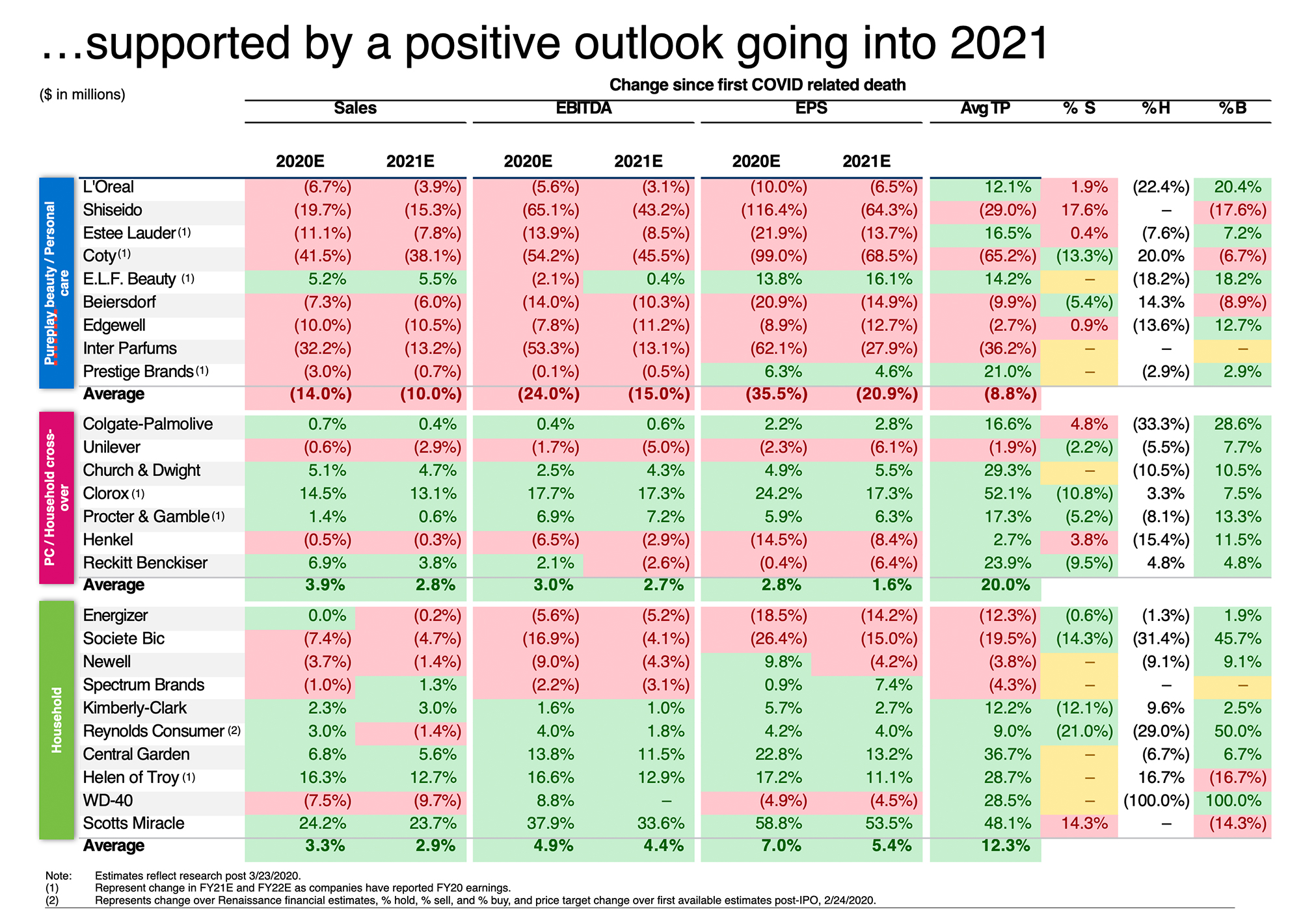 Mass Retail And Personal Care Resilience
Consumers have been picking up basics during the pandemic. Most mass retailers and personal care companies surpassed earnings estimates, and personal care companies have been some of the most robust in the beauty space since the global health emergency started. Share prices for companies such as Henkel, Procter & Gamble and Unilever have been reasonably stable or experienced modest growth.
Personal care benefited from three factors: Availability at retailers deemed essential, lower prices than other beauty segments and positioning as daily necessities. "When we think about the impact to discretionary spend, beauty and personal care is an area where consumers turn," said Gerstell. "Beauty and personal care has an underlying health."
Body products were winners in the third quarter, per McKinsey data. Their sales surged 17% led by cleansers and lotions. Body and facial exfoliators were up 48% and 15%, respectively. Hand soaps were the biggest winner, and their sales skyrocketed 134%. Zhang said, "The question here is whether those types of earnings trends are a shift in or a growth arc that will persist going forward or is this a one-time COVID bump?"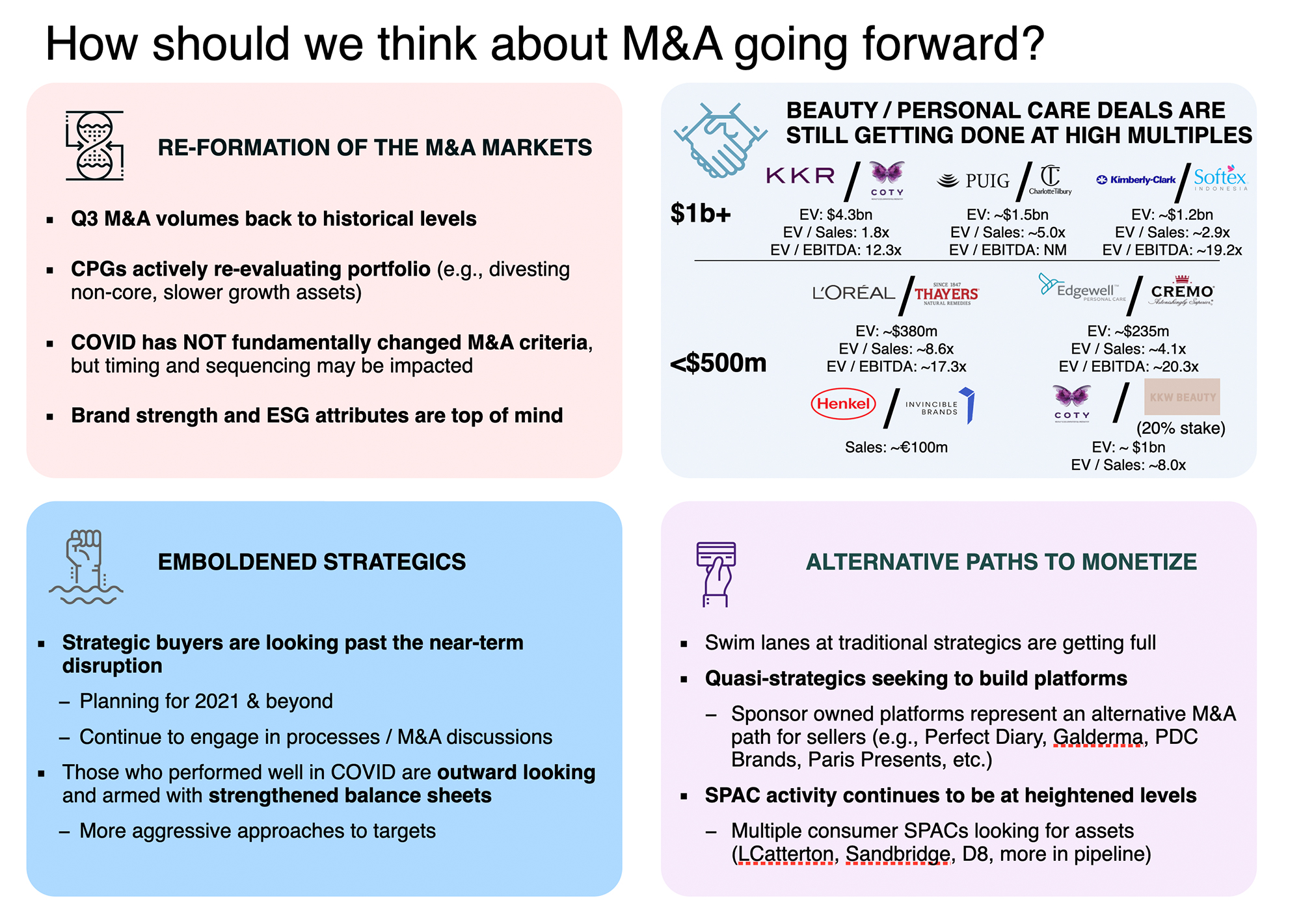 Prestige Beauty Struggles
In the third quarter, prestige beauty sales in the United States declined 17% to $3.7 billion, an improvement over the second quarter's steeper 36% drop, according to NPD. Beauty companies exposed in the prestige beauty arena including L'Oréal, Shiseido, Coty and Interparfums have revised 2020 and 2021 sales and EBITDA outlooks downward.
Though the overall prestige beauty category has slipped, some segments like haircare, nail care and fragrance are recovering and even soaring. Hair product sales rose 11% in the third quarter, and they've been a relatively solid performer all year. When haircare declined 10% in the second quarter, its sales were anywhere from 8% to 42% higher than other beauty categories.
The third quarter's dark horse, fragrance could be advantaged by an early holiday shopping bump as retailers like Macy's began preparing for holiday as early as September. Highly concentrated scents that tend to last longer on the skin, an attribute NPD data suggests consumers are drawn to, were growth drivers in fragrance. Home scents also blossomed in the third quarter and have been formidable sales producers for most of 2020 thanks to quarantines escalating the desire for consumers to enhance their home environments.
Third quarter bright spots account for the smallest portions of prestige beauty sales. Nail product sales gained 13%, but the category represents less than 5% of the total prestige beauty business. The categories that suffered the most dramatic declines—skincare and makeup—represent the largest portions of prestige beauty, and their drops are weighing heavily on the segment. Skincare constituted 36% of prestige beauty sales year to date, 2% shy of makeup, a category that has persistently struggled in the pandemic and was depressed leading into it.
"At the end of the day, people are just pulling back on skincare and makeup," said Gerstell. "They just have fewer occasions to wear some of those categories, and store closures have really fundamentally changed the shopping experience."
Long term, Jensen believes skincare will rebound. "Don't discount skincare," she said. "It has consistently performed better than the total industry throughout the entire year and especially throughout the lockdown."
The biggest issue the makeup category faced this year is that consumers have cut back on usage as they stay home. According an NPD consumer study, over 70% of women reported wearing makeup less often this year. On an optimistic note for the makeup category, 80% told NPD they plan to return to regular makeup usage once their routines normalize.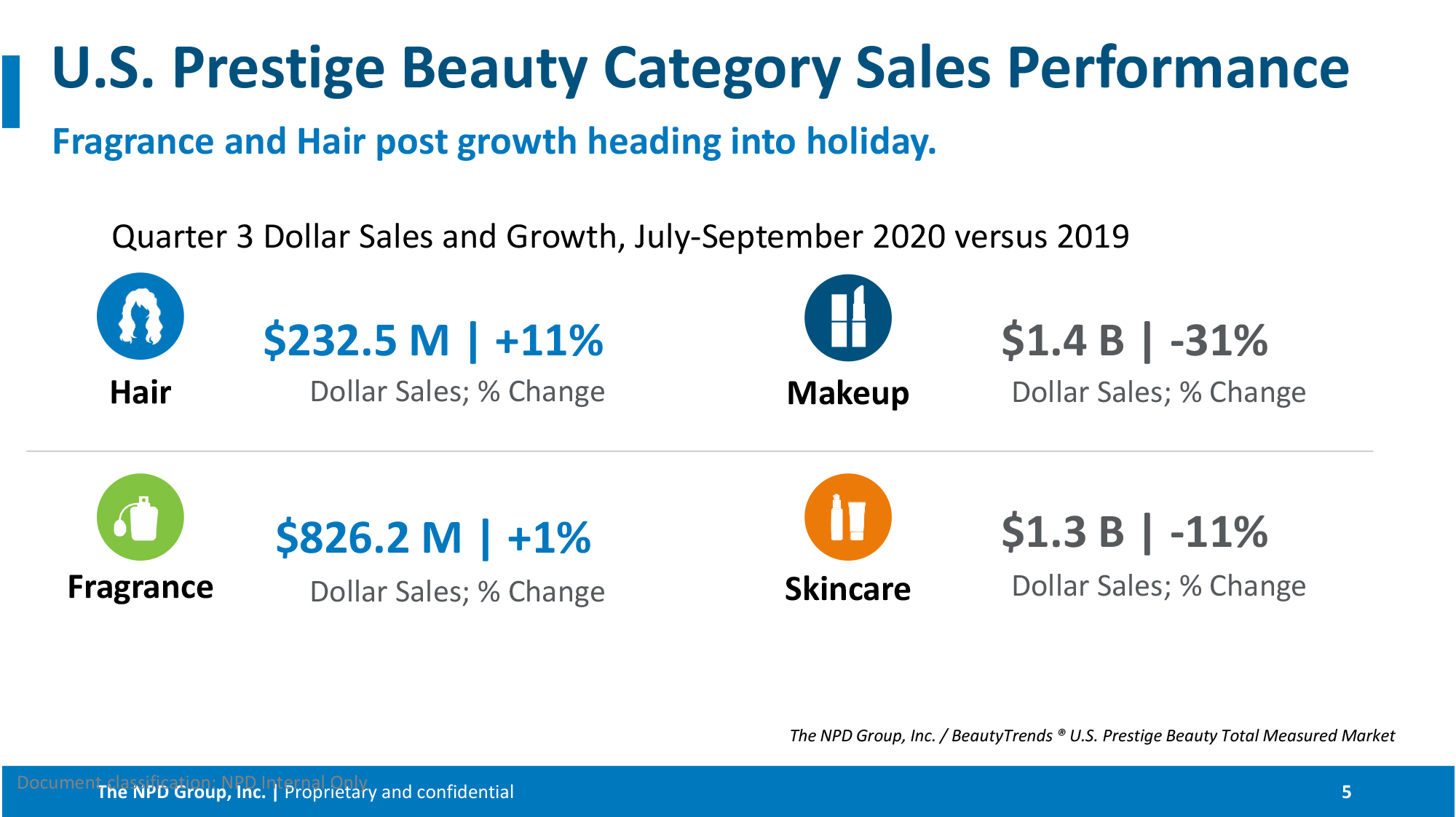 Changing Consumer Behavior
Gerstell said the pandemic has resulted in the amplification of latent trends. The most substantial trend has been toward value and essential products. McKinsey's research found that over a third of consumers are searching for ways to save money, and the firm detected a 20% to 40% decrease in intent to spend on discretionary categories. The ascendance of value has created a shock to brand loyalty. Consumers are trying new brands and retailers because they're forced to by closures and are consolidating shopping trips. McKinsey found nearly three-fourths of American consumers have changed stores, brands or the manner in which they shop.
There has been a flight to digital and omnichannel shopping, and McKinsey's data shows that e-commerce's shopping penetration isn't likely to ebb after the coronavirus. McKinsey expects a 30% increase in consumers buying beauty categories online, with one in three consumers planning to shift almost all their skincare and makeup purchases online. In particular, gen Z and millennial consumers are leaning into online purchasing, but boomer and gen X consumers are catching up. Holiday spending is influenced by the yawning gap between haves and have-nots in the U.S. A quarter of people making six-figure salaries anticipate spending more on holiday shopping, while 84% of households anticipate maintaining or reducing holiday spending.
The homebody economy is thriving, and 64% of consumers in the U.S. aren't resuming the out-of-home activities common in pre-pandemic life. Consumers feel split about patronizing salons and spas, and it's not as important as a priority as connecting with friends, and going to bars and restaurants. A trend prior to COVID-19 that's accelerated, people are pulling back on relaxers and treatments, and embracing natural hair texture. They still want to cover grays, however.
"There is a certain stickiness in the DIY category," said Gerstell, projecting nail polish is poised to stay strong.