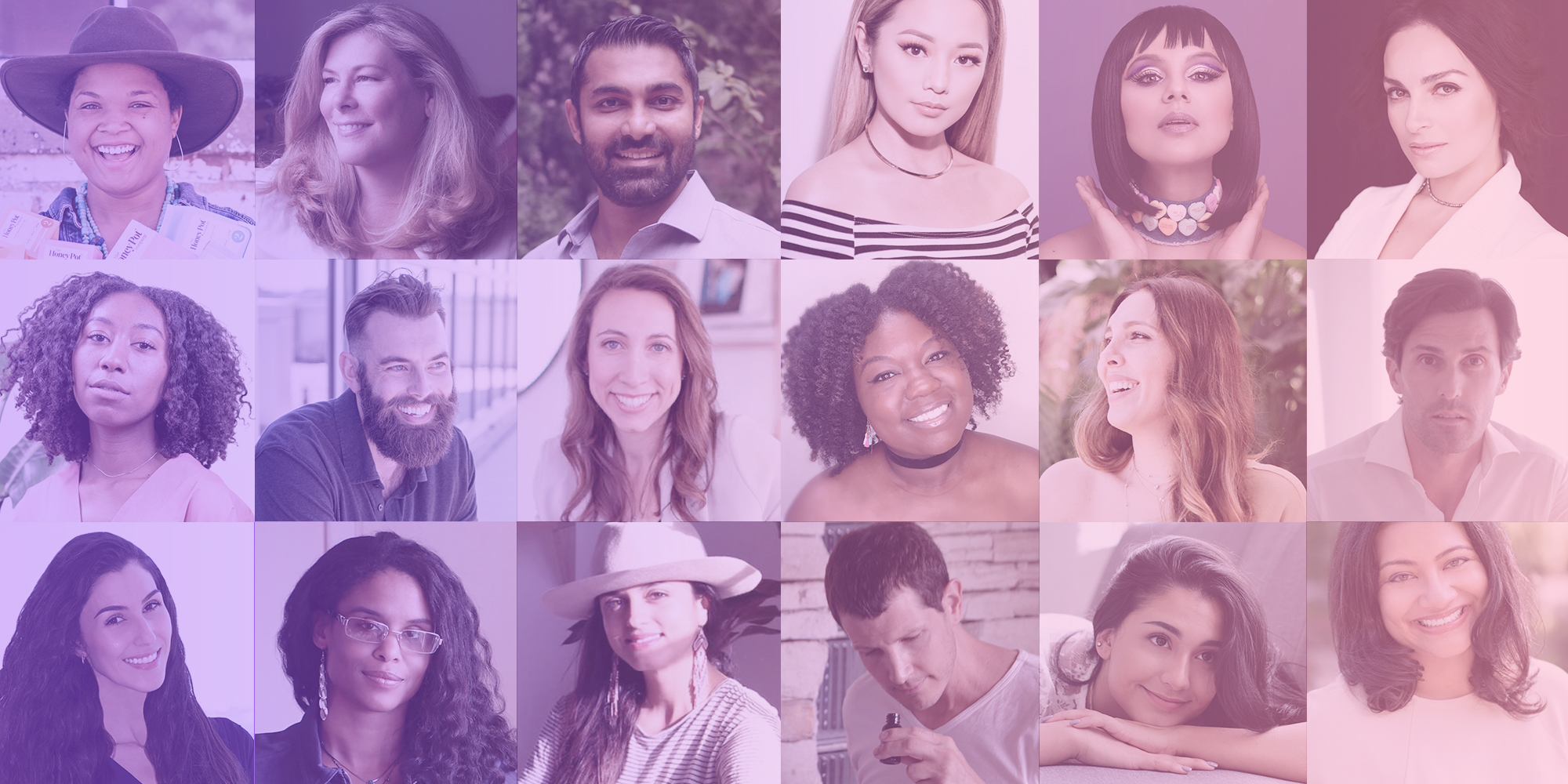 A Year Of Beauty Independent, A Year Of Achievement
On Aug. 22, 2017, Beauty Independent was born to bear witness to a revolution—a revolution bringing change to the beauty industry at an unprecedented pace. It's an avalanche of disruption consisting of thousands of individual ideas and innovations transforming the way we live, work and do business. Behind each idea is a wildly-motivated entrepreneur with an equally strong sense of community. It's a story for the ages, and one we just had to present.
As a news leader and content platform, Beauty Independent has grown in influence and status in step with the community that it monitors and serves. In an introductory Letter From the Editor that went live with its launch, Beauty Independent's Editor in Chief Rachel Brown wrote, "We are here for the fierce change makers in the beauty industry enduring rejection to build the great brands of the future. We want to be a gathering spot for the thriving indie beauty community. We want to hear about your struggles and triumphs. We want to tell your stories. We want to be your publication of choice."
Brown's letter included a call to action in the form of a request for headline-grabbing developments in the indie beauty space. Little did we know then how overwhelming the response would be. Brown, formerly West Coast Beauty Editor of industry powerhouse WWD, joined forces with Indie Beauty Media Group co-founders Jillian Wright and Nader Naeymi-Rad along with new IBMG exec Claire McCormack. With a bursting inbox of leads and contacts—every editor's dream—she set about her work and never looked back.
According to Naeymi-Rad at the time, "Beauty Independent is like many indie brands it will cover: a product of pure passion, hurriedly conceived and rushed into this world by people who knew, deep inside, that it was their mission to make it happen." What the new site may have lacked in infrastructure and recognition was more than made up for in its dedication to its audience.
The first article published on BI—The Freelance Economy Is Changing the Way We Look —laid the groundwork for many ensuing pieces: It took note of a strong trend and assessed the impact it had on indie brands. The piece gathered insights from diverse sources such as celebrity aesthetician Joanna Vargas, NPD Group beauty industry analyst Larissa Jensen, Nudestix co-founder Taylor Frankel and skin therapist Liana Cutrone of New York's sizzling salon Heyday,the Drybar of facials.  It also established a pattern of tracking the development of brands through the course of the year. Was it any surprise that, when Heyday expanded to the West Coast, BI covered the news? (See Heyday Touches Down In Los Angeles.)
In the space of one short year, Beauty Independent published hundreds of stories about hundreds of founders and brands, and included the welcome advice of hundreds more in informative, knowledge-driven pieces about the intricacies of bringing an idea from one kitchen table to thousands of bathroom shelves. News broken by BI has been sourced and linked by established platforms around the globe.
The harder the team of Brown and McCormack and their dedicated correspondents worked, the more their energy was refueled by the positive feedback of readers. "I am obsessed with Beauty Independent. So much wisdom, so much goodness," wrote Jess Lafleur, founder and CEO of Stark Skincare. "Beauty Independent is the only thing I read every day, and I normally unsubscribe from everything!" exclaimed Beneath Your Mask founder Dana Jackson. And this, from Sara Rampersaud, CEO of Root & Willow: "Beauty Independent is absolutely invaluable for my business. I love, love, love Beauty Independent." The accolades provide validation for the considerable time and resources invested in the platform by the Indie Beauty Media Group, parent company of Beauty Independent, Indie Beauty Expo and BeautyX Summit.
Each month saw the publication of more groundbreaking material. In September last year, BI broke the news of natural color cosmetics brand Au Naturale's entrance into Whole Foods (Au Naturale Cosmetics Pumps Up Whole Foods' Natural Makeup Assortment), a huge achievement for supporters of natural beauty, not to mention the brand. (The Au Naturale-Whole Foods relationship is still going strong, as readers of BI are aware, thanks to the latest news from the retailer, Global Category Manager Amy Jargo On Whole Foods' Whole Body Department.)
A month later, Beauty Independent scored big by defining a significant new trend, that of the founder-farmer. (The piece anticipated by many months the breakout emergence of indie beauty darling Le Prunier). BI also had the inside track on an exclusive that pushed traffic to October's most popular post: An article that announced a collaboration between Neiman Marcus and Indie Beauty Expo, in which IBE curated independent brands for the Shop the Expo event. BI, which was partially conceived as a way to capture the energy and sense of discovery present at the Indie Beauty Expo, proved to be a bridge between the events for members of the IBE community—a way to share information and model new businesses after more established, successful brands. Even if readers could not attend a show in Dallas, they could still read the IBE Dallas 2018: Exclusive Trend Report and keep up to date. And they did—in droves, which, in turn, brought more attention to indie beauty community, which kept growing…producing more trends to report.
The first few months helped set the course for the rest of BI's first year. Brand founders applauded news about indie-attuned retailers such as Revolve, Credo and Riley Rose . Similarly, BI's editors and IBMG staff fielded multiple inquiries from buyers at mainstream retailers looking for contact information on products and brands they had just read about on the site. A steady stream of email addresses from well-known investors and beauty industry analysts helped populate BI's daily newsletter sign-up list. It's a fact: BI has become a go-to resource for anyone invested in staying abreast of innovative products and trends.
For founders, a major segment of BI's readership, articles about large-scale corporate reactions to issues relevant to beauty entrepreneurs were always must-reads. When Beauty Independent delved into how Shopify adjusted its parameters about what it defined as pseudo-pharmaceuticals and shut down its payment processing for beauty products, the story blew up. Any move by Sephora—an indie beauty retail pick-up (Nomaterra Founder Aggie Burnett Shares How To Win Over Sephora for example) or a report on the retailer's new green beauty category—brought highly-engaged readers to the site. But nothing compared to the attention paid to BI articles about Amazon, the retail behemoth that could define the future of direct-to-consumer beauty sales.
Likewise, Amazon was watching Beauty Independent and its readers. It chose the BeautyX Retail Summit in Dallas as the venue to announce its plans for an online Indie Beauty Shop. Amazon To Launch Indie Beauty Shop Within Its Marketplace, the story that broke the news, is the all-time most popular piece published in BI's first year. The BI piece was cited by Forbes, Glossy, Buzzfeed, Popsugar, Racked and more, garnering dozens of press mentions.
News, brand profiles and trends were not the only types of pieces to attract an engaged audience. Beauty IndependentI quickly established a reputation as an educational tool. Features on How to Price a Beauty Product, or How to Interest Your Dream Retailer are full of actionable information to help businesses become successful. Real-world lessons are at the heart of No Stupid Questions, the most popular BI franchise. Every Friday, reporter Alice Mroczkowski presents brand founder perspectives on some of the many challenges or dilemmas beauty entrepreneurs must face and overcome, including topics like the keys to standout branding, breaking into retail and design changes.
In less than two weeks, Beauty Independent's first year of publication will be come to a close, and a new year will begin. With every anniversary and celebration comes a sense of anticipation for what lies ahead. After such a strong start, it's only natural for readers and brands to expect BI to have even more ambitious goals in year two. In fact, plans have been made. Goals have been set. In this day and age, a business communications company such as BI must do more than monitor and report—it must engage. This powerful digital forum is an ideal hub for innovators with distinct, unique ideas who nevertheless share common needs. It was conceived as an example of how growing businesses can grow together, and expansion was programmed into its DNA. As Naeymi-Rad wrote in August 2017 at the time of BI's launch, "Now, let us continue the journey."
Beauty Independent 2.0, anyone?
BEAUTY INDEPENDENT TOP 20 STORIES
Amazon To Launch Indie Beauty Shop Within Its Marketplace
10 Standout Trends From Indie Beauty Expo's 2018 Los Angeles Edition
Gray Hair, Don't Care: How Women Ditching Dye Could Uproot The Hair Care Industry
20 Bold Indie Beauty Predictions For 2018
Beauty E-Commerce Websites Dropped From Shopify Payments Processing Service
Amazon Launches Indie Beauty Shop Dedicated To Emerging Brands Within Its Marketplace
Beauty Brands Navigate The Legally Murky Waters Of Selling CBD Products Online
Brands, Retailers And Influencers React To Alleged Labor Law Violations At An Organic Personal Care Factory
Global Category Manager Amy Jargo On Whole Foods' Whole Body Department
8 Trends Sweeping The Natural Deodorant Segment
Amazon And The Onslaught Of Egoless Beauty Brands
How Indie Beauty Brands Break Into Retail
Anthropologie Escalates Its Commitment To Wellness With New Section In Palo Alto
Is Setting An Unassailable Clean Beauty Standard At Retailers Like Sephora Impossible?
Follain Set To Open 10 Stores Starting With Dallas, Seattle And Bethesda Locations
Indie Beauty Expo Dallas 2018: Exclusive Trend Report
Andrea Van Dam On Seizing The Amazon Opportunity
Nordstrom Joins The Wellness Movement With New Outposts Dedicated To Aromatherapy, Supplements, Sleep And Self-Care
The Skinny Confidential Has Blogged About Beauty Secrets Every Day For Seven Straight Years