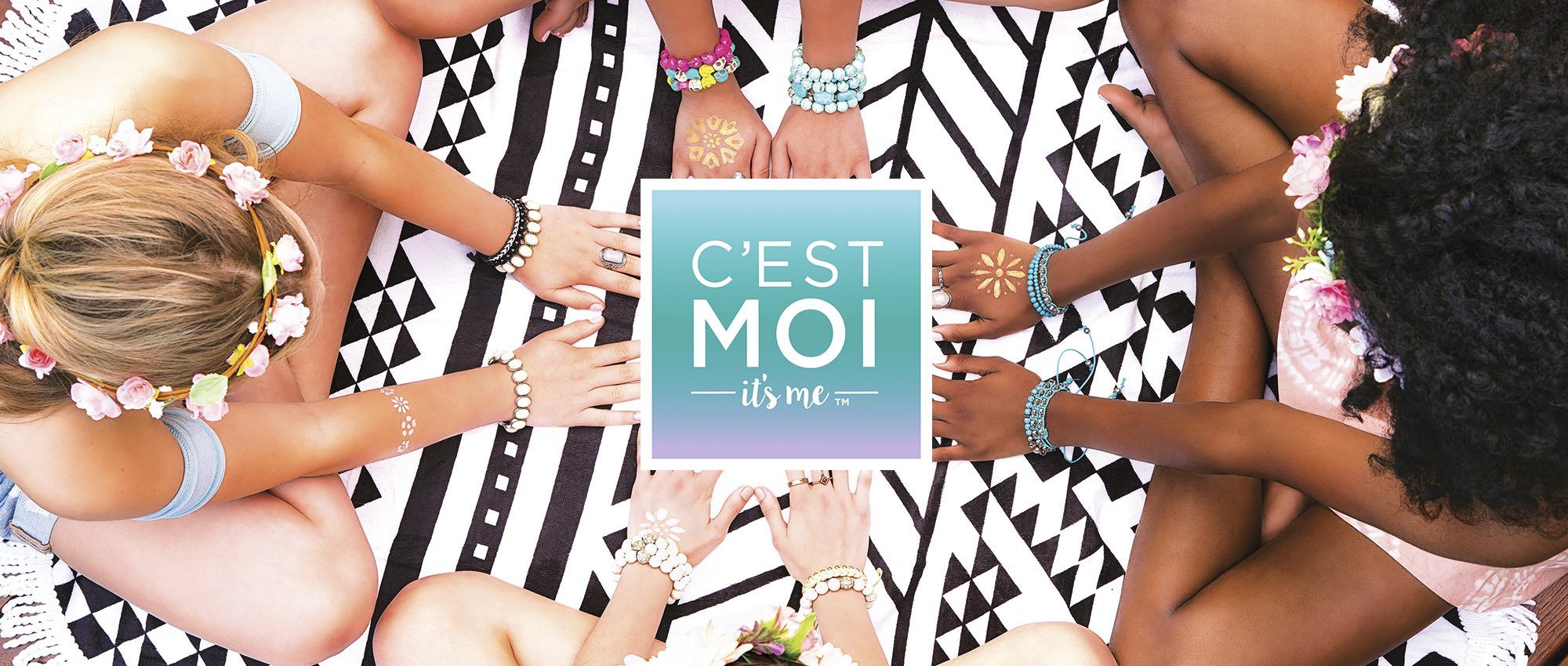 Me Time Isn't Only For Grown-Ups: C'est Moi Makes Natural Beauty Products Just For Girls
You don't have to be 18 to go clean.
On Jan. 21, tweens and teens will be able to head over to Target's website to check out a new brand called C'est Moi that's designed to meet their personal maintenance needs without 1,400 of the beauty industry's most suspicious ingredients. Owned by toy company JAKKS Pacific Inc., it's launching with 38 stockkeeping units across skincare and color cosmetics priced from $8 for an eyeliner pencil to $26 for a three-piece set.
"When young girls start to use beauty products, it's a real rite of passage for them, but what's crazy is, if you look at the beauty landscape and what's available for them, there's nothing that's been thoughtfully and effectively formulated for their skin," says Jennifer Saul, vice president of marketing for C'est Moi and former director of product development at Beautycounter. "I came on board in December of 2016 with the mission of serving this huge white space within the beauty landscape."
To inform the development of C'est Moi, which is pronounced say-mwah and means "it's me" in French, Saul conducted focus groups with 8- to 12-year-old girls. She learned girls gravitate to skincare products that are gentle and lightweight, and are worried about formulas being drying and making them break out. In response, C'est Moi produced simple skincare solutions with nourishing ingredients such as organic aloe, calendula, strawberry extracts, cucumber, kiwi, apple, chamomile water, organic sweet almond oil and shea butter.
The centerpiece of the skincare assortment is the three-step regimen with Gentle Foaming Cleansing Gel, Gentle Moisture Lotion and Gentle Mineral Sunscreen Lotion SPF. "When a young girl is just starting to learn how to use these products, especially in skincare, you want to set her up for success. It's not about giving her a million products to use, and the skincare doesn't need to be too complicated for this age group. It needs to be clean, and it needs to be functional," says Saul. "The opportunity is to establish healthy skincare habits."
In the focus groups, the girls shared they're drawn to makeup for self-expression, but don't feel makeup has to be heavily dramatic to capture their personalities. The C'est Moi makeup selection features neutral shades accented by pops of color, and it touches on several products teens and tweens enjoy experimenting with, including lip crayons, lip gloss and cheek tints. "We have a pencil eyeliner because, once they hit 12 or 13, they really start using eyeliner a lot," says Saul, noting the core customer base for C'est Moi is primarily intended to consist of 8- to 14-year-olds. She continues that moms of these teens and tweens tell the brand, "I don't want it to look like she's wearing a ton of makeup, but I want to give her a chance to be expressive."
A challenge for brands aimed at teens and tweens is satisfying moms as well their children on beauty product and shopping preferences, and price. "Moms are the ultimate gatekeeper at the end of the day, and we want to give moms credit," says Saul. C'est Moi is pursuing retailers trusted by moms. Target is one, and the brand will also land at Target subsidiary Dermstore.com. C'est Moi is interested in beauty specialty stores, too. No matter the location, Saul says, "Moms are looking for healthier, cleaner products for themselves and their daughters."
While they're willing to pay for superior skincare and cosmetics, moms aren't trying to bankrupt themselves spending on exorbitant beauty products for their kids. "We wanted to have the safest, cleanest formulas. The quality of ingredients is very high. We knew we couldn't be at mass pricing – meaning $3.99 to $7.99 for a skincare item – because we could never make a business work with that kind of pricing out of the gate," says Saul. "I would call us masstige in terms of pricing. We are accessible, but we are not $2.99, $3.99 or $4.99 for an item, and those types of brands don't have the ingredient quality and the thoughtfulness behind the formulations that we do."
Another tricky aspect of creating a beauty brand for teens and tweens is striking the right chord with imagery. It can't be overly mature, and it can't be overly immature. It has to be aspirational, yet not out of reach. "We want it to feel elevated. We didn't want it to skew too young so that when a girl turned 12, she was going to think, 'That's what I used when I was 8, and I don't want to use it anymore,'" says Saul. "We want it to be a brand she can grow up with." C'est Moi attempts to be whimsical and warm with imagery spotlighting girls together, and packaging with vivid colors and abstract designs.
Saul has high expectations for C'est Moi's sales performance. "Once the brand builds awareness, it will grow rapidly. I think we are going to see tremendous success with it," she says. "It's going to come down to the retailer that wants to own this life stage. It's been a huge miss. How could we not create products for young girls that are just starting to become customers? When it comes to retailers, this is their chance to inspire and attract this new customer and keep her."