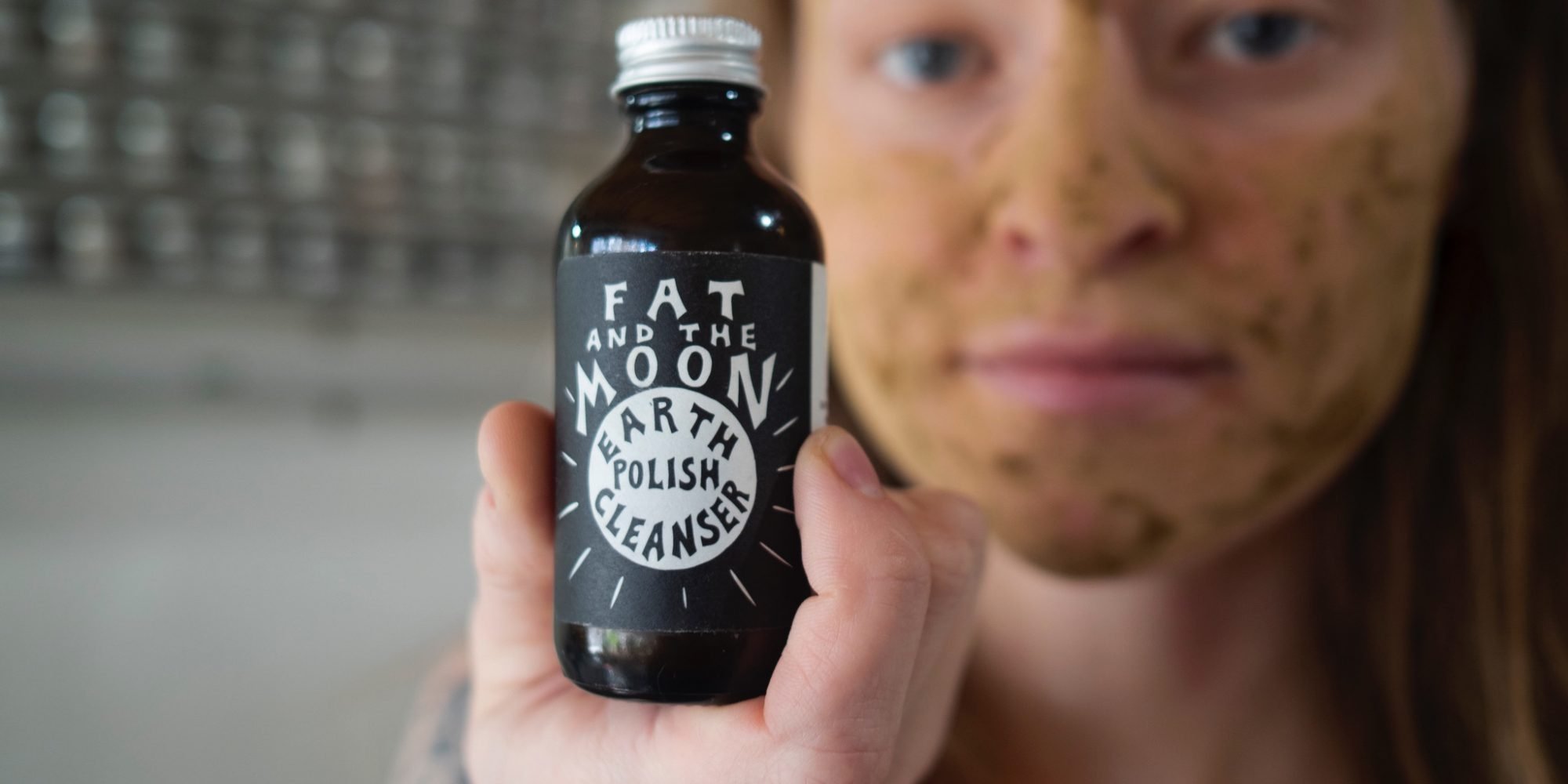 "We Like Our Potions Potent": How Fat And The Moon Elevates Herbalism And Fights The Patriarchy
Herbalist and artist Rachel Budde refers to her plant-driven brand Fat and the Moon and the people behind it as "the coven." Eight years ago, when the brand started, it certainly seemed like it would take a spell to convince consumers that natural beauty products could be on par with their conventional counterparts. Budde turned to her Slovenian roots and studies of herbal medicine under Joshua Muscat to create formulas that could be effective alternatives to the products they were used to. "Being the witches we are, we like our potions potent," she emphasizes in blog post. Today, Fat and the Moon has been picked up by boutiques across the country with esteemed assortments, and is taking steps to solidify its position in the clean beauty market with a revamped look, forthcoming physical location and eye toward international expansion. Beauty Independent talked to Budde about the history of her brand, the mistakes she's made building a business, and what the future holds for it.
Tell us about your background and what led to your brand.
My background is in fine art. I have an undergraduate degree form Pratt Institute in painting and drawing, and I have a master's degree in painting from Hunter College New York. During my studies, I was interested in mythology. Mythology is about how people relate to the world around them, including plants and animals, but I had zero connection to the plants around me. I was in the urban jungle, and the plants there were weeds. I started getting really interested in weeds and, through my investigation of them, came to see them for what they are, which is herbal medicine. Most weeds are pretty potent medicinal plants that have a very long history of use working for all sorts of ailments. The investigation of weeds as herbal medicine was a return to my heritage. My mom is Slovenian, and I was raised in part by my Slovenian grandmother. My grandmother used dandelions in our foods.
I'm a total product obsessive. I have ridiculous amounts of it. I was looking at all the foods I was eating. I would consider the preservatives in them, eat from the farmers' market and think about the packaging the food was in. Then, I took a look at the vast cabinet of products I had. I was applying the same ethos to them as I had applied to my food. Because I'm an artist, if I see something I want, I make it. I started making things for myself, friends and family. It was an artistic practice that was super creative, and I looked to my ancestry to provide formulas rooted in old practices.
A lot of times people ask me, "Why do you have the word 'fat' in your name?" When I first told my mom and my aunties about the name of my business, they were like, "Oh my god, why did you do that?" But another aspect of Fat and the Moon is a subversive way for me as a feminist to reclaim territory that feeds us toxic messages that there is something wrong with us and that you need to buy something to fix it. I wanted to stir things up by providing nontoxic products, but also by using a word with such a negative connotation for the medium that it is. Fat is a medium for external medicine. If you want to apply calendula on your body, you first infuse it in fat. The word "fat" honors this material. For me, having "fat" in the name of a beauty care business felt really necessary.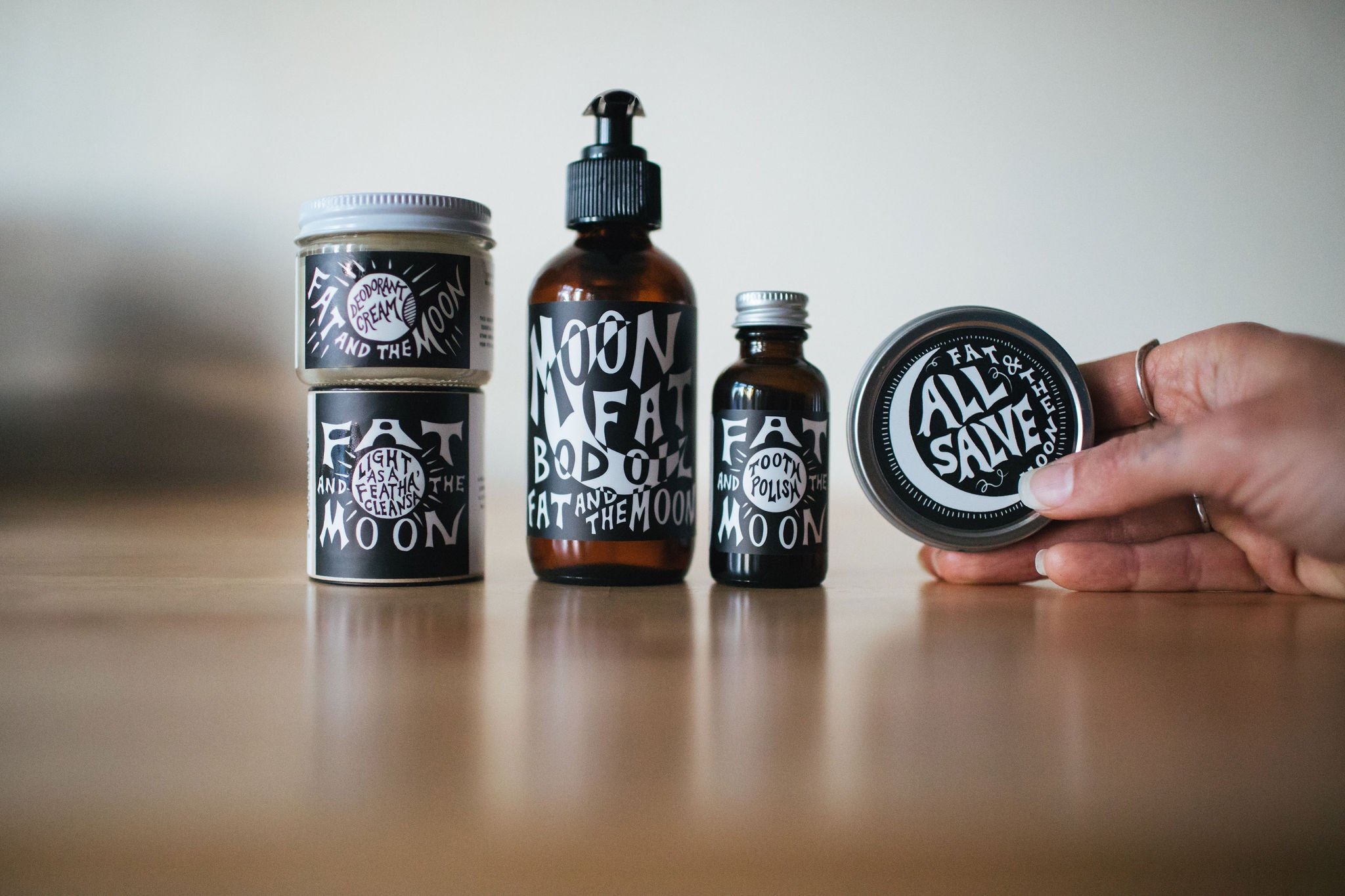 When did the brand officially become a business?
The brand gained momentum that really took root when I moved from New York to Oakland in 2012. I've moved around to different places in California, and I'm in Nevada City now. I never took out a loan to start the brand. I have so much student debt. There was no way I was going to do that again. I was a broke art school student, so it started really small with a few hundred bucks. I launched the brand with Deodorant Cream, Dry Shampoo and Pimple Mud, some of the staples that are still at the core of Fat and the Moon that I always come back to. At the time, there wasn't really any alternative for natural, aluminum-free deodorant. Now, there are tons out there. That's a product everyone can use, and Fat and the Moon provided an alternative that actually worked. It was cool to be able to have a platform to show people these products worked. Fat and the Moon products are a gateway to people understanding the efficacy of herbal medicine.
How many people work at the brand?
At the beginning, I did every part of Fat and The Moon: The production, the copy, the shipping, the design, it all was done by me. Then, I started to hire people to help me with all those aspects. At Fat and the Moon now, I have 14 employees. Everything is made in-house. We call Fat and the Moon "the coven" because it's a wonderful, witchy place. It's attracted beautiful souls that I feel honored and inspired to work with. A principle of Fat and the Moon is that it's handcrafted, and there is a lot of integrity that goes into the product. Now that we've gotten bigger, we see packaging as one of the ingredients. We are on the cutting edge of compostable packaging. I look at all the alternatives out there and really try to use the best that's available. I hope it keeps getting better in terms of sustainable, biodegradable non-plastic packaging.
Fat and the Moon's look is changing. What's going on?
We are currently rebranding. I did all the original designs, and I did all the designs for the new face of Fat and the Moon, down to designing my own fonts. I'm a visual person, and I like to refresh things. I do that with my home, too. It felt like Fat and the Moon was at a new level, and I wanted the aesthetics to fit with where it's at, but it has a similar mysterious gender-neutral vibe. I want Fat and the Moon to feel both magical and accessible with packaging that feels different and like a work of art.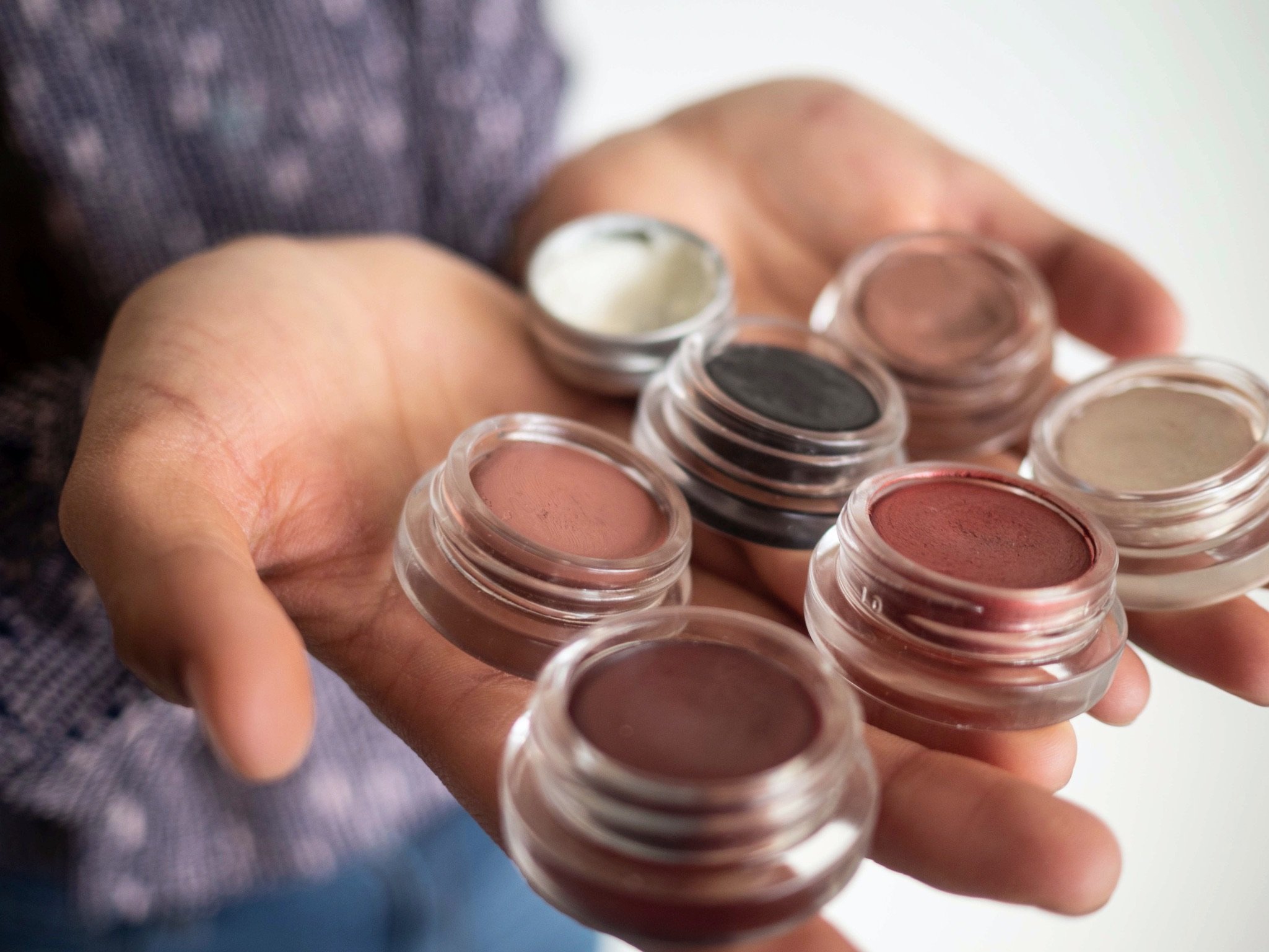 Where have the brand's products sold?
That's been a pretty organic thing. I've been really lucky to come into a community in California of badass business women. They have small boutiques like Gravel & Gold in San Francisco, General Store in San Francisco and Kitkitdizzi in Nevada City. Fat and the Moon has enabled me to make lifelong friends, which I feel so lucky to have. It hasn't been really a strategy. How do you meet friends? There's a sort of magnetism to it I suppose. We sell to about 500 stores today, and we are continuing our growth. In addition to boutiques, we sell to natural grocery stores and some department stores, but my favorite is working with people on their visions for small shops.
What is your sales goal?
In the next couple of years, I would love to do $1 million in sales. I'm exploring channels to make Fat and the Moon be on more people's radars. I love stories, and I'm a storyteller. I really believe word of mouth is so powerful. It's great to do all of the SEM stuff, and that is going to be a channel we explore. For me, though, the most potent way that Fat and the Moon grows if your friend, auntie or mother tells you about using an amazing product of ours. So, we are working on those human-to-human connections.
You spotlight Fat and the Moon's team members in the brand's social media feed. Why?
Fat and the Moon has built a community. All of our customers are part of that community, and it feels like good manners to introduce people to each other. Fat and the Moon exists because of my team. They are Fat and the Moon. It's also about bringing transparency into the process. We use organic plants and oils, and biodegradable packaging, and we show the person that's putting them together to make the products. That's a big part of the story.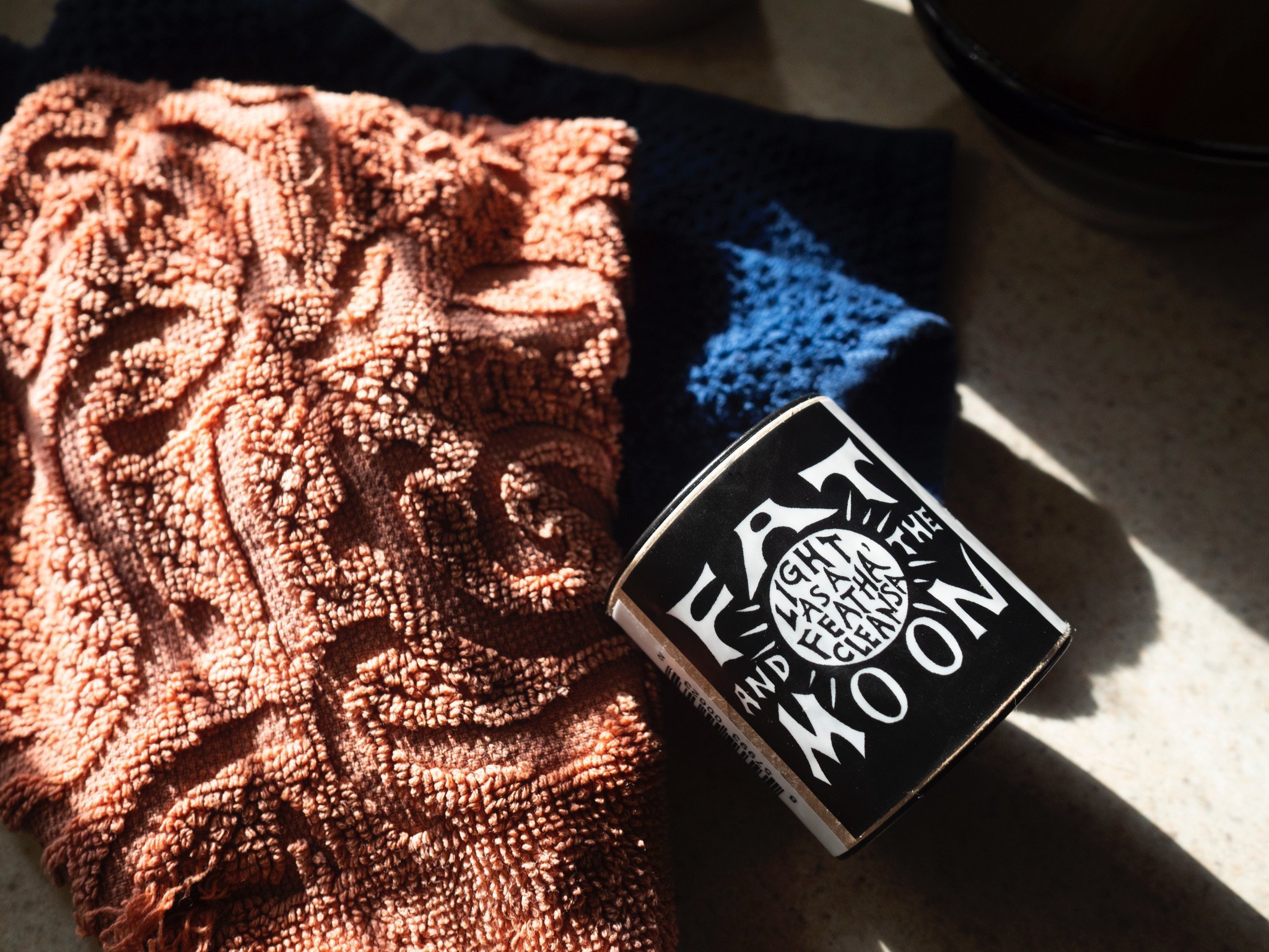 During the course of your brand, you've witnessed a huge surge in clean beauty companies. What's your take on the upswing?
I feel a lot of different ways about it. On the one hand, I'm glad there are more alternatives out there that normalize nontoxic cosmetics and body care. On the other hand, I feel like it's jumping on a bandwagon with a very limited scope of knowledge. Putting products on your body is obviously very intimate, so the education and understanding of plants and their interaction with your body is something I take seriously as a clinical herbalist. There are some brands that totally respect that, and it's awesome to see what they're doing in the world, but there's also a lot of brands with less integrity. I really trust Fat and the Moon customers to have a discerning eye, and I hope people's consciousness continues to expand. Maybe they've found a product without parabens, but what about the other ingredients? What about the plastic packaging? I would say plastic packaging is a toxic ingredient. Where is the company producing? How do they do their business? I think people are getting savvier.
What can be done to make packaging more sustainable?
Right now, we use glass and aluminum packaging as much as we can, and the one thing that's been tricky is the treatment pumps and spray tops. I pray that there's a really savvy entrepreneurial mind out there that's taking this on. I can't wait to talk to that person to try to come up with replacements for the treatment pumps. We also have compostable packaging and are changing some of our packaging to totally ixnay plastic. We are taking every step to make our packaging reusable. If people are getting refills, they can get a different top that's not plastic.
Everyone at the coven is looking at their lives this way. My family has done plastic-free months, and my stepdaughters are like, "Oh god, please no more, we want our bag of chips," but I take it seriously on a personal level. I see the volume of plastic because I have a business, and plastic packaging keeps me up at night. We are working with a company doing not only compostable labels, but using earth-safe inks and adhesives. You can have an awesome product on the inside and put it in a glass jar, but what did it take to print the label? And what happens when it breaks down in the environment? That takes you down a rabbit hole. I have a couple of people on my staff who go down that rabbit hole regularly.
What's a mistake you've made in business?
Hiring my friends was a bad idea. Don't hire your friends. Fat and the Moon has been a microcosm of my life. I've learned a lot of concentrated lessons through my business. Another thing I've learned is around the idea of money and business being evil. Those kinds of narratives really blocked me from being as smart as I actually am. It's true that business and money can be wielded in a way that's gnarly and toxic, but that's not necessarily inherent in their energies. I realized that money was part of the fuel that makes Fat and the Moon survive and, if I didn't feed that part of Fat and the Moon, it would die, and I realized there was creativity in it. If we're going to transform patriarchy and power, we really need to get clearer about approaching money and being creative about it. It's still a process for me, and I'm still learning.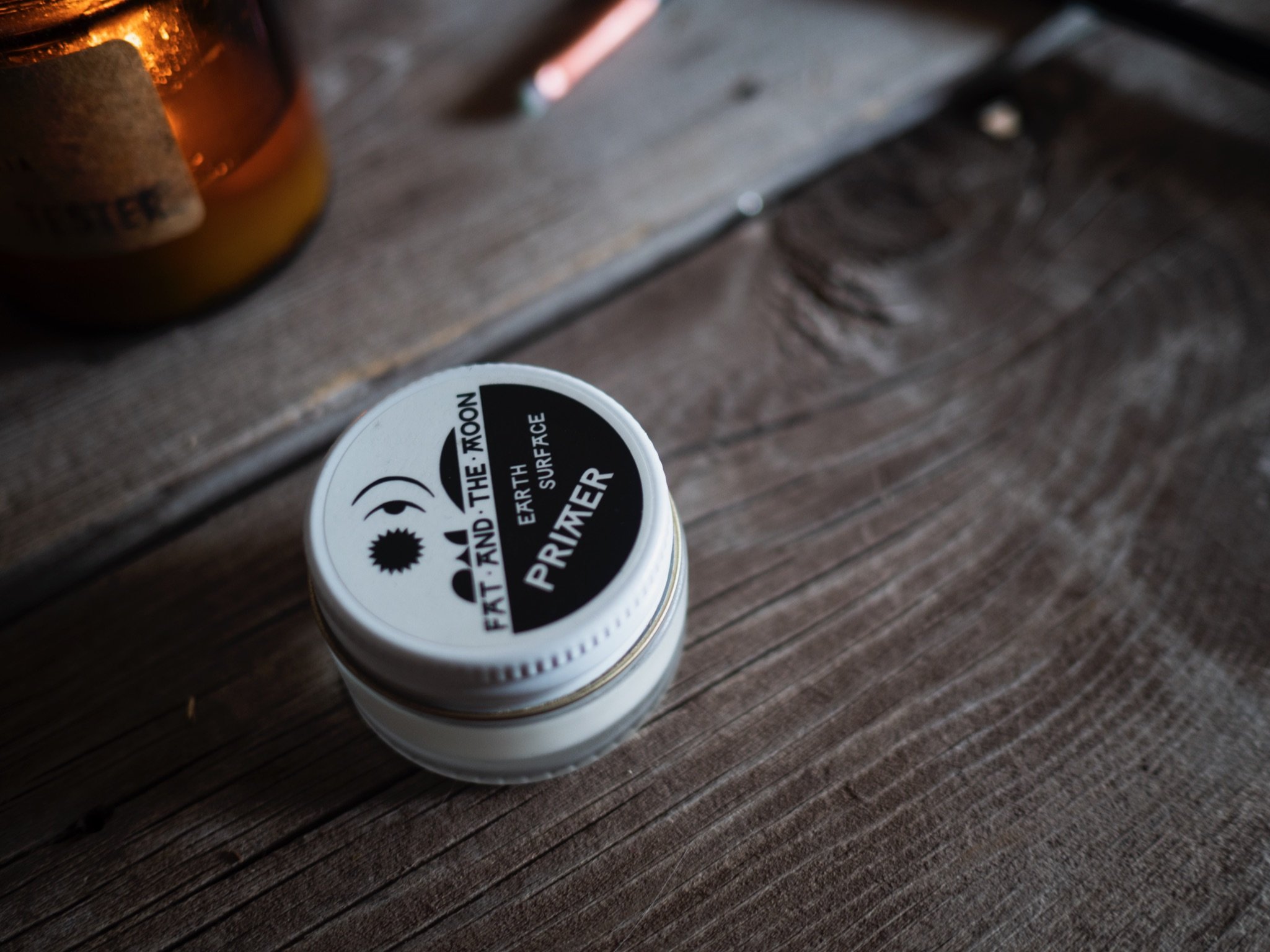 How many products does Fat and the Moon have?
We have 100 and counting. I'm so inspired that I constantly want to make things. Our model is making products to order, and that's great in a certain way. It's hard when people want their Deodorant Cream the next day, but we can respond to the needs of people, and we don't have to keep a big back stock. We might slim down, but that's hard for me because, when something is sold out and seems like it hasn't been used for years, we'll get an email from someone who wants to bring it back, and I'm like, "How could I not?" I don't think it's necessarily a bad thing to have loads of products.
How has the coronavirus pandemic impacted you?
It has impacted me in the sense of thinking about our globalized world. This is a real reflection on how connected we are. I'm seeing people really start to go to herbal medicine, which is cool for me to see. When shit hits the fan, people actually have to think about their resources, and plants that are really powerful. Viruses are very fascinating kinds of creatures. They're not really alive in the sense of what we think of as alive things, but they're ancient and wise. I'm watching this from the perspective of a healthcare practitioner, and it's about knowing your enemy.
As far as our business, I don't really know yet how it's going to impact Fat and the Moon. We are a business about health and maintaining your health, and I want that message to be amplified. I hope this is an opportunity for taking time to care for yourself in the best way possible. There are so many ways to slow down and make sure we are nourished, and we are in the service of nourishing others.
What aspirations do you have for your brand?
I am going to be opening up a spa. It feels like a natural expansion for Fat and the Moon to provide services along with the products. It will be hopefully this year, but maybe next year in Nevada City. I'm so stoked about it. I feel the way that Fat and the Moon is going for me is to move into a larger space and hire more people so I can focus more on my practice as an herbalist and also write the book I've been working on for two to three years. I go back to Slovenia every year for at least a month to see my family there and do research. European distribution is super exciting and at the forefront for us as well.