"Imperfect Picks" And "Uglies": Beauty Brands Are Salvaging Damaged And Abandoned Packaging And Products
Every so often, while Delphine Yougurtjian is running her natural body polish company Blue+Lola Organix, mishaps occur. Aluminum packaging may slip through her fingers and get nicked, arrive already dented in the mail or pick up a scratch or two at a local market. The wear and tear of regular business results in containers with imperfections.
"I just thought, it's a shame to throw these away, let's see if someone wants them," says Yougurtjian. "I'm sure people wouldn't mind, it's just sitting in their shower. It's the same amazing scrub, it's just going to be in a kind of uglier container."
Yougurtjian sent a message to 48 email subscribers gauging their interest in what she now calls Blue+Lola Organix's "Uglies" program. "In an effort to reduce unnecessary waste, we are filling our dented 4 oz and 8 oz body polish tins with your favorite flavors for a reduced price of $7 (4oz) and $15 (8oz)," the message read. "That's a $3 and $5 savings for you and an otherwise unsellable tin rescued from the recycle bin!" The aluminum tins cost Yougurtjian about $57 for four dozen of the 8oz jars and $46 for four dozen of the 4oz.
It didn't take long for customers to claim the six 4-oz. jars and another four 8-oz. jars on offer. They were filled and sent out within two weeks of the email blast. "I could tell that that was something that was really exciting for the customers," says Yougurtjian. "Even my friends that were never very eco-conscious ate that up. I actually have a couple of people who were like, 'Put us on the list if you get more.'" Blue+Lola Organix is preparing for a second round of the Uglies program to kick off soon and aiming to implement a subscription program encouraging customers send tins back to be refilled.
Makeup brand Flavedo & Albedo launched an analogous initiative last year called "Imperfect Picks." An Instagram story on the initiative said, "5% of all makeup has some sort of factory fault. Big scuffs, little scuffs, accidental glove or cloth marks from assembly, chipped jars, flaking paint, dingy boxes, lids that are too tight, etc. Normal practice is for this stock to be destroyed, which is crazy because it's still great makeup. What's why we're having an Imperfect Picks Sale."
Flavedo & Albedo offered around 60 "imperfect" items for 60% or more off on a first-come, first-serve basis. Products available included the brand's bestselling Dew Tint along with its individual Velvet Eyeshadows. Their flaws varied. The brand outlined, "Each fault is different, some are big ad some are small, it's a totally lucky dip." Founder Emily Perrett says the brand is gearing up for another Imperfect Picks sale at the end of the month.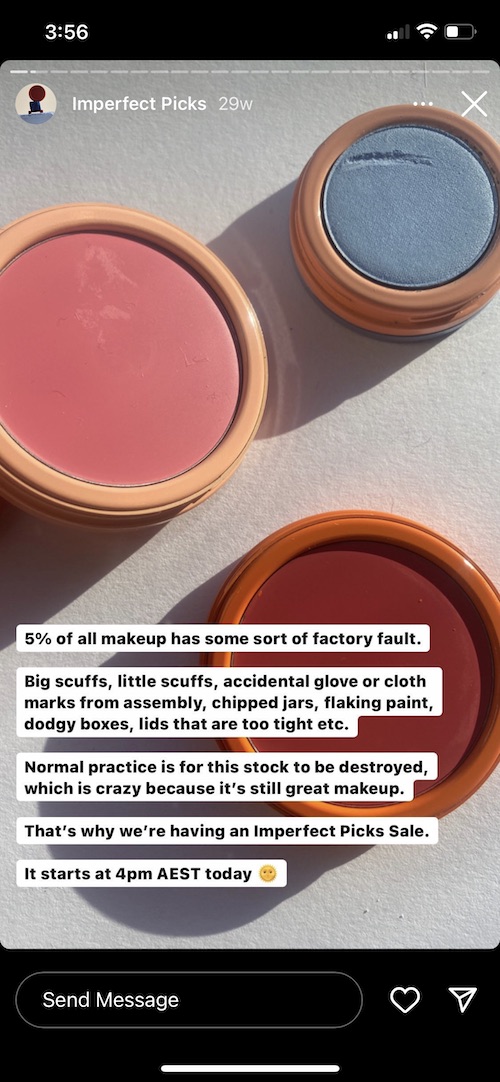 With beauty brands across the world spinning out billions of units per year, there's plenty of used, abandoned and dinged packaging and products that can be salvaged for conscious customers motivated to help stem the tide of stuff. After switching packaging materials to more sustainable options and attempting to source ingredients responsibly, beauty brands can also double down on their sustainable missions by employing product and packaging misfits rather than simply churning out new products or packaging that takes energy to produce even if it's full of recycled content.
Boie USA founder Matt DeCapio has taken material salvaging efforts a step further by repurposing the merchandise it releases after it's been used. The brand went "scrap-free" last year, meaning its manages to turn its old body and face scrubbers and toothbrushes into $8 bathroom hooks. DeCapio says, "After visiting a recycling center in NYC and getting some valuable insight, we wanted to close the plastic loop by offering our customers an opportunity to send back their used products which we can grind down and repurpose."
The process allows him to offset the costs of some of the virgin raw material Boie USA uses. The challenge is getting customers to return the products. It can take time to accumulate returns. DeCapio estimates the brand has received a couple of thousand returned and, so far, it's created more than 50,000 shower hooks. He says, "Our products are lightweight and can be sent back in regular envelopes with a stamp or two, but often customers miss this part of our communication or we need to do a better job."
Boie USA's $9.99 Fine Toothbrush launched last week on Target's website. As its customer reach broadens, DeCapio is confident the brand can stay scrap-free. Customers are able to return products to its main facility no matter where they get them from. DeCapio says, "We do communicate some of the sustainability components with buyers of respective retail partners." Boie USA has applied to be part of Target's Zero initiative featuring "products and packaging designed to be refillable, reusable, or compostable, made from recycled content, or made from materials that reduce the use of plastic."
Instead of collecting old products from customers, Dip founder Kate Assaraf is going straight to the source: The haircare brand's manufacturer. While in conversation with the manufacturer, she discovered it had thousands of unused, unmarked stock packaging sitting in its warehouse. "I found out there's custom components that have just been abandoned either by a brand that shuttered or they've moved from one manufacturer to another," she says.
Assaraf plans on turning the deadstock plastic into a limited-edition, purposefully imperfect Grateful Deadstock collection of hairsprays and other haircare items. Dip currently sells shampoo and conditioner bars. "There are certain products that can only be done in plastic, and I refuse to bring more plastic into the world especially when there's so much of it just lying around," says Assaraf. "It's the same story with fashion, buying secondhand is so much better than buying new."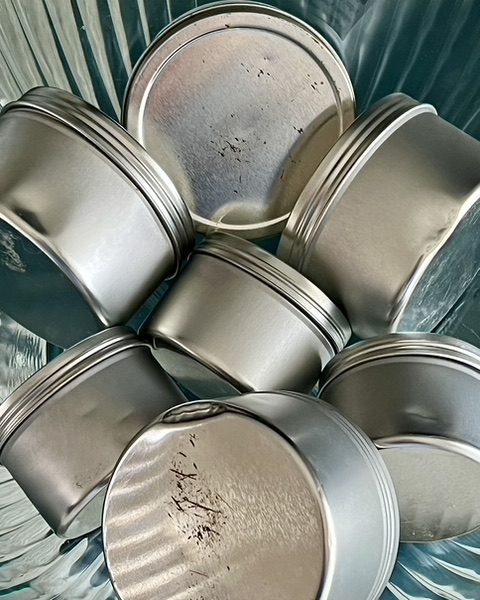 As far as costs go for the repurposed plastics, Assaraf notes it's "borderline free." She explains, "They [the manufacturer] want to get rid of this plastic, and I want it. It just takes up space in a warehouse right now. It's mutually beneficial." Yougurtjian describes Blue+Lola Organix's Uglies program similarly. "The customers get a discount, and I get to reuse something and feel good about not throwing something away that didn't need to be thrown away," she says.
Yougurtjian hopes that the idea of using damaged packaging that doesn't affect the integrity of the formula it houses will spread throughout the beauty industry. "The average consumer doesn't really care about the packaging, it is what's inside that matters to them," she says. "The average consumer is using products for themselves and are really only seen by them. So, if the bottle or can is dented or scratched, but it's the same product they love inside, why not sell it at a discounted rate? Why not take one less item out of the landfills?"
KEY TAKEAWAYS
Beauty brands are producing billions of packaging units per year, leading to countless numbers of dinged and abandoned products.
Increasingly, beauty brands are experimenting with programs that make use of the dinged and abandoned products.
The natural body polish company Blue+Lola Organix has tried what it calls an "Uglies" program selling its body polish in dented aluminum containers at a discount.
The makeup brand Flavedo & Albedo has sold scuffed products to its customers at a discount under its "Imperfect Picks" initiative.
The haircare brand Dip is working with its manufacturer to turn deadstock packaging or packaging that other brands abandoned into a limited-edition collection.
The efforts to use damaged or abandoned packaging and products allow beauty brands to further and distinguish their sustainability efforts beyond packaging material switches and eco-friendly ingredient choices commonplace in the industry.