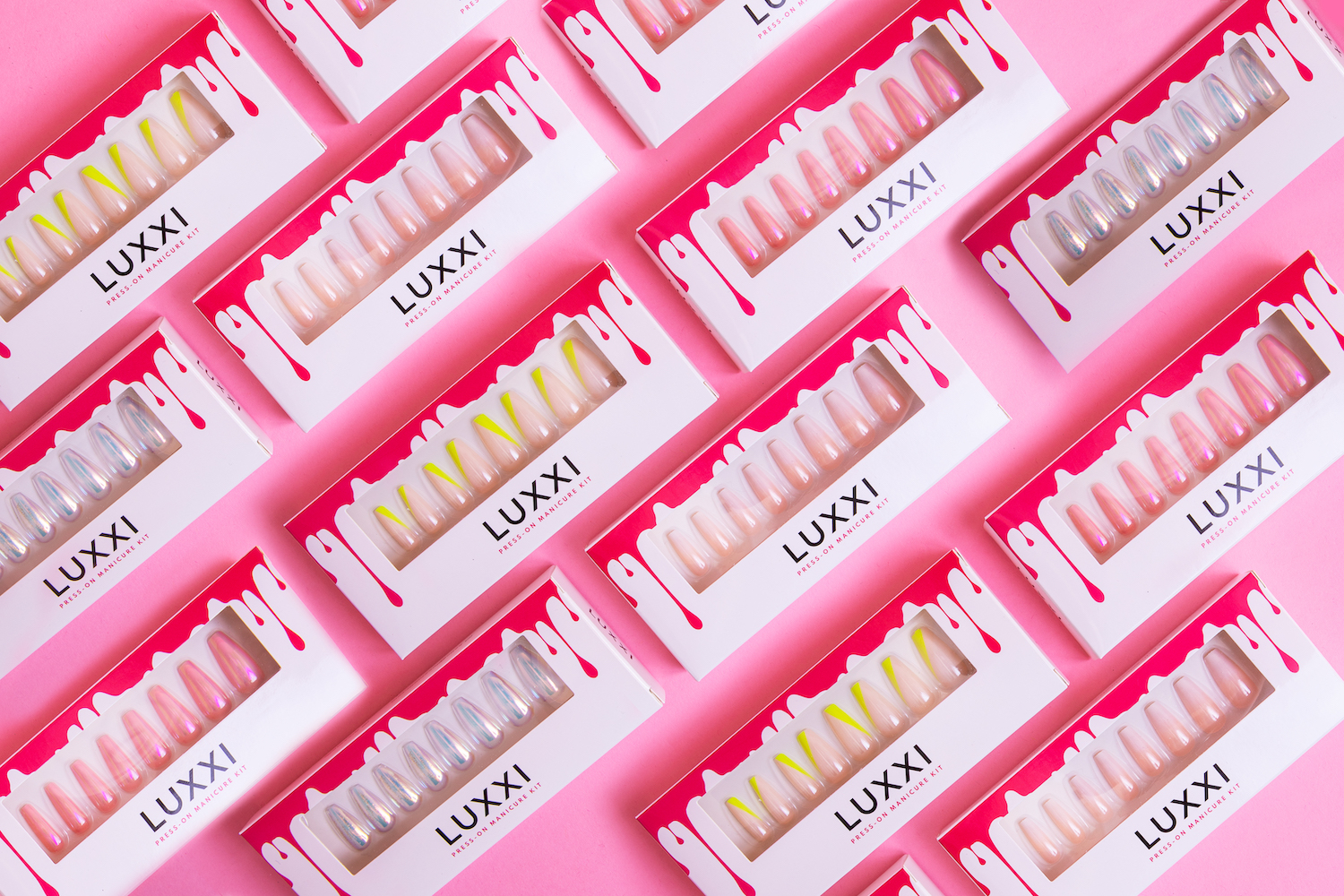 Set To Launch At Sally Beauty, Luxxi Nails Tries To Produce New Press-On Styles At The Speed Of Social Media
Luxxi Nails tries to churn out press-on nail styles as swiftly as designs trend on social media, which is to say pretty damn often.
"What we're doing is we are taking very popular nail styles that you may see on Instagram, Pinterest or TikTok, and we're able to very quickly get those manufactured and have those on people's fingertips in less than a month," says founder Jasmine Shamberger. "We truly are taking those salon styles, and we're making them readily available for the masses at a very wonderful price."
Luxxi has over 50 styles to choose from. A single-tone set with 24 press-on nails, nail glue, glue stickers, a nail file, manicure stick and alcohol pad goes for $14, and similar nail art sets go for $16. The press-ons are designed to last two weeks. Electric, a medium almond-shaped French manicure style with bright blue tips, is a bestseller.
Shamberger was an acrylic nails wearer for years while working in the insurance industry, but she always hated how much they cost and how long it took to get them done. She decided to shift to press-ons, but quickly realized there was a dearth of options at stores. "I couldn't figure out why these retail stores weren't trying to have better styles and more modern shapes," she recalls.
To provide consumers the press-on options she thought should be on the market, Shamberger launched Luxxi in 2020 with $5,000. Two years later, she's gearing up for the brand's arrival at Sally Beauty. Along with Juices & Botanics, Luxxi recently won Sally Beauty's third annual Cultivate award. As part of the retailer's Cultivate accelerator program, both brands receive $15,000 in funding, 12 months of mentorship, and distribution at select Sally Beauty stores and online beginning January 2023. Luxxi will launch six designs in stores and online as well as two designs that are online exclusives.
"When I was doing research before starting this brand, they are one of the stores that I went to to check out the competition," says Shamberger. "I did feel like our brand would do amazing there, and I also felt like they could use a little bit of excitement in the nail space and in the nail category."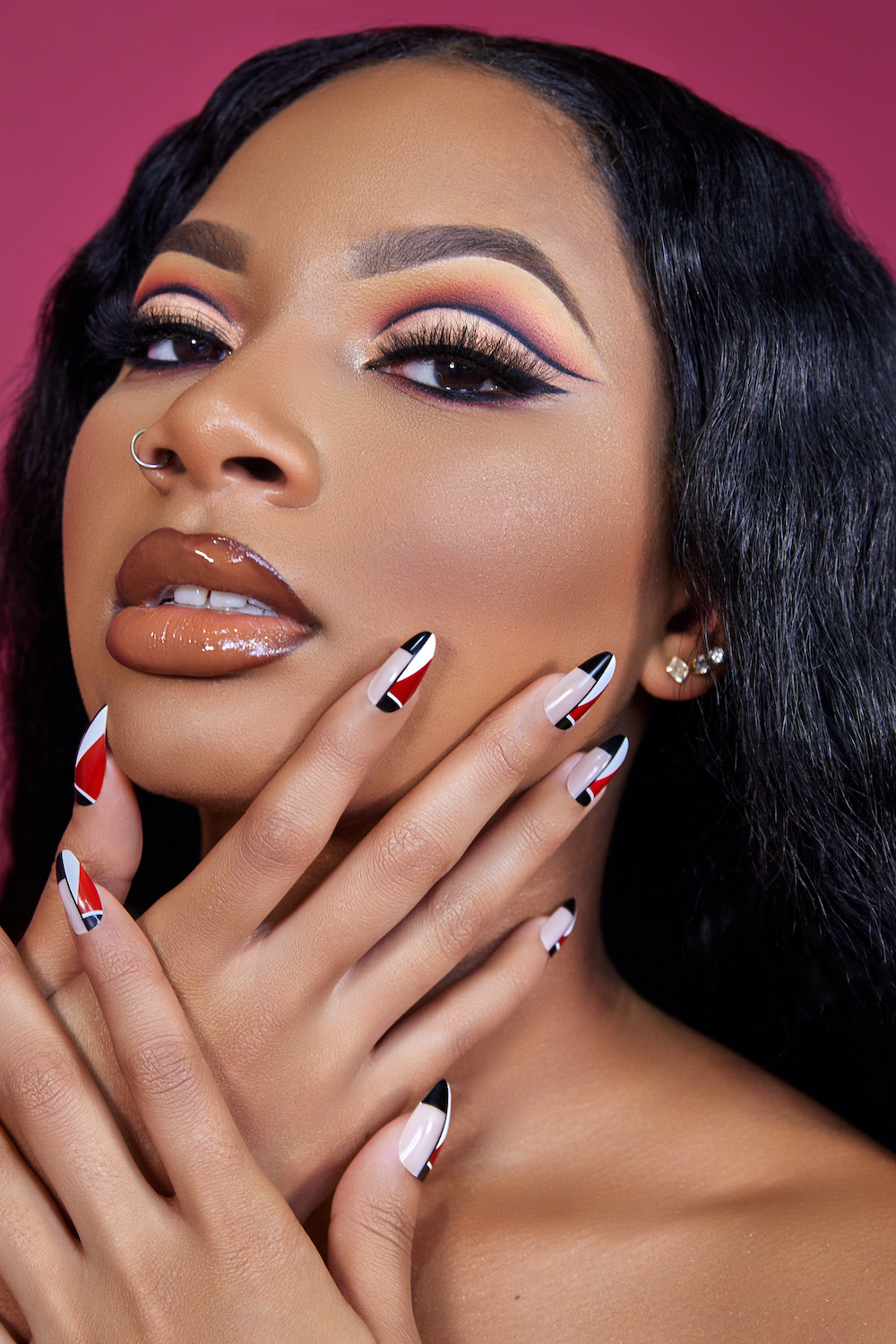 Sally Beauty will be Luxxi's first retail partner, but Shamberger readied the business for retail from day one, from the packaging to the manufacturing, which is done in large quantities. "We had everything in place hoping for an opportunity like this," she says. Still, Shamberger acknowledges Sally Beauty has been helping Luxxi dot the i's and cross the t's. She says, "They were helping mold everything together to make us truly ready, things like understanding a purchase order or understanding barcodes and UPCs [universal product codes]. They've really been holding our hand through the process."
Luxxi releases styles once a month on Instagram Live and has regularly scheduled live shows every Friday night at 5 p.m. PST. The last show received 800-plus comments from viewers. "We live pack orders, we show customers and prospective customers all of our new styles that we have in, and we also do something called a live drop," details Shamberger.
The drops are typically themed. A Coachella drop, for example, featured a Ferris wheel background and music festival-inspired outfits and makeup. A purple collection scheduled for next week will have decorations with the color sprinkled everywhere. "We go all out for these drops," says Shamberger. "We do some giveaways, sometimes we do trivia and Pictionary, but for nails. We try to make it as interactive as possible."
Luxxi occasionally collaborates with celebrity nail artists such as Lisa Kon, who works with the Kardashian and Jenner family. She designed two limited-edition Luxxi sets. "Her typical manicure cost is roughly five to $600, but we have those manicures put on a press-on form available for $16," says Shamberger.
Social media is the main marketing vehicle for the brand. Its Instagram posts have reached over 1.2 million accounts in the last 90 days. On TikTok, it's garnered over 78,000 views in the last 60 days, and its Pinterest account draws 2 million monthly views. Shamberger credits early viral posts for the brand's social media growth. It's hard to nail down the exact recipe for virality, but Shamberger posits it usually involves a good view of nails and a silk or shiny background. "What really resonates is a mix between the algorithm and what people are responding to at that exact moment," she says.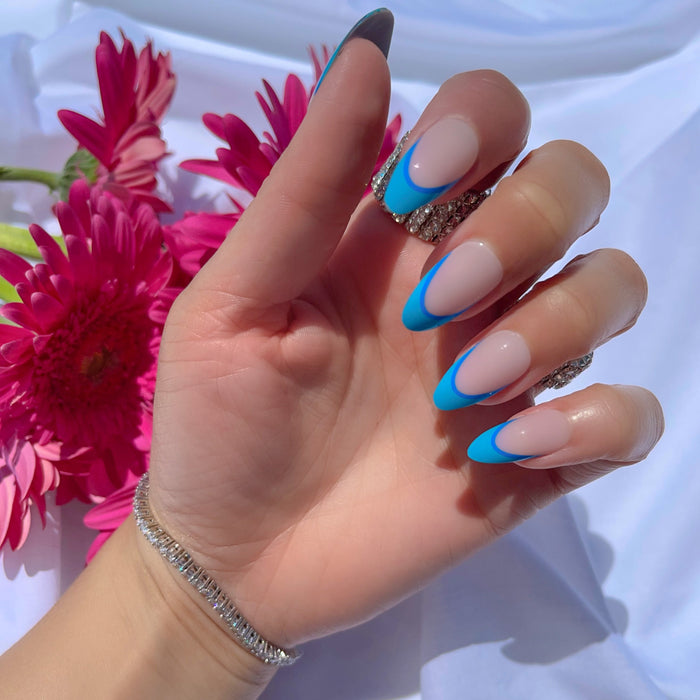 Luxxi's sales jumped 629% from 2020 to 2021, and Shamberger attributes the increase to Luxxi's loyal customers. She says the brand has a monthly customer retention rate of 35% to 40%. Customers return to Luxxi because they believe in the brand, according to Shamberger, and because they generally redo their nails every two weeks. "When we have a launch, they're going to show up," she says. "We know every Friday, they're going to show up, and we know that they truly are obsessed with the brand and can't wait to tell every single person about it."
Shamberger is intent on combatting any bad association consumers might have with press-on nails. She explains, "Back in the day, they were known for being non-durable and not really cute." Luxxi's customers are primarily 18 to 46 year olds, but Shamberger emphasizes the nail category is universal. "There's no age limit to nails, there's no gender to them," she says. "You can be 12 with really cute nails or you can be 97."
Social media, celebrities and the pandemic have contributed to a boom in the nail category. Shamberger predicts it and press-on nails in particular will only increase in popularity. "There are a lot of brands looking to jump into the space that currently just do polishes or they may even be in the lash business, and they're looking to jump over to press-ons," she says. "I got in at the perfect time, and I think Sally Beauty is going to give us that credibility in this space and truly allow us to grow and to get the Luxxi name out there."