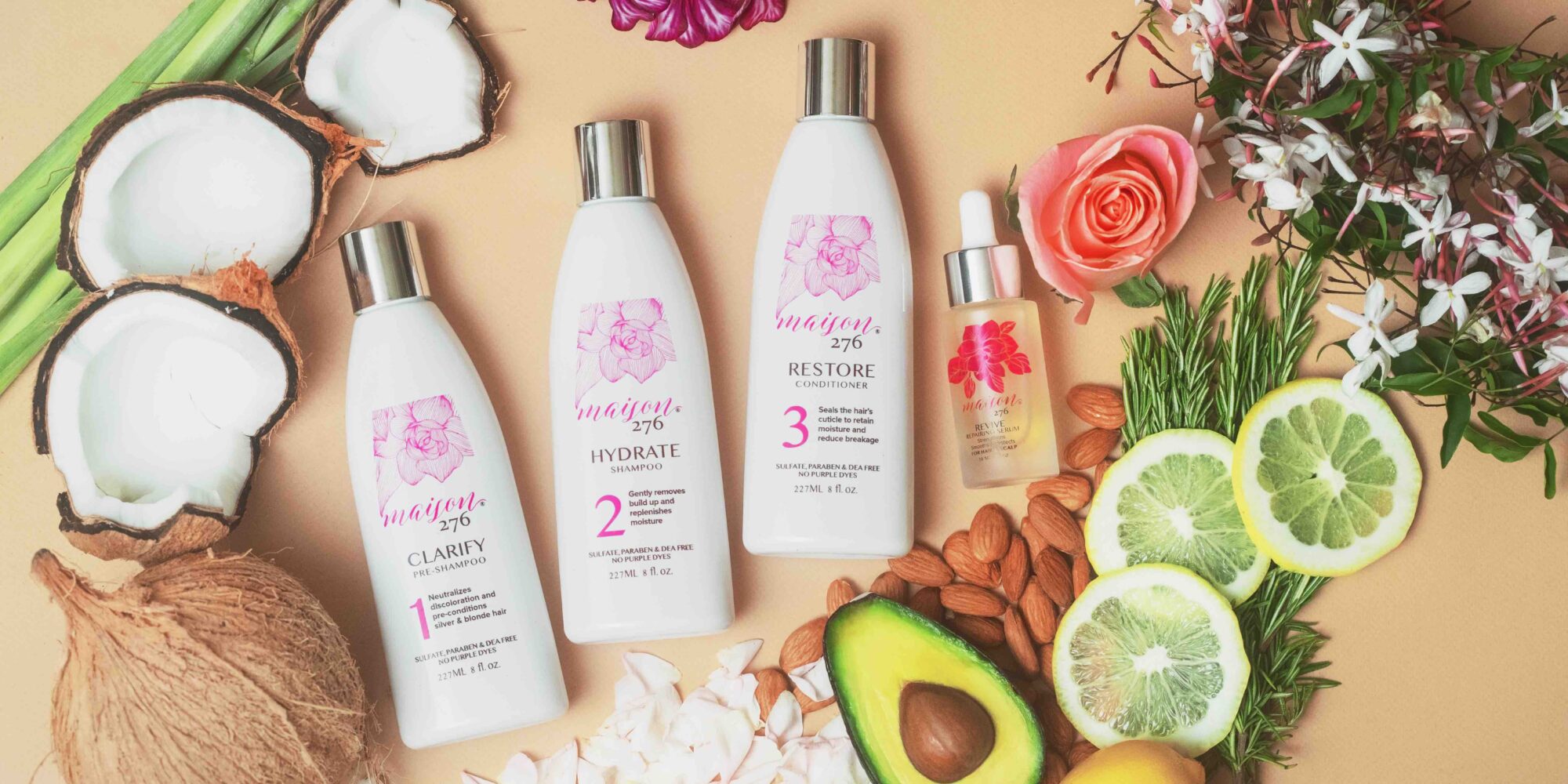 From Etsy To QVC: Gen X And Baby Boomer Haircare Brand Maison 276 Is Accelerating As More Women Embrace Their Grays
It almost seems like Maison 276 CEO and founder Angel Cornelius was destined to create a beauty company with products for women with gray hair, but it took a while for the former hospital administrator to pursue her destiny. She spotted her first gray strand at 13 years old and whipped up her own formulas to keep her hair healthy before starting her entrepreneurial journey at 54 years old. Now 61 years old, her brand, originally called La Belle Femme Beauty, is in the right place at the right time.
Sold on QVC, the websites of Walmart and Macy's, and soon at Sally Beauty, Maison 276, which is aimed at baby boomer and gen X consumers, more than doubled its 2020 sales in the first half of this year, according to Cornelius's son Keith Cornelius Jr., who worked at Goldman Sachs and JPMorgan prior to joining his mother in building the brand. Keith declined to discuss Maison 276's exact sales, but reporting by the "Today" show in March revealed it's on track to surpass $1 million this year in no small part due to a growing population of women deciding to ditch hair dye and brandish their grays.
"One of the things that Angel always mentions is that Black women embracing their natural hair was a movement that started 10 to 15 years ago and, now, it's just kind of the norm. It's no longer new," says Keith. "From a cultural perspective as it relates to our core demo, we think we are at the very beginning stages of women embracing, loving and wanting to celebrate their silver hair. We think we are well positioned to capitalize on that with a product that is differentiated in the market." Beauty Independent chatted with Angel and Keith about Maison 276's history, distribution strategy, ambassador program and big ambitions.
How did the brand come to be?
Angel: It came to be as a result of solving for my pain points that I had with beauty products really for decades. I had issues with my hair in terms of them not making it as soft as I wanted or working for my silver. I've always been a beauty DIYer, even before it was term. I would buy beauty products off the shelf and add things to them.
When I was in my 20s and had a silver streak, I was a hair unicorn. Many people thought I bleached my hair. I always wanted products that would make my silver vibrant and bright. I had been using products in the purple category for decades. Not only would they make my hair dry, but they would add unwanted color. If you keep adding color to colorless hair, you get those hues and get what I call old lady blue hair.
Around 2013, I was still very dissatisfied by the products on the market. I decided to detox my entire beauty regimen. I started making products for myself, starting with products for my hair. I realized I could make skincare with the leftovers from the products, and started making body butters and soaps. Some of my friends saw my beauty products and wanted to buy them from me. I created an Etsy storefront just to sell to my friends initially. They were my first customers. It was very much grassroots brand development.
What happened after that?
Angel: I would get invited to local events where you would have vendor tables set up. That's how the brand grew. I was just selling the skincare products, and I was really able to get immediate reactions from customers in terms of the textures and fragrances they liked. When someone said to their girlfriend, "Hey girl, you got to come smell this," that's a fragrance I knew they really liked and to double down on that one. This was really a weekend passion. I had a full-time job at Texas Children's, one of the nation's largest pediatric healthcare systems, managing one of its busiest primary care clinics.
After about a year or so, one of Keith's friends who was working for Birchbox and had been hired by Essence to curate its subscription boxes called us and said she wanted to highlight up-and-coming entrepreneurs. She had been using our body butters and loved them. She said, "Would you be interested in being in the boxes?" I had no idea what that would require of me. So, I said, "What should I do?" She said, "We're going to need 10,000 units." I was like, "Sure," but I was really thinking, "Oh my goodness, what have I signed up for?" I was making products in my kitchen, but it was a once-in-a-lifetime opportunity, and I thought I had to go all in.
Over the next nine months, I had to become a real company with everything that entails. Finding a manufacturer was one of the biggest hurdles. Ten thousand units was a lot to me, but not for a manufacturer and, then, we had to convince someone to formulate our recipe. More often than not, they just want to sell you a white-label product, and I didn't want to do that.
I was very committed to my formulation because I knew how much customers appreciated it. They really loved the consistency and the unique fragrances that were created by me. They loved the Pomegranate Kiss Body Butter, which is still our No. 1 skincare product. I was fortunate to be able to find a boutique manufacturer who worked with me over a nine-month period and, in March of 2016, we delivered 15,000 units of our Pomegranate Kiss Body Butter to Essence.
Once you had a bit of a bigger stage, how did you try to build Maison 276?
Angel: I realized I needed to go beyond Houston. I started attending larger beauty events like trade shows. I was very strategic about where I did them. I did shows in New York and Atlanta. At the time, I was selling body butters and handcrafted soaps, but something unexpected happened. Women kept asking me about my hair. They were women of all ethnicities, and hair textures and types. The wanted to know, what do you do to your hair? How do you keep your silver so bright? How do you keep it so soft? They wanted to touch it.
One of the challenges with silver hair is that it can be brittle, and there's the struggle of keeping your hair vibrant without taking on the pigments from the products in the purple category. I quickly realized that, although I may be a hair unicorn, there are many other women with the same challenges as me. I called my manufacturer and said, "I need to do a haircare product." I flew to the lab and took my notes with me about the product I had created in my kitchen for my hair. The Maison 276 3-Step System is based on the formula I created in my kitchen for my hair.
Silvers and blondes are hair sisters, which is why the products are targeted to that group. They have the same concern, which is eliminating brassiness, dullness and discoloration. Having silver and blond hair is like wearing the same white dress every day. It eventually gets dull. So, you need to use products to keep your hair vibrant and remove those brassy, dull tones. When I'm explaining it to men, I say, "Imagine if you had one white business shirt you had to wear every day," and that gives them a lightbulb moment. They understand what we are solving for.
The 3-Step Steam has clean, plant-based products. It doesn't have the purple pigment. The other thing that is differentiating about our brand is how we speak to our customer. We refer to them as the Maison 276 community. Most beauty products targeted to middle-age women, it's more about age correction like the term "anti-aging," which you will never see in Maison 276 marketing. It's communicating in a way that implies there's something wrong with middle-age women.
At Maison 276, we speak to the community in a way that reflects how they feel about themselves. They view themselves as being vibrant and energetic. They completely embrace this stage of their life, where it's a new season and it gets to be all about them again. If you look at our images, whether it's on our website or Instagram feed, you see our community portrayed in a vibrant, energetic way.
How did you think about pricing the products?
Keith: Our flagship product, the 3-Step System, we sell that as a bundle for $40. Individually, those SKUs cost $17. We are giving a 20% discount to buy a bundle. Our body butters are $25 a piece. Our new Revive Repairing Serum retails for $20 and our lowest priced SKU would be our handcrafted soaps for $12. The overall range is $12 to $40.
One of the things that Angel always says is you shouldn't have to pay an arm and a leg for beauty products that make you feel like the best version of yourself. As a young upstart company, we haven't achieved the scale to where mid-market pricing is significantly profitable for us, but we think that making investments so that our customer feels like they are getting tremendous value for their buck is something that we always want to maintain. We are not going to have the cheapest shampoo or the cheapest skin and face products, but we don't want our customer to feel like they are making budgeting decisions to purchase our products and enjoy the experience we deliver to them.
What's been the distribution strategy?
Keith: As a bootstrapped company, one of the things that we prided ourselves on is our ability to be proven allocators and managers of the capital we have access to. We have tried to balance between retail opportunities that would maximize our top-of-funnel brand awareness with profitability. When we saw the opportunity to partner with QVC, we thought in terms of the tradeoff on margin versus what we would get with brand exposure. QVC has 13 million viewers, and about half of them are very nicely within the target demo we want to attract. We thought that was an opportunity we couldn't pass up.
After QVC, we have been very strategic in terms of leveraging the exposure to get online at Macy's on top of our DTC distribution. As an upstart brand, we have to be very careful about when we decide to go into brick-and-mortar because it takes capital to move those units off the shelf. Generally, you get only one chance to get your foot in the door and do it right. We wanted to partner with teams that understood what we are trying to do as a brand and are supportive of us now and the long-term vision.
We think partners like QVC, macys.com, walmart.com and Sally Beauty in the first quarter of next year are opportunities where we feel they can lend their credibility to an upstart brand while allowing us to demonstrate how our products and messaging are differentiated—and those are opportunities we can support with the capital we have to grow the brand at a sustainable pace. There might be an inflection point where we can put our foot on the accelerator a little harder, and there are two to three big-box retailers that we will target over the next two to three years.
What was it like to get on QVC?
Angel: We went on air February 28, 2020, but the process started in the summer of 2019 when we applied for The Big Find, their global search for new and innovative beauty brands. There were over 700 applicants, not just from the U.S., but also across the globe. We pitched in Manhattan. I often tell people it's like "Shark Tank," but everyone is nice. The pitch was to several beauty brand founders, hosts and QVC executives, and we won the big ticket. From that perspective, it's kind of like "American Idol."
Of those 700 applicants, there were 75 winners and 35 of those were slated for an on-hair launch, and we were one of the 35 brands. That has been really incredible for us and really has opened so many doors. Later, we were recognized by CEW as one of the Indie 26 indie beauty brands disrupting the beauty industry. That led to our partnership with Macy's several months later.
What happened when the pandemic hit?
Angel: We launched on QVC days before they closed the studio. We were very fortunate in that. We had this exposure and, then, all of a sudden, because of issues in the supply chain, we couldn't meet the demand. The way we approached it was to be honest and transparent with our community. Through every inventory outage and wait list, we were constantly in communication with our community through emails and other channels to let them know what was going on.
Keith: Any time you have an opportunity to communicate with your customers, it's a positive. And, with the pandemic, people were spending more time at home and on their beauty routines. They were taking their beauty care into their own hands. One of the ways that manifested is that a lot of women stopped dying their hair and started embracing their silver strands. That was a great opportunity for us as a new brand to meet this bubbling demand. Hopefully, we will continue to see the benefits of women continuing to embrace their natural beauty. We think that is very aligned with our messaging and brand ethos.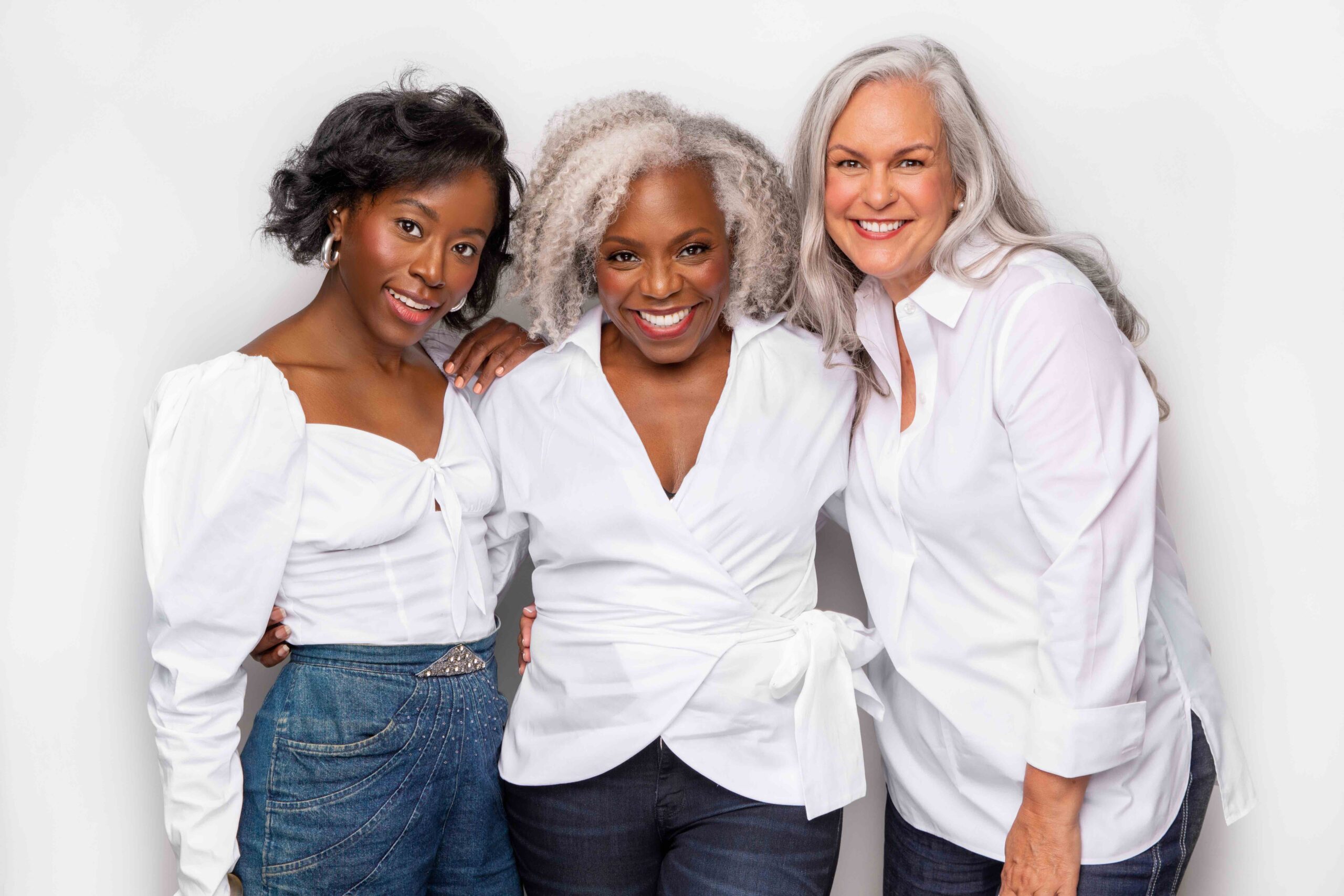 Angel, have you always felt comfortable being brand spokesperson?
Angel: I've always been comfortable with public speaking, but I actually had to be convinced to be the face of the brand. I was more than comfortable creating formulations, going to trade shows and talking to women one-on-one, but I actually never envisioned myself as the face of the brand. I understand why that is important in terms of growing the brand, but it was never my goal to make it be about me.
Keith: As somebody who was very involved in trying to facilitate that transition, I can tell you it was not easy to convince her to be the face of the brand. Because she never wanted or intended to be the face of the brand in a weird way I think a lot of our community appreciates that. Angel is not doing this to rack up Instagram likes and followers. Honestly, it's a sacrifice that she's made for the greater good of the company to put herself out there more. The company has certainly benefited over the past couple of years from Angel being more prominently featured as our lead brand ambassador.
Can you tell us a bit about your broader brand ambassador program?
Keith: Our brand ambassador program is one of the things that I feel the most excited about. I think it's going to be an asset that allows us to grow while maintaining the authenticity of the grassroots feel and vibe that we are trying to embed in the DNA of the company. If you look at our brand ambassadors on the website, we have close to 50. It's a very diverse representation of middle-age women in our country.
We think the brand ambassador program is over the long term going to continue to be our way of allowing all women to feel like they are reflected in what we are trying to do as a company. Additionally, our brand ambassadors are an amazing asset in terms of generating organic growth for the company. From a financial perspective, they increase our return on ad spend because they are marketing the product for free. We supply them Maison 276 products on a quarterly basis. We highlight them through our social media platforms.
We encourage our brand ambassadors to leverage even the small platform we are able to provide for them now to take advantage of modeling opportunities. We have done events and photo shoots with them. We want it to be a very reciprocal relationship where our brand ambassadors feel like they are getting recognition, positive feedback and support from us, and we are happy to use their social platforms to grow our brand and exposure.
What do you think about external funding?
Keith: Given my background, we've been able to leverage financial acumen that smaller high-growth companies don't have access to. Our philosophy has been, in order to maximize our ownership in the company, we have tried to support every growth inflection point with capital of our own. A lot of financial players want you to prove that you have done it with your own capital. We could have another hour conversation about when certain funds decide they want you to invest your own money or when they're going to write you a check pre-revenue.
We have had to go out and prove it with our own money. As we continue to hit inflection points, it will require financial partnerships, but our philosophy has been, if we can do it, we are going to do it because, quite frankly, we are not able to just go into a meeting and have people say, "Here's a check for $2 million, call us back in a year and a half." Since that's not our situation, we have to go out and prove it, but going out and proving it has never been something Angel and I have shied away from.
What are long-term goals for the brand?
Angel: Expanding our brand footprint domestically is our first priority, but we expect to be a global company. We receive orders from international customers on a daily basis, women who are willing to pay postage that sometimes exceeds the cost of the product. That lets us know that our market is not just domestic. Our market is certainly international, so we are looking forward to expanding into other regions.
Keith: If we are able to be that trusted beauty brand for our core demo of baby boomer and gen X women who often are the family matriarch making the purchasing decisions of the household, we think that gives us a profitable, attractive runway to be able to expand our offerings to daughters, to husbands, to sons. Over the long term, we think we can be a very successful brand that is able to offer something to everybody.
In the near term, we need to focus on the demo that gets us to that opportunity. As we expand, we don't ever want to alienate the core demo. We want them to feel like we are opening up the household versus leaving them for other members of the household. That is a very gradual, deliberate process that takes time. We are well suited to be patient and allow that strategy to play out and, over time, it will be a very successful, profitable strategy for us.