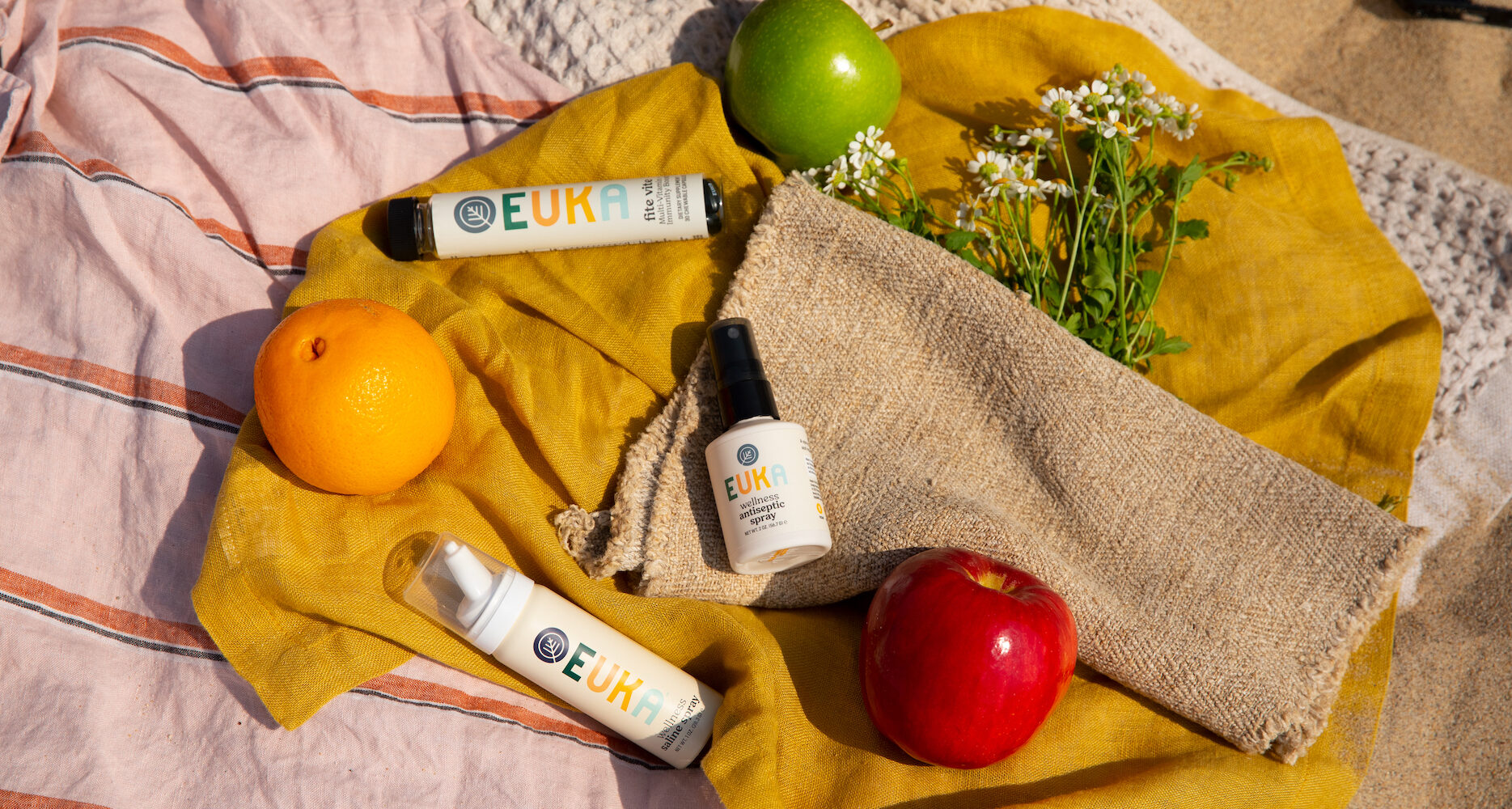 The Rise Of Respiratory Wellness
Amid a pandemic that brutally attacks the respiratory system, it should come as no surprise that products designed to bolster lung health and purify the air we breathe have cropped up, forming a nascent personal care subcategory of respiratory wellness.
In 2020, companies have introduced traditional Chinese medicine-powered herbal supplements, detoxifying room mists and aromatherapy rollers purported to repel pathogens. These products were created to cleanse the air and bolster the immune system to handle potentially harmful particles that enter the body. Retailers have noticed surging interest in the pulmonary supporters. 
"We've seen a nearly three-fold increase in consumer demand for dietary supplements indicated in supporting respiratory wellness," says Don Summerfield, VP of integrative medicine at Pharmaca. "Many of the key brands we offer have either expanded their offerings or launched new items into the respiratory health category." He specifies products containing quercetin, zinc, medicinal mushrooms, L-glutathione, black elderberry, and vitamins C and D have been in highest demand.
While COVID-19 and the California wildfires have amplified the attention on respiratory health of late, respiratory issues have long been the cause of the majority of doctor's visits in the United States. Shawn Nasseri, an ear, nose and throat surgeon whose celebrity clientele includes Justin Beiber, Halsey and Carrie Underwood, points out that "60% of all visits for physicians in this country per year are respiratory-related." According to the World Health Organization, the combined effects of outdoor and household air pollution lead to approximately 7 million premature deaths every year, usually as a result of stroke, heart disease, lung cancer, chronic pulmonary disease and acute respiratory infections.
Nasseri and his wife, Bita Nasseri, an anesthesiologist, recently launched direct-to-consumer wellness brand Euka, a suite of products designed to take a holistic approach to respiratory wellness, with a focus on illness prevention. The duo called upon their collective four decades of medical expertise to design the products. Euka's debut collection includes Wellness Saline Spray, Wellness Antiseptic Spray, Fite Vite Multivitamin, Breathe Well Shower Bombs, Wellness Infused Sanitizing Wipes and Molecular Helmet Wellness Roller.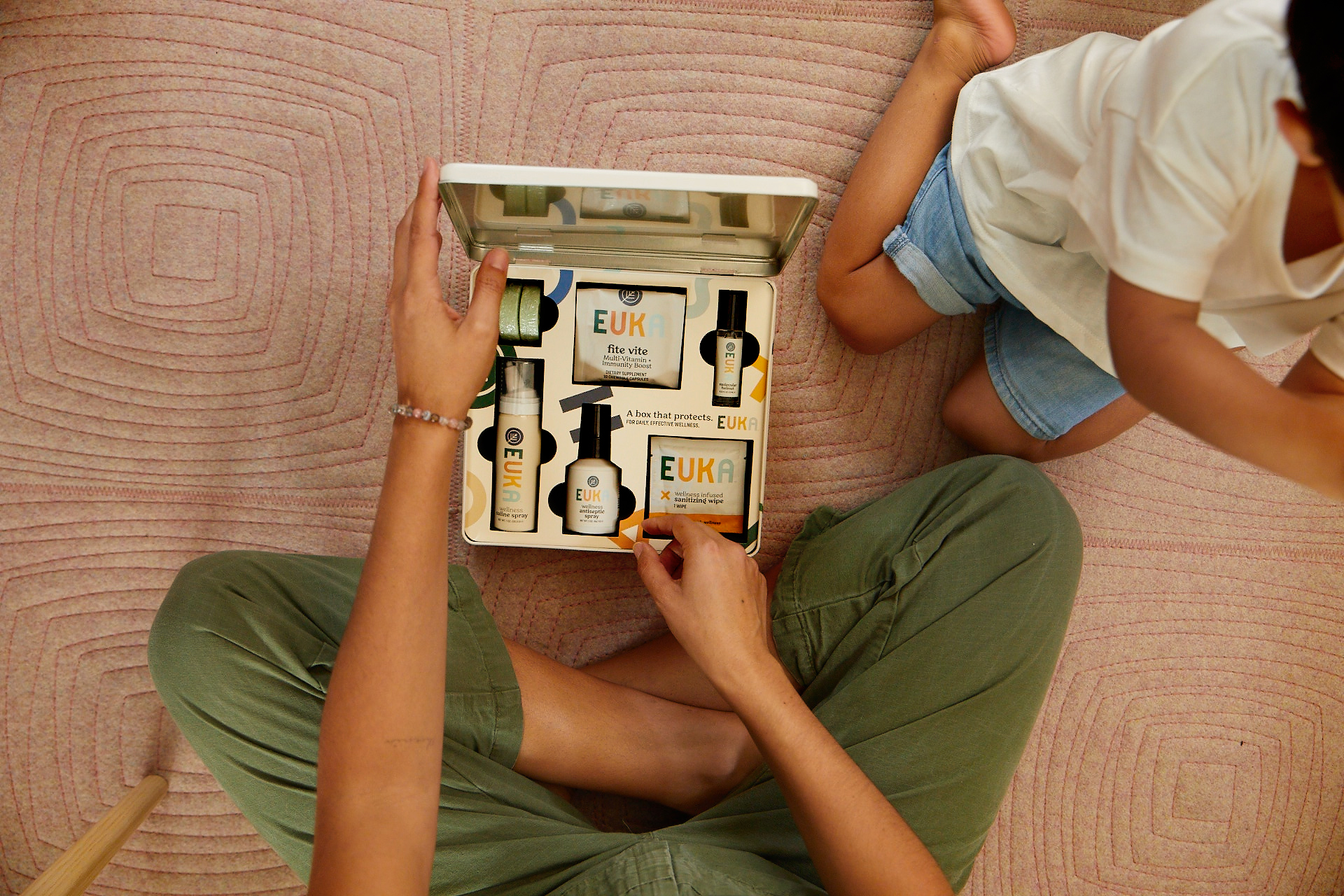 "We have lavender as a forward-facing and enjoyable smell that gives the aromatherapy experience," explains Bita of the Molecular Helmet Wellness Roller. "But it also has clove, oregano, rosemary and other essential oils which can function in nature to help clarify the air around you. So, if you're rolling it in a c-shape around your neck, we say it creates a molecular helmet [because] you're clarifying the air around you." Nasseri is quick to add that Euka makes no hard claims that its products actually sterilize the air. 
Euka's formulas are devised to reinforce the immune system by lowering stress levels. Chronic stress has been proven to ramp up the body' production of hormones like cortisol that suppress immune systems. "A pleasant experience is actually doing something good for your bodies and your respiratory system that relaxes your muscles," instructs Bita. "It calms you, makes your mood uplifted. Our goal was to give a sense of hope before now. During COVID, we feel we're obligated to really spread the word [on respiratory wellness], give people tools and a sense of hope."
Essential oils get maligned due to the myriad of multilevel marketing companies shilling the smelly liquids via Facebook feeds, but the multibillion-dollar market is poised for robust growth over the next several years. According to Grand View Research, the essential oil market in the United States was worth $4.8 billion in 2019 and is poised to reach $7.3 billion by 2024, growing at a compound annual growth rate of 9%.
This year, beauty and wellness brands have tapped into the supposed respiratory benefits of essential oils to release multifunctional products to buoy health during the pandemic and beyond. Newcomer I'm Outside premiered in November with one product, Forest Bathing in a Bottle, a face, body and room mist formulated to bring the healing qualities of nature to all, even consumers that can't get as much fresh air as they'd like. Forest Bathing in a Bottle contains essential oils like cypress, hinoki, spruce, mint and pine that imbue it with its fresh, herbal scent, and are intended to deliver respiratory system protection.
"There's antibacterial properties, antiviral properties and some contain properties that are anti-inflammatory. So, those three provide benefits both in prevention and healing," says I'm Outside founder Claire Adams. "On the prevention side, if you are using an essential oil in your routine, you are getting these antibacterial and antiviral components. You're actually preventing respiratory tract infections. The profile of oils that are in I'm Outside also have been linked to improved immunity overall."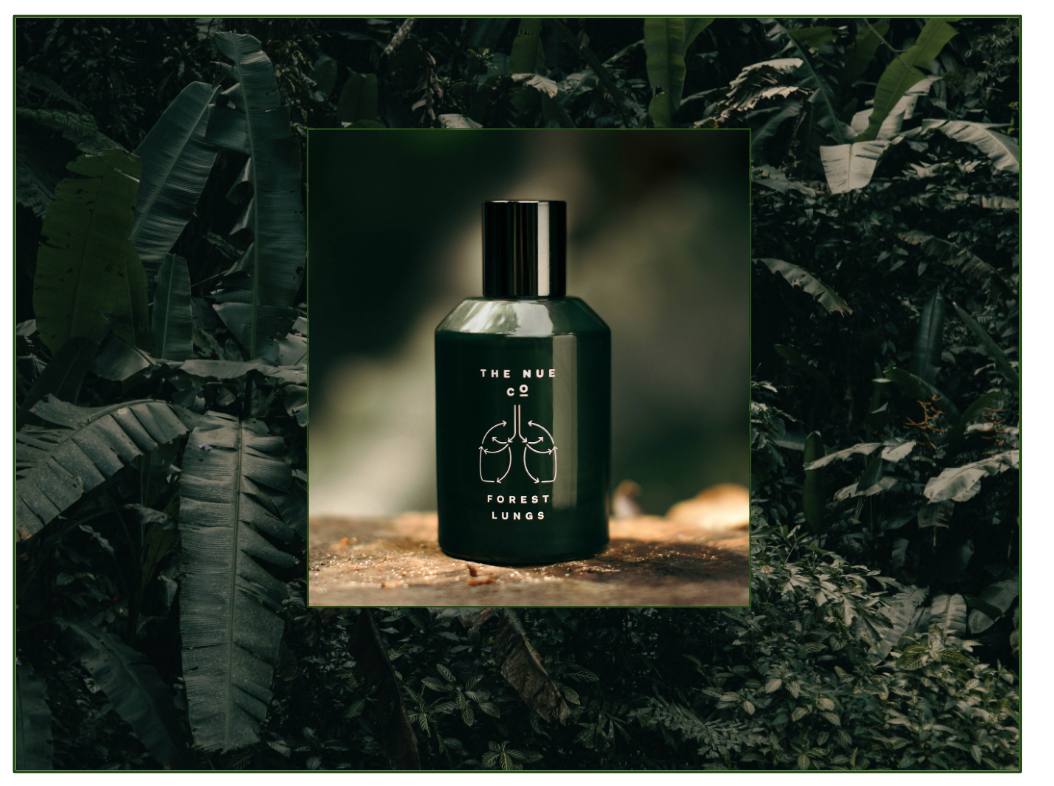 When it comes to respiratory illness, Adams notes that reducing inflammation provides a lot of relief. She says, "Essential oils have a natural compound called camphene, which is the cooling, refreshing effect that you get from like a Vicks Vapor Rub. There is a tangible coolness and soothing." Adams points out that Forest Bathing's other ingredients have pro-respiratory qualities, too. There's some evidence that vitamin D wards off COVID-19 and limits the severity of its symptoms. Forest Bathing in a Bottle has phytoncides, volatile organic compounds with antibacterial and antifungal qualities that assist plants with fighting disease, in its formula to serve a similar function for humans. 
The same month Adams unveiled I'm Outside, wellness specialist The Nue Co. in November launched its second so-called "sensory supplement," Forest Lungs, which features phytoncides as well. Similar to Forest Bathing in a Bottle, the fragrance The Nue Co. describes as "functional" was created to replicate the healing effects of nature based on scientific evidence that spending time among trees, the Japanese practice of forest bathing, can improve health, including fortifying the immune system and steadying mental health.
The Nue Co. founder Jules Miller sees the pandemic as accelerating the trend of "medicalizing nature." She expounds, "Members of the medical community are prescribing time in nature for their patients who were struggling with anxiety, low immunity and general illness." She predicts air quality and its influence on well-being will be a big focus in 2021.
"Whether you're thinking about pollution and its impact on your skin barrier, or whether you're thinking about pollution and air quality's impact on your lungs, or whether actually you're not that well informed but you just know that pollution is bad for your health in general and you've moved to a slightly greener area or are spending more time in nature, I do think that there is definitely going to be a higher awareness of clean air going forward."
Both Forest Bathing in a Bottle and Forest Lungs were born out of the reality that people can't leave their homes as much as they'd like. Spending so much time at home, often surrounded by family members, has caused consumers to question the quality of the air in their home. A recent New York Times article cites possible indoor air pollutants like mold, carbon monoxide and radon as health threats lurking in living rooms.
Concerns over home air quality have given rise to products designed to detox dens to save respiratory systems from harm. Ali Shoraka, founder and CEO of Sensori+, a personal care company that sells soy candles and air detoxifying mists, detected a white space for premium indoor air pollution antidotes prior to COVID-19. "I wondered which real and relevant need is missing [in luxury goods brands'] portfolios," says Shoraka. "This, combined with the alarming news and statistics around the fact that air pollution kills more people each year than cancer, seeded the thought and journey to find the solution for this modern life issue yet deliver the same level of experience as the most luxury brands in the world." 
The mists and candles range in price from $21 to $52 and come in a variety of scents. The mist is available in unscented. It's their function, not their fragrance, that makes the items unique. The products detoxifying abilities stem from a technology Sensori+ dubs ChlorosPURE extracted from Australian Native Fern. "ChlorosPURE's key feature is its ability to analyze the 'fingerprints' of air toxin molecules to alter their surface properties and then provide dedicated decomposers that dissolve the chemical components so that the toxic molecule can be separated and the source of contamination deconstructed," details Shoraka details. "ChlorosPURE detoxifying technology can effectively eliminate over 100 types of airborne toxins and odor substances, reducing potential health risks from breathing them in or getting in contact with these particles."
Shoraka argues the wellness segment has only scratched the surface of respiratory merchandise. "The area has been under-developed and under-worked, the scope and the impact on quality life could be significant," he declares. "Sensori+ sees itself as the pioneer of safe beauty, which includes enhancing quality of life via respiratory solutions. I believe self-care and well-being is far beyond a trend, and it is more about the new awareness within the society. It is a long-term component of modern life." 
As temperatures decrease in North America, another aspect of in-home air quality is maintaining sufficient moisture levels. Humidity levels naturally drop in the winter because cold air can't retain as much moisture as warm air. When humidity levels fall below a certain threshold, it decreases the body's ability to fight bacteria, viruses and allergens. According to the Centers for Disease Control and Prevention, influenza virus is five times more infectious in low humidity environments than high humidity environments. Additionally, breathing in dry air thins out the protective layer of mucus in our nasal passages, throat and lungs. Without the protective layer, it's easier for airways to become swollen, irritated and infected. Cranking up the heat exacerbates the problem. 
Humidifiers can replace lost moisture in homes, but are notorious for becoming breeding grounds for mold, a respiratory irritant. In October, humidifier company Canopy launched to give consumers the dewy goodness of moisture-rich air without the health risks of mold and other airborne contaminants. Instead of the wet mist spit out of traditional humidifiers, Canopy is constructed to emit clean, moisturized filtered air. Its components are dishwasher safe to allow for easy at-home sterilization.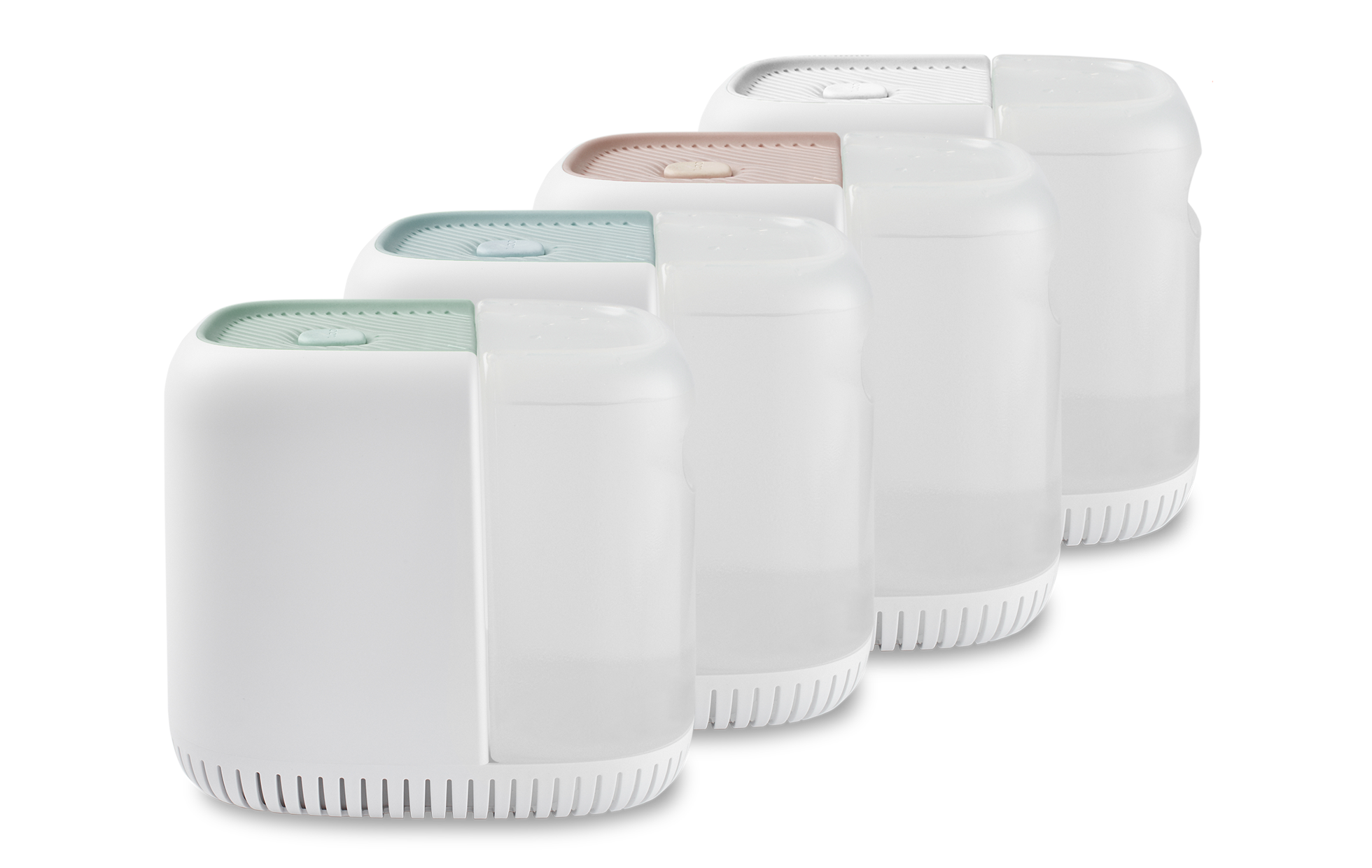 "We hear from customers that they have general concerns around dry, uncomfortable air, and that is a major motivation for purchasing Canopy," says Eric Neher, Canopy's head of marketing. "It's part of our mission to educate consumers about all of the benefits of increased indoor humidity, including the potential for reduced transmission of viruses, and we know that has been driving interest."
From October to November, he reports that Canopy's sales shot up 330%. Canopy wants consumers to be able to further support their overall wellbeing with essential oils, but, much like traditional humidifiers, diffusers can pose a mold and mildew risk. To address this issue, Canopy humidifiers are designed to do double duty as a humidifier and a diffuser. Units are equipped with an aromatherapy feature enabling essential oils to be added to a ceramic puck that sits on its top grate. 
What would a wellness trend be without ingestibles? In the past year, several companies have presented supplements formulated with a mixture of herbs and extracts to aid with lung and respiratory health, ameliorate the effects of allergies, and speed up recovery time from the common cold. Last month, Gaia Herbs launched a line of respiratory health-supportive products, Mighty Lungs, Sinus Comfort and Black Seed Oil, powered by botanicals like goldenseal, nettle and plantain leaf. 
"With poor air quality due to wildfires across the West and other environmental pollution, as well as COVID-19 cases continuing to climb, we have seen a heightened focus on respiratory health this year," says Gaia Herbs president and CEO Angela McElwee. "For all of these reasons and more, people are increasingly seeking plant-based, natural wellness solutions to help support their lung health. Our new formulas provide effective, plant-based support before and during a respiratory challenge and also help people maintain lung health all year long." 
In August, cannabis-based personal care specialist Plant People launched its first CBD-free products centered around respiratory health and immunity. The four supplements—Lung Guard, Sinus Support, Cold Control and Immune Power—were created to bring plant medicine to ailments usually tackled with chemical-laden over-the-counter drugs. They were Plant People's gateway to a retail partnership with Target. 
"We believe that the opportunity to lean into alternatives that come from nature and used for centuries deserve to be recognized in a legitimate manner," says Plant People founder Gabe Kennedy. "Our customers who started taking Lung Guard on the West Coast during the peak of the fires were incredibly enthusiastic about their experience, [and] we look forward to supporting people through the cold and flu season with our Cold Control formula, which is intended to nip it in the bud."
Coronavirus vaccinations have begun to roll out across the country, but wellness entrepreneurs don't think they'll slow down the respiratory wellness trend. Air pollution will continue to be a global health crisis long after the pandemic is in check. Nasseri mentions that, in advance of the coronavirus, the 2019 flu season was one of the worst ever.
"Last year, we saw over 600 patients with the flu," he recalls. "Fortunately, everybody's mind is opening up to wellness. Before, it was very reactive. Now, it's a preventative proactive ritual. This is a prime opportunity for us to educate our audience and say, 'We know what you're dealing with. You just didn't realize when you had your flu, when you had your flare-ups, when you went to the mountain and you couldn't breathe, you were dealing with your respiratory health. Now, you're educated about it because you don't have a choice. You've got to be informed at this point.'"
KEY TAKEAWAYS
Factors including the COVID-19 pandemic and the California wildfires have led to brands across the wellness space to launch products that claim to support "respiratory wellness."
Brands approach the category by providing both internal support through supplementation and external support with products that are designed to improve air quality, especially in the home.
Retailers and brands report huge sales spikes this year for products that promote respiratory health.