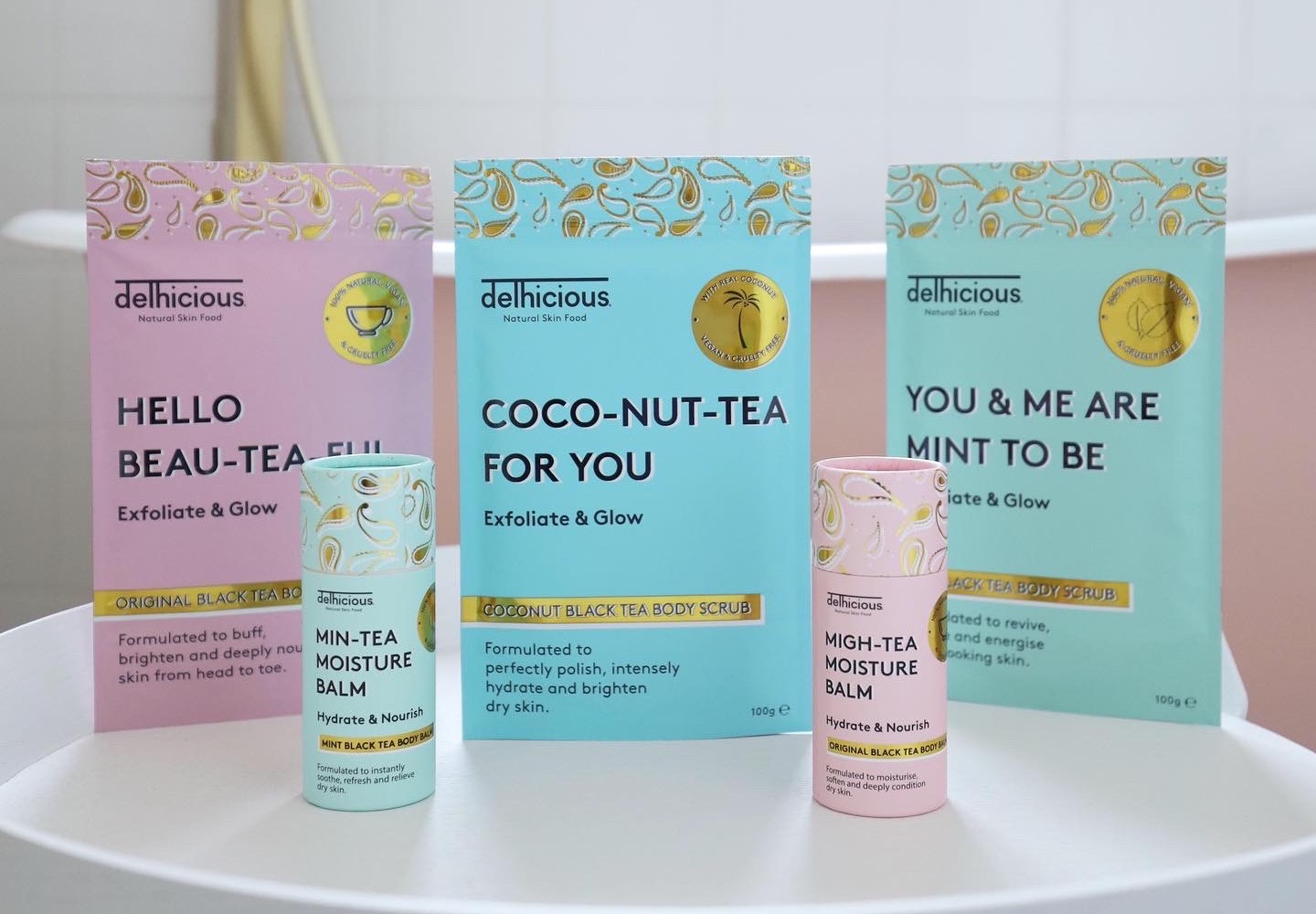 After Going Viral On TikTok, Delhicious Body Hit Six Figures And Has A 20,000-Person Waitlist
In an 18-second TikTok video, Delhicious Body founder Zara Saleem confesses that, when she created Migh-Tea Moisture Balm, a product with Indian black assam tea, shea butter, sweet orange oil and candelilla wax, she wasn't trying to relieve eczema. "I just happened to have a dry skin condition myself when I was pregnant, and these were the ingredients that really worked for my skin," she says. "It's just incredible that it just happens to help all of these dry skin conditions, too."
Apparently, Saleem's confession—or, more likely, the product it refers to that people are gravitating to for eczema as well as psoriasis and dermatitis—resonates with people. The short TikTok video has racked up 9.5 million views. Its virality follows London-based Delhicious Body joining the platform in January and, within six months of debuting on it, gaining 150,000 followers. Saleem says, "I saw these other brands starting on it, and I thought, 'OK, this would be a really nice opportunity to come away from that curated Instagram feed and show the realness of the brand.'"
Saleem is responsible for how the natural skincare brand is conveyed on social media. She handles the creation and posting of all the content. It's a role she takes extremely seriously as what she shares tends to be personal and provides an inside look at Delhicious Body's business. Content diving into the brand's background, and spotlighting customer photos and positive testimonials tend to perform well.
"It's great for sharing the behind the scenes, but also promoting your product in the best way so that people really understand your products better and what they do," says Saleem, who also leans on Instagram for marketing to reach a different audience. "On TikTok, we get new followers coming in every day, but Instagram is kind of like my community. I have a very loyal fan base there who have been there since day one." Delhicious Body has 23,500 followers on Instagram.
Saleem is exploring Facebook advertising. She recently appeared on the social media network's "Boost My Business" series hosted by "Queer Eye" television personality Tan France to learn about driving newsletter sign-ups via lead ads. "Facebook ads are something that I think a lot of small businesses struggle with," she says. "So, it was really nice to be part of something where they reached out to me and said, 'What is it that we can help you with?'" Saleem generated 26,000 impressions from a lead ad she produced.
The digital advertising and social media landscape is relatively new to Saleem. A former primary school teacher, she started Delhicious Body while on maternity leave from her job. "Coming from an Asian background, my mom and my grandmother have always been advocates of natural skincare, which are heavily influenced by Indian recipes," she says. "So, it's something I've grown up with my whole life, making my own face masks and haircare products." She zeroed in on body care as she was developing Delhicious Body's initial product, Original Black Tea Body Scrub, and the brand's star ingredient, Indian black assam tea.
"I can barely cope with the demand of the U.K. We have a waitlist of like 20,000 people right now." 
Saleem cobbled together 250 pounds or about $339 at the current exchange range from her personal savings to launch Delhicious Body in 2018 with a single stockkeeping unit, Original Black Tea Body Scrub, priced at 7.95 pounds or about $11. Things started slow. She was juggling her kids, a full-time teaching position and the side hustle simultaneously. It became too much. She ended up quitting teaching to concentrate on her kids and growing Delhicious Body. "Financially, it probably wasn't the best thing to do at the time, but I knew I had some potential here, and I really believed in it," says Saleem. "I just thought, 'If I don't do it now, I'm never going to do it.'"
Delhicious Body has hit well into six figures this year, a first for Saleem in her brand's three years on the market. On top of TikTok, she points to the launching the brand's duo of Body Balms—Min-Tea Moisture Balm is the other one—as an impactful pivot she made during the pandemic. Introduced late last year, the Body Balms are priced at 11.95 pounds or roughly $16 each. Delhicious Body's lineup additionally includes three versions of the Black Tea Body Scrub released pre-pandemic.
"I didn't want to profit off the pandemic. I didn't want to start making hand creams and sanitizers," says Saleem. "So, I focused my energy on the Body Balms."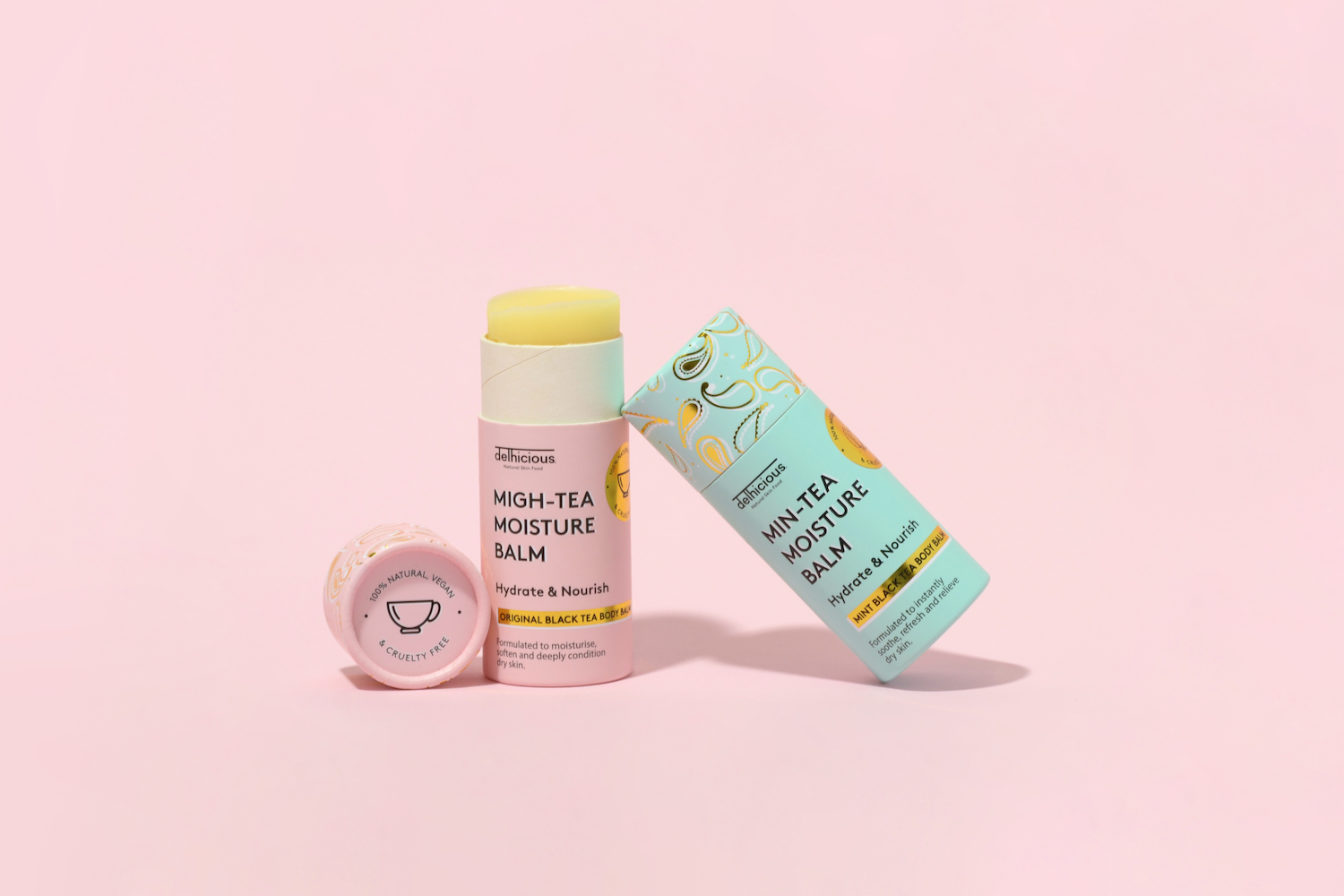 The pandemic wasn't as fruitful for retail partnerships. Saleem was in talks with a couple of stores prior to it, including Topshop and Urban Outfitters, but they fizzled as store shutterings happened last year. Retail conversations are being rekindled, and Saleem mentions she's interested in a wholesale partner that ships internationally. Delhicious Body's website only serves customers in the United Kingdom, and the British apparel retailer Missguided is its main international stockist at the moment.
"I can barely cope with the demand of the U.K.," says Saleem. "We have a waitlist of like 20,000 people right now, and I don't want to run before I can walk. So, if there's a retailer with a well-known reputation that has international shipping available, they are the ones I'm looking to partner with for the time being." 
Along with retail distribution, Saleem's goals are to examine investor opportunities and unveil new products. Speaking about product expansion, she says, "That's the one thing that it kills me that I can't spend the most time on because I'm managing so many other things. A lot of people say, 'I would love some hair are products or we'd love some more bath products,' so I'm currently looking at a natural alternative to bath bombs because, currently, they are full of synthetics and colors, and it's not good for people with dry skin conditions like eczema and psoriasis. New products are always in the future goals."