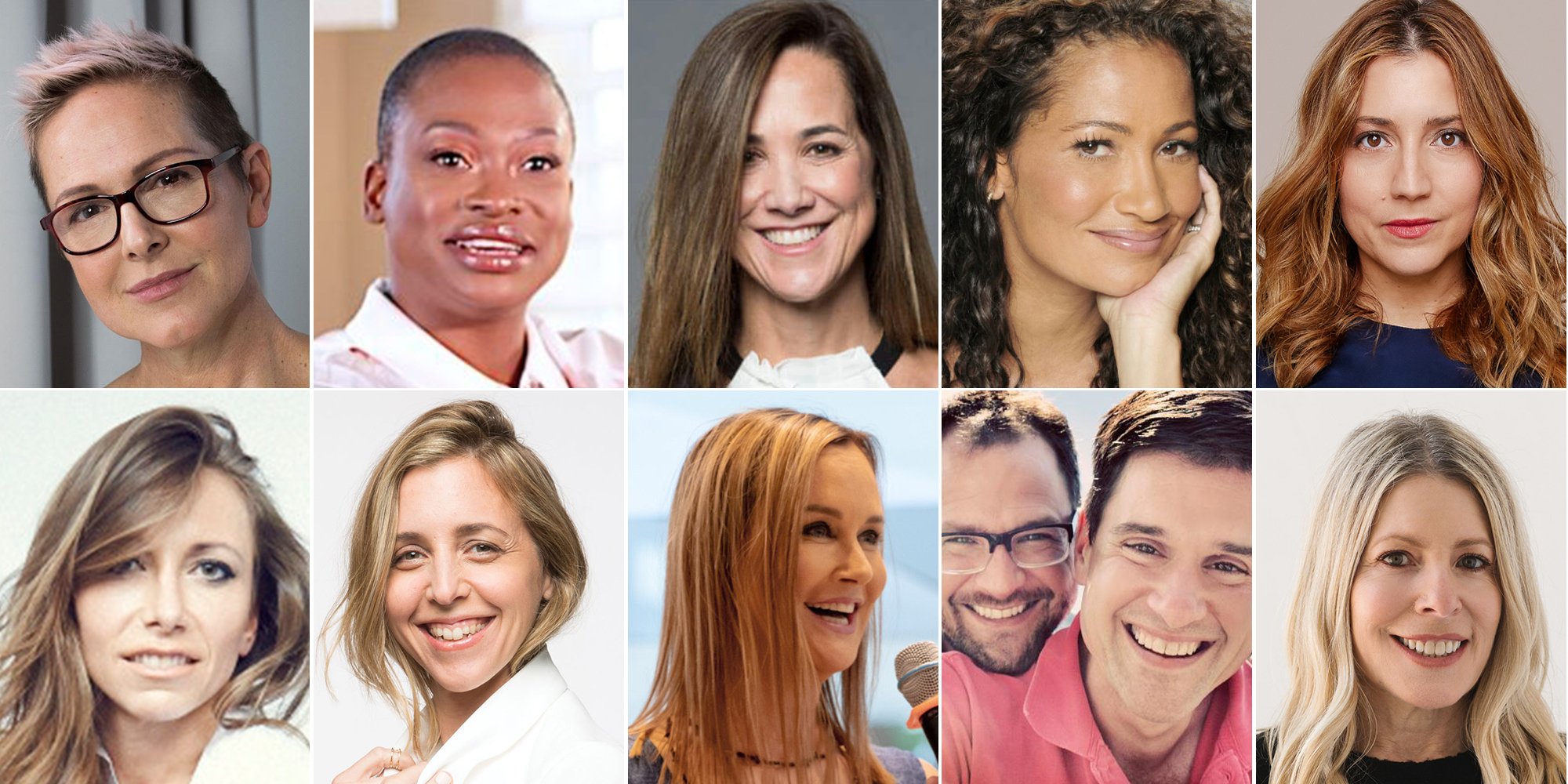 40 Over 40: Indie Beauty Brand Founders Breaking Age Barriers (Pt 1 of 4)
Kids aren't the only people needing role models. The "it girls" of the beauty industry tend to be women not too far removed from being girls. Think millennial founders Emily Weiss of Glossier, Kylie Jenner of Kylie Cosmetics, and Lauren Gores-Ireland and Marianna Hewitt of Summer Fridays. While copious ink is spilled on their stories, there are countless beauty entrepreneurs whose success has come later. Sure, a few high-profile examples have burst into the beauty public's consciousness (Drunk Elephant's Tiffany Masterson, Anastasia Beverly Hills' Anastasia Soare and Tatcha's Vicky Tsai, to specify three), but many more don't receive the acclaim they warrant. They should be recognized, not only for what they've done in the face of ageism, but to show aspiring gen X and baby boomer brand founders it's possible to make headway in a youth-obsessed business.
We've decided to spotlight 40 indie beauty brands based in the United States led by founders 40-years-old and above to give them at least a bit of the acknowledgement they deserve. These founders are role models breaking conventions to transform beauty commerce. Of course, no list is perfect. There are plenty of brands we've undoubtedly left out, and brands that didn't want to publicize they're led by founders that might have wrinkles, a sad commentary on the continued stigma of age. The list, which will be revealed in full throughout the course of two weeks, isn't meant to be a definitive compilation of groundbreaking founders 40-plus. Instead, it's meant to be part of a discussion about how older entrepreneurs are treated, and how that treatment can be bettered to improve the beauty industry and society generally. We welcome the discussion and hope it will further beauty's great inclusivity revolution.
Loraine Dowdy
Founder, Coloured Raine

What makes your brand different from all other brands?
Our quality is unmatched. Although the market is saturated, the one feedback we get continually is Coloured Raine formulations are my top five. Continuing to be a true diverse brand will always set us apart.
What's the toughest challenge you've faced growing your brand?
The toughest challenge has been marketing and building notoriety. I'm just going to be very candid. It's super expensive. If you don't have the knowledge and the right connections, you can sink really fast. It's important to network, talk to other brand owners. Connect with influencers. This all makes a huge impact in your business.
How do you think the beauty and wellness workplace of the future could be better than it is today?
We as brands should do more to be diverse and not just say the word, but mean the word. Make it an action item, a daily part of our mission. We still are not diverse enough.
What are your thoughts on the term "anti-aging"?
I think the term is pretty much self-explanatory: an agent against aging. It doesn't bother me much. As a woman who is 41, I've come to terms that aging is a process that cannot be avoided.
If you had a magic wand, what's one thing you would change about the beauty and wellness industry?
Just one thing? That's going to be hard. But I will say with certainty that I am so tired of seeing brands making a change to be diverse only after controversy. If your mission is that you are a diverse brand, then be about that life from day one. Don't throw in your average "token" being just to now be viewed as such. This stems from race, sexual orientation/preference, age and religion. Why? Because we are all human beings and deserve equality.
Where would you like your brand to be in five years?
Five years from now, Coloured Raine would be a household name and sell itself!
Sylwia Wiesenberg
Founder, Bawdy Beauty

What makes your brand different from all other brands?
We are the very first clean beauty butt brand. We take the ingredients seriously. However, we want you to have fun with it. Bawdy is the unapologetic and authentic butt beauty brand, born from true passion and obsession for butts and the human body. There will be more than just products for the butt in the near future. We are clean, nontoxic beauty and will strive to change the beauty industry, including the packaging industry to be as Mother Earth friendly as possible.
How do you confront age discrimination?
Be yourself, and don't try to hide your age. Instead, embrace the power of a beautiful, mature woman. Flaunt your best assets. I think I do! I also believe we can learn a lot from the younger generation, and they can learn a lot from us.
What are your thoughts on injectables and plastic surgery?
I am not against it. If it makes you feel better, why not? I believe Botox and fillers became a norm, and most women talk to each other about them like they just had a haircut. We no longer are afraid to admit if we did it or not. I think plastic surgery will become more popular since many women would rather not inject themselves with all the fillers, and I think, if the procedure is well done, it looks good.
How has your beauty routine changed as you've gotten older?
I grew up in communist Poland with limited access to food and, definitely, no access to fancy skincare. We used lots of natural products from milk, kefir, cucumbers and seasonal fruits. For years, my routine was very simple: extensive workouts daily, cold showers, plenty of fresh food and good fat, more movement throughout the day, simple clean skincare, mostly oils. I apply the idea that whatever goes on my face goes on my butt. Now, I butt mask a lot! And, of course, part of skin deep beauty and a natural glow is sex!
Where would you like your brand to be in five years?
I would like the category to have its own designated aisle, and my brand to be the leader in butt beauty. And self-love: touch yourself more and be in touch with yourself!
Kendra Kolb Butler
Founder, Alpyn Beauty

What makes your brand different from all other brands?
We are the only luxury skincare brand to sustainably harvest and manufacture our own wildcrafted ingredients from the mountains of Jackson Hole, Wy. We combine our potent wild actives with the industry's latest and most trusted breakthrough ingredients from bakuchiol to melatonin to effectively and gently address skin concerns.
How do you handle raising kids while building your brand?
I have two boys who are 2 and 4 years old. Funny enough, my toddler's favorite book is "The Little Engine That Could." I think I have read that book to him 100 times. I think we could all learn something from that little blue engine. If you believe you can do it, you can. The moment self-doubt sets in, the difficult becomes the impossible. I have always done my best to push those thoughts out of my mind the moment they try to creep in, and they definitely do.
What's the toughest challenge you've faced growing your brand?
I don't think we were prepared for how quickly the concept took off. There was a lot of work to do and many positions to fill, so my business partner and I wore many hats in the early days. We still do. You have to have a large amount of humility as an entrepreneur. You have to be willing to roll up your sleeves, and do anything and everything to help the business grow. Every task is important, whether it's sending out a UPS package or negotiating with a major retailer.
What's your beauty and wellness routine like?
I think I have over 100 products in my bathroom right now. I try everything. I am always online reading reviews and researching what people are talking about. I think, over the years, my husband has become accustomed to that fact that one drawer in the bathroom is his, and the other dozen or so are always mine. But he doesn't mind because I think I've turned him into a product junkie too by now. It's just seeped in via osmosis, and I'm happy to share.
Where would you like your brand to be in five years?
The sky is the limit! We hope to expand internationally in the near future. That said, it's not a race to grow, it's more about finding the right partnerships and having the right products and formulas to serve and excite the Alpyn customer. One step at a time, slow and steady has always been my motto.
Josh Kilmer-Purcell and Brent Ridge
Co-founders, Beekman 1802

What makes your brand different from all other brands?
Skincare is a very competitive business and, more and more, being clean and sustainable are the price of entry and not differentiators.  We think what really differentiates our brand is the ethos of kindness: being kind to the earth, your skin, being kind to yourself, and being kind to others. Our company was founded in a rural village in upstate New York and has been responsible for the ongoing revitalization of the entire community, touching nearly every single person in a positive way. This idea of mutual support can really be felt throughout the brand. Each year, we host a Harvest Festival in our village, and over 18,000 of our customers come from all over the world to be there. There are very few other beauty companies that have that level of engagement. It's not what people are buying, it's what people are buying into.
What is the toughest challenge you've faced growing your brand?
Honestly, being located in upstate New York, our toughest challenge has been finding team members, especially when there's a very specific sort of job requirement like systems integration, e-commerce, coding, etc. We are very fortunate to be part of the Start Up NY program, which provides us with a set of incentives to attract employees and also connections with local school systems so that we can develop talent from the ground up.
What's a pet peeve you have about how the business of beauty is conducted?
Right now, there is too much focus on valuation and early exit strategies. Any brand can pay money to acquire a customer.  The more you have to pay to acquire a customer is directly proportional to how fickle that customer is going to be. Brands need to focus on building a strong foundation and great products. Then, let the customers come.
What's been the greatest day at your brand?
From a personal side of things, we get handwritten letters every single day about how our story or our product has made a real difference. That is incredibly satisfying. From a business side of things, breaking the record for the biggest beauty launch in the history of QVC also felt pretty good.
Where would you like your brand to be in five years?
In the home of every American in one way or another.
Sonsoles Gonzalez
Founder, Better Not Younger

What makes your brand different from all other brands?
Better Not Younger is the first and only haircare brand specifically designed for women 45-plus to bring resilience back to aging hair. It's a brand built by women for women who want to change the narrative around women and aging. We believe that beauty, style and the ability to reach one's full potential are not defined by age. Our bodies and hair may have changed, but our confidence, sense of style and inner self continue to get better every day.
Have you experienced age discrimination?
I think we all experience age discrimination at some level. For example, everyone assumes we just don't "get" technology, which is not true. During my corporate career, I was lucky enough to work in very inclusive environments, but, on one occasion, I was asked if, "At my age, I'd be interested in slowing down," and move on to another function. Well, I clearly wasn't.
How can you confront age discrimination in your capacity?
The best way to confront age discrimination is to refuse to accept it. If a company forces you out, start your own damn company or find another that values you. Create and nurture a strong network of people who will help and support you. Never give up. The tide is changing and the cultural conversation is starting to shift, albeit slowly, to a conversation where women 45-plus are valued. Women 55-plus are expected to comprise over 25% of the female workforce by 2024 from 12% in 2000, according to the Bureau of Labor Statistics. An American Express study revealed that women-owned businesses now account for 39% of all U.S. firms, and the average age of the founders of the highest-growth startups was 45.
Through Better Not Younger, I've chosen to celebrate aging as an opportunity to look and feel better and to empower women to be confident and fearless enough to take on any challenges, no matter what your age. I started my company at age 53. I like to call myself a "fiftypreneur." I hope women see stories like mine and feel empowered to follow their dreams.
What's the toughest challenge you've faced growing your brand?
The biggest challenge is being patient. As an entrepreneur, you never feel like there's enough time in the day to get everything done that you want. Things never feel like they're moving fast enough. You always want more: more sales, more followers, more Influencers to talk about you, more whatever. There's an undercurrent of restlessness that never really goes away. But, then, we'll have a partners meeting to review progress and, when I do get that rare moment to stop and reflect back on all we've achieved in just the last seven months, well, it's pretty awesome.
Where would you like your brand to be in five years?
I truly believe Better Not Younger is a platform and a philosophy that can extend beyond haircare into many other categories where women's needs at this age still have yet to be addressed.
Graydon Moffat
Founder, Graydon Skincare
What makes your brand different from all other brands?
I turn to the wisdom of nature in search for the very best nutrient-rich plants and clinically-proven superfoods because it's these precious ingredients found in the wild that will most actively support and nourish your skin. Graydon focuses on formulating products with superfoods and science-based, clinically-proven actives. In keeping with our mantra, "beauty lies within," we source the most efficacious plant-powered ingredients while fostering both inner and outer beauty.
What key milestones has your brand reached?
Launching Fullmoon Serum was a significant milestone, and that is reflected in its universal success. To serve a wide range of skin types and a plethora of skin concerns in one bottle, all while doing so using clinically-proven botanical actives, is something we are extremely proud of. We set out to combine the best of the best, which live happily in one bottle as opposed to having eight different serums for different concerns.
Another massive milestone has been partnering with District Ventures this year. It has been a dream come true to partner with Canada's premier CPG venture capital company focused on working with emerging brands in the health and wellness sector. This has helped us to grow our vision of creating good skin days every day, not just for Canadians, but also to support our goal of global growth.
What are your thoughts on the term "anti-aging?"
I like to call myself anti anti-aging. Somewhere along the way, we stopped valuing our age. It's not a mystery where this idea came from. In our culture, we are taught that our value declines as we age. It's an ancient, outdated concept that ties a woman's value to her ability to have children or her youthful looks. But, as we all know, a woman is valuable for so much more. We are valued for our intelligence, our knowledge, our life experiences, our abilities, our leadership, our sense of humor, our beauty—and so many other things. All those aspects of women just increase as we age.
If you had a magic wand, what's one thing you would change about the beauty and wellness industry?
I would like to see green beauty merge with mass/conventional beauty so that there is just one category, which is beauty. Green beauty products have become just as efficacious as conventional beauty products. The green beauty space is disrupting the main beauty space, which ultimately is a great thing because the quality of beauty products in general will just become that much better. Green beauty packaging has shifted dramatically over the last few years, and it is as every bit sexy and well-designed as any mass market product. In summary, green beauty is everything you get in mass beauty, but without the compromise.
Where would you like your brand to be in five years?
In five years from now, I would love to be a global brand. I want to serve up superfood skincare and create good skin days to people far beyond the borders of North America.
Wendi Levy Kaaya
Co-founder, Mixed Chicks

What makes your brand different from all other brands?
Kim [Etheredge], Brad [Kaaya] and I are all biracial, and we developed our Leave-In Conditioner to solve our personal needs because the industry had not. The aisles were and still are segregated by race as opposed to texture. On the front of our bottle, it reads, "Finally, a curl defining formula designed for 'us,' whether you are black, white, Asian, Latin, Mediterranean or any glorious combination of the above." We are our brand, not just a beast trying to make money off of the most rapidly-growing demographic, mixed race people. We still answer all of our emails personally and answer phones. We also do all of the manual labor setting up trade shows. We still attend every sales pitch, line review, create every purchase order and sign every check. We are immersed in our brand.
Have you experienced age discrimination?
I don't think so. Sometimes, newer brands with younger owners will get preferential treatment with shelf placement. I could assume it's because we are getting old, but instead I believe that the wisdom acquired in our 16 years in business has made us "too" smart. We know the game and can't be played or tricked into agreeing to paying for promotions that will make us go broke. We'll ask partners to share costs with us since we'll both benefit, or we'll demand an audit if the chargebacks are suspicious. So, the preferential treatment we don't get is because we are experienced, and we demand accountability, which can be intimidating for vendors and distributors. It's not because we are old broads. We are more like "The First Wives Club," and the younger or newer manufacturers haven't yet learned the importance of profitability and staying in the game to create a legacy as opposed to being the star of a pop-up shop.
What are your thoughts on the term "anti-aging"?
I think the term is silly. It's impossible to avoid getting old. We have to embrace it and approach aging with grace instead of a fight.
How do you feel about sharing your age?
I don't mind sharing my age. I am proud to be 50. I think I got that from my mom.  She always looked amazing for her age and got even bigger compliments when she told her age. I think she may have been bragging, that's how preserved she looks!
What are your thoughts on injectables and plastic surgery?
I think about ironing my face a few times a week, but I've been strong enough stay natural, so far. My daughter is a huge factor in my decision. I am always telling her to love and accept herself including imperfections. If I can't back that up by embracing my flaws and aging gracefully, how will she? I think it's so important to feel good about yourself, so I wouldn't knock anyone for "fixing" what God gave them.
How do you think beauty and wellness future could be better in the future than it is today?
We need an administration in place to set clear laws and guidelines that govern hair and skincare so the claims, warnings and ingredients decks are accurate.
Where would you like your brand to be in five years?
I would love to see Mixed Chicks as the No. 1 textured haircare brand in the world.
Janet Schriever
Founder, Code of Harmony

What makes your brand different from all other brands?
There are many things, but one of the most notable is that our clean CBD beauty products are not private-labeled and are our own original formulas. Therefore, we have a very intimate and transparent relationship with our customer, and we actually know every ingredient that is in our products, where it came from and why it is there. We make them, and we know just how much ferulic acid, centella asiatica and CBD is in the product.
We focus on the total formula, not just the one ingredient that is getting all the attention. Our philosophy is that the tremella Mushroom, sea buckthorn, hyaluronic acid, or niacinamide is just as important as the ingredient of the moment, CBD. They all work differently in the skin and are all necessary for skin health. We have one theme running through all of our products, which is to keep it clean and create harmony in the skin while we go after the wrinkles. I am a licensed aesthetician and our products are proudly aesthetician-used and -approved. The products are formulated for performance, and we get to watch how this works every time we do a Code of Harmony facial. We currently have a nice collective of aestheticians across the country who are doing Code of Harmony CBD facials with great results.
What key milestones has your brand reached or will it reach soon?
A steady climb is the right way for us. Our approach has definitely changed over the last year since we opened our home base, Code of Harmony Skin Lab, in November of 2018. I jumped into a retail location in sleepy, but growing, downtown Long Beach so that I could offer Code of Harmony facials, a retail venue for locals, and a lab where product is made in the back of the store. I am sometimes still amazed that we have managed to bring in some decent revenue with such a small operation. I am proud of our growth over the past year. That said, I have slowed my goals of jumping into every retail location I can. I want to build that more strategically and in a way that is sustainable for us rather than getting in too quickly and not being able to support the growth.
We are working on an all-purpose CBD tincture that will be used both internally and externally with a focus on soothing stress in the skin and overall wellness. That should be launched by mid-November. I also have a COH-GLO Moisture Mist that is launching now and a few other things in the works. We are open to investment and are at a point that we need that infusion of money in order to grow our operation. However, we have been too busy to go looking for it.
Have you experienced age discrimination?
I am not really sure if the discrimination is from my age or from simply being female or from being the founder of a product line with a controversial and unproven ingredient. CBD. I recently had a beauty editor come in for a facial, and I felt like she questioned my credibility the entire time she was on my table. It made me feel very awkward while giving her the facial when I felt like she was skeptical and didn't trust me. I don't know what the outcome of this will be as I haven't received her review yet, but it did teach me that there will be people who come at me from a skeptical point of view for whatever reason, and I need to be prepared to do my best to disarm that attitude.
In regards to my age, I don't feel like I act my age, if there is such a thing. On social media, I feel like many of my followers have no idea that I could be their mother. I see my age as an asset. If you don't have any wrinkles, you can't speak to or formulate skincare that addresses age concerns effectively. My age gives me an edge on life experience, too. Sometimes, I feel like the skin mom. I also feel like there is a trust with my younger clients that maybe a founder younger than me wouldn't have.
What are your thoughts on the term "anti-aging"?
We treat aging as if it's a disease. I don't like the term, and it is really just a meaningless term made up by marketing people selling products. I hate the word mature, too. We should not be striving to anti-age. We should be striving for peace, calm, health, happiness and our own beauty. I am not sure what the new term is to take its place, but it needs to be a word that denotes strength and vitality. I think older women are juicy, full of life and spunk and beauty.
What's the toughest challenge you've faced growing your brand?
The toughest challenge has been the overwhelming workload I have to do. I wear many hats: business owner, store manager, product formulator and manufacturer, aesthetician, employer, etc. There are days when I get very overwhelmed with my task list and the demands put on me. It's not really one thing. It's keeping it all together and working without losing my mind. Unlike most other brands who private-label or go through a factory and distributor, we are making every product in-house. We make, fill and label by hand, pack and ship. We are at the point that we need to scale up to meet the demand. It isn't resolved yet, but, hopefully, we will get there soon. Because we are totally bootstrapped and have been from the beginning, it is one baby step at a time.
If you had a magic wand, what's one thing you would change about the beauty and wellness industry?
Stop focusing on youth. We need more substance and realness. I feel like people want to feel like they are not alone in their struggles and skin problems. Perfection is a myth, and I don't think that people are buying into it so much anymore.
Where would you like your brand to be in five years?
I see us in spas and wellness centers as a professional product line with aestheticians across the country performing Code of Harmony facials. This is already happening, but I see it growing exponentially along with our online presence and retail business. I also see us in select retail both in the United States and the European Union.
Sarah Kugelman
Founder, Skyn Iceland

What makes your brand different from all other brands?
It's the only brand that is specifically formulated to treat the effect of stress on the skin, and use pure and potent ingredients from Iceland.
Have you experienced age discrimination?
I had an investor tell someone I worked with that we needed a marketing person in the organization who was young—like 35—to be the face of the brand to editors. I've never felt more demeaned or marginalized. I've also spoken to many colleagues of mine in the beauty space who have complained about problems in the workforce and the difficulty in getting jobs after a certain age.
How can you confront age discrimination in your capacity?
Help to change the opinion of consumers of women over the age of 40, 50, 60, 70, 80 and 90. I follow a lot of gorgeous women in their 60s and 70s because I find it so inspiring: Christie Brinkley, Michelle Pfeiffer, Julianne Moore, Sandy Linter. It's my job to tell stories that resonate with women who have lived longer, richer lives; open the mind of younger women about these women; and to put more women over 40 in our brand communications.
What is your feeling about sharing your age?
I don't share my age. I know I should be proud of it, especially because I don't look my age at all, but I find that, when I tell people my age, they really treat me differently, and I don't want to be minimized or classified.  I want to be judged on me, not pre-judged by my age.  Somehow, when I say my age, I feel the perspective is that I can't be current, I can't know what's cool, I can't be on the cutting edge. There is nothing farther from the truth.
What's been your experience with investors?
I haven't necessarily felt they care about my age. It's more about how long my brand has been in the market. Instead of getting credit for building a solid business that grew nicely over time with a loyal customer following and thousands of product testimonials, I often get asked why it took me so long, and how come we didn't grow bigger faster early on. It's discouraging.  We get compared to the shiny new thing, which often doesn't last. I.e., all of the 'hot' brands I launched with for the most part are out of business.
I see a real herd mentality with investors. When something becomes a trend, all want in. I see some investors throwing money at businesses that really don't have a solid foundation or a clear pathway to success, but they have some insane early growth on a small base and investors get seduced. But there are also some very smart and experienced investors in the space who have done their time. They have humility and are razor sharp. They are the ones you want in your business because they will know what to do with it and know how to scale it. They also tend to be the ones that will give you advice, leads and referrals. There are a lot of good people out there who get it.
Where would you like your brand to be in five years?
We are going into new categories, expanding our international footprint and going deeper in the U.S. Our digital business also has tremendous opportunity, and we are just scratching the surface right now. Online sales account for one-third of Skyn Iceland's business. We have had six years of really steady growth. In five years, we will have a VC investment and be on our way to $100 million.
Shel Pink
Founder, Sparitual

What makes your brand different from all other brands?
We are a legacy brand. We are a vegan, sustainable beauty brand based on the rituals of self-care.
How did the idea for the brand come about?
In 2004, there was a white spot in the market in the nail care category for vegan, cruelty-free, free-of formulas, and vegan, cruelty-free body care. Because I was raised reading ingredients on beauty packaging, I wanted to launch a brand that offered clean ingredients especially for the professionals who use the products throughout the day, every day. They also have the opportunity to educate their clients to choose clean beauty products.
What key milestones has your brand reached or will it reach soon?
We are launching our new refreshed body care range in The Detox Market this month. We also have an upcoming collaboration with Unplug Meditation called the Sound of Color where we've paired a meditation with a Nourishing Vegan Color. People can meditate while they receive a manicure or pedicure at our partnering spas.
What are your thoughts on the term "anti-aging"?
Awful term. I've been very outspoken about this term, and that we need to create new language to describe the aging process and not be against it. Aging is not something to be against. It is a beautiful, graceful, creative process if only we reframe our perspective about it. We need to change the dialogue around it, change the visuals, change the myth/story that aging is something we go into battle with. This could not be farther from the truth.
What's your approach to marketing and advertising?
We do not use the term "anti-aging." We use slow aging or slow beauty. We find ways to contribute to the development of a new language around beauty and aging, highlighting the process and creativity of being and becoming the best version of yourself.
What is your feeling about sharing your age?
I love to share my age. I'm 50. We need to stop making age an issue. Let's talk about something else for a change. How about the beauty of our soul development? We could be having really interesting conversations about that.
Where would you like your brand to be in five years?
Sparitual wants to continue to be a guiding force in the evolution of self-care and that could mean expanding beyond the beauty category.