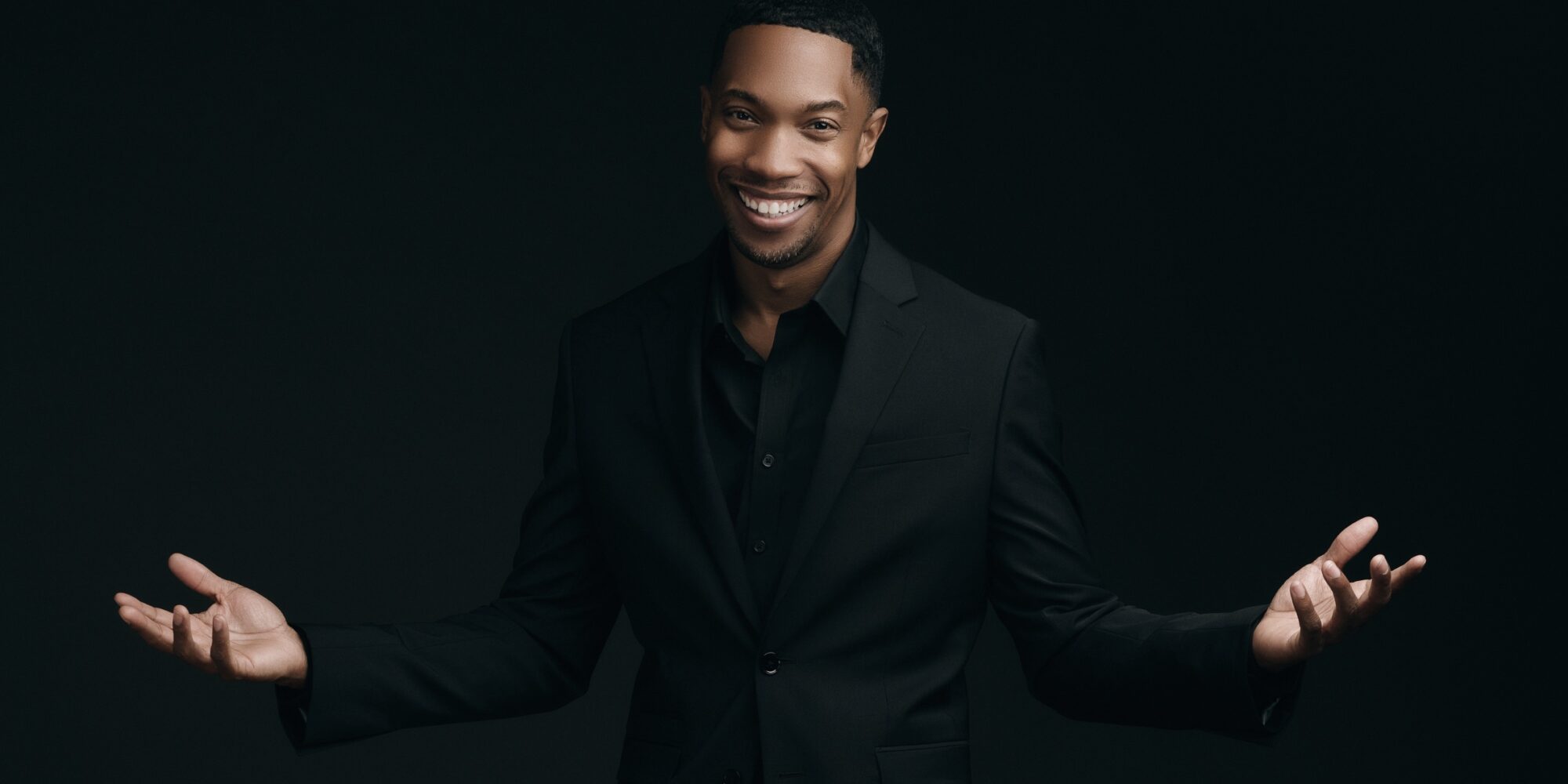 AJ Crimson On Building A Luxury Makeup Brand Speaking To Black Women And The Potential Of A Diffusion Line
AJ Crimson has gone from "8 Mile" to the department store aisle. The celebrity makeup artist, who caught a big break on the Eminem-fronted film and will launch his 8-year-old namesake prestige makeup brand at Nordstrom by May, is a model for the beauty industry of how to successfully speak directly to Black consumers. "I embraced Black women when everyone told me not to," says Crimson. "They said, 'If you are going to put a Black woman on the visuals, people are going to think this is a Black line.' But why would it only be a Black line? I worked with Hilary Duff and Fergie. The conversation to me was about inclusion. It started there and, yes, Black women do want to see themselves in the ads and in the conservation, and they don't want to be a secondary thought or extension."
As a luxury brand entrepreneur, Crimson isn't interested in any of his customers feeling secondary. Throughout the pandemic, he's leaned into his relationship with them through enhanced digital features—for $35, you can find out directly from the man himself what foundation is right for you via video call—and merchandise suiting their current mood. Office Politics, a series of high-shine lip glosses, has captured the Zoom zeitgeist with product names such as PMLE (Per My Last Email). The strategies have paid off. Amid a disastrous period for makeup in 2020, AJ Crimson Beauty's sales were up 33%. Beauty Independent talked to Crimson about his path to becoming a makeup artist, the arrival of Fenty Beauty, retail and assortment expansion, the potential of a diffusion line, and the similarities between his brand and Tom Ford Beauty.
How did you get into makeup artistry?
Growing up, I used to play with Legos a lot, and I would get these books at the grocery store that had floor plans in them. In my mind, I was going to be an architect. It wasn't until maybe my first or second year of university that I really started to drill down on different things. During that time, I thought I'd maybe be a fashion designer. I've always been super artistic. I was working at a radio station and started interning for Peggy Body. She was part of a group that Stevie Wonder had called The Body Sisters. Then, she was artistic director of Biv 10 Records. Interning for her was a turning point.
My big dream was never to be a makeup artist. I just wanted to create beautiful things. Working for a record label, I started to recognize the ways to make money in music. So, there was the fashion stylist, the makeup artist and the hairstylist, and I was just exploring. In artist development, you created these books of reference and built a world around who the artist is and the stories their music is telling the world. On a particular photo shoot, the makeup artist hired never looked at the book or the references, and she was going on her own vision. I looked at it and thought, "I don't see anything from the book in the looks." I'm pretty literal with my references and what I want to see. I blurted out loud, "If I had your stuff, I would do it myself." It came from a place of frustration.
I went home and said, "I should get some stuff and figure it out." That was the gateway to makeup. I took the musician to the MAC store and said, "Hey, can you duplicate this look?" I watched them in the makeup appointment and bought everything they used. I took the girl back home and was like, "I want to try this on you." I tried it and took pictures of it. I thought, "It's not that bad." I went back to the MAC store and asked for a job. I showed them the work I had been doing in my regular job. They hired me and, six months into it, I got a job working on "8 Mile."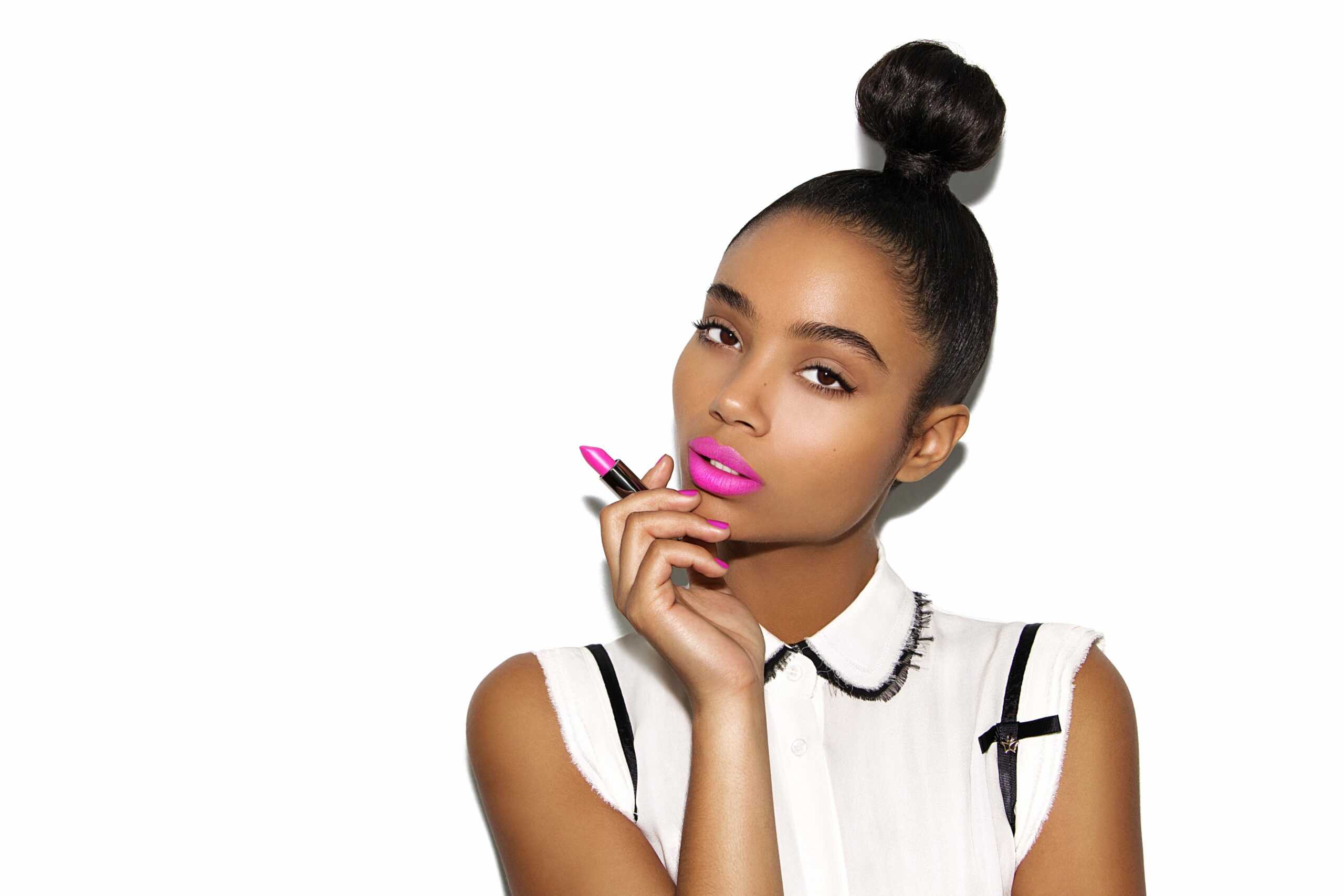 Was working on "8 Mile" your big break?
Working on the "8 Mile" was a break for me. It's where AJ Crimson was beginning to be built. Yes, I had been learning how to do makeup and doing costume design on the side, but I was in Detroit, and it wasn't like the industry was booming there. The things that did come through there, I was able to participate in because of the background I had through the radio station and record company.
When "8 Mile" came along, I almost didn't get the job. I was walking into the MAC store for my part-time job, and John Casey from "8 Mile" called. He said, "We have your resume for the costume department. We would love to interview you." I said, "Can we do this tomorrow?" He said, "No, we have to do this tonight, but we will circle back." I was devastated. Here I was in front of the MAC store thinking, "I didn't do all of this other work not to work on a major motion picture that has come to this city." I had this realization that I wouldn't let my job stand in the way of my career goals.
A couple days later, I got another phone call from "8 Mile" to come in. They said, "This job isn't glamourous. You're basically going to do laundry. It's going to pay you $100 a day." I said, "It sounds great. I will take it." They said, "When can you start?" I said, "Do you need me to start today?" I knew I had to go back to the MAC store for a shift, and I called them and let them know that I just got a job that I had to take. I met Mark Bridges, the costume designer, on the job, and I really attribute a lot of what that pivotal moment for me was to him because he really allowed me to help, give input and learn.
When the movie wrapped, he said, "What are you going to do?" I said, "Maybe I will go to New York, and people have been talking about LA." I didn't know, but I was on a trajectory to leave for New York. He said, "You should come to LA, I have a spare room and the house is big enough. You have to get out of Detroit. You are bigger than what this city can offer you."
Did you end up going to LA then?
After the movie wrapped in Detroit, we had four more weeks to do in LA. I had a ticket for a Friday and then, on a Wednesday, I had my last day at MAC. The next day, I woke up and felt queasy. I wanted to go back to sleep, but I drove myself to the medical center 30 minutes away. My throat would have closed if I had gone back to sleep. At the hospital, they said, "You have a benign tumor in your jaw. We are going to have to cut through your face." I was like, "What, my face?" I was thinking, "What kind of makeup artist am I going to be in LA with this huge gash across my face? Maybe it would give me some edge."
I said to the doctor, "I leave on Friday to go to LA to start my new life. When is this going to be done?" I was told, "You aren't leaving that fast. It may take a while for your face to go down." I ended up with a little scar underneath my neck. I had dreamt up a whole life for myself based around the scar, so I was a little disappointed. I was released to go home, but I was going for appointments for about two months. Within that time, I got a third-degree burn on my right hand from a candle. I was like, "What else could go wrong? What hold does this city have on me?"
Then, I watched "Behind The Music" on Diddy, J.Lo and Left Eye. Each of them had caught a bus. Jennifer Lopez only had $500 left, and she took a bus to LA and became a Fly Girl. I had $750 left and a dream. I had a plane ticket I couldn't use, so I figured I would get a bus ticket. It cost me $250 to get the ticket, and I had $500 left. I didn't tell anybody I was leaving. When the bus was pulling out of the station, that's when I called my mother. She said, "When are you coming back?" I said, "I don't know." I cried a little bit because that was a moment of breaking free.
When did AJ Crimson Beauty come to be?
I was working with Fergie from the Black Eyed Peas between 2004 and 2006. She always used these lip glosses, and I was like, "Man, I should make something out of these." I started the brand Kissable Couture with Keisha Whitaker in September 2007. I did that for four or five years, and I actually stepped away from makeup for six years to be an agent for hair, makeup and wardrobe artists, but I was always working on AJ Crimson Beauty.
Around 2011 to 2012, it started to feel right. I got an opportunity to keynote The Makeup Show in Orlando, and I thought I need to go with something I've been creating to test it to see if people would want it. I had about 30 to 40 samples of shades, but I went with eight because, as a makeup artist, those were the eight shades I had needed, and we had the deepest shade I had ever seen. That didn't come without trial and error. The first run of it was very bad, and we just had to get it right. I wanted to start with the darkest color and work our way back. I used a woman who is South Sudanese as the vision for that. I was like, "If we can make it for her, then we can make it for everyone else." I took 500 pieces to The Makeup Show, and I sold out of them on the first day of the two-day show. A lot of magazines were there and were catching on to the concept. I did an official launch May 7, 2013 in New York.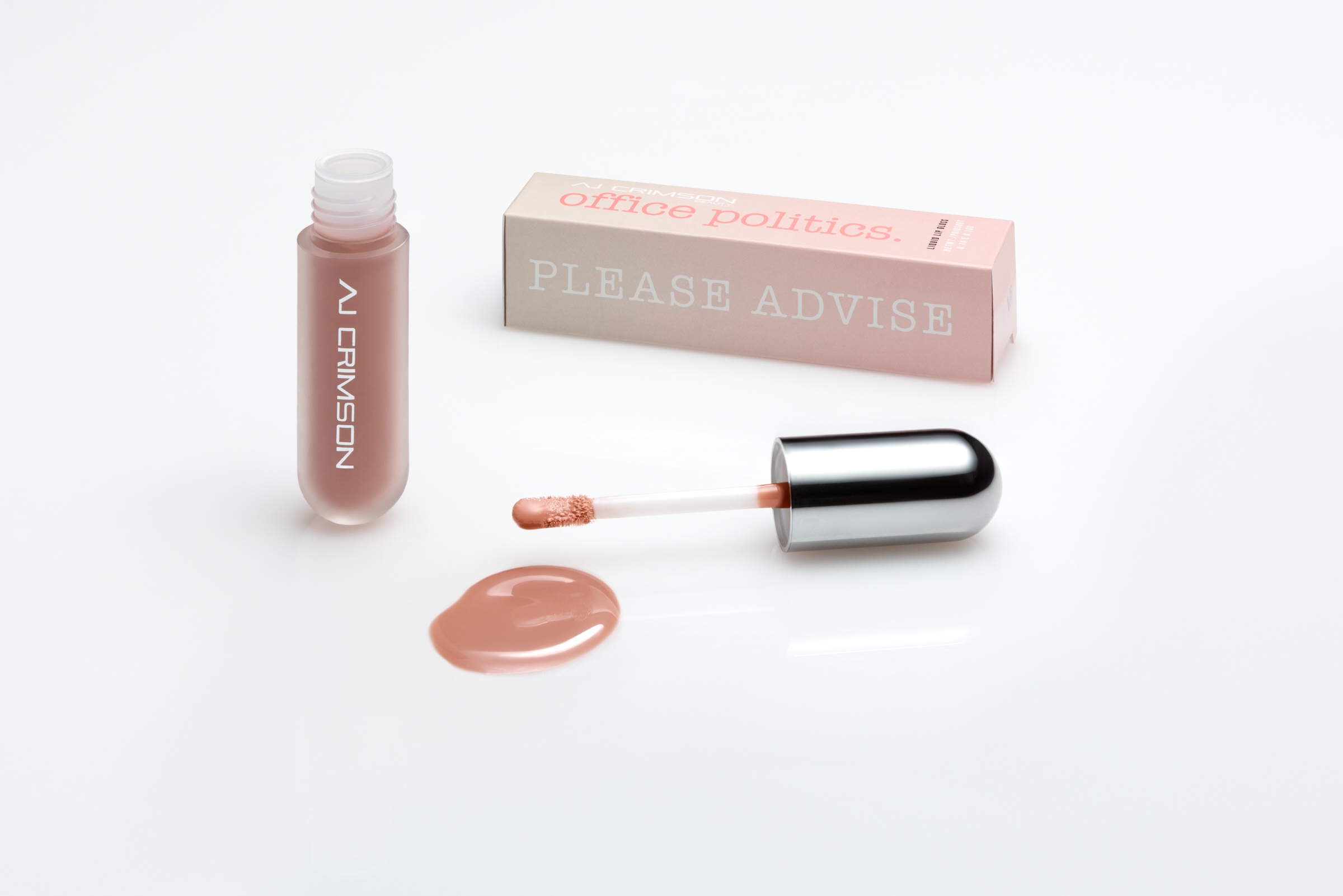 What were the biggest lessons from Kissable Couture that influenced AJ Crimson Beauty?
The biggest lessons were how swiftly things change and also how expensive starting your own business can be, especially at that time. Literally a year later after we launched, we had many great plans that were off the table because of the recession, and we had spent so much money on production and PR. By the time AJ Crimson came along, I didn't want to spend $200,000 to launch it.
Instagram was what everyone was talking about, and I knew I absolutely wanted to launch online. At Kissable, we launched at Henri Bendel and Fred Segal and, from there, we got picked up at a lot more high-end apothecaries and boutiques, but the conversation to go into Macy's or do QVC, it was very challenging. We did end doing QVC, but it took a lot of hard work and funding. AJ Crimson still only funds itself, which is a blessing. When it was launching, I went to trade shows, sold online and used social media to push the narrative forward. In the second year, I picked up a publicist.
How did you think AJ Crimson Beauty could stand out?
In 2013, makeup brands weren't talking to Black women, and they weren't talking to Black women in a direct way from a professional makeup artist standpoint. Obviously, you had your legacy brands like Black Opal, and they make a great product that works, but there was nothing in the luxury space for Black women. As a makeup artist that has always been pretty sought after, I always used designer and professional products. I didn't present a lot of drugstore makeup to my clients because that wasn't my aesthetic.
When I was creating AJ Crimson, I thought, "There needs to be a line with professional potency and a luxurious feel because there is Black women out there that absolutely can afford luxury." When you went to Barneys, there were Black people in the shoe department buying a ton of high-end shoes, but you didn't see that translated to the beauty department because the colors didn't reach far enough, and I was going to provide that solution. It needed to give her that same glamorous feel she feels when she picks up anything designer, and it had to work.
When did you start the Artist Kit foundation palettes?
In 2015. I had these really beautiful jars that I had created for artists at trade shows. I thought they would put it on their boudoir, but, I would watch makeup artists scoop them out and put what was in them into other things. I was like, "What are you doing with my jar? That cost me $2.50! I want my jar back!" But I paid attention to what makeup artists were showing me they needed. I was like, "We have to find a way for them to not de-pot anymore and be able to refill."
At the time, Black models were starting to speak out about makeup artists coming on set and not having shades for them. As a Black makeup artist, I can't come to work and say, "I can't do this Caucasian girl's face. Why it was acceptable for you to come to work and not have shades for that girl is unfathomable." Our warm-to-deep palette is what everyone marveled over. For the first time, you were able to see all these colors together, and it looked like every Black girl you know.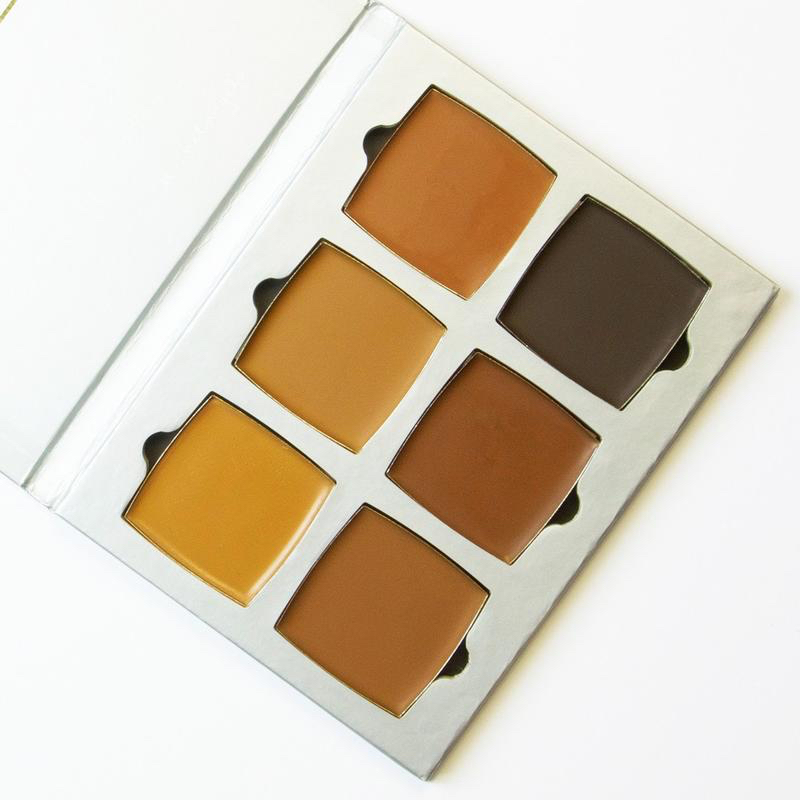 What was it like for you when Fenty Beauty launched and diverse shade ranges garnered much more attention?
I remember seeing on social media when Marc Jacobs had released new foundations, and everyone kept saying, "50 shades of white." People of color in general were really upset about that. They were like, "Where are the deeper shades?" Around that time, you would start to see that conversation happen more and more. We were able to benefit from that. AJ Crimson Beauty became a blueprint of sorts for what a color range were to look like if you were to expand your brand.
When Fenty came along, it was the perfect storm of having Black women standing up for themselves and a superstar that transcends race. She is diversity. From her music to her fashion, Rihanna is just the girl you want to be. I feel like, for her, it was the perfect evolution of her empire. So, what better voice to amplify inclusion than her? I do distinctly remember people calling me when they were getting ready to launch it being like, "Oh my god, what do you think about this? What are you going to do?" I was like, "What are you talking about? I'm going to keep doing what I'm doing."
As successful as Fenty Beauty is, it still doesn't take away from AJ Crimson Beauty as a brand and who it speaks to. What it does do is give validation to the need in a way that I couldn't. That is not my competition. The competition is Kylie Cosmetics and Fenty. It's not apples to apples in the sense of their celebrity. Also, from working in the business over the years, I knew Rihanna to an extent, and I want to see that kind of success happen to her. The launch of Pat McGrath's brand was amazing to me, too. I was able to assist her in the early 2000s. It was like, finally, the doors were being open to us in a way that they had not been open before.
You had your own store. Why did you do that, and why did you stop doing trade shows?
I opened the AJ Crimson Beauty Atelier because so many major retailers told me that Black women didn't shop in their stores. In my mind, I said, "If I'm building AJ Crimson to be my interpretation of what Tom Ford's brand is, I am going to do the things that Tom Ford could not, and that's get out there and have one-on-one relationships with people." It came from shopping experiences I enjoyed going to Neiman Marcus, Saks Fifth Avenue or Nordstrom, retailers that really focus on clienteling. I wanted to create that experience for my customers.
The last year I actively took out a space at a trade show was 2017. I was progressively seeing that the customer that once was there wasn't anymore. She wasn't as excited about coming to the trade shows. She was spending her money differently. There were 100 brands for fewer people's dollars. So, I started creating my own pop-ups. I thought, "Let's create our own experiences and talk to the girl that's already talking to us as opposed to fighting through the noise." I started out with a 16-city tour of the United States.
The pop-ups were great for us, but, at the close of 2019, I just wanted to push everything online. I had been racing back and forth across the country, and I got tired. I got back from a 30-day work trip to Brazil, and that's when we went into lockdown. I was going to go to London, and the border closed. I was like, "OK, I guess I'm just going to sit here," and that was the best thing.
Where do you want to push your business going forward?
I've been working on skincare for about two years now. Everybody is putting out skincare, and I don't feel we need to be the first to do it or be the loudest in the room. I need to enter at the right point where everybody is excited about skincare. As long as I'm true to my values and part of the conversation at the right time, that's my sweet spot.
In terms of distribution, I want to drive more business to our online platform that has always been strong. We recently just added a virtual shopping experience where beauty enthusiasts can now schedule an appointment and, literally inside the website, you can walk through each product that you have questions about, we make suggestions, and you can buy with ease.
With The Black Lives Matter movement and Sharon Chuter's Pull Up For Change, we had all these retailers flooding our emails saying, "Hey, would you get on a phone call?" A lot of places didn't fit, but I'm super excited about Nordstrom. They understand what I'm doing. Their beauty stylists are professionals, and they actually sit down with you and walk you through the beauty process. That's what I do. They do clienteling and have a close relationship with their customers the way we do at AJ Crimson.
It's not a drugstore, although, at some point, I will do something for a drugstore. I have a concept more for drugstore, Target and Walmart that I've already created. It's really just deciding what the entry point will be. Will it be a diffusion line or a spin-off of AJ Crimson Beauty? I'm not going to give you a lesser quality product. I can't do that. What I can do is give you a different offering. AJ Crimson Beauty is the legacy and is very specific about where it's home needs to be, but, with a new line, there could be more flexibility in terms of accessibility.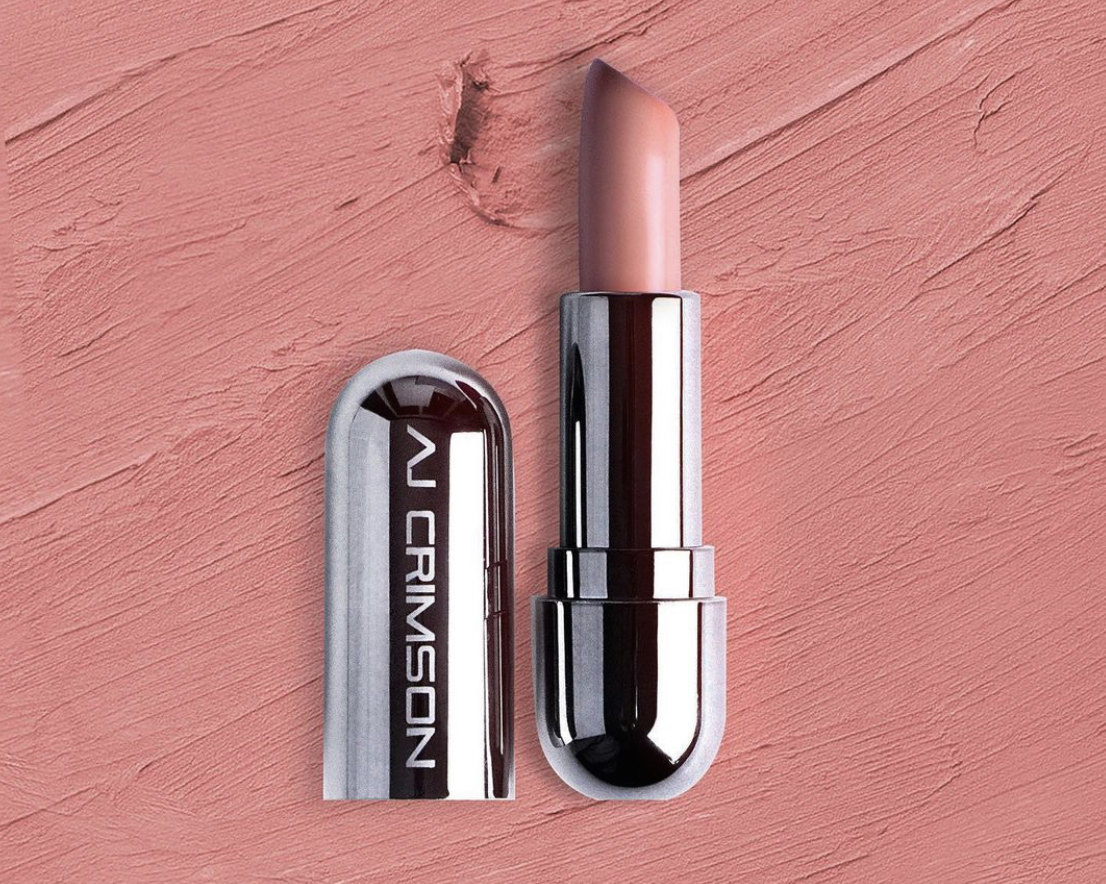 What do you see as the future of AJ Crimson Beauty?
I'm obsessed with Liberty of London. That's more of an immediate goal. It's my favorite store, and I want to see AJ Crimson Beauty there. We are expanding the offering into eyeshadow, more face products and the skincare line. I used to imagine us having retail stores, but, having the retail store we had and seeing others with retail stores shutting them down, it's not the way women are shopping. We are transitioning to more of a technology company that happens to sell makeup.
If I had to compare the brand to a business that currently exists, from the outside looking in, what feels really great would be the best years of Tom Ford Beauty. I love how niche it is. I love how it's not everywhere, but it's where it needs to be. I would want that, and the diffusion line would be our big splash where we get to play in a bigger way and be more global.