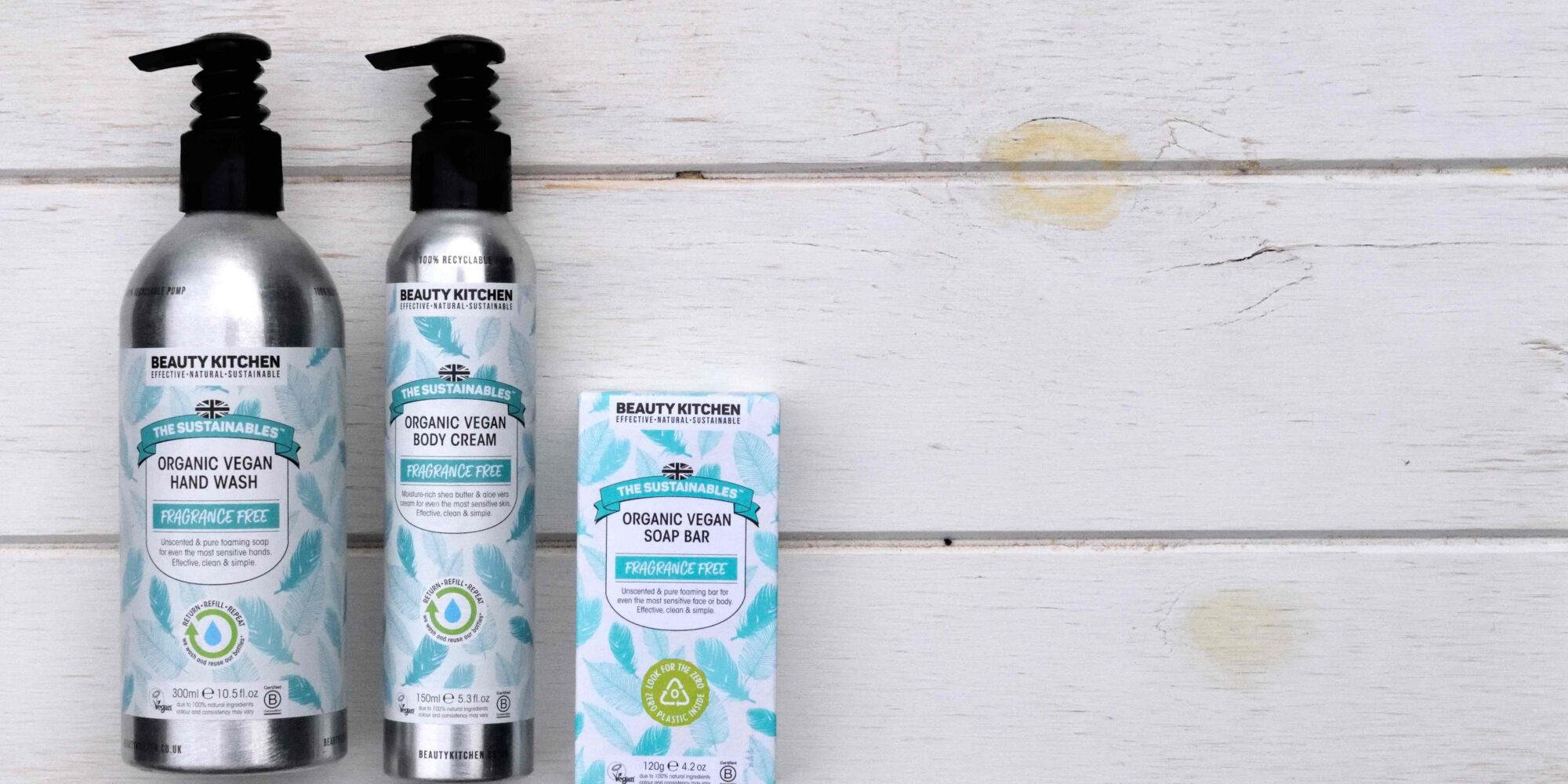 Beauty Kitchen Is Out To Be The Most Sustainable Beauty Brand In The World
Married couple Jo and Stuart Chidley started Glasgow-based Beauty Kitchen six years ago with a huge ambition. "We wanted the most sustainable beauty brand in the world," says Jo Chidley. Not everyone believed the ambition could be realized, but she wasn't deterred. "When people say it can't be done, I am the person who says that it can," proclaims Chidley. "Whether you call that stubborn, pig-headed or innovative, I'm that person."
Since day one, Beauty Kitchen, the first beauty business in the United Kingdom to become a certified B Corp, has been vocal about the environmental imperative of reducing packaging waste. Chidley points out British consumers use 30 billion plastic bottles annually and a meager portion—she shares 9% globally—of plastic is recycled. Beauty Kitchen uses aluminum and glass jars and bottles, natural rock-paper labels printed with vegetable inks, and recyclable lids and pumps.
The brand's return-refill-repeat program encourages customers to drop off empty products at retailer Holland & Barrett's 1,000 stores in the U.K. or send them in the mail to the skincare, haircare and body care specialist. It's also pioneering a refill station at Boots' bustling Covent Garden location in London. Beauty Independent talked to Chidley about Beauty Kitchen's Amazon distribution, the ideal price point for mass-market brands, producing reusable hand sanitizers, an annoying pump hiccup and whether eco-consciousness persists amid a pandemic.
What were you doing before launching Beauty Kitchen?
I was a chemist and, then, moved sideways as the head of human resources for Avon Cosmetics, which is a phenomenal business and gave me commercial robustness. My husband also worked there although we met before then and, today, we work together as co-founders of Beauty Kitchen.
When did you launch the brand?
Originally, we saw a gap in the market when Innocent smoothies launched far back [in 1998] because they developed a category and disrupted the market. The timing was perfect as people wanted to eat more healthily. We launched in 2014 after playing around with business models for three years. I was working at Avon as a part-time HR consultant and was able to spend time on Beauty Kitchen, and Stewart had a real job and salary still working for Avon. But it's worth noting that the U.K. is one of the most difficult countries in which to develop and become established, particularly with beauty, as there is a lot of competition.
How much money did it take to launch Beauty Kitchen?
When we started, we spent every spare penny. We didn't have holidays. Everything was invested in Beauty Kitchen, and we had no outside investments, all loans. Many, many people have helped us to support our website and with pro bono work because people believed in the environmental message.
When did you or do you plan to reach profitability?
Well, we've never made a loss. Every year, we have invested everything back in, the small profit. We are paid as we should be paid along the same lines as our 14 employees, but don't get dividends. Stuart and I feel that reflects the ethics and culture that you want to develop within the business.
Who is Beauty Kitchen's target customer?
It's the person who is into sustainability and who will use a reusable coffee cup. It's really that simple. They are generally female, 30 to 45, and have children and think, "What do I need to do to protect the planet for the future generations?"
What is the brand's price range, and why?
Under 20 pounds [$26] specifically because research shows that, if you self-serve without someone helping, your threshold is 20 pounds. We don't want to be a niche brand nor masstige, whatever that means, but to have mass appeal, but with quality products.
What's the distribution strategy?
When we launched, we wanted to exclusively go to market with Holland & Barrett so we could develop our model and our voice. We launched with 140 retail products for Holland & Barrett in four different categories. It was madness, but it made us really sticky with the retailer and they knew we could deliver. When they opened their largest stores in Chester, they gave us a shop-in-shop, and we had to get the products done to fill this space. They allow us to make mistakes with customers that were maybe a little more accepting and gave us preferential payment terms that really helped our cash flow.
We've only come out of that agreement in the last 12 months. We are now stocked in Boots, Sainsbury's, Feelunique. The retailers came to us. We don't want to be everywhere, but it's just a handful of people being perfectly sustainable. We need millions of people doing it imperfectly.
What would be your dream retailer?
I adore Liberty of London. On the other side of the scale, it would be whoever is the largest retailer in the U.S. because that could have the biggest impact on educating [about] sustainability. So, probably Walmart. We want to touch everyone with our message.
Amazon, yes or no?
Yes, and the way I come to terms with Amazon is to help make them more sustainable and get the wider message across. The biggest challenge is the carbon footprint with delivery. Amazon is trying to change to electric delivery cars and run the business on sustainable energy.
What percentage has Beauty Kitchen's business grown year-over-year?
Until last year, we were growing 100% year-on-year, but, in the last 12 months, there has been no change because we changed and improved the packaging and formulations for every single one of our products. This year, we want to grow the business by 70%.
How has the brand been affected by the pandemic?
The pandemic has been a challenge or everyone across the globe. But, as the owner of a fast-growing entrepreneurial business, I'm used to taking on huge challenges frequently, which has made our ways of working extremely robust. You could say that Beauty Kitchen was rather prepared to overcome an emergency because of this endurance as we are constantly innovating on a daily basis.
What did you do to help the community?
As a B Corp-certified business, sustainability and giving back are at the core of everything we do. The Scottish government asked us if we could help with any critical supplies for the NHS [National Health Service], and we worked double time to make this happen, halting our normal production in the meantime. In total, we were able to provide 50,000 units at cost price. I am proud to say that this is a first as we have been able to distribute an effective hand Organic Vegan Hand Sanitizer that is packaged sustainably in refillable, reusable bottles as part of our return-refill-repeat program, a completely waste-zero system. Not only are we able to say that we are making a huge impact in the beauty industry, but, now, also within the public sector.
Additionally, we felt it was our duty to provide support to the community in any way we could. This is why we also donated 230,000 of our products, both full- and sample-sized, to charitable organizations such as the NHS, London Ambulance Service and In Kind Direct.
Have hand sanitizers become a revenue source for Beauty Kitchen?
After we had worked with the Scottish government and had begun to understand the effects that single-use hand sanitizer bottles could have, we wanted to transform this into supplying a sustainable alternative to our own consumers. Over 1 billion single-use plastic bottles of hand sanitizer gel will be used this year alone, understandably, but we had to consider the impact of the waste this would bring and how we could offer a solution.
I'm all about creating positive change for the planet's sake and, fortunately, we already had the basic formulations for an anti-bacterial range for Beauty Kitchen, we just hadn't brought it to market yet. As a fast-paced entrepreneurial business, we are lucky to have the stamina in place to react to shifts and challenges and also meet stock requirements quickly, this pandemic being a prime example. We never produce anything single-use, so this is how we were able to continue our mission to avoid single-use plastics. If we are able to work this way, then this should be an example to other businesses that it can be done, and it can be done quickly.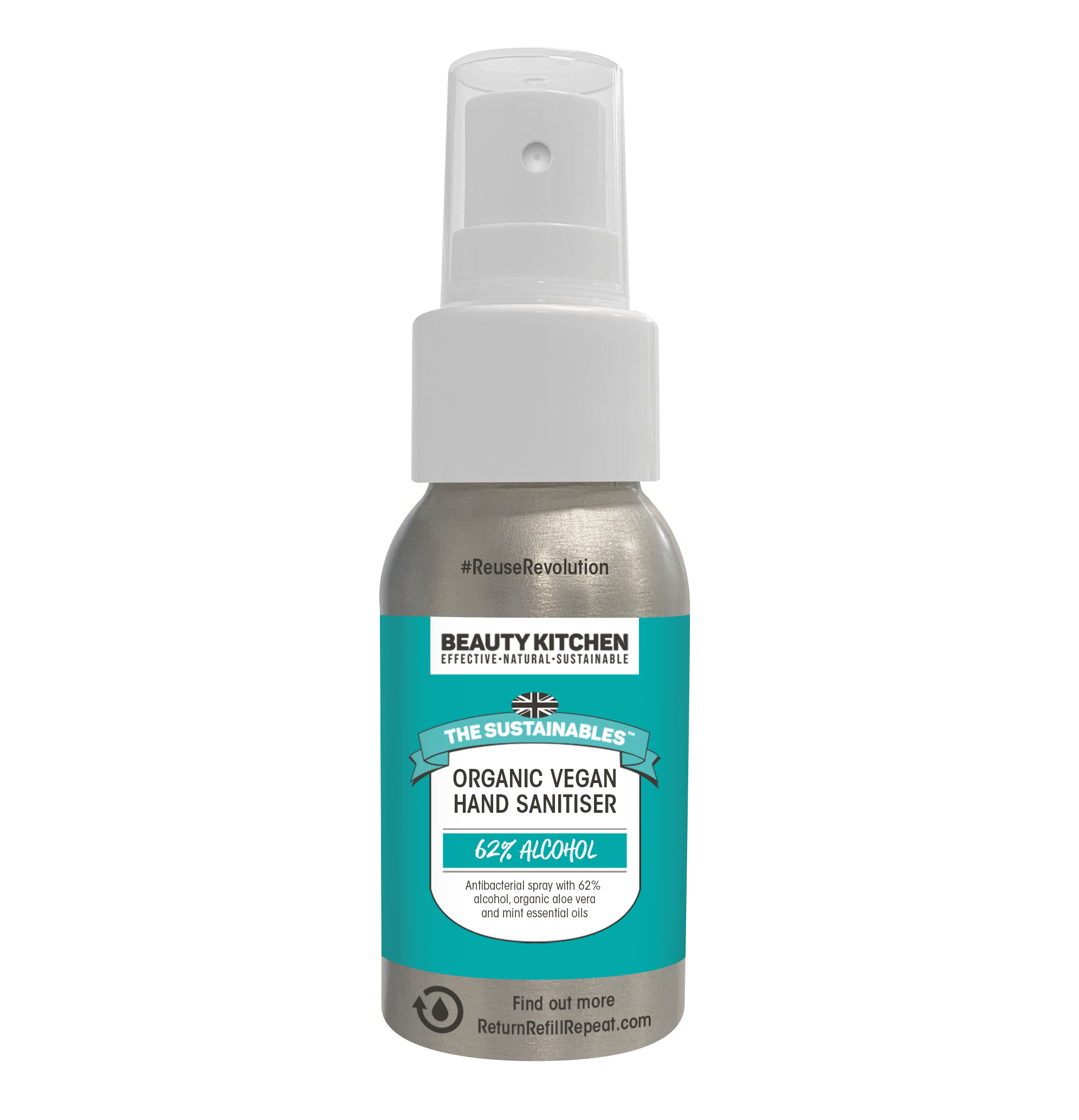 When customers come to Beauty Kitchen to buy hand sanitizer, do they pick up other items?
We are the only business producing a microplastic-free, natural, reusable and refillable hand sanitizer. so we have received an increased amount of interest from this. This opens up a whole new world for customers who are new to our site and begin to learn more about our ethos, and sustainability in general. There are over 500 microplastic ingredients still in use in the cosmetic industry today and, when people learn and research what goes into their products a little bit more, it's hard not to be invested in sustainability from that moment on. So, any new customers we have gained over this period due to our Organic Vegan Hand Sanitizer have been interested in our other products, too, in particular our skincare.
During the global health crisis, are people still interested in eco-friendly alternatives to conventional products?
There has been a misconception that hygiene overrules sustainability, but, in actual fact, they should be looked at harmoniously. Despite this misconception, we have definitely seen that the public are recognizing sustainable products as a true alternative. Sustainability isn't a trend. Our customer base is incredibly loyal in making their choices a long-term decision. In comparison, we have also increased our customer base from brick-and-mortar to online, so we are still on a huge mission to reach as wide an audience as possible through multiple channels. We want to make sustainable beauty accessible to all, as well as becoming a hub of knowledge to those who are new to the sustainability movement.
You are promoting Beauty Kitchen's return-refill-repeat program through the social media campaign #ReuseRevolution. Has interest risen? 
We receive more and more interest in our return-refill-repeat program on a daily basis as it's such a unique way of functioning. We follow cradle-to-cradle principles to create a truly circular system of recovery for our packaging as opposed to the linear ways of working that is embedded into the modern supply chain process. It is just as hygienic as buying a new product without the added waste that would have occurred if you were to repeatedly dispose of a new product packaging again and again.
We are pushing the #ReuseRevolution campaign through our communications channels, which is just another platform we can utilize to educate on sustainability. Through social media, we can reach out to new audiences whilst also continuing to work alongside other huge names in the sustainability sector like the Plastic Soup Foundation.
After the Black Lives Matter protests started following the killing of George Floyd, vegan lifestyle blogger Marta Canga challenged Beauty Kitchen. Where did that come from?
We have always followed B Corp principles to ensure we are as diverse as we can be. Yes, we are a SME [small- or medium-sized enterprise]. However, that still means we have the voice and the power to create change. Marta Canga is a good friend of ours and a content creator who has supported us for a long time. She questioned our actions on how we were dealing with Black Lives Matter, and we wanted to follow this through thoroughly so myself and Stuart Chidley chatted to Marta on the phone to discuss this in depth and to clarify, and learn how we can move forward to be even more inclusive as a business. I don't mind being challenged with anything, as it makes me stronger and allows me to see all points of view.
Internally, I have been educating myself on the topic of Black Lives Matter and reflecting this onto the whole Beauty Kitchen team, too. It is hugely important that we are all incredibly open-minded and sympathetic to all issues. We have treated this in a similar way to how we treat the issue of sustainability. Both racism and the climate emergency are two global pandemics that pose a great threat to life. They are both systemic issues that need rapid action on a massive scale. No one is perfect, but it's about progress and how we go about achieving a solution as quickly as possible. The world is changing, and it definitely needs to change however difficult the topics [and] issues may be. We are proud to be pioneering this change one way or another.
What's been the worst day at your business, and why?
There have been a few times when we worried about not having enough money to pay our employees. Cash flow is tight every step of the way, and we don't have an investor or a parent organization to fall back on, but we've always managed to pull through.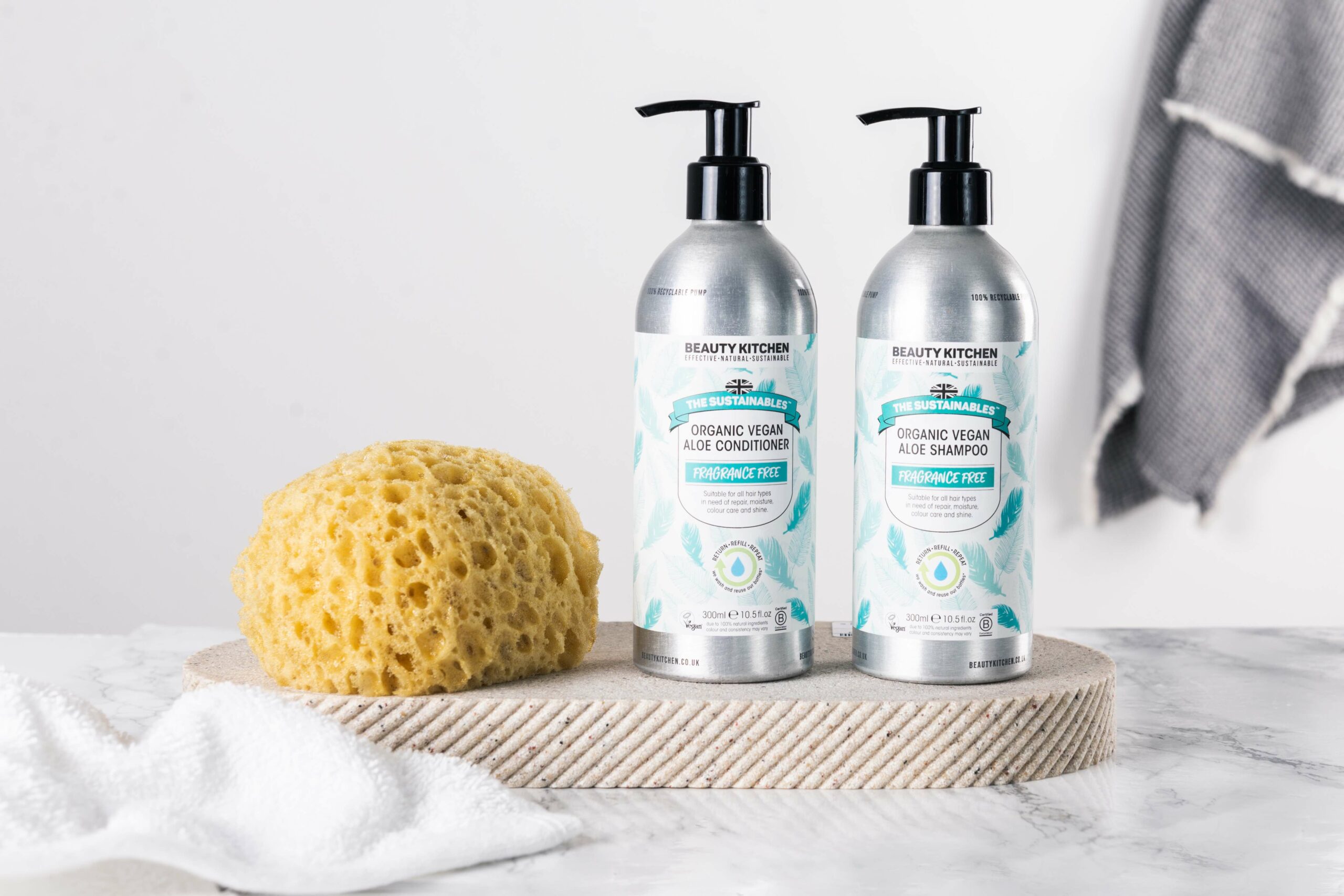 What's been the biggest product fail?
Not a product fail, but, in June last year, we launched body care products and used aluminum bottles with plastic pumps that didn't have a metal spring in so it could be put in the recycling. But what we didn't know, having ordered 10,000 pumps, was that they were specifically made for plastic bottles, and we had to take them back and work with an aluminum manufacturer to make some pumps for our bottles. That was a challenge.
What was the best big investment you made in the last year?
The person that works on our e-commerce platform driving our direct-to-consumer sales. They get paid more than me and quite rightly so because we have seen such a difference in just six months from sales that were 1,000 pounds [$1,300] a month up to 3,000 pounds [$3,910] a month.
What's your biggest fear as an entrepreneur?
Running out of ideas.
What suggestions do you have for other entrepreneurs on how to pull through tough times?
People would think I was crazy, and I didn't think I was. Everyone in the industry said, "It's not possible," and I was thinking, "Am I being that stubborn or can I not see the woods for the trees?" It's about having the courage of your convictions and sticking to them. And I am lucky I work with Stuart. If I'm having a bad day, hopefully he won't be.