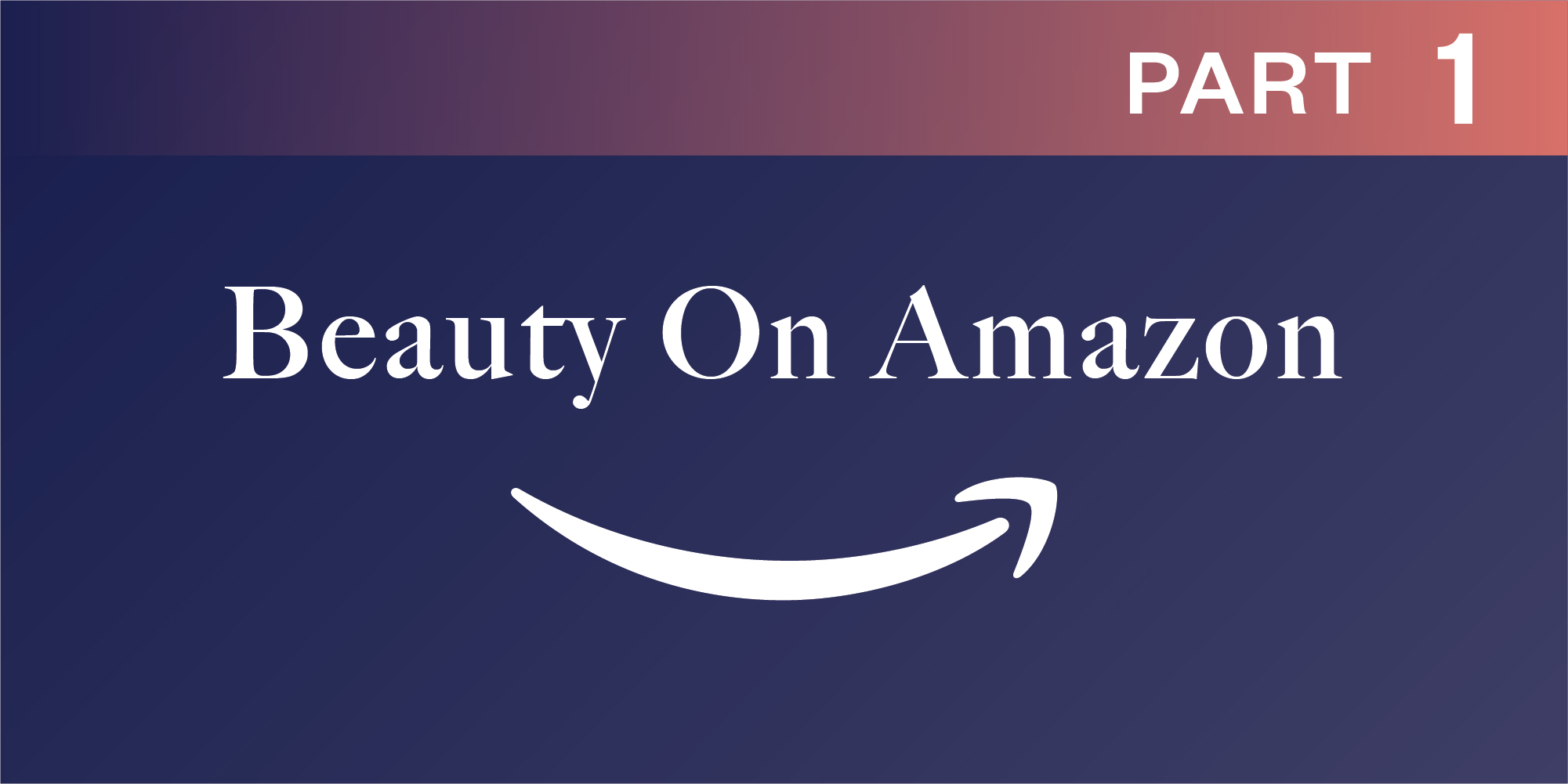 Beauty On Amazon Part 1: What Has Amazon Done In Beauty?
To Amazon or not to Amazon? In the nearly three years since Beauty Independent launched, beauty brand founders' responses to the Amazon question have largely moved from 
"
maybe" to "yes." However, the yeses are almost always qualified with a 
"
but…
" 
Many brands feel bewildered by the e-commerce giant and are spinning their wheels on its platform as their sales stagnate. Exacerbating their bewilderment is Amazon's approach to working with brands. Its hands-off-the-wheel strategy means brands that can't afford to hire an agency or an experienced full-time staff member to help them succeed on Amazon flounder or choose to stay off of the site altogether.
Rina Y
ashayeva
, VP of marketplace strategy at digital media agency Stella Rising, sums it up neatly, saying, 
"
It has never been easier to launch a brand on Amazon, you and I can do it right now, but it has never been harder to succeed."
Though Amazon's internal machinations are kept tightly under wraps, lay observers can see the company has designs on the beauty industry. In less than a decade, Amazon has rolled out several initiatives such as in-house skincare brands and gated storefronts to place Amazon as a dominant player in the beauty retail space. 
To illuminate the dark corners of how beauty is sold on Amazon, Beauty Independent has embarked on a multipart series by speaking to brand founders, industry experts and Amazon strategists to explore the current state of beauty on Amazon. We've been pressing them about the steps Amazon has taken to capture beauty market share and the reasons behind those steps, successful and unsuccessful tactics brands have pursued to fuel business on Amazon, the challenges that Amazon faces in the competitive beauty segment, and what the future might hold for beauty on the increasingly important channel. 
In this first part of Beauty On Amazon, we look at why the beauty category is so attractive to Amazon, and identify and assess the initiatives the company has deployed in an effort to establish itself as a meaningful actor in the multibillion- dollar beauty market.
Introduction
The current retail landscape bears little resemblance to the landscape in 1995 when Amazon sold its first book. In the 25 years that followed, consumer attention has steadily moved from in-store to online, leading to the shuttering of several iconic American retailers. Amazon, meanwhile, flourished. By the end of 2018, Amazon was responsible for nearly half of e-commerce sales in the United States. Today, Amazon offers approximately 353 million products to its 300 million monthly users, and a staggering 49% of the U.S. population is Amazon Prime members.
Founder and CEO Jeff Bezos achieved retail domination by building Amazon as the place where people can procure virtually any product at a compelling price as quickly as possible. For the past several years, the e-tail behemoth has set its sights on beauty, an industry that's been described as Amazon-proof. Through a flurry of programs, including incentives-selling programs and proprietary brands, Amazon has made a grab for a piece of the beauty and personal care pie. Are its measures working? In 2019, beauty and personal care constituted Amazon's second most-shopped category. Consumers are certainly going to Amazon to purchase shampoo and skincare. "[Amazon's] eventual goal when it comes to beauty is to offer the customer the best selection at the best price," explains Yashayeva. "They want to offer every brand out there, especially the ones that their competitors carry." 
Amazon's Attraction To The Beauty Category
Amazon's reasons for pursuing a leadership position in beauty retail are manifold. 
Financial
—Size. Beauty is a multibillion dollar industry that consistently shows growth even at times when sales of other consumer goods slow or stagnate. 
—Growth. According to a recent report by Fior Markets, the global beauty and personal care products market is expected to grow from $493 billion in 2018 to $756 billion by 2026 at a compound annual growth rate of 5.81% from 2019 to 2026.
—Margins. Margins in beauty are not only healthy, they are generally more stable than other categories due to lower pervasive discounting. Murphy Bishop II, founder of Bleu Brand Development and co-founder of The Better Skin Co., previously told Beauty Independent that retailers command 40% to 67% margins. "It used to be that 40% was the standard, but retailers are now at 60%, 65%, 67%," he shares. Beauty's healthy margins afford Amazon room to charge brands and sellers various fees, from a commission cut to warehousing, with the transaction remaining profitable for the brand or seller.
Operational
—Beauty products are generally small, low-weight items. Add in a premium price point and that makes a profitable product for Amazon to sell.
—As an example, we can look at a luxury beauty product like Tata Harper's Restorative Eye Creme. The item retails for over $100, yet has a weight of 3.2 ounces, less than a quarter of a pound. Such a petite package is inexpensive to store and cheap to ship. Fees start at $2.66 to ship packages weighing less than one pound via USPS First Class Package Service.
—Compare Tata Harper's Eye Creme to an item like diapers. Because moms make up a core part of Amazon's consumer base, Amazon must sell diapers. However, because diapers are large in size while low in price, the item is expensive to store and ship, and brings in little revenue per unit, making it a loss leader for the platform.
Strategic
—Amazon views global commerce as a zero-sum game, meaning that, if a company that's not Amazon is winning in a category, then Amazon must be losing. Practically, there's a good reason for this mentality: Amazon wants to prevent any holes in Fort Amazon, weaknesses that can be exploited by others to draw business away from Amazon. 
—From Kindle to its Prime video content push, Amazon takes risks to prevent competitors from locking it out of a category that could siphon-off customers or customer time online. "Amazon has demonstrated that they're not afraid to enter into new categories if it means retaining consumer traffic and attention," posits Nader Naeymi-Rad, entrepreneur and co-founder of Indie Beauty Media Group, owner of Beauty Independent. "As a category, beauty is too important and too frequently shopped, especially by Amazon's core consumer base, for it not to be covered by Amazon." Naeymi-Rad cites Target's 2013 acquisition of Dermstore as an example of how a competitor could try to attract customers away from Amazon if they have a more intriguing online offering.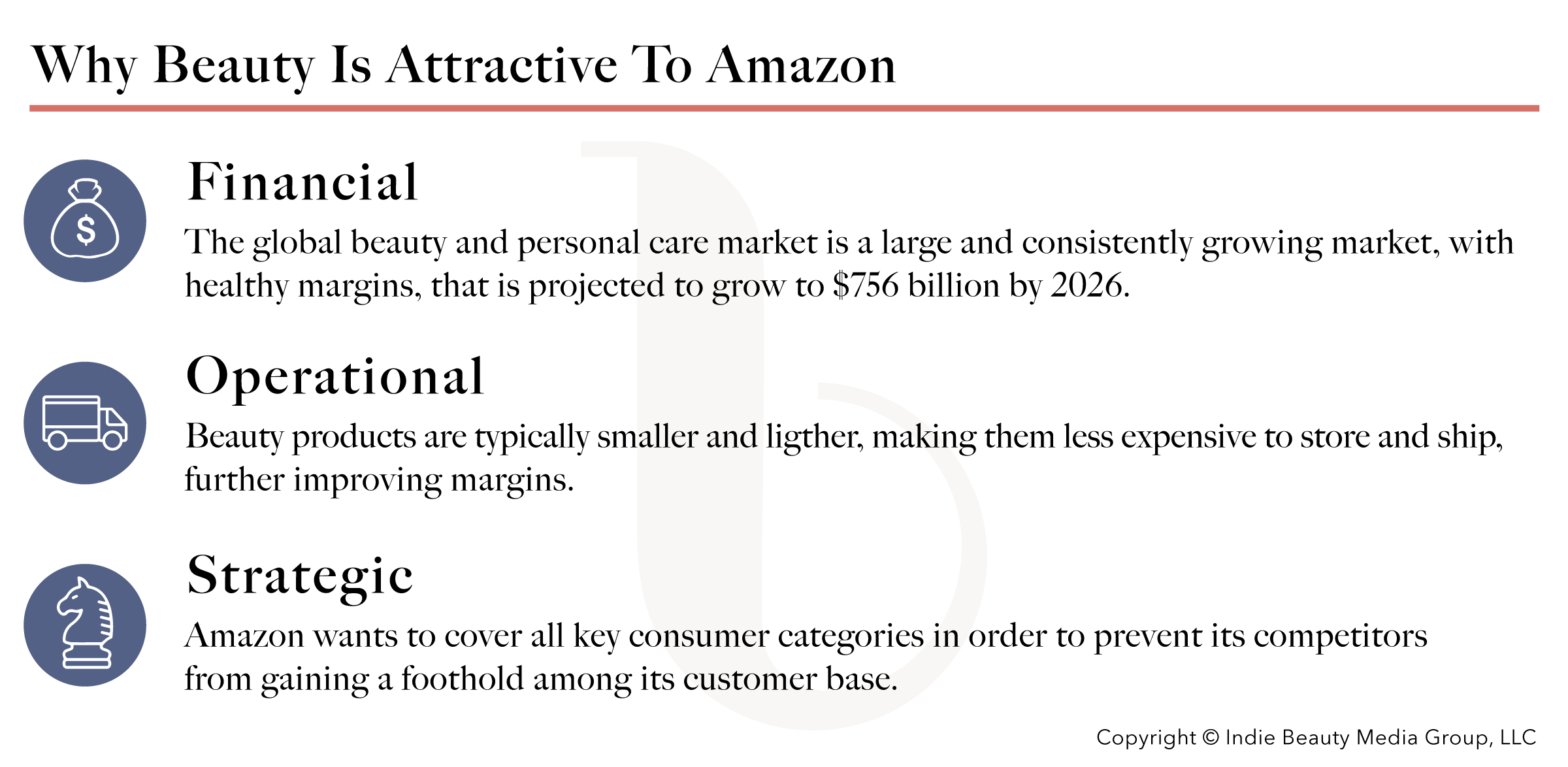 How has Amazon tried to capture beauty sales?
Amazon has dipped into its deep coffers to fund numerous initiatives aimed at grabbing beauty market share from a range of competitors big and small. These investments include the expansion of its gated Luxury Beauty category, launching an Indie Beauty marketplace, introducing an in-house brand, and partnering with pop star Lady Gaga on her line's launch. Yashayeva says, "With its focus on customer obsession, Amazon aims to offer the beauty consumer the product she is looking for, at the best price, by expanding its selection each year, gaining increased parity with beauty retailers."
Amazon's hodgepodge of beauty initiatives can be confusing and a deterrent to some brands that may otherwise be open to partnering with the platform. Founders of emerging brands often feel their brands and their businesses will not get necessary support due to Amazon's apparent lack of a cohesive strategy in beauty. This lack of support is apparent in complaints from Amazon vendors and sellers who have failed to connect with someone at the e-tailer to help with issues that arise. 
The problem goes further up the chain, with many questioning who sets overall strategy for Amazon in beauty.  "At every other multi-category retailer, whether it's a department store or a drug store, there is a head beauty merchant, a person who sets the strategy for the category and controls the buy," says Naeymi-Rad. "At Amazon, who do you call? There is no 'beauty czar' at Amazon." Amazon's team and approach to beauty seems very opaque to beauty entrepreneurs, with multiple business lines in beauty crossing regions and categories, each doing their own things.
Luxury Beauty 
—When: Launched Oct. 2013
—Description: Amazon's answer to department store beauty sections. A selection of high-end makeup, skincare, haircare, fragrance and men's grooming brands with name recognition. It's invitation-only, and brands must apply to be included.
—Competes with: Beauty specialists (e.g., Sephora) and department stores (e.g., Nordstrom)
—Business relationship with Amazon: 1P (wholesale) and 3P (third party)
—Brands included: Sunday Riley, Elemis, Natura Bisse, Phyto, Lorac, Erno Laszlo
Whole Foods
—When: Acquired June 2017
—Description: With its acquisition of national grocery chain Whole Foods, Amazon took over one of the largest collections of natural and organic beauty and personal care items. 
—Competes with: Grocers (e.g., Harris Teeter) and drugstores (e.g., CVS)
—Brands involved: 365 Everyday Value, Dr. Hauschka, Alba Botanica, Boiron, Toms of Maine
Attempted Violet Grey Partnership
—When: Partnership reported July 2017
—Description: Sources reported that Amazon had struck a deal with luxury beauty player Violet Grey. While the deal wasn't confirmed by either party, sources speculated it to be either a content play, with Violet Grey creating content for Amazon's beauty section, or an assortment play to lure more luxury brands to sell on Amazon. It seems, though, that the partnership between Violet Gray and Amazon either never happened or has fizzled out. Still, it illustrates the intensity of Amazon's interest in prestige beauty. 
—Competes with: Online content- or editorial-driven sites (e.g., Goop and Net-a-Porter)
—Brands involved: Augustinus Bader, Tatcha, Victoria Beckham Beauty, La Mer, Vintner's Daughter, Sisley Paris
Indie Beauty
—When: Launched May 2018
—Description: A category designation within Amazon's mass beauty and personal care for emerging brands that have to be 50% or more owned by their founders and not widely distributed. Brands must apply to be included. The Indie Beauty hub is hard to find on Amazon.
—Competes with: Niche beauty retailers (e.g., Follain, Detox Market, Cos Bar)
—Business relationship with Amazon: 3P only
—Brands involved: Imbibe, Pure Aura, Ogee, Antonym Cosmetics
Professional Beauty Shop
—When: Launched June 2019
—Description: A category within Amazon beauty enabling hairstylists, barbers and estheticians to buy essential products for their spa and salon businesses in one place. Invitation-only.
—Competes with: Professional beauty suppliers (e.g., Sally Beauty)
—Business relationship with Amazon: 1P and 3P
—Brands involved: OPI, Wella, BaByliss, Kneipp
Belei
—When: Launched March 2019
—Description: Amazon's in-house skincare range built around popular ingredients frequently searched on Amazon such as retinol, peptides and hyaluronic acid. The 12-product collection ranges from $9 to $40.
—Competes with: Other private-label store brands (e.g., Walmart's Earth to Skin)
—Business relationship with Amazon: Sold exclusively on Amazon.com.
—Performance: Early indications are that Belei is not a major force for sales in the massive Amazon universe. 
Haus Laboratories
—When: Launched Sept. 2019
—Description: Amazon's foray into the celebrity brand trend and color cosmetics space, Haus Laboratories is a makeup line created in partnership with Lady Gaga. It is an external brand that chose to partner make Amazon its exclusive retail partner. Haus's products include eyeshadow and lip color priced under $30. Although the brand officially went on sale in September 2019, products were available for pre-order on Prime Day in July.
—Competes with: Other celebrity-driven brands (e.g. Kylie Cosmetics or Fenty Beauty)
—Business: Sold exclusively on Amazon.com at launch
—Performance: An industry sources estimate in WWD projected first-year sales would be $75 million. 
Luxury Stores
—When: Launched Oct. 2020
—Description: Amazon's luxury shopping experience created for eligible Prime members in the U.S. RéVive Skincare was the second luxury beauty brand to be listed in Luxury Stores. 
—Competes with: Online channels of luxury retailers like Neiman Marcus; premium beauty specialty players like Sephora. 
—Business relationship with Amazon: Brands are included by invitation only from Amazon.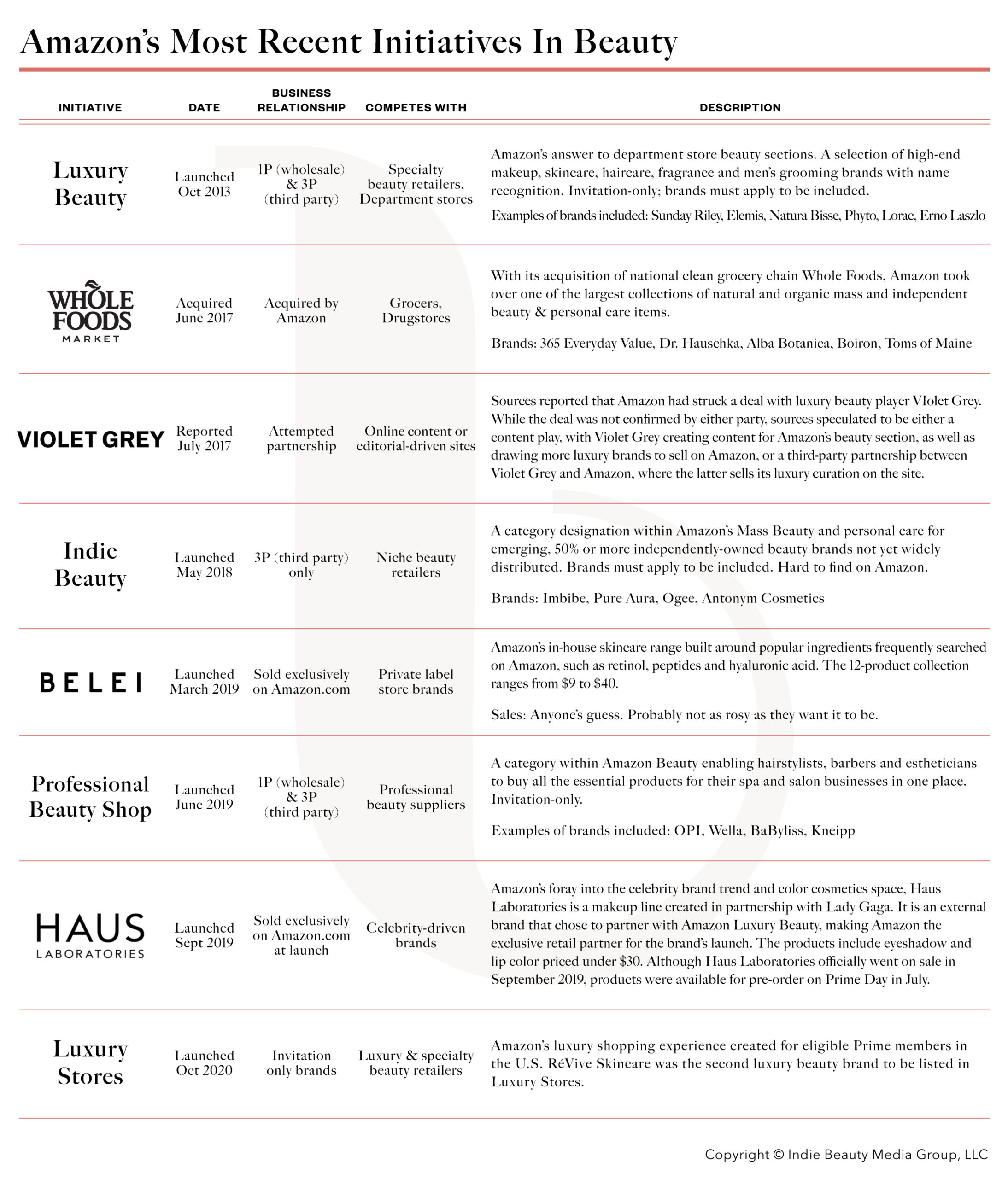 Beauty On Amazon By The Numbers
Publicly-traded Amazon releases quarterly and annual earnings, so we know it rakes in hundreds of billions of dollars every year. How much of those billions come from beauty and personal care? We don't know, but we do know it's substantial. From what is publicly available, here are some of the best estimates we can gather.
2018
—The total value of transactions on Amazon.com in the U.S. amounted to $177 billion, according to Digital Commerce.
—Beauty and health and personal care accounted for 6.2% of total Amazon sales, according to eMarketer. That's a whopping $10 billion.
2019
—The total value of transactions on Amazon in the U.S. grew 25.3% to reach $221.95 billion.
—Beauty and health and personal care accounted for approximately 10% of total Amazon sales in 2019, per eMarketer. There was an increase not only in total transaction value, but also in beauty as a percentage of the transactions, suggesting Amazon's revenue from beauty doubled from $10 billion to over $20 billion from 2018 to 2019.
—Health and beauty was Amazon's third fastest-growing category in 2019 with sales totaling 44% of all online health and beauty e-commerce, according to eMarketer.
Next Up In Our Beauty On Amazon Series
It's clear that Amazon sees beauty as a must-win category and strives to take an ever-increasing portion of the beauty industry pie. Its success in that endeavor will rely on its ability to partner with beauty brands in a way that works for those brands and meets the needs of consumers in this high-touch category. Though the e-commerce giant's efforts have met with mixed results thus far, it shows no signs of retreat. 
In part two of Beauty On Amazon, we will dive deeper into the various programs Amazon offers to beauty brands and how those programs impact brands' possible success and profitability on the platform.