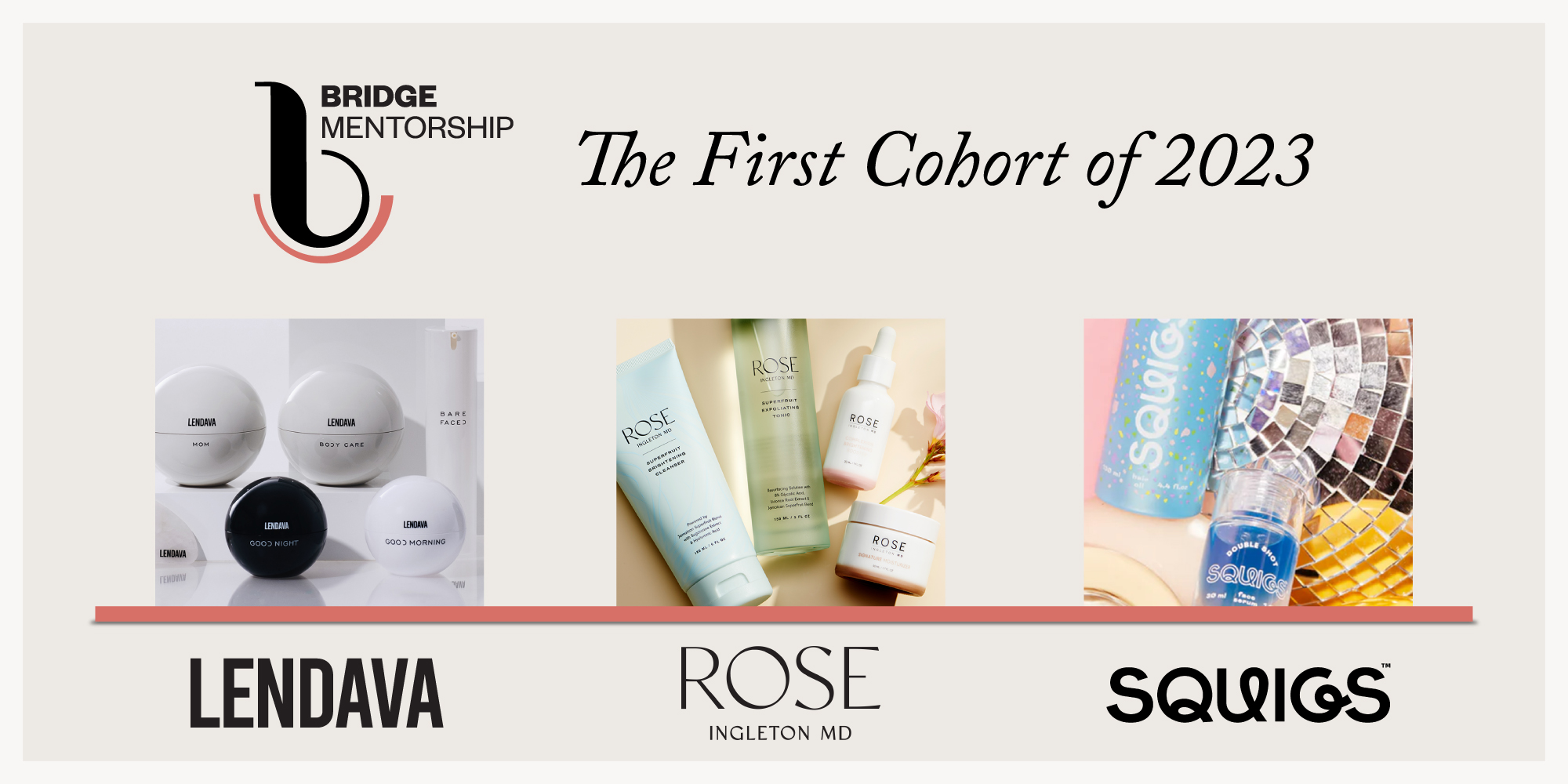 Great Brand Stories, Focused Distribution And Sharp COGS: Bridge Mentorship Participants On The Program's Top Takeaways
In a noisy beauty market, a great backstory is essential for a nascent brand to rise above the din. 
"The brand really matters, but the founder also really matters," says Cristina Nuñez, co-founder and managing partner of beauty and wellness venture capital firm True Beauty Ventures. "And those stories need to be connected, and they also need to be clear to the consumer, and what separates the indie brands from the larger big brands is everybody's story is so unique. So just tell that story and make sure that it's something that consumers will care about."
In selecting the brands Lendava Skincare, Rose Ingleton MD and Squigs Beauty for Bridge Mentorship's first 2023 cohort, TBV assessed the strength of their stories and the entrepreneurs telling them. Launched in 2022, Bridge Mentorship is a partnership between TBV and Beauty Independent designed to ready emerging brands for the grueling fundraising process. A six-month curriculum is tailored to each cohort of three emerging brands.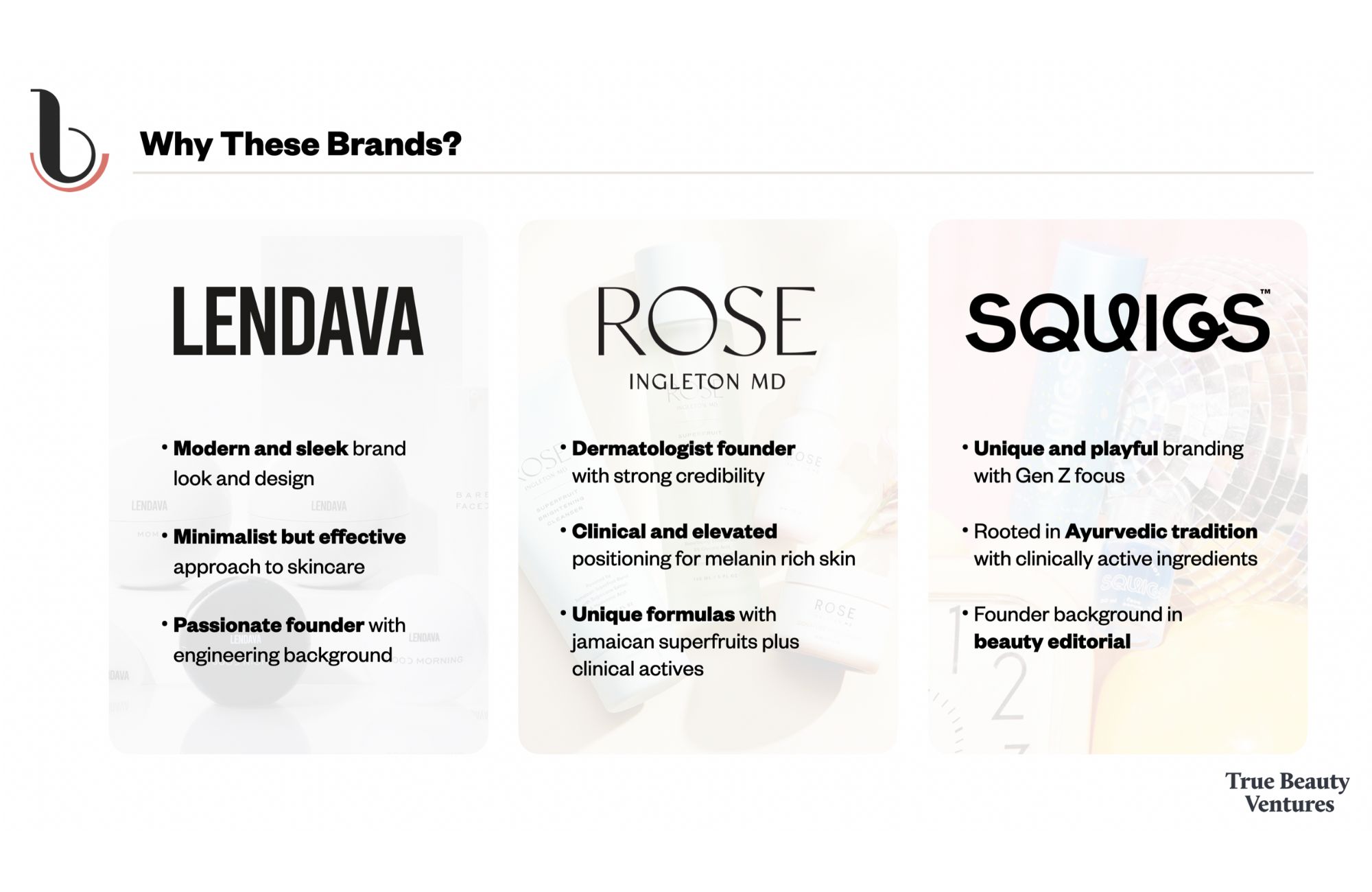 Rich Gersten, co-founder and managing partner at TBV, says, "When you look at a market saturated with celebrity brands today with no authenticity or very little credibility, it's always refreshing to us when we see real credible founder backgrounds as it relates to their brand positioning and their passion." 
Squigs Beauty founder Nikita Charuza is a former fashion and beauty editor endeavoring to make Ayurvedic beauty affordable and fun. A beauty industry insider, Lendava founder Priscilla Fadul created the brand to stick to skincare facts rather than the fictions often peddled in the industry. Dermatologist Rose Ingleton brings her medical knowledge to bear in her namesake brand.
Brands interested in becoming a member of Bridge Mentorship's second cohort of 2023 can apply starting today. The program will accept applications until June 9. To be eligible, applicants must helm brands based in North America that have been on the market for at least six months and are generating annual sales of $250,000 or above. The three brands chosen for the cohort will be revealed in July.
The brands Nette, Nopalera, Youthforia, World of Chris Collins, Natureofthings and Plantkos are Bridge Mentorship alumni. Since Nopalera graduated from the program, it raised $2.7 million in seed funding from L'Attitude Ventures. Youthforia closed a seed funding round led by True Beauty Ventures, with participation from Willow Growth Partners and Mark Cuban.
Priscila Fadul
To learn about what brands can expect from Bridge Mentorship, we asked Fadul, Ingleton and Charuza to join a recent In Conversation webinar. Below, they walk us through insights gleaned from the program.
Lendava Skincare
Year Launched: 2021

Category: Body care

Positioning: Minimalist daily care with products using science-based actives

Price range: $32 to $98

Hero product: Good morning, body lotion

Distribution: Verishop, Flip, DTC
Fadul's family has 50 years of history in the beauty industry that involves working with retailers and distributing global luxury beauty brands in Latin America. With Lendava, Fadul, an engineer by training, aimed to make skincare streamlined while still effective. It uses active ingredients verified by scientific evidence and refillable packaging.
Fadul says, "In order to really set apart my brand from the rest in the space, it's not just important to have great aesthetics and also be credible, but also to be really differentiated…I had an opportunity in telling more of the founder story due to my engineering background and also the fact that I grew up in the beauty industry."
Fadul applied to the Bridge Mentorship program to refine Lendava's go-to-market strategy, organize the back end of its business and vet growth tactics. TBV has devised a financial template for emerging brands that assisted her with pinning down Lendava's cost of goods sold (COGS) and understand where the brand could identify savings. 
"After our conversation, I felt more confident when negotiating with my suppliers, so that was extremely valuable," says Fadul. Gersten chimes in, "One of the most attractive characteristics of the beauty industry is it's known for having high gross margins compared to other consumer products categories, but one of the dirty little secrets is it requires those margins because you have a heavy sales and marketing effort against driving awareness and growth. And so, if you start with lower margins, you either don't have the money to fund the sales marketing growth or you're going to be incredibly unprofitable trying to do that. "
Customer retention is a key metric Lendava is zeroing in on, and it's sticking to a focused product innovation pipeline for the near future. Fadul says, "It's better to focus and see productivity in fewer hero SKUs before launching new products."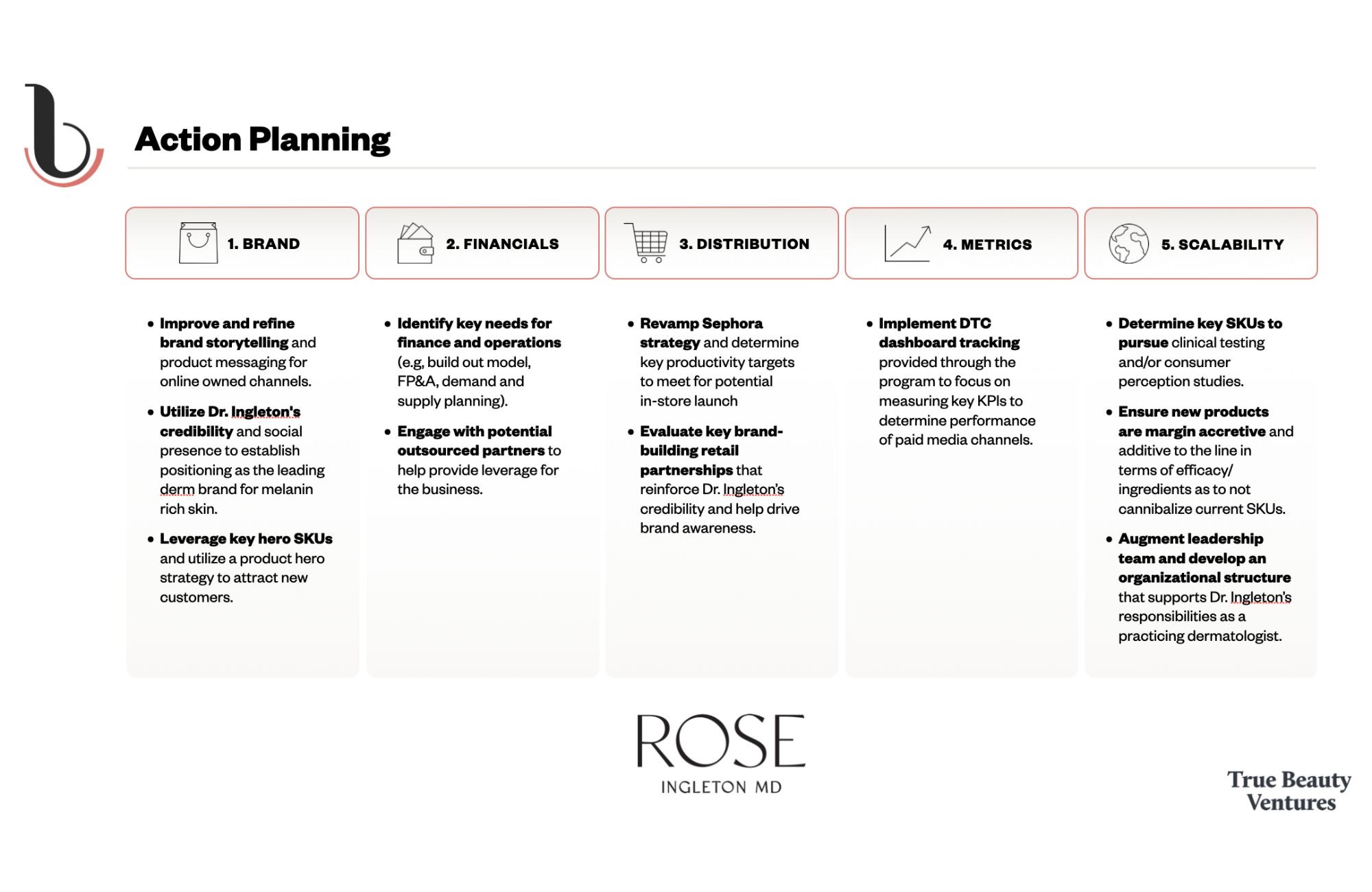 Rose ingleton md 
Year Launched: 2019

Category: Skincare

Positioning: Dermatologist-developed targeted skincare to achieve radiant and healthy skin 

Price range: $38 to $85

Hero product: Signature Moisturizer & Superfruit Brightening Cleanser

Distribution: Sephora, Saks Fifth Avenue, Nordstrom, Net-a-Porter, Violet Grey, Revolve, Knockout Beauty, C.O. Bigelow, Thirteen Lune, DTC
As a dermatologist practicing in New York City for more than 20 years, Ingleton has a full plate seeing patients and running her brand. While her medical expertise lends itself to skincare product development, she was lacking in the bandwidth to handle the back-end management critical to guiding the brand, which currently has a four people on staff. As Rose Ingleton MD scales, Ingleton is cognizant it will require additional employees and consultants to fill gaps in its talent pool. 
As the brand investigates the personnel gaps it should fill, TBV introduced the concept of a fractional CFO to Ingleton. "For me, that was mind-blowing," she says. "How could I have not known that there's such a thing that you could actually have someone outsource to help you specifically with this in a granular way in terms of distribution?"
Driven by four skin concerns common among her patients—dullness, breakouts, dryness and texture—Ingleton created her brand's products to address them with Caribbean fruit extracts connected to her Jamaican roots. Ingleton grew up in St. Andrew, Jamaica. Despite her brand's obvious tie-in to her profession, Ingleton acknowledges its story could benefit from fine-tuning, and she plans to concentrate on her products being formulated for melanin-rich skin. 
As a dermatologist and a Black woman, she says, "There's no one in that space who is like me…I'm the only one with that experience in so many skin tones and knowing what works." She continues, "My story is very interesting to people when I tell them where I came from, how I built this dermatology practice, and then how I built this skincare line."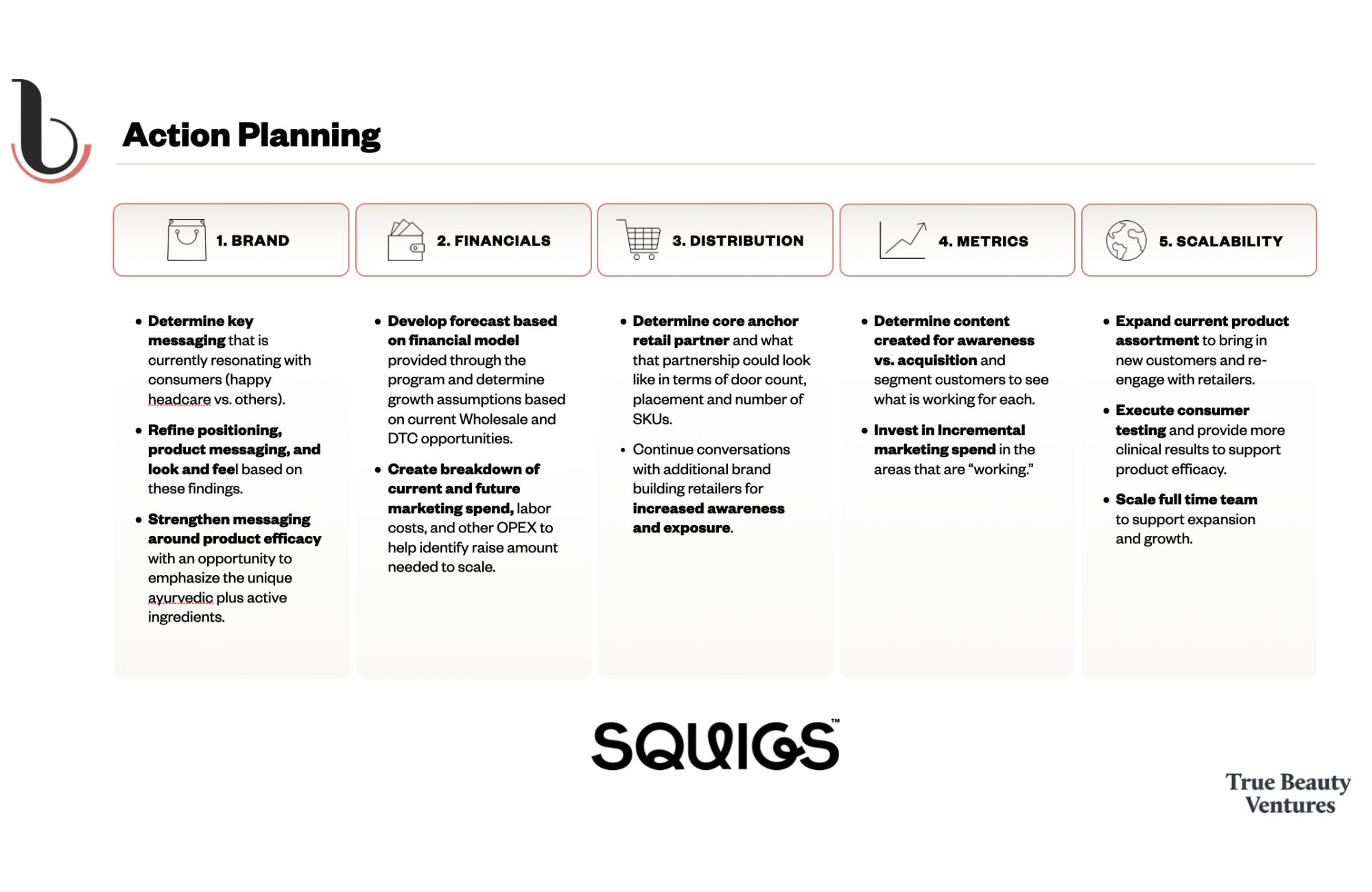 Squigs beauty
Year Launched: 2022

Category: Haircare and skincare

Positioning: A comprehensive and playful approach to caring for the skin on the face and scalp

Price range: $28 to $34

Hero product: Gooseberry Delight Hair Oil

Current distribution: DTC, Urban Outfitters
A critical theme of Bridge Mentorship's program for the first cohort of 2023 was cultivating a narrow, yet robust distribution network. TBV aided Squigs Beauty in thinking through its ideal anchor retail partner and how to capture shoppers once it's on the shelves at that retailer.
Charuza says, "What are key tweaks we can make to make it [the messaging] to feel like it is super retail ready where anyone on the street can just walk by it, see it and understand what it is right off the bat?" Speaking to Charuza, Gersten advises, "You need to be very thoughtful about your future distribution strategy and where you take the brand from here because it's pure white space for you right now, and I think those distribution choices for you will matter and make or break the brand over time."
Gersten and Nuñez cautioned Charuza not to overly broaden Squigs Beauty's product assortment too soon, but carefully select products to complement the brand's existing two products to flesh out its story and have a presence on retail shelves. Gersten says, "Continue to build out that assortment because I think it will help refine your brand messaging and your positioning and ultimately allow for that future expansion into retail channels. Retailers don't want to carry one or two SKUs. They need enough to present the brand in a concise way."
Apply to be a part of the second Bridge Mentorship cohort of 2023 here. Applications close June 9.