Fifth & Root, A New CBD Brand Centered On Cannabis Science, Enters Anthropologie
Motocross rider-cosmetic chemist-cannabis beauty entrepreneur is a highly unusual multi-hyphenate, but it makes perfect sense in Vanessa Florentino's case.
The founder of new cannabis beauty brand Fifth & Root's early encounters with plant-centered topical formulas were during her youth in Edgewood, N.M., where she whizzed around her parents' five-and-a-half acre property on motorcycles and rubbed lavender oil on road rashes that threatened to slow her down. Unlike Neosporin that would cause soggy wounds, the lavender oil dried up the rashes and relieved them quickly. Florentino says, "Lavender oil makes it so it doesn't hurt when you shower, which is fantastic. That really turned me onto the power and energy of plants."
She didn't only rely on plant-derived solutions for road rash. Florentino, who became a professional motocross rider at age 16, guesses she's broken 26 bones. "I lost count," she says, rattling off that she's broken both of her hands, arms and feet. To aid in recovery from broken bones, Florentino would skip Ibuprofen and Vicodin in favor of Ayurvedic treatments—and they worked. She recalls, "I would heal faster than the doctors could believe."
After a crash at the X Games in 2008, injuries finally got the best of Florentino and, at 21-years-old, she retired from professional racing to pursue a chemical engineering degree from University of California, Santa Barbara with the expectation she'd enter the beauty industry. "I had to do a lot of soul-searching to realize what I wanted to do and if there was another path that would keep me excited," she says. "I always loved beauty. Every time I would have a bad race, I would spray a spritz of perfume on or put on lip gloss to feel better."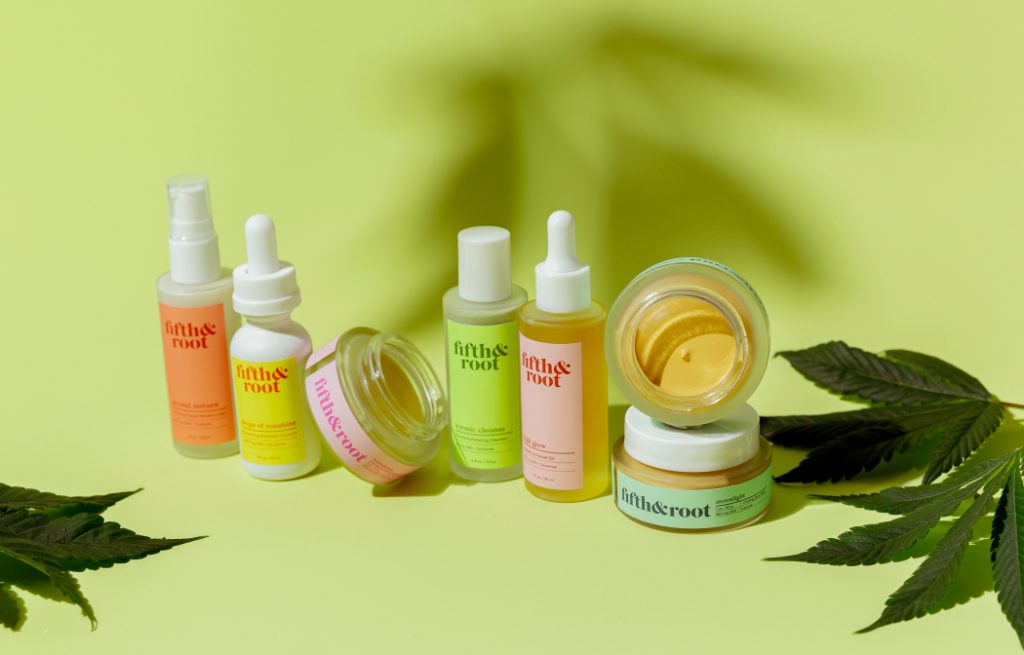 Out of UCSB, Florentino matriculated into the beauty industry at Estée Lauder before moving on to Johnson & Johnson. The corporate practice of skincare didn't match her aspirations for what skincare should be. "They were adding actives at such small amounts to show up on the label, not because they were effective, and I really disagreed with that," says Florentino. "I wanted the products to be different. I wanted them to be more vibrant and rich in plant actives, and make you feel like you are connecting with nature when you are putting them on your skin."
While she was at J&J, Florentino began assessing hemp seed oil for beauty products. She was stunned by its lofty levels of omegas, and antioxidant and anti-inflammatory qualities. However, it was too risky for the big company to bring to market due to stigma around cannabis. "They discarded it and, I was like, 'Wow, wow, wow, why are they doing that? We should educate consumers about why it's good for you," says Florentino. "That sparked my interest in creating products with this ingredient that was so beneficial for the skin."
"Compared to other CBD brand submissions we see on a daily basis, Fifth & Root products perform and feel like sophisticated beauty products."
In 2018, she jumped ship to join Abstrax Tech, a specialist in terpenes or aromatic oils that give the cannabis plant its distinctive pot smell, to pursue her fascination with hemp seed oil and delve further into hemp for beauty applications. In partnership with the company, she created Fifth & Root, which has launched with six products priced from $29 to $68: cleanser Karmac Cleanse, moisturizer Second Nature, facial oil High Glow, salve Salvation, mask Moonlight and tincture Drops of Sunshine. The brand has rolled out to Anthropologie stores with expanded CBD selections in Portland, Ore., and the California cities Palo Alto, Walnut Creek, Newport Beach and Culver City.
Fifth & Root's products contain full-spectrum hemp extracts with CBD, the most familiar of the non-psychoactive cannabinoids, as well as CBC and CBG. CBD or cannibidoil is believed to be calming and reparative for the skin, and Fifth & Root's products contain 50 to 1,000 milligrams of it. CBC or cannabichromene is thought to be a potent acne fighter, and CBG or cannabigerol is being investigated for psoriasis and eczema therapies.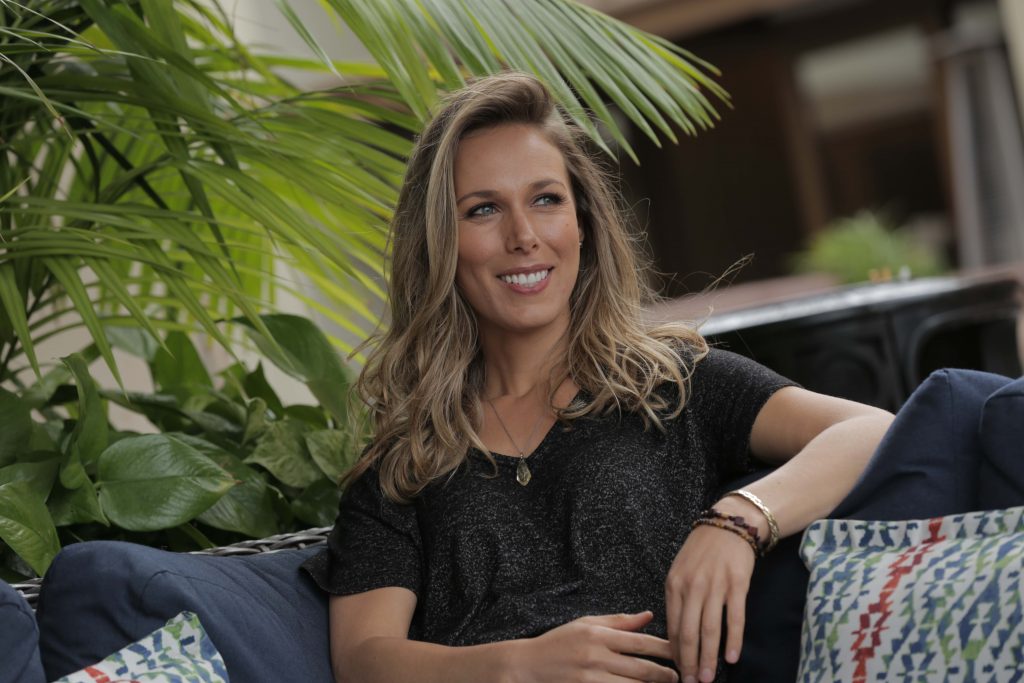 Plenty of cannabis beauty brands include hemp extracts, of course. The difference with Fifth & Root is the attention it pays to the ingredients it pairs the extracts with. For example, terpenes are lost in the process of extracting CBD and, to compensate for that loss, the brand injects extra terpenes into its formulas. "Terpenes help the CBD absorption into the skin and the uptake in the endocannabinoid system," says Florentino. Fifth & Root even incorporates cannabis root water that she points out has been used in traditional Chinese medicine remedies for thousands of years. On top of hemp ingredients, the brand is big on adaptogens such as turmeric, rhodiola an ashwagandha.
"What I'm seeing right now in the CBD space is a lot of companies out there are very trend-based. They're noticing the green rush, and they're trying to ride its coattails. It's not a bad idea, but I feel it's lacking in depth and science. I want to focus on cannabis science." says Florentino. "We're looking not just at CBD, but all the minor cannabinoids. We're looking at terpenes, flavonoids and the cannabis roots."
"What I want to do as a cannabis scientist is explore more of the plant."
Fifth & Root's partnership with Abstrax Tech allows it to maintain research and development, and manufacturing in-house. That capability means it can carefully analyze and tweak the hemp constituents in its products. Florentino mentions the brand is also planning to team up with universities to research the entourage effect, a term for the widest range of impacts from cannabis coming from the whole plant, and its implications for skincare. To inform consumers about cannabis beauty, Fifth & Root has a glossary on its website defining various cannabis-related abbreviations and expressions.
The brand turned to Crème Collective for design and retail distribution guidance. Therese Clark, partner and CMO at the agency, says Fifth & Root is unique because of "Vanessa's knowledge combined with Abstrax Tech innovation in terpenes and their role in efficacy, flavor and aroma." She elaborates, "Vanessa is an incredible and experienced chemist who really understands the science and formula nuance. Compared to other CBD brand submissions we see on a daily basis, Fifth & Root products perform and feel like sophisticated beauty products."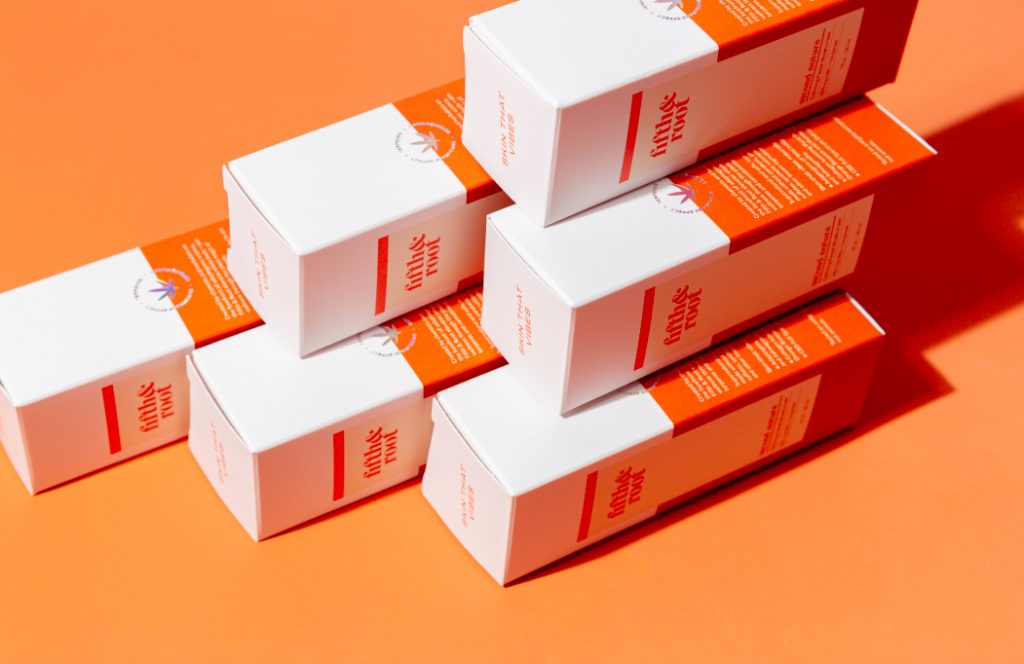 The brand's packaging is intentionally vivid to set it apart from CBD brands Florentino says lean in a clinical direction. The design features color blocking, and bright pink, green, orange and yellow. Florentino explains, "We have a 70s flair to keep the line fun and playful. If you look at what we want our products to do, it's from the energy from plants, and that energy is reflected in our packaging. It's very high vibe." She notes the name Fifth & Root nods at the brand being rooted simultaneously in science and the fifth element or the spirit.
For distribution, the brand is targeting clean beauty retailers like The Detox Market and Credo. Fifth & Root is hoping its accessible mid-tier pricing, and distinct formulas and product formats will win them over. The Karmac Cleanse, for instance, is a powder-to-foam product with ground hemp, French green clay, fruit enzymes and crushed jade. While many tinctures zero in on sleep, Fifth & Root's Drops of Sunshine tincture is designed to be uplifting and enliven dull skin. A hydrosol that Florentino describes as the first-ever from hemp flower is in its pipeline. In its initial year on the market, Fifth & Root's goal is to generate $500,000 in sales.
Beyond sales, the brand's objective is to solidify its position as an expert on cannabis science. "What I want to do as a cannabis scientist is explore more of the plant," says Florentino. "We are studying the cannabis plant at our research facility, and we want to publicize the results. We haven't uncovered nearly enough about the flavonoids, and we are looking at what terpenes are helping with what and what minor cannabinoids are doing for your skin. Everybody is talking about CBN, CBC and CBG, but nobody is talking about what they do for your skin, and I want to be the voice of that."