Clean Fragrance Brand Brûmée Wants Consumers To Give Up Alcohol
Pharmacologist Anne-Claire Walch wants you to go alcohol-free in 2021. With your fragrance, that is.
Her perfume brand Brûmée is joining a growing movement of beauty startups seeking to clean up the fragrance category. It has three scents priced at $45 each—Pine Tree + Vetiver, Cedar Wood + Vanilla and Aromatic Spices + Jasmine—that replace alcohol with an emulsion of water and oil. The vegan and unisex scents launched in the United States via Amazon last month.
"I began thinking about what clean beauty means when applied to fragrance," says Walch, a native of Grasse living in London who achieved her Ph.D. in pharmacology in 2016 and is the COO of NXT EQuity and founder of the skincare brand Náu as well as the founder of Brûmée. "It has been found that common perfumes have on average 14 chemical ingredients, which are not stated on their labels. This secrecy is due to a legal loophole in the Federal Fair Packaging and Labeling Act of 1973. Not only that, of those even listed, 19% have not been tested and approved to be safe."
Walch continues, "I realized that there was a huge gap between the skincare industry, which had seen a massive shift in this area, from the formulations to transparency and sourcing of the ingredients, and the fragrance industry, whose formulation has been untouched since the 18th century."
Brûmée didn't start alcohol-free. Walch estabished the brand five years ago with the help of 15,000 euros or nearly $18,340 at the current exchange rate from her family. She worked with Provence-based perfume house Neo Parfums to concoct Brûmée's scents with 40% alcohol, an amount she says is significantly less than the 60% to 80% most fragrances contain on average. In mainstream fragrances, she points out synthetic fragrance ingredients constitute 5% to 10% of the formulations.
Walch wasn't content with Brûmée's fragrances having 40% alcohol. Her goal was to eliminate alcohol entirely. On Brûmée's website, the brand asserts alcohol can dry the skin and, in high concentrations, deteriorate its barrier and lead to irritation. Walch details eye pain and headaches can result from it, too. "We're on a mission to shed light on the dangers of alcohol used every day directly onto the skin," she says.
"We're on a mission to shed light on the dangers of alcohol used every day directly onto the skin."
In her quest to rid Brûmée of alcohol, Walch teamed up with AR2i Laboratory in Paris, the company behind the patented so-called Water Plan Emulsion in Brûmée's fragrances that blends nourishing oils such as olive and sunflower oils with pure water. The shelf life of Brûmée's scents is 18 months.
The pandemic delayed production of Brûmée's alcohol-free fragrances for three months and made their expansion to the U.S. late for holiday shopping. "A lot of our suppliers had to close due to too many COVID cases in their factories," says Walch. "Our bottle supplier, for instance, was down for six weeks, exactly when we had planned to produce our stock."
During the global health crisis, Brûmée's American debut on Amazon was fortuitous. If she were to push sales to the brand's website in the U.S., she says, it "would involve huge marketing costs because the competition is so high and the sea of other brands out there inflates the price of ads, etc. We're lucky enough that our distributor is Amazon-focused, which means, as you can imagine, all their brands online have been doing really well over lockdown, and they haven't been impacted." Looking beyond Amazon, her objective is to place Brûmée in retailers strong in clean beauty such as The Detox Market and Whole Foods.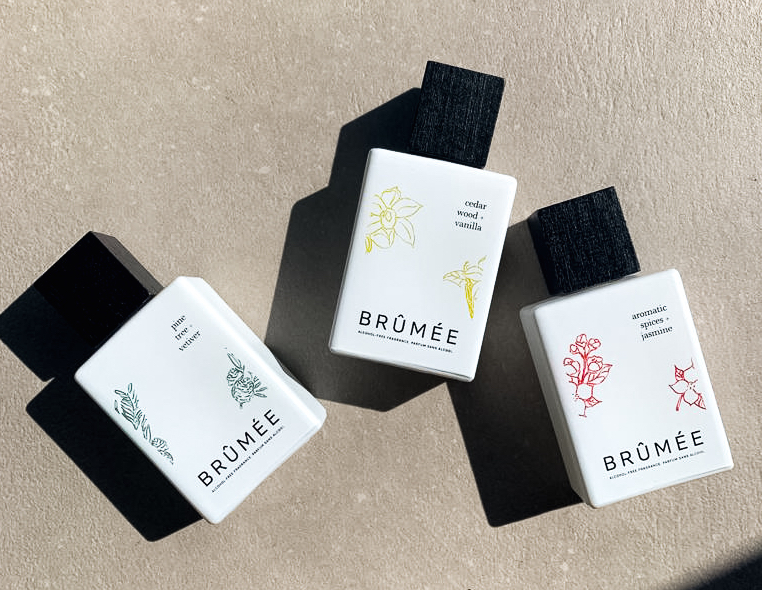 Walch says most consumers aren't aware of the health implications of repeatedly applying alcohol-based products to the skin, especially in the same area of the body. She's out to educate consumers about fragrance alternatives, especially in the clean beauty space.
Walch says she'd be happy if Brûmée generates 50,000 euros or $61,125 in first-year U.S. sales. She notes the ongoing effects of the pandemic make it difficult to predict people's fragrance habits. Walch is hopeful that, as they examine the products they're purchasing and their impacts to health, they'll make the switch to alcohol-free options.
"Some brands are now offering natural fragrances where they exclusively use natural fragrance over synthetic fragrances. However, the other components are still mostly alcohol-based," she says. "Although this is already a positive step towards cleaner fragrances, it wasn't enough for me."