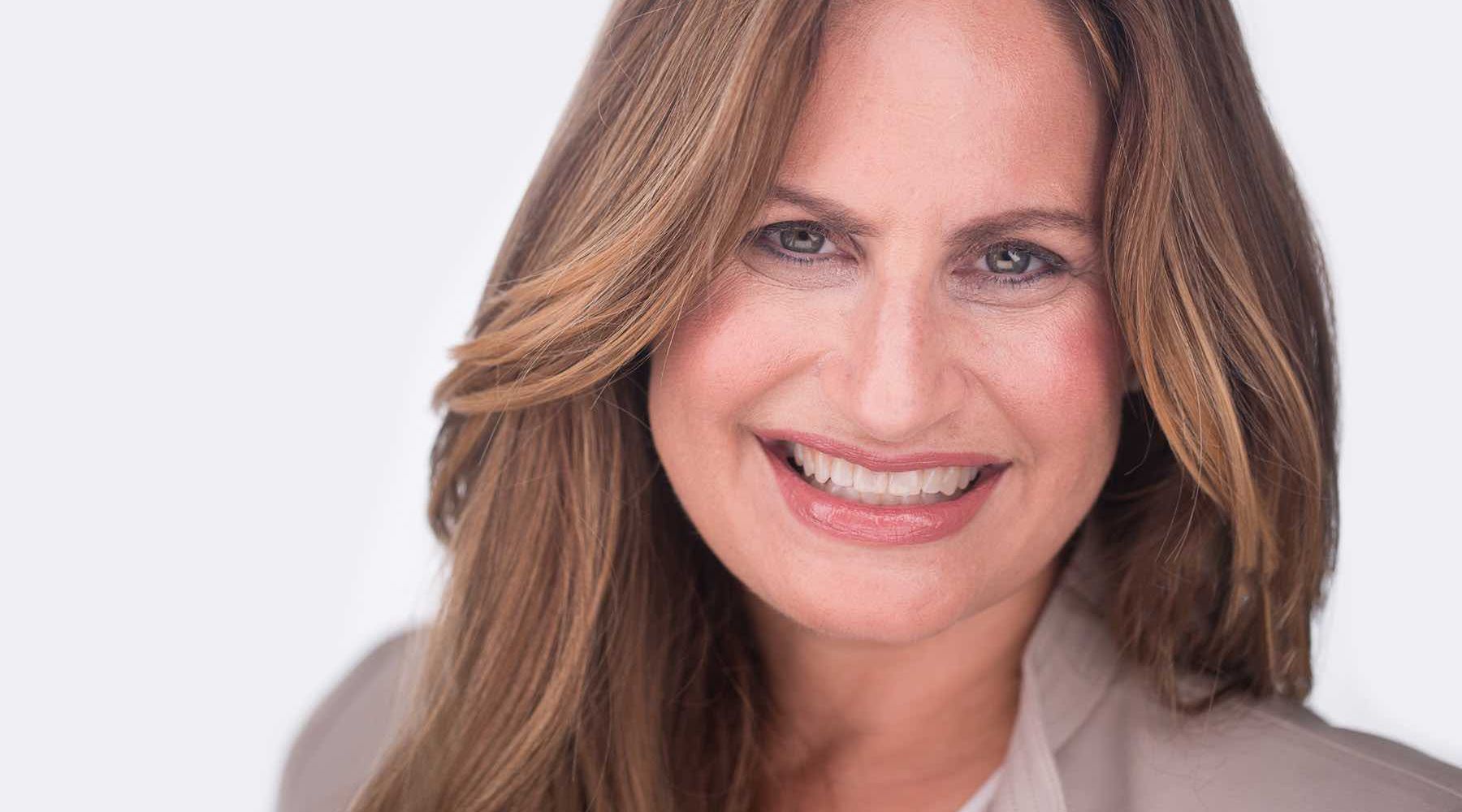 Cleo&Coco Makes Its Case For A Primo Spot In Natural Deodorant Selections
Almost two decades after weathering the dot-com crash, Cleo&Coco creator Suzannah Raff is at the center of the beauty industry's great natural deodorant boom. Her odor-busting brand is vying for space at stores as aluminum-free options accelerate across the armpits of this nation. Raff's foray into the sweaty business began with casual essential oils dalliances, partially driven by the extremely serious matter of her father's health. The plant compounds aided her dad, and she couldn't shake essential oils experimentation. "I found the ways that these ingredients could combine to form something so pure yet so effective for the body very interesting," says Raff, for whom casual dalliances turned into a full-blown business commitment less than a year ago with the premiere of Cleo&Coco. Beauty Independent chatted with Raff about the frustration of waiting for big-time brand expansion, surviving packaging hiccups, receiving friendly advice from a fellow indie brand founder and giving back.
Tell us a bit about yourself. What career did you think you would go into?
I grew up in Canada and attended McGill University for my bachelor's degree in marketing and management. I then decided to pursue a master's in management and worked in business for many years. I moved from Montreal to New York and started out in product development for a tech company in the first internet bubble during the late 1990s. We worked on the first voice over IP technology, essentially it was Skype before Skype. Once this company sold for $1 billion, I took time off of work and went for a second master's. This time in social work, but I loved business and expected to stay there.
At what point did you decide you wanted to start your own brand?
I got married and started a family in my 30s. When I was pregnant, I was very conscious of what I was putting in and on my body. I decided to stop using antiperspirants and deodorants as I knew that most of the ones sold contained chemicals. I began making my own deodorant that I believed was safe for my body. My brand is very new and only 7-months-old because it took me a while to make sure that the formula for my products was 100% right. I wanted to make sure that my product was consistently effective before putting it on the market, and that trial-and-error process took a while.
How long did it take you to develop the brand?
It took me a while to develop my brand. I took very conservative steps and wanted to make sure that the product worked 100%. I sat on the formula for years and spent another year experimenting with new formulas. After this, I took time to study the market and get to know it before feeling ready to launch my product. As far as money, my business background saved me a lot. Since I had a lot of experience in the business realm, I was able to do a lot of things myself to launch my brand. I built my own website which saved me a tremendous amount of money, but it made the launch process longer.
When did you reach profitability?
Because I did everything myself, I always had margins in mind and knew what costs were. I wanted to make sure that I had enough product to make a profit. I never made a huge investment in marketing. I really just used raw materials and time. Since my company is so young, I'm just now at the stage where I'm starting to go to trade shows and spend more on marketing. To be honest, I saw profitability from the beginning because my products started selling right away. My e-commerce sales were nice and, then, wholesale sales started up. I truly had a good margin from the very beginning.
Where is Cleo&Coco sold now?
My products are sold in small boutiques and spas. Each of these businesses  have been finding me from social media and trade shows, which has been nice. I would say we're sold at about ten to 20 spas and boutiques all over the country. I haven't really set a distribution strategy besides working on smaller wholesale orders. Since my company is so young, I really wanted to avoid being aggressive. In the next year, I'd love to start working with more retailers and distributing my product even more.
What's your approach to building your brand's e-commerce?
Since I created my own website, my e-commerce strategy is executed directly through social media websites and social influencers. In today's world, social media influencers are such a powerful strategy and using these influencers gives you best bang for your buck. Facebook and Instagram ads are very valuable, so I focus on investing in product photography and social media.
What is your hero product, and how did it come to be?
My hero product would have to be the first one I created, the Charcoal Deodorant Stick. When I was pregnant, I didn't want to put harmful chemicals onto my body. I decided to stop wearing deodorant, however, that didn't smell so great. I had a background in essential oils. My father got very sick and was in a coma. On my way to the hospital, I stopped by a health food store and asked if they had any ideas on things that could help him. This is when I learned about essential oils. My dad then made a miraculous recovery out of the coma. The essential oils became very therapeutic for not only me, but for my father and the hospital staff because of their pure and natural smell. When I decided to make my own deodorant, I played with essential oils, activated charcoal and bentonite clay, experimenting with different formulas to find the perfect fit.
Pretend I'm a retailer. Give me a quick pitch on why I should take your brand.
All natural deodorant that works. It's gentle, sensitive and healthy, and needs to be in everyone's hands. Consumers will love it because it's not bad for their bodies, but still provides odor control.
Who is your target customer, and how did you identify that target?
I worked in marketing and strategy consulting for many years, so I should have this answer down pat and, yet, I still struggle with it because really I want it to be everyone. Everybody needs and uses deodorant, and everybody should be using a natural deodorant like Cleo&Coco. But my target market is a woman in her 30s and 40s who reads ingredients, is health-conscious, eats healthily, exercises, is smart and treats herself once in a while. She will often buy a natural deodorant for her tween and husband as well.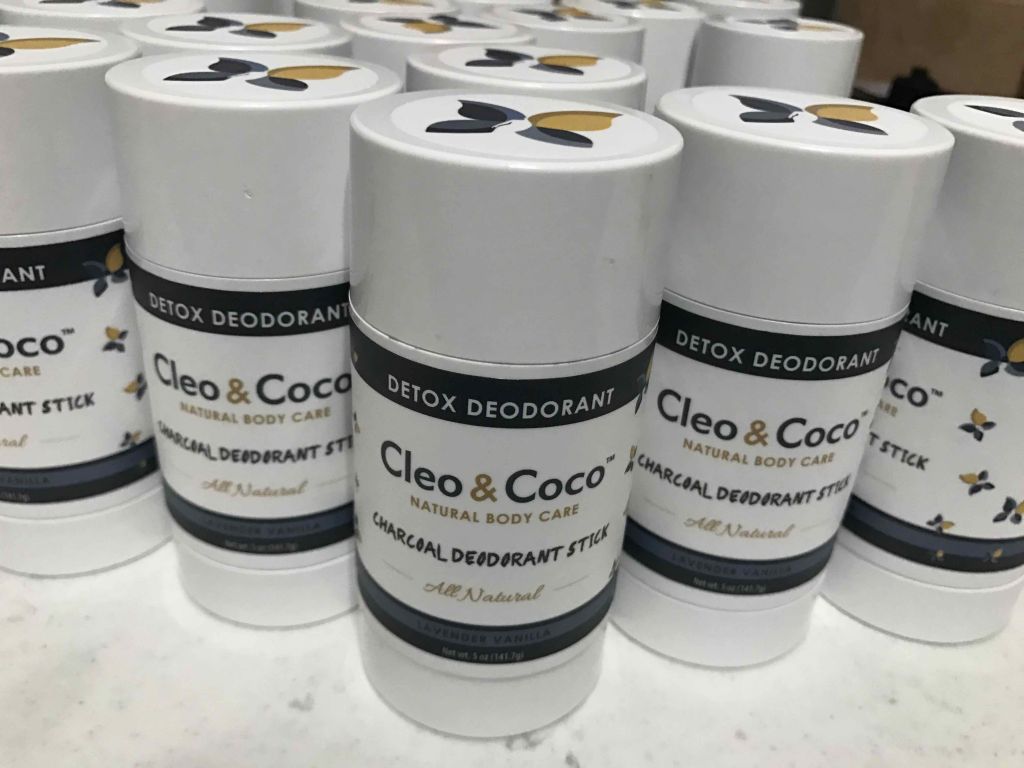 What's Cleo&Coco's price range, and how did you land on that price range?
Since the products are all natural products and their ingredients are expensive, manufacturing is expensive. I only use food-grade ingredients, which is why my products are priced the way they are. I sell 5-oz. containers for $22. These containers are the same price point as most other natural deodorants, but contain twice as much product.
What's been the biggest product fail for you?
When we launched, we launched with craft push-up containers. I was told by friends in the natural beauty industry that craft push-ups containers were a trend that I needed to follow. However, I started receiving feedback from the consumers saying that they didn't like the push-up containers and asked if it was at all possible that I change them. I then decided to use plastic container packaging, which worked a lot better. Although I had to redo all of the packaging, the new container supports the product better.
What percentage of your business is direct versus wholesale?
My direct sales or my e-commerce percentage is much larger than wholesale at the moment. I'm just now starting to work on scaling product to manufacture in larger quantities as I'm ready to grow wholesale.
What are some goals you have for your brand going forward?
I want to keep growing. I'm still so young as a brand, and I want to come out with a lot more for this company. There are so many products that I want to produce. There are so many ways that activated charcoal and bentonite clay can be used, and I'd love to keep experimenting with them. When my kids don't feel well, I'll make them a bath with bentonite clay and essential oils that helps to relieve their symptoms. I think it'd be great to package and sell that. I also would love to create a sensitive skin line that baking-soda free. To reach these goals, I'm going to continue formulating new products and experimenting with the ingredients I know and love.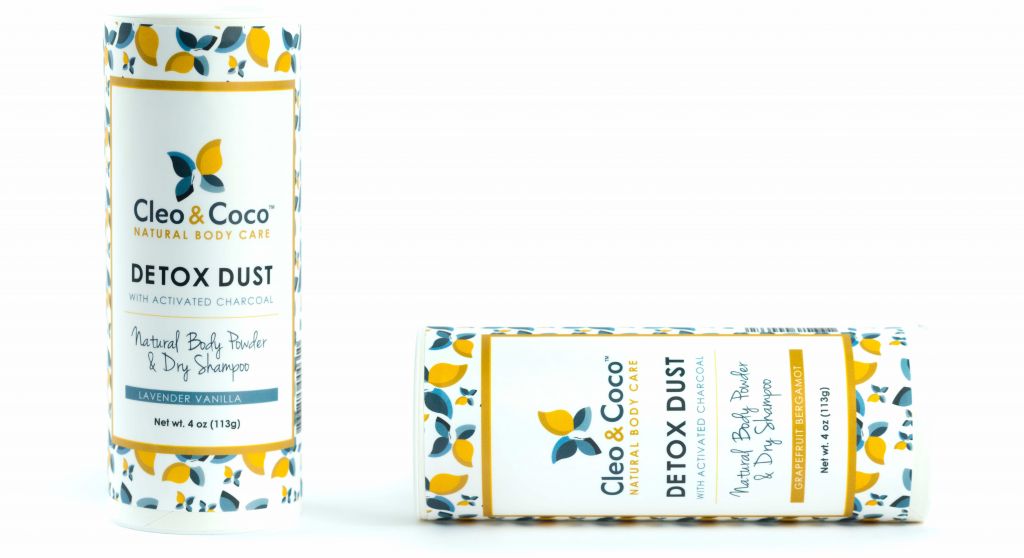 Do you have a mentor? If so, what's the best advice they've given you?
The founder of Hynt Beauty, [Meryl Marshall], has been so kind to me, giving me guidance and emotional support. The best thing she's told me is, "It takes time". A great thing to remember because it does all take time.
What have you found most challenging about building a beauty brand?
Time. You have a vision, but it takes time to get there. Scaling without compromise, networking and building a sustainable business can't happen overnight. I studied quality control in graduate school, so I have a deep rooted understanding of zero defects and exceptional customer service. That level of quality takes time. As much as I want to see Cleo&Coco on the shelves of Nordstrom, Anthropologie and Credo tomorrow, I know that realistically for a brand that officially launched only six months ago, that doesn't make sense. But I do expect it to happen in the next 12 months, and we're working now to be able to scale to that level.
How does your brand give back?
Giving is a huge part of our brand and how I live. On a personal level, anytime I hear about someone recently diagnosed I make sure to send them products. As a business, we plan to give 10% of our profits to a charity. We haven't chosen which one yet. I would also like to build up the product education side of the business. I think it's a huge kindness to make people aware of the dangerous ingredients found in common deodorants, and the greatest contribution we can make as a brand is providing people with safer options.
For other entrepreneurs in your boat, what suggestion would you give them for how to pull through the tough times?
Work your numbers. Study your market. Get feedback and surround yourself with people you feel confident in.