Color Camp Is In Session For L.A.'s Most Instagrammable Manicures
Color Camp is the best kind of camp: it's for adults and involves manicures.
The new nail salon concept from Lauren Caruso is putting millennial trends – personalization, a healthy selfie obsession, transparency and La Croix, to be specific – into action to redefine the manicure experience from the mom-and-pop utilitarianism that's largely ruled nail services. In the heart of Los Angeles on Beverly Boulevard near bustling shopping center The Grove, Color Camp's location is the first of several planned initially for the local area before national expansion.
A former The Walt Disney Co. associate with Harvard University undergraduate and graduate degrees, Caruso has Disney-sized aspirations for her fledgling nail salon. "Ultimately, I want to be the go-to place for millennials to get their nails done," says the 30-year old. "In five years, it would be great to be like Drybar. They have 70 locations."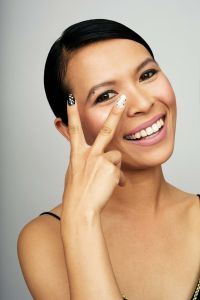 "I was lamenting that there wasn't a SoulCycle or Sweetgreen for nails," she says. "Millennials want a place that represents their style and is a manifestation of themselves. When you walk into a strip mall nail salon, it doesn't look like the rest of their lives."
In May 2016, Caruso quit her Disney job and set about implementing the nail salon she imagined. She had given it an early test at the designer and artist market Unique LA in December 2015 with a manicure menu she compared to Chipotle's menu that invited customers to pick their nail shape, color and nail art accent. Over the course of two days, 120 people received manicures. Winning a semi-finalist spot in Harvard Business School's New Venture Competition in March of last year further validated Caruso's idea.
The idea wasn't the hard part. Caruso singles out fundraising as the most difficult step in Color Camp's progression so far. She cobbled together $311,000 from 22 investors to pave the way for the salon's location. "What's popular right now is having a prototype, raising a little money – maybe $20,000 – selling some samples to prove your market and then raising more money. I thought, 'Should I do a truck or temporary retail?'" says Caruso. "At the end of the day, there is no experience in this [nail] space the same as having your own salon."
Developed with the agency Weekday Studio, and architect J. Byron-H, Color Camp's design emphasizes community offline and online. A blue, pink and orange wall at the back serves as a backdrop for selfies to share on social media. Manicures are performed in a bar-like setting with high stools and tables along one side and a stool-lined long bar counter along the other. Caruso explains the height of the stools, countertop and tables elevates "the position of the nail artist. Instead of having someone at your feet in a servant relationship, you are eye to eye and chatting." Color Camp serves La Croix at the bar.
"It's not about luxury and indulgence. It's about getting a really cool manicure in a really cool space," says Caruso. "Having a bar makes it an active experience, and it's a communal space. We are seeing a ton of people booking with friends."
Color Camp's services stick to manicures and don't include pedicures or waxing. Augmenting the Chipotle-esque menu originally at Unique LA, Color Camp offers polish, gel or super gel manicures for $20, $40 and $50, respectively, seasonal nail art options such as dried flower and seashell looks at $4 per nail or $30 for 10 nails, styles such as half moon or ombre nails at $3 per nail or $20 for 10, and accents such as foil, studs, gems and stripes at $2 per nail or $15 for 10. Color Camp uses the polish brand NCLA and gel specialist Bio Sculpture.
"The nail art menu is categorized for transparency, another millennial buzzword. We will win some [money] and lose some on it to make it easy for people to digest, and people don't feel like they are getting nickeled and dimed," says Caruso. She continues that Color Camp is also open about the ingredients in nail products. It tries to get polishes and gels that are five free or formulated without formaldehyde, toluene, DBP, formaldehyde resin, and camphor, but it could possibly introduce colors for nail art's sake that don't make five-free claims.
Caruso projects Color Camp will be operationally profitable in roughly six months. Her goal is to reach 35 appointments per day and generate a dollar per minute on services, which last 30 to 45 minutes, with manicurists engaged in doing them 85% of their time. Color Camp's location fits a dozen manicurists.
When it comes to multiplying Color Camp's salons, Caruso gravitates to the approach taken by Now Massage, a neighbor of Color Camp's on Beverly that has spread in around two years to four units across L.A. Venice, Silverlake, Los Feliz and Santa Monica are under consideration for future Color Camp locations. Broader geographic growth will follow. Caruso envisions placing Color Camp's services inside retailers as well.
"It could be cool to do a partnership with a department store that's struggling and doesn't need as much space anymore. Doing a shop-in-shop there is going to be much easier for us than for a brand that does pedicures and needs plumbing," she explains. "Like Drybar and SoulCycle, we do one thing and do that one thing very well."