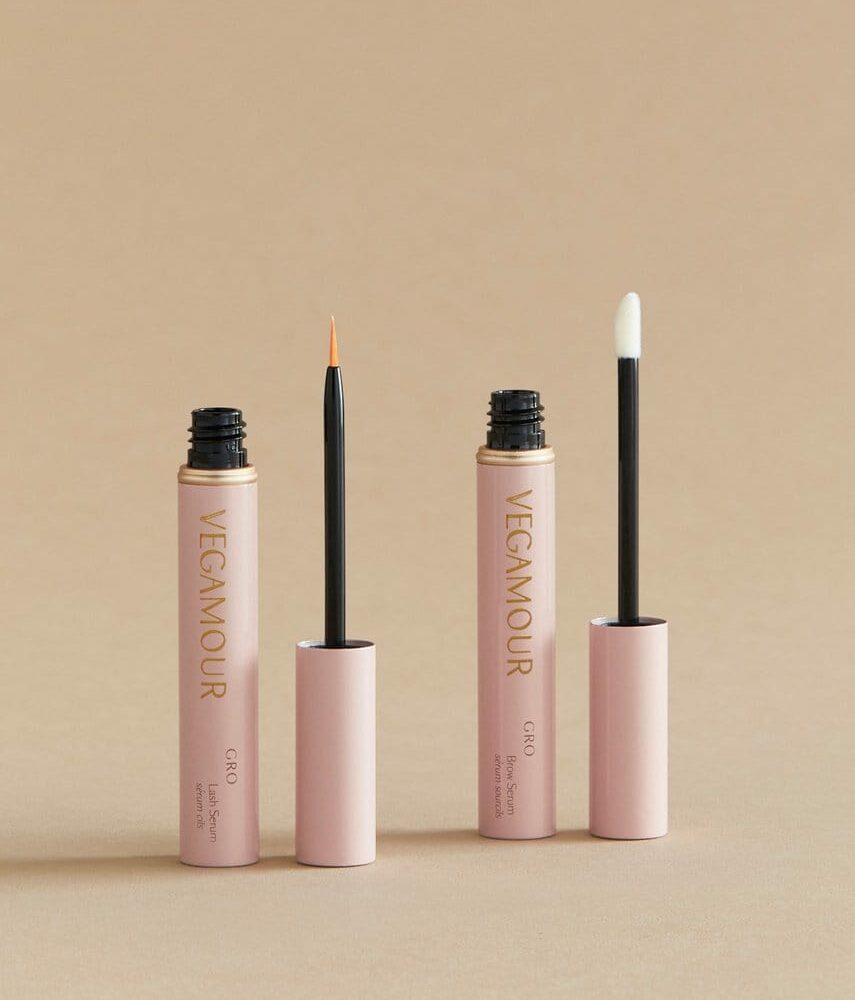 "Stay With What We Know": Founder Dan Hodgdon Shares Lessons From The Early Days Of Building Vegamour
While working with marula oil producer Southern Botanica, Dan Hodgdon realized active ingredients could be combined to effectively address common hair issues.
He thought, "What if we tried to put these things all together into a singular formula, rather than using a one-shot approach with six different products?" That thought led to the creation of Vegamour, which launched in 2016.
During the second part of Beauty Independent's three-part In Conversation Spotlight webinar series on Vegamour, Hodgdon recounted early strategies that laid the foundation for the brand's later accomplishments, from its straightforward shippable packaging to its decision to prioritize retention. Ahead, we spotlight four key learnings from Vegamour's nascent experience.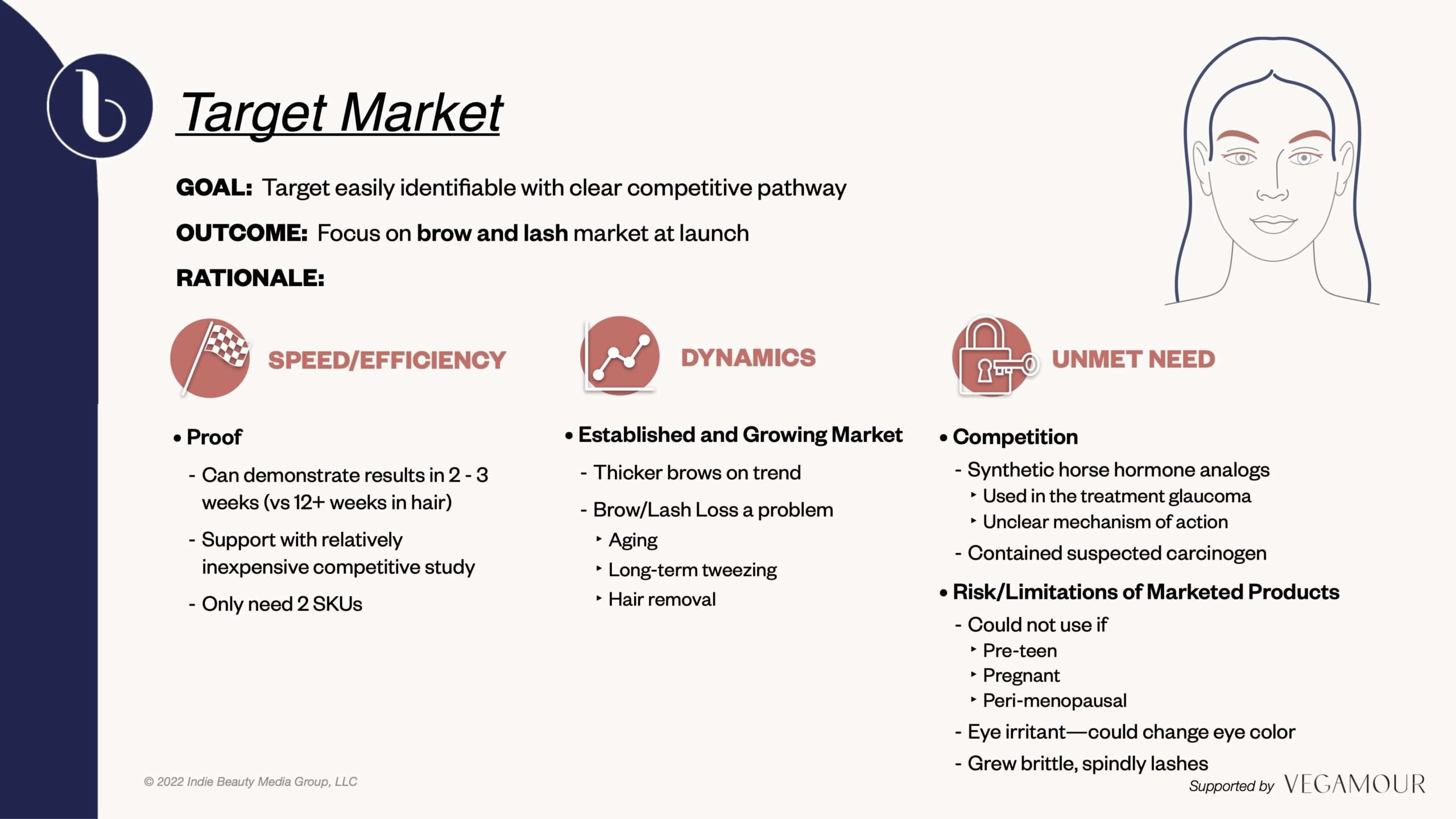 1. Target A Specific Segment
Vegamour is known today for haircare, but the brand began in the lash and brow segment. Hodgdon chose it because it was a fast and low-cost segment to break into. He explained, "The clinical studies for lash and brows were really cheap compared to the hair ones, which were far more expensive and elaborate to produce." Plus, lash and brow products show results in five to seven days and two to three weeks, respectively. Haircare, on the other hand, takes 60 to 90 days to produce results.
At the time, lash and brow products were booming. "In the late '90s, early '00s, we all over tweezed our eyebrows, and there was this whole movement, I think it was started by models like Cara Delevingne to bring the big brow look back," remembered Hodgdon. "People were doing lash extensions also, and they were very successful."
When Vegamour came to life in the lash and brow arena, Hodgdon was already looking past it. "We knew that hair was where we wanted to go, but that was a much larger market," he said. "So, we had to be able to earn people's trust. I thought that, if we could demonstrate what we can do with lashes and brows in a really short period of time, that would allow us to convince customers that we could actually have an impact on their hair as well."
Not every category extension will be a huge win. Hodgdon emphasized it's important to promptly recognize category extensions that stumble in order to shift course. Once Vegamour's hair products took off, it experimented with targeting men dealing with hair loss. The homepage was changed to include distinct men's and women's messaging, but the change led to the messaging being muddled.
"Trying to serve both and offer something unisex was not what we needed," said Hodgdon. "We needed to have one voice with one mission." He continued, "I see other founders trying to serve both, and it's really a hard thing to do. Our white space was clearly big enough, so let's stick with what we had two years of data around. Let's stay with what we know and be the best at it."
2. Start Simple 
Hodgdon is a big proponent of simplicity as a beauty company gets underway. On the branding front, a lot of Vegamour's competitors opted for a clinical-leaning aesthetic, but he wanted the brand's brow and lash products to appear to be what they are: beauty products. "We wanted something bright and beauty-oriented," he said. "It should make you feel beautiful when you touch it."
The idea of keeping it simple stretched to packaging. He went with a round tube to help prevent the product from being crushed in transit. The size of the tube enabled it to be sent to customers in just an envelope with a sticker. "I learned that shipping costs can basically wipe out your savings," says Hodgdon. "I wanted to keep it small. I wanted to think about the environment and didn't want a box inside a box inside a box…We could ship anywhere in the world for $2.30."
Hodgdon assessed competitors' prices to determine Vegamour's pricing. He landed roughly in the middle of the competitors' prices at $80. "I thought, 'We can always go up or down once we find out more information,'" said Hodgdon. "This allowed us to be flexible, and we could pivot easily."
Vegamour arrived on the market as Dollar Shave Club, Warby Parker and Bonobos were making waves in direct-to-consumer distribution. He was interested in following their DTC footprints, and he couldn't afford to support a wholesale partnership, which he estimated would require about $3 million.
"We crunched the numbers, and we didn't have access to necessary resources like a field team and co-op advertising," said Hodgdon. "You have to have deep pockets if you're starting from zero, no celebrity, no previous sales history." He added that he was confident a brand "didn't have to go through a wholesaler to be successful."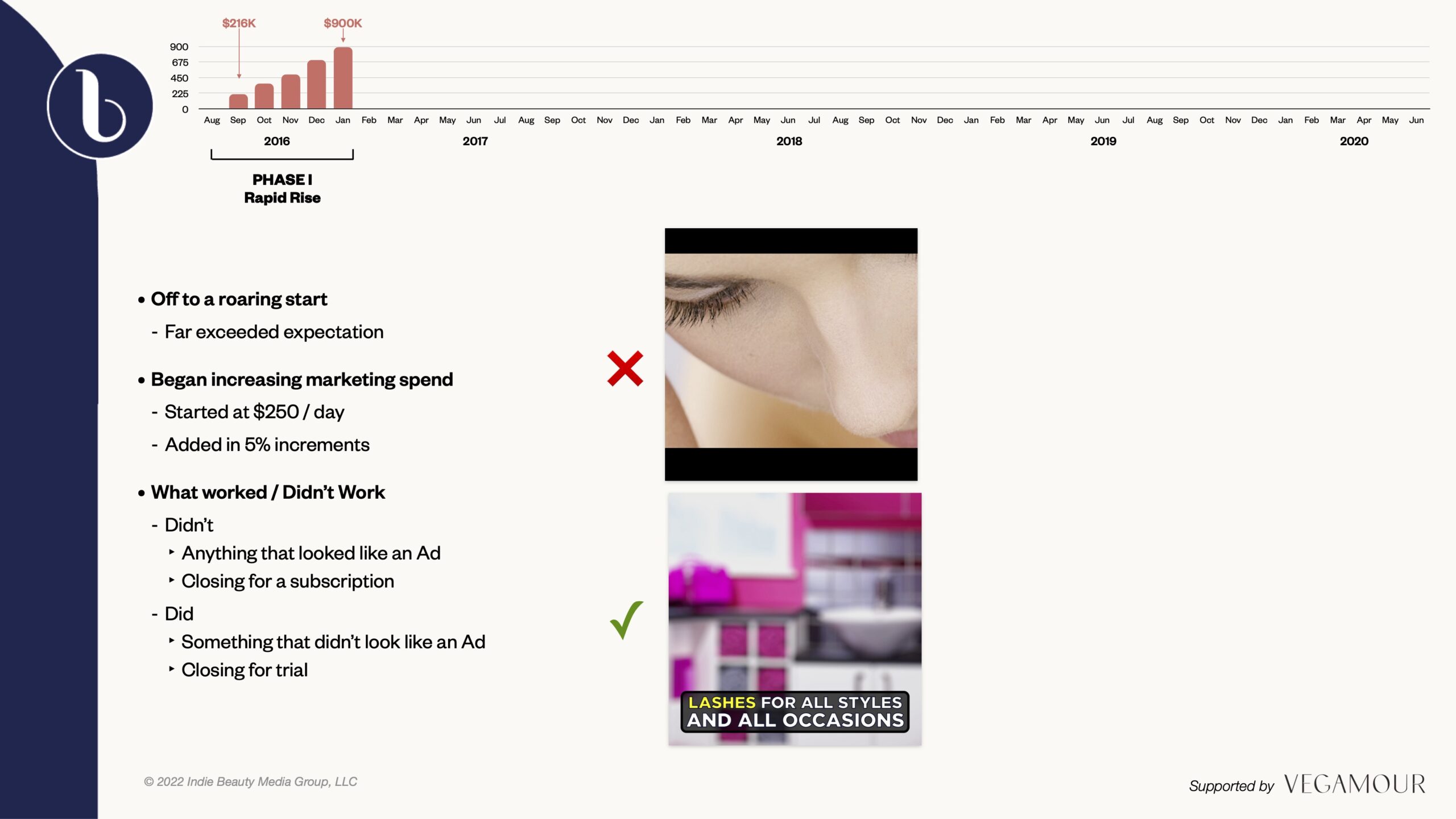 3. Create Scroll-Stopping Content
At its inception, Vegamour didn't have the money for traditional marketing or public relations. Instead, it turned to paid social, where Hodgdon believed he could reach consumers, with a caveat. "The typical model is a customer has to be exposed to your brand seven times before they even register it, and we didn't have the luxury of that many touches because each touch cost us money," he said. "Each time we serve an impression, we're paying a bill there."
To maximize Vegamour's investment in paid social, Hodgdon had to figure out how to get people to pay attention. One of the brand's first Facebook ads included an extreme—Hodgdon described it as "horrifying"—closeup of a set of lashes damaged by lash extensions. The ad prodded viewers of it to try a natural solution. He said, "I'm not proud of it now, but, back then, necessity was the mother of invention."
As Vegamour's business picked up, Hodgdon dedicated about $250 per day toward marketing. "One of the things we learned that didn't work were ads that looked like ads. If you're watching television and have DVR, what do we do? We fast forward through the ads if we're able to do that," he said. "And so, similarly, if you're scrolling through your social feeds, if you see something that's obviously an ad, you didn't come there to see that."
Ads that worked for Vegamour featured text and flashing images of women wearing various uniforms. They garnered attention. Hodgdon said, "People are like, 'What the hell is going on here?' And then they would click, and we would take them to a landing page, which was was far more elevated. It was far more informational about the science, and why you needed this, and what it could do for you."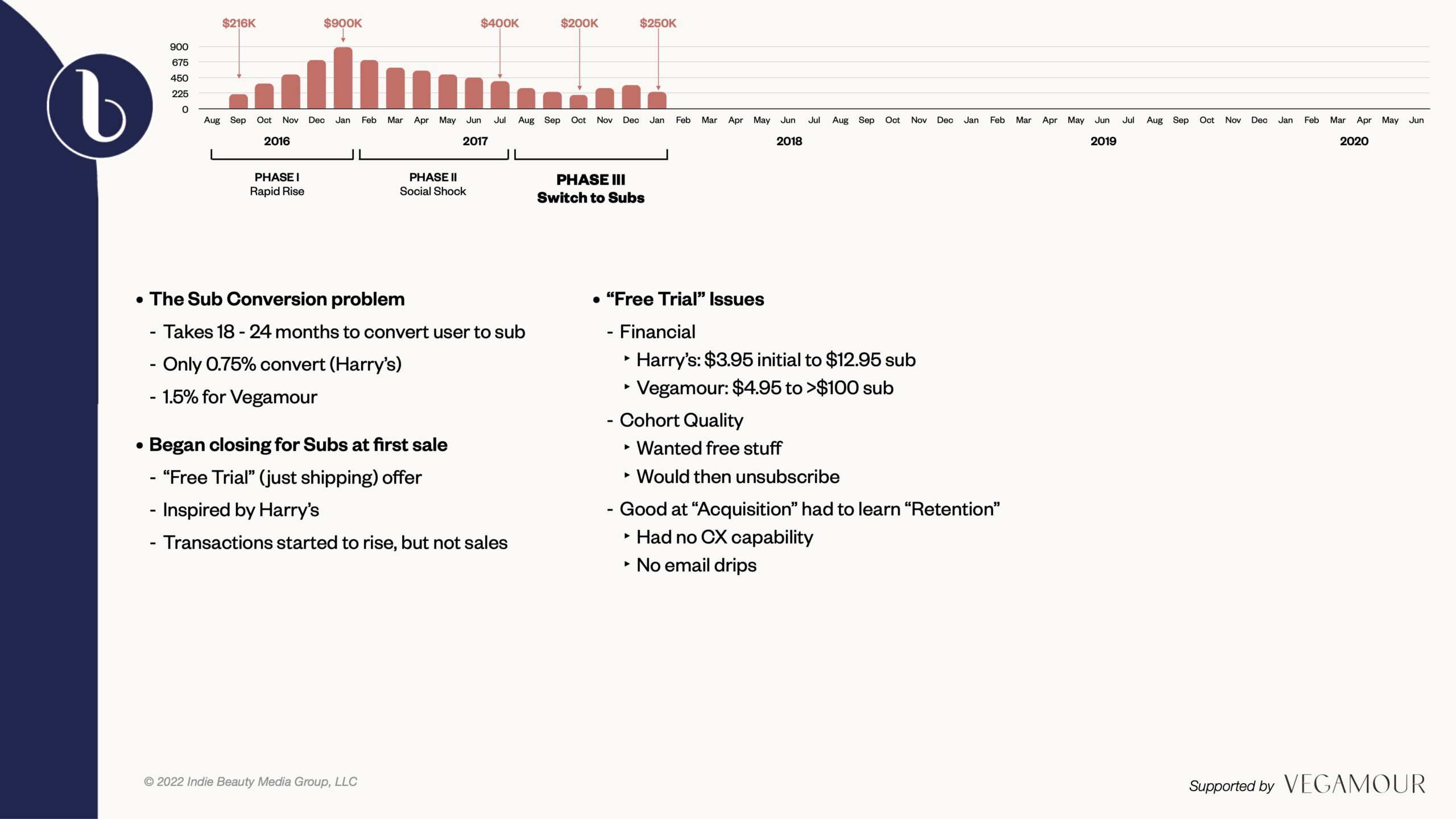 4. Prioritize Retention
A substantial portion of Vegamour's business relies on subscriptions. The subscription model wasn't easy to perfect. Hodgdon discovered it can take up to 24 months to convert a user into a subscriber. The brand provided free trials as an incentive. The move was good for drawing new customers and obtaining their data, but it didn't translate to sales.
Hodgdon decided to pivot Vegamour's efforts to customer retention and eliminate the free trial. The goal became to turn 30% of new customers into subscribers and retain 80% of subscribers after their first round of products. Initially, Hodgdon said, "We had tunnel vision for acquisition and completely lost sight of the fact that, oh, we got to take care of these people. The product itself is not going to take care of them. They're going to have questions, they're going to have concerns. There was no one there to serve them."
Hodgdon concluded the focus on education and retention was "the key to success and to get people to subscribe. It's going cost a little more for us to acquire that customer, but it was worth the investment."