Derm-Founded Brand Doctor Rogers Restore Becomes Doctor Rogers Skin Care, Unveils Elevated Redesign
In her early years as a dermatologist, Heather Rogers encountered patients with reactions to Aquaphor, a product containing lanolin, a fatty substance found in sheep's wool that's common in ointments and was named allergen of the year for 2023 by the American Academy of Dermatology Association.
Horrified, she developed a lanolin-free Aquaphor alternative in Healing Balm, a salve for burns cuts, scrapes, dryness and chapping, with three ingredients: castor seed oil, glycerin and castor wax. Proud of the simple formula, she housed it in functional black-and-white packaging that didn't overshadow it and thought the product would be a hit with fellow dermatologists concerned about effectiveness.
To introduce Healing Balm and her brand Doctor Rogers Restore to them, Rogers brought 5,000 samples to the American Society for Dermatologic Surgery's annual meeting in 2015. The response from dermatologists wasn't at all what she expected. She figures about five to 10 of them cared about it and hundreds either ignored or shunned it. They weren't interested in a product from another dermatologist or straying from Aquaphor. Rogers says, "I was so naïve and in my ivory tower that I didn't understand the push and pull of the market."
Rather than her medical peers, beauty retailers and press ended up embracing Rogers' concept of plant-based products scrutinized for safety, efficacy, allergen avoidance and environmental impact. In 2017, Doctor Rogers Restore entered Cos Bar, Dermstore and Violet Grey. In 2019, it landed at Credo.
In 2018, the brand sent 500,000 Healing Balm samples to FabFitFun for its summer boxes. Rogers reports Healing Balm had the highest repurchase rate and number of five-star reviews out of any of the subscription service's items back then. Doctor Rogers Restore products—it has seven now, including Face Wash, Face Cream, Face Lotion and Body Wash—have won awards from New Beauty, Cosmopolitan and Glamour. The brand has achieved a customer return rate in excess of 50% on its website.
The beauty crowds loved Doctor Rogers Restore's formulas. However, its functional black-and-white packaging didn't thrill them. "I'm about the outcome and it working, but, for people to try it the first time, it became clear that I needed people to pick it up and think, 'Oh, this is pretty, I want it,'" says Rogers. "I don't really cultivate that desire until they try it. I needed that superficial appeal for lack of a better term. I wanted the packaging to be as compelling as the result."
"I wanted the packaging to be as compelling as the result."
With a rebrand being unveiled today, the packaging is intended to be as compelling as the result. Doctor Rogers Restore is becoming Doctor Rogers Skin Care, and it's ditching blocky black-and-white design for a subtle elegant look that differentiates products in the brand's Essentials collection from products in its Healing and soon-to-launch Advance collections. The former is encased in white containers, the latter in gray and green, respectively. Doctor Rogers teamed up with Forner, an agency that counts Wildling, Apothékary and EllaOla on its client roster, for the rebrand, and the self-funded brand poured $100,000 into it.
"One of the things I did wrong with my previous branding is it was hard for people to know which product they were grabbing. The Healing Balm jar and the Face Cream jar were similar. I wanted to create more diversity so it was easier for people to know what they were buying and using," says Rogers. "And what I want to do is educate people that the Essentials collection is for use every day, the Healing collection is for when your skin is in time of need, and the Advanced collection you only use when your skin is healthy."
Doctor Rogers has generated $1.5 million in annual sales, according to Rogers. After selling 1,000 Healing Balm units in its first year, some 1.5 million of them have been snapped up in the years since. But Rogers, who sees 100-plus patients per week in the Modern Dermatology office in Seattle, Wash., has much grander ambitions for Doctor Rogers and aims for it to garner $10 million in sales in three years. A major goal of the rebrand is to widen its consumer and retailer reach to help get it there.
"To continue to make a skincare company and to have it take me away from my primary love, which is practicing medicine, it needs to become a larger scale thing," says Rogers. "I need to no longer be a niche brand that people love because the way I'm choosing to do this is incredibly expensive. My ingredients are expensive. I'm unwilling to cut corners and the only way to make it sustainable is to have larger sales and larger runs, and I want to see if that's possible."
Currently, Amazon accounts for 40% of Doctor Rogers' sales, its site accounts for 40%, and retail accounts for 20%. In the remaining months of the year following the rebrand reveal, Rogers believes her brand can double its sales on Amazon and its site. Going forward, she plans to secure further prominent retail partners.
"What I need to do for retail is become a more recognized brand," she says. "People need to go in and say, 'I want Doctor Rogers.' When that happens, it will be easier for us to convert larger retailers into carrying us. I don't want to be in retail and not have people in there knowing us. I don't want to take away shelf space and from their bottom line."
"I'm unwilling to cut corners and the only way to make it sustainable is to have larger sales and larger runs, and I want to see if that's possible."
Part of Doctor Rogers' bid to grow its retail footprint is to offer products buzzy for stores, but in a manner appropriate for the brand's ethos. On Sept. 20, it will showcase its efforts to do just that with the release of two products: Day Preventative Treatment and Night Repair Treatment. Kicking off Doctor Rogers' Advance collection, they're priced at $118 and $98 for a 1-oz. size. Minus the treatment products, the brand's prices go from $10 to $78. A sunscreen is slated for next year.
Rogers explains Day Preventative Treatment's formula is 10% tetrahexyldecyl ascorbate, a form of vitamin C, and it's suitable for sensitive skin. "As we age, our skin gets more and more sensitive, and yet we are the ones that need these treatments. We are visualizing the signs of gaining, and we are motivated to do something about them, but a lot of people can't tolerate vitamin C," she says. "It can be a really problematic treatment, so I wanted to create a treatment that was incredibly powerful, but it needed to be with a combination of ingredients that are going to be supportive to the skin. The base is squalane and glycerin."
Night Repair Treatment's star ingredient is bakuchiol, an ingredient frequently compared to retinol. "Bakuchiol alone works slower than retinol, so I added alpha hydroxy acid. That helps with the redness and flakiness that you get from retinol and tretinoin," says Rogers. "How do I give people something that works without moving them backward with irritation?"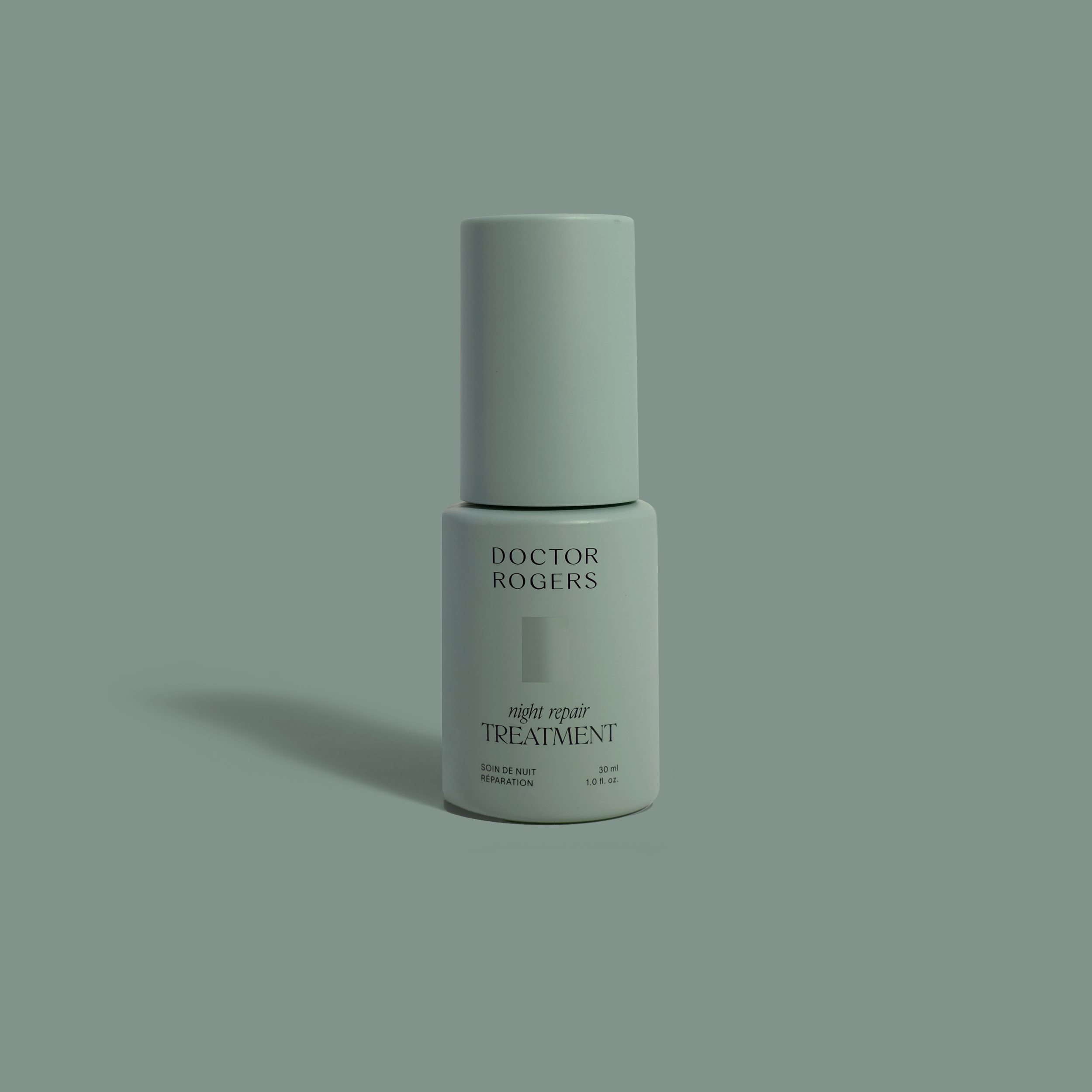 During a period of TikTok ascendancy characterized by dermatologists becoming recognizable quantities and nailing down sponsorships, Rogers takes a circumspect approach to social media. "All of my posts are unsponsored. I don't know anyone else who does that. My friends say that I am dumb," says Rogers. "I don't want to be compensated. I want to be as candid and honest as I can be. The confusion with what to put on our skin comes from the fact that people you trust are telling you you have to use things like witch hazel and you don't. There's the monetary conversation that's happening, which is being mixed into how you take care of your skin."
Rogers is hopeful her social media candor and the tweaks she's making to her brand will pay off for it in the years ahead. She says, "I would love to be known as a trusted brand, where the consumer doesn't have to question whether or not it's going to be a good product. They are like, 'Oh, Doctor Rogers made it, it's going to be great.'"