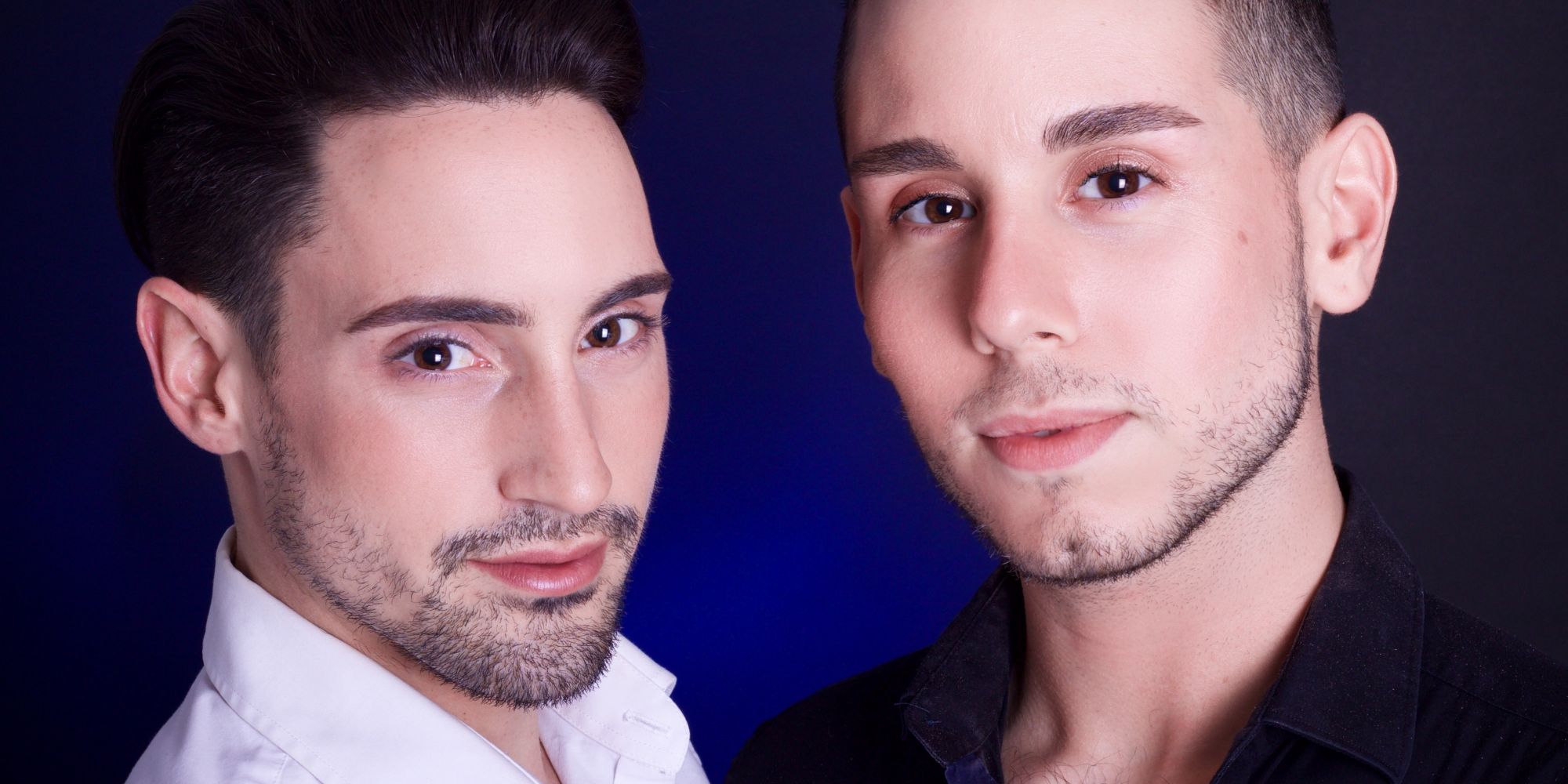 The Duo Behind Elysian Cosmetics Wants To Create Beatific Beauty Products For Boys And Girls
Michael Putman and David Rodrigues are makeup artists on a mission. They launched Elysian Cosmetics in 2016 to bring next generation cosmetics to their clients — and themselves. "The Elysian client is a working professional who doesn't have the time to jump from product to product trying different things that could potentially irritate them and break them out," says Rodrigues. "[He or she is] looking for something that they can trust, that's not only not going to irritate them, but is also going to better their skin in the long run." Beauty Independent spoke to Putman and Rodrigues about their first product, Delorean Age-Suspending Treatment Primer, why Cos Bar is one of their dream retailers and what makeup heaven looks like on earth.
What prompted you to create Elysian Cosmetics?
Rodrigues: Elysian means divinely inspired. What we are trying to create is our version of makeup heaven. We are both makeup artists and work in the service industry — in retail stores — and we get to interact with a lot of clientele. There was constantly this need for a product that would give an immediate, quick fix to skin issues like texture, fine lines, wrinkles and dryness, but was something that not only did something immediate, but also provided long-term treatment. That was the light bulb for us. There's not a luxury cosmetic brand out there right now that infuses clinical levels of skincare into their makeup products, so that your makeup isn't just covering imperfections, it's actually actively working to treat those imperfections at the same time. That was the entire premise for building Elysian.
Putman: There was a lot of need, as well, to create something different in the clean beauty industry that wasn't just all natural. After working on all these different types of clients and having sensitive skin ourselves, we realized that all skin is sensitive skin, and should be treated as such. There are a lot of ingredients that are found in natural skincare products that are just as irritating as chemicals.
Rodrigues: I was dealing with a lot of clients who would run through their whole beauty experience from all luxury heritage brands and, then, completely throw everything away and start from scratch with all natural products, but they weren't seeing a positive difference in their skin. They would say, "I don't understand. I thought that as soon as I switched to all natural my skin would get better." A lot of people are allergic to essential oils. What you find is t companies marketing these products that are organic or all natural, they aren't really targeting the products to people with sensitive skin. The general public is not educated to the point where they are able to differentiate, "Well, Lavender oil is bad for me to put on my skin because I have sensitive skin." We wanted to create a brand that married science and nature in the safest way possible by using ingredients that are completely non-irritating.
Who is the Elysian Cosmetics client?
Rodrigues: Working professionals, men and women, ages 24 to 46. This is something that Michael and I dug deep into, and we came up with four different personas. The enthusiast is completely product-driven, a product junkie, loves everything about makeup, beauty and skincare, is very ingredient-conscious, is somebody who, as soon as they pick up a bottle or a package in Sephora, they immediately turn it over to see the ingredients and what the product is offering. They go beyond the claims of what's marketed on the bottle. The sophisticate is someone who's looking for really beautiful, luxurious quality products to add to her beauty routine. She's starting to become a little bit more ingredient-conscious. The modernist is someone who's always looking for the new technology and trends within the beauty landscape. This is our male clientele who are modern-minded and not afraid to use some corrective products to enhance their features. Lastly, there's the rationalist. She's over everything in the beauty industry because she's tried everything, and she's jaded. She needs to try something out with a sample first, but she's really, really on the lookout for something that works.
Did you both put prototypes of Delorean in your kits to test it as you were developing it?
Putman: Absolutely, every step of the way. Every time we got a new batch of it, we'd be passing out samples to friends in the industry to get feedback on it.
Rodrigues: We'd use it ourselves. We'd use it on our clients and tweak it off of the feedback we received, while still remaining true to what we wanted to create in the long run. That's something that differentiates us as a company in general. We really started on the consumer level, working within stores and hearing from the client themselves. We really didn't need to do any market research or online surveys. We kept hearing that clients are looking for something like this. It wasn't just clients. Michael and I are selfish in the fact that we very much wanted something like this as well.
What other products do you want to launch?
Putman: It is our hope that we will be the complexion authority in the luxury cosmetic space, so we are focused on more complexion products to come. We're working on foundations and powders and other fun stuff but we're still working on our timeline so we're going to give that away yet.
Rodrigues: For us, it's not about shoveling out products as fast as we can, it's about creating core products that men and women are going to fall in love with, be dedicated to and become lifelong customers to and, if it takes us a year-and-a-half to come out with our next product, then that's what it takes for us to come out with quality products that we feel are going to change the way people view makeup.
What are your dream retail doors for Elysian?
Putman: We've always agreed that we would someday like to be in Barneys and Bergdorf, but I think that Cos Bar is one that really resonates with us. It's a very modern space, a more intimate shopping experience and very elevated with a luxury selection.
Rodrigues: We're clients of these places. We want to go into the places where we like to shop because we already know what the environment and atmosphere are in there. Right now, we are focused on opening in more smaller brick-and-mortars and boutique apothecaries to start to build a name.
Putman: We also want to keep some exclusivity to the product. We want it to be able to drive traffic to a specific destination. We don't want it to be able to be found anywhere.
Rodrigues: Also, taking on a gigantic retailer like a Nordstrom or a Barneys would be a huge undertaking for a small brand like us.
Putman: It's just David and I running the show at this point. We don't have a team of people that we've hired.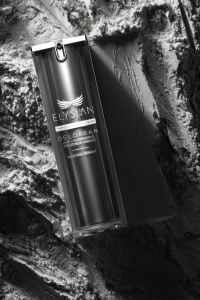 Pretend I'm a retailer. Give me your elevator pitch.
Rodrigues: Elysian Cosmetics is a next generation luxury brand that is bridging the gap between high-performance skincare and makeup.
Do you have mentors?
Rodrigues: Really, we rely on collaborating with each other. Everything you see from our brand is created by us. We bounce a lot of ideas off each other. The first time that we created any type of marketing imagery for the launch of Delorean was quite an expensive process, though it was also a really enjoyable one. We got to go out to L.A. to shoot with one of the most talented photographers in the industry, Julia Kuzmenko, who shoots for Urban Decay, Anastasia, Hourglass Cosmetics. We were really just an idea and a lab sample at the time. We reached out to her on Instagram to tell her we'd love to work with her, and she got back to us. She loved the idea of what this brand stands for and what we're trying to create. She worked out a deal for us to be able to afford to work with her. That was really kind of her. It was still an expensive process, though, and something we knew we wouldn't be able to do often. So, with the little bit of marketing budget that we had, we bought a ton of photography equipment from lighting to cameras to lenses. On our Instagram, across our social media, in our emails, the marketing was done by us. We did most of the photography, the retouching, the editing, and we're not photographers.
Putman: Or graphic designers.
Rodrigues: These are all things we're learning ourselves. Even the packaging was designed by us. We will create something and share it with people to get feedback on what we created and take that feedback into consideration, but, when it comes to conceptualizing, it's really between Michael and me.
Putman: There are brands that will work with a lab, and the lab will send them different products and they can pick which products they want for their line and they can just put their label on it. David and I really share a vision. Even before we hired a chemist, we already had our full line conceptualized.
Rodrigues: Down to the formulation. Before we hired a chemist to formulate Delorean for us, we did all the research ourselves as to what active ingredients we wanted to have in it, what base we wanted to use and what ingredients we absolutely did not want in it. 
How much did it take you to launch Elysian?
Putman: $100,000.
Amazon, yes or no?
Putman: We never say never.
Rodrigues: It's circumstantial. There's a lot of pressure from retailers to not go the Amazon route, at least that's been our experience. If you want to get into this store or that store, don't plan on going onto Amazon. But, like Michael said, never say never. It's something that we'll always keep open as an option.
Do you plan to bring in outside investment?
Putman: It has to be with the right partner. We are speaking to a couple of potential investors who have shown interest in our company. It always comes down to who's going to be the right fit. We're really looking for someone who not trying to funnel in money and see the return as soon as possible. We're really looking for a partner. Michael and I are extremely creatively driven, and we're learning the business ropes. I think it would help to have someone who's extremely business savvy in the mix as well.
Have you hit a roadblock on the way to launching Delorean?
Putman: The specific packaging we wanted wasn't available. We had to wait three months for them to be able to make more of that specific bottle, and it pushed back our launch.
Rodrigues: We made the mistake of thinking too far ahead, thinking we had an actual date that we were going to launch. We know now, for these upcoming launch cycles, don't announce anything. Don't say anything to anybody until you have the product in hand, and you know exactly when you're able to launch.
What are some other beauty brands you both love?
Rodrigues: I'm a big fan of Drunk Elephant. I love [founder] Tiffany [Masterson's] stance when it comes to formulations. I think that's something that we very much have a common interest in. She wants to create skincare that combines great synthetic ingredients and natural ingredients, but she wants to make sure that it doesn't have any ingredients that are irritating. Another brand that I think is great is The Ordinary. It's on the other side of the spectrum. You have Drunk Elephant that's $80, then you have The Ordinary that's $6 for a serum. I think the marketing for both brands is impeccable. 
Putman: We love makeup, but there is nothing out there that is satisfying. Everything either has essential oils or talc or fragrance. Or there may be a product out there that has great ingredients, but the formula doesn't wear well or it looks textured on the skin.
Rodrigues: There's just nothing out there that's exactly what we want, otherwise we wouldn't be making what we're making.
What are some beauty trends you're excited about?
Putman: I think the wider shade range is a very, very exciting trend that we're starting to see, and it's something that we've wanted since the conception of our brand — and availability to everybody. If this is makeup heaven, then it needs to be inclusive no matter what your age, gender or lifestyle. That's one of the reasons why we're a vegan and cruelty-free brand. We want to be welcoming to everybody, and we're trying to create products that work for everybody.