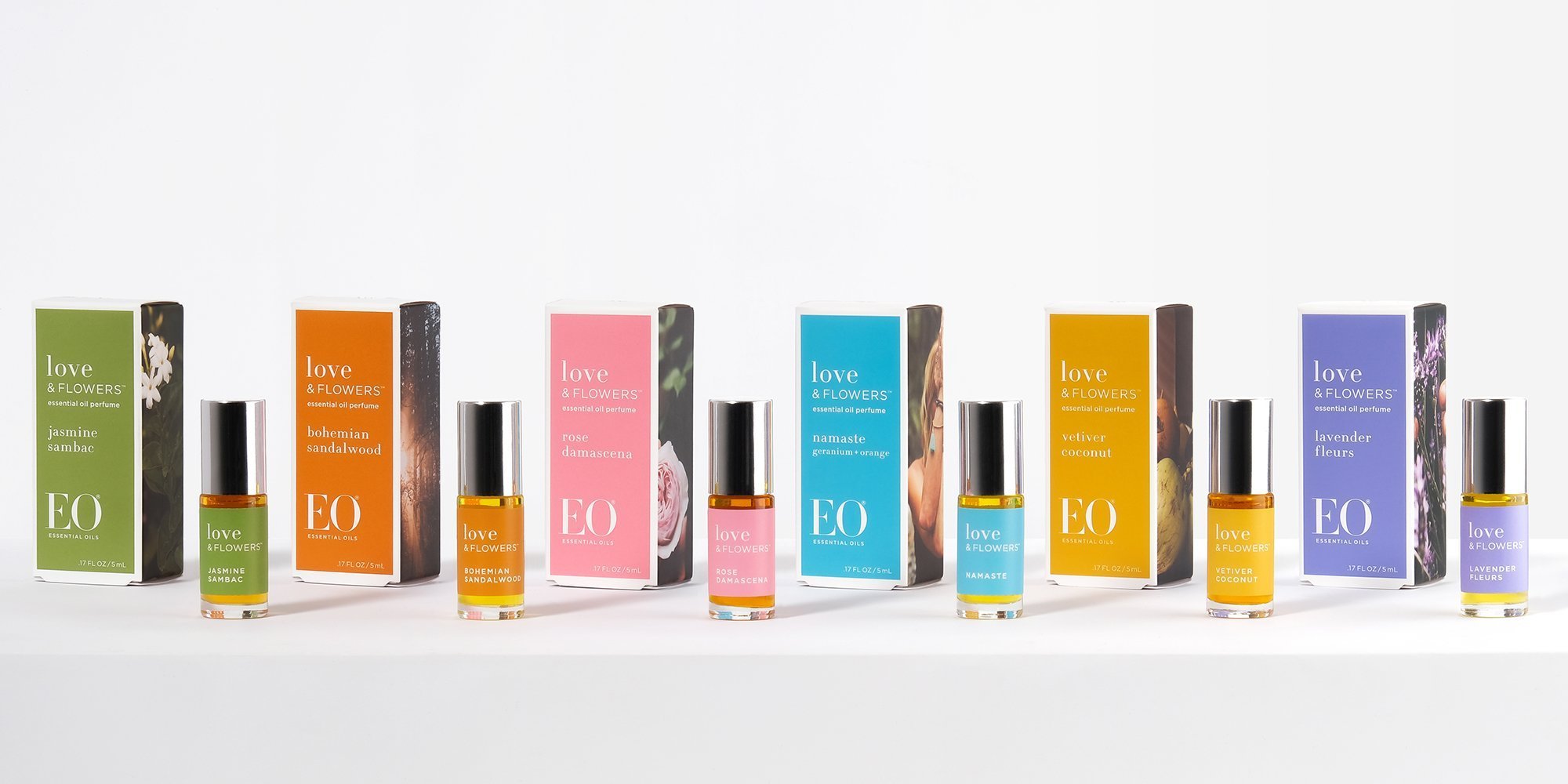 How EO Products Became An Organic Body Care Powerhouse Expected To Reach Nearly $70M In Sales This Year
Nearly a quarter century ago, EO Products co-founders, co-CEOs and former married couple Susan Griffin-Black and Brad Black had no clue the essential oil blends they were hand-pouring and hand-labeling in their garage would become an organic body care powerhouse surpassing $55 million in sales. This year, the company, which sells merchandise to Walmart, Target, Whole Foods, Kroger, Safeway and many more retailers under its EO Products and Everyone lines, is on pace to hit almost $70 million in revenue. Instead of a garage, EO Products today blends and bottles its products in a 45,000-square-foot zero-waste factory in affluent Marin County just outside of San Francisco. It also researches, develops, markets and ships from there in a facility that used to be home to George Lucas's film studio. Griffin-Black reveals EO Products has taken less than $1.3 million from friends and family over the years, and hasn't received a cent of external funding since 2008. Beauty Independent talked to her about EO Products' big order from Birkenstock, maxing out credit cards, the perils of major retailers picking up indie beauty brands, and why she believes private equity isn't beneficial for natural product companies. 
How did EO Products come to be?
We were working in fashion/retail in San Francisco, making oil blends for our friends and family when Bloomingdale's asked us to create 360 sets of four custom oil blends for their holiday catalog. We had to think of a name—and quick. I remember sitting next to my friend who was a designer at Apple and going through typefaces. It was a teeny little label because it was teeny little bottle, so we just put the letters EO, [which] stands for essential oils, and made it very clean and simple.
We worked out of my garage and kitchen and, then, moved to the American Industrial Building, which was occupied by various small designers, businesses and photographers. The rent was decent, the neighborhood was, you know, a little dicey, but it was great for us. And we were there until we moved to a funky little space in Marin in 1997. It was the red-light district of Marin. They had busted a massage parlor there.
We had about four to five employees at that time, and we made everything there. Coincidentally, but not really, right behind us was a very rundown cosmetic manufacturer that was only doing private labels. The space was about 15,000 square feet, and they had these huge tanks, which were like a thousand-gallon tanks. We used to beg the woman who owned it to make products for us, but she required huge minimums, so it never happened. But we kept in touch with her and, finally in 1999, she sold us the business. We probably had 50 SKUs at that point, and we had already started doing business with Whole Foods.
She taught us so much. Her former husband was a chemist, so she always had a chemist and compounding people on staff. She taught us how to scale right and, of course, we hired a chemist at that point. Prior to that, we had made things that were easy to make: essential oil blends, bath and body oils using a little heating plate to hand-pour lip balms. We couldn't really make lotions or anything foaming unless we subcontracted it out, which was prohibitive in terms of quantity, plus no one wanted to make products the way we wanted to make them. Essential oils are finicky. They're the damn boss. So, everything made around them had to be integrated into their sort of unique nature.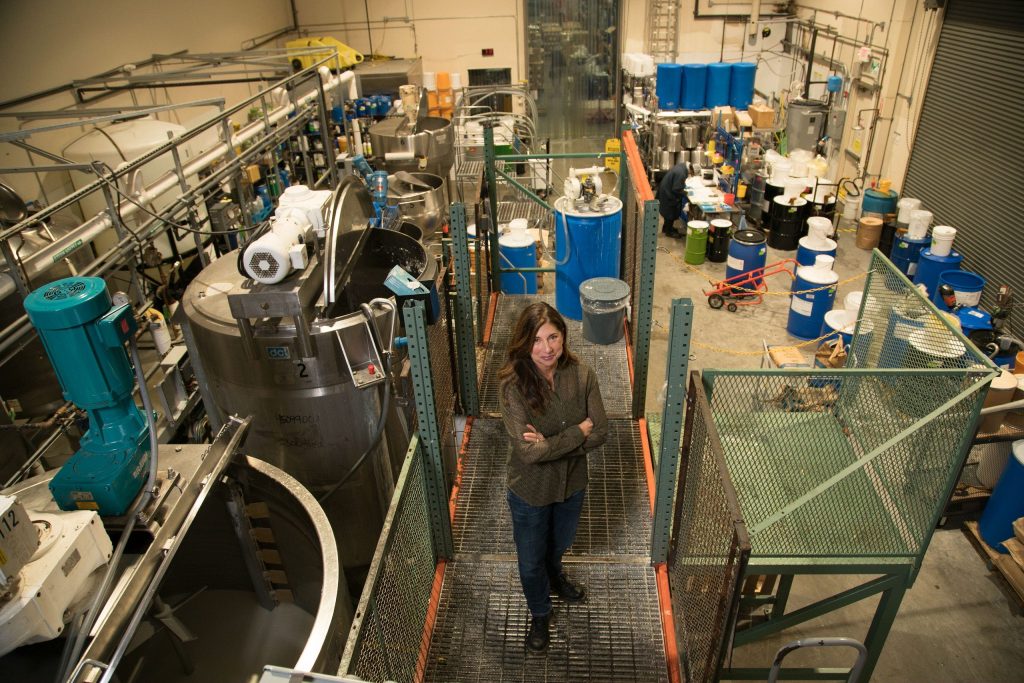 The subcontractors weren't willing to respect the essential oils' temperamental nature?
It was more than that. They were like, "OK, so we use parabens as preservatives and sodium lauryl sulfate for foaming products." We said, "Absolutely not. We're never going to make a foaming product with sodium lauryl sulfate." Now, this was before the Darbre Study ["Concentrations of Parabens in Human Breast Tumors" in 2004], so parabens were thought of as OK, but we had no interest in including them in our formulations. We also realized that, unless we supplied the essential oils, they would never produce the level of quality we wanted. So, then, we decided to do all the manufacturing in-house, but we had another problem. We had a lot of equipment running, so we had to keep the lines busy. Sales had to keep up with manufacturing, which we didn't really realize was going to be such an issue, but it was. If you wanted to keep that equipment running, making big batches faster, that means your sales had to go up. We financed it with an SBA loan.
Did you take any other funding along the way?
We raised money twice: First, a little startup money like $130,000 in '95 and, then, about $1.2 million more over the years from friends, family and private angel investors who all still have their money in. The last money we took was in 2008. So, it's been all about bank financing and that seed money. We haven't taken any other capital.
I'm sure you've gotten plenty of phone calls from private equity and venture capitalists.
Yes, but VCs weren't for us, and we never really liked the private equity model. For the brands I saw, especially in the natural products business that went that route, the outcome was never good. This idea of bringing in "experts" so they can help you grow, the model is just broken. It's not patient. If it's a five-year fund or a 10-year fund. You've got to do X, Y, Z in a certain amount of time for them to get the return, and it's very patriarchal and based on greed. Of course, we could be ready for private equity now because we actually did $55 million last year, and we're headed to almost $70 million this year.
We would know what to do with the capital now, but, if we had taken it years ago, we just would have made very expensive mistakes along the way. This really gave us the wherewithal and the discipline to do it our way because Brad and I still have control, and we don't have a board. And we got to learn how to do it our way with a group of people who were curious and passionate and also wanted to learn. So, it sort of has its own rhythm and culture.
What do you think of the explosive growth of natural products?
The beauty of making your own products and formulating your own products is you actually get to know the supply chain. You get to know what every ingredient is. You get to test every up-and-coming ingredient, and you get to have creative license to curate, edit and make things. I actually think that making things is really so healthy for everyone. I think that manufacturing in this country is sort of like a restorative gesture. I think people coming together to make the sort of products that promotes wellness for their families is a beautiful thing. It's a beautiful way to make a living.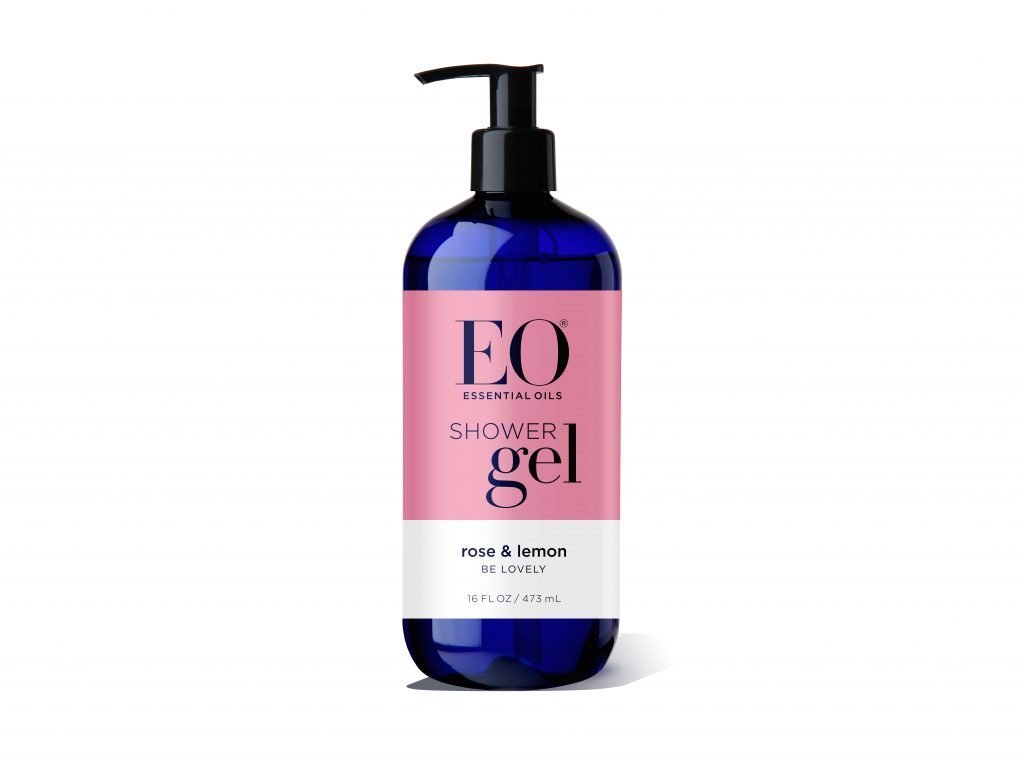 Do you remember the first big order that you had to scramble to get done?
The first big order we got like that was $32,000, and it was for a foot care kit for Birkenstock that was a gift with purchase. It had a little bottle of foot essential oil that was lavender and peppermint mixed with almond oil and a little tin of bath salts in a cute package with a sticker. They ordered 10,000, and we had a month to make them. This is when we first started out in '95. Brad still had his clothing company that he was just winding down, and he came down to assess the situation because I was like, "How are we going to pour 10,000 bottles, and make salts and fill them?" He was like, "OK, we have to figure out a way to gravity feed for filling. Then, we need a cement mixer for the salts like a mini cement mixer and, then, if we can get some sort of filling machine…" So, that really that was our first foray into how to not do this by hand. We just went from that to simple filling machines, which I think we're $15,000. Everything else was manual. Then, eventually, we got a label machine because those labels were really hard to put on straight.
Was there any point where you questioned the decision to manufacture in-house?
Yeah, every point. It's very hard in California: workers comp, the rent is high, etc. [There's the] investment that you have to make to keep growing and, then, that pressure on sales and making those sort of managed growth decisions that actually make sense for company and people.
You obviously took funding at very strategic points.
Purchase order financing is really expensive and people think, "Oh, I can't pay that much interest," but you actually can because you have to stay in business. I maxed out my credit cards. I always took a credit card anyone would give me no matter what the interest rate was. Every loan and unsecured loan I could possibly apply for I did. I was always pretty good at cash flow and understanding that, if they would pay upfront, we would give them a discount because that's really the way you stay in business. Profitability could come later as long as you're not losing a ton because, then, you need more cash. To me, breakeven was kind of great, and anything, of course, on the positive side because then cash was intact, and you just needed the cash to grow.
For all of the smaller manufacturers who want to keep going, cash flow is queen and stay away from retailers like Barneys. Barneys was always horrible to do business with from the get-go. They just didn't like paying. You know retailers like Barneys, they want all these indie brands, but they don't want to teach anyone how to sell it. The way they support these indie brands is to have better cash terms so these brands can stay in business, but they don't really make allowances for that.
When did EO become profitable?
We've been pretty good for the last six or seven years. We've had to go to four-day workweeks quite a few times in our history if the sales weren't there. We did four-day workweeks so we didn't have to lay anyone off. Also, the senior team took a 20% pay cut for six months, and we paid it back. So, we've done really sort of creative things.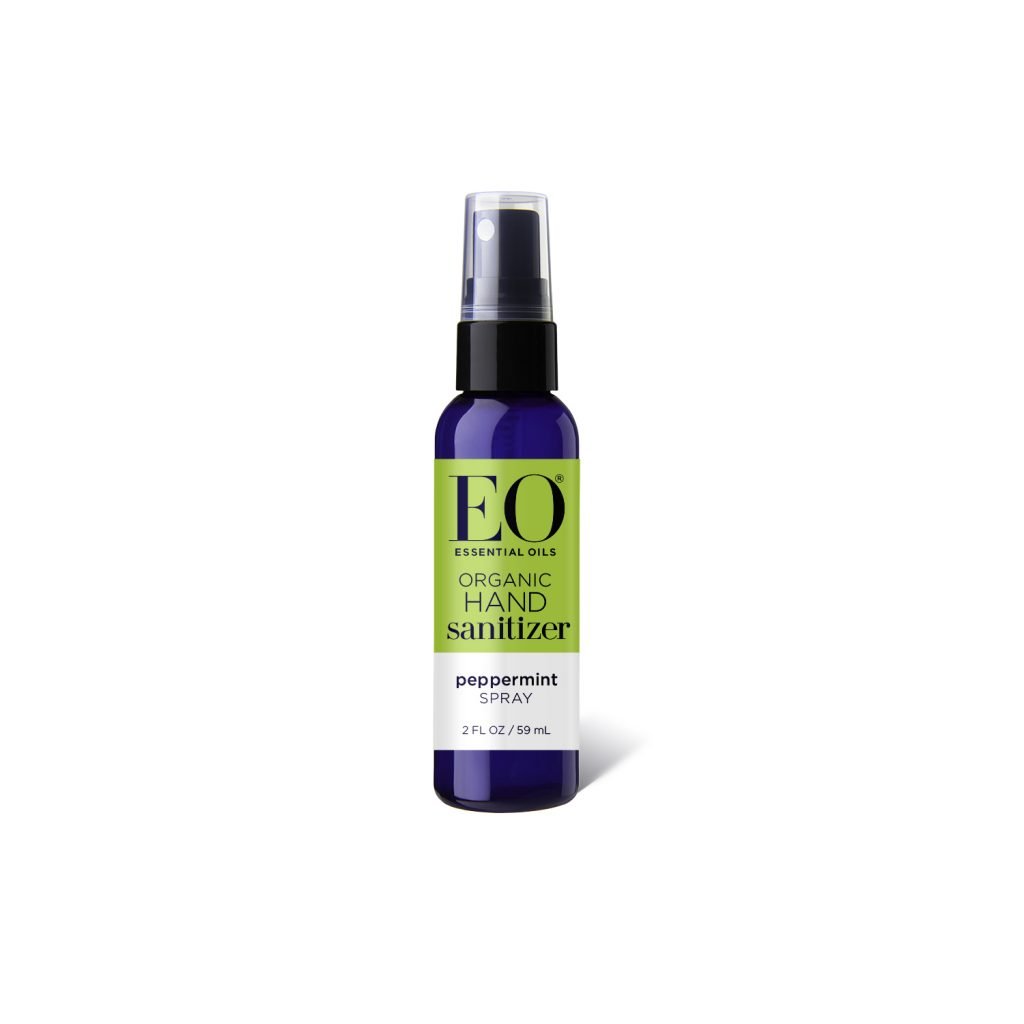 When did you start selling on Amazon?
About five years ago. We've done really well on Amazon. We work with a broker who used to work at Amazon. I strongly recommend sales brokers for all the big accounts: Walmart, Target, Walgreens, Amazon, etc. [Brokers] are highly specialized in their knowledge of that business. They're the liaison. They really know all the nuances and structural obligations. If you have a good sales broker, they make sure that you don't have to buy back inventory and the like.
They have the relationship [with the retailer] and, then, you enter into the relationship via the broker, so the broker already has the relationship and a fair amount of credibility. They also know how the retailer works, all the ins and outs. It's a little bit easier I think than having a direct relationship because buyers change. So, if you have a great relationship with this buyer who loves you, but leaves that department, the broker can manage all of those transitions.
What advice would give a new indie brand in terms of compromising their vision for retail distribution?
That's a really good question. Starting out, no one liked our name. They liked the blue bottle, but they didn't like that the label didn't say natural, that it didn't have a leaf or a plant. It was just typeface. It was very minimal. No one liked that.
Did retailers ever say, "I'm not going to carry you unless you make these changes?"
Yeah, but we didn't change for them. Now, it's a different world. [Everyone has] consumer insight, but I think it's just consumer insight and data, and you really want to talk to that customer. You really want to hear what they have to say, but you still have a brand, and you still started for some reason with your own creative energy, vision and purpose.