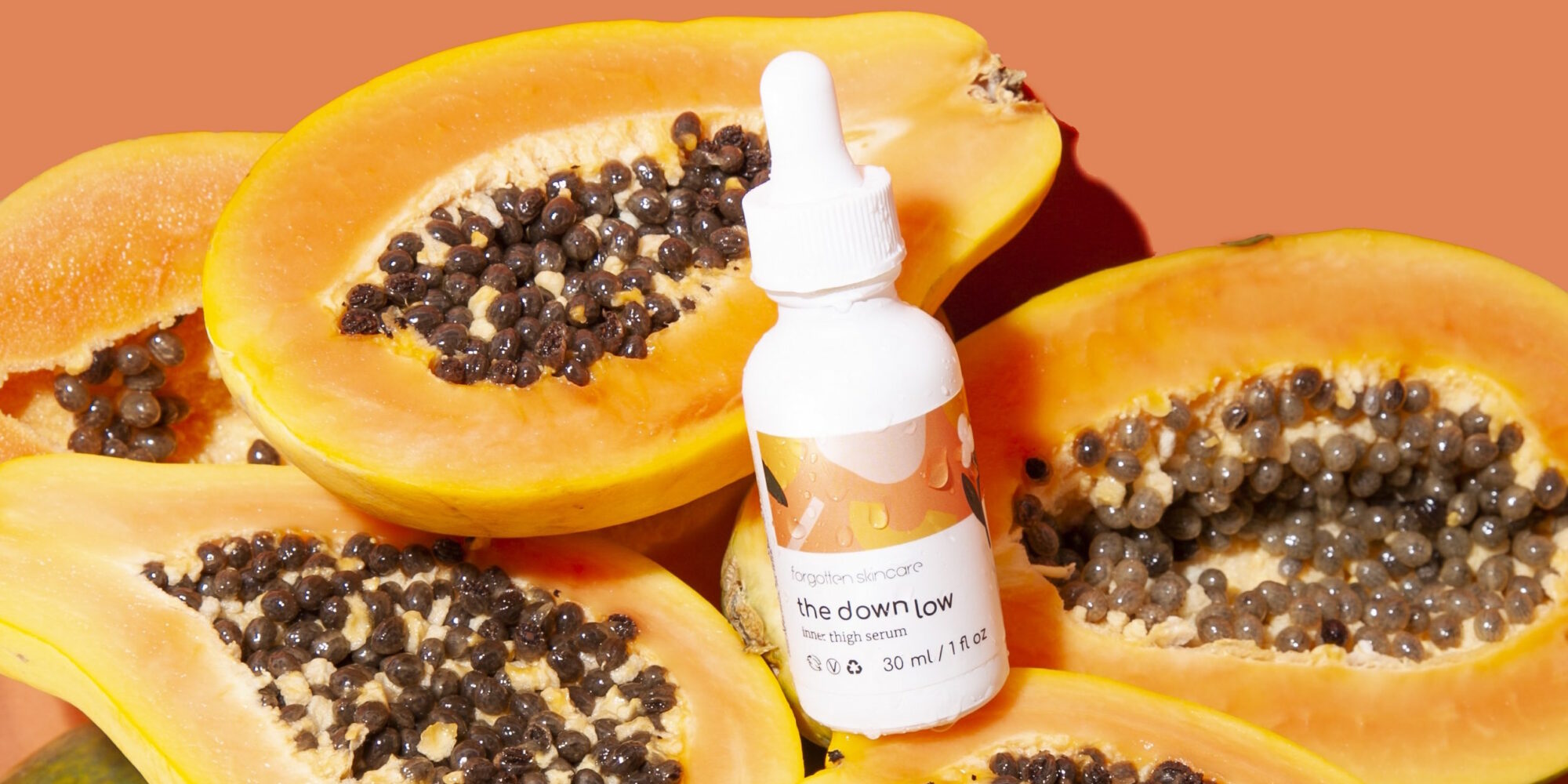 Hyperpigmentation Doesn't Just Occur On The Face. Forgotten Skincare Tackles Its Presence On The Body.
Alex Pottash, who grew up with entrepreneurial parents and was always drawn to launching a business, sought to reconstruct DIY grounded avocado pit body scrubs her mom used to make. To get started, Pottash did what any data-driven millennial would do: She Googled avocado beauty products. Through her research, she encountered a skincare concern she believed was insufficiently addressed.
"Underarm darkness was searched over 80,000 times on average a month. I didn't feel there was a product out there that met the consumer and my standards for that condition," says Pottash, who kicked off her business in 2018 while she was still holding down a full-time digital marketing job. "This was a gap."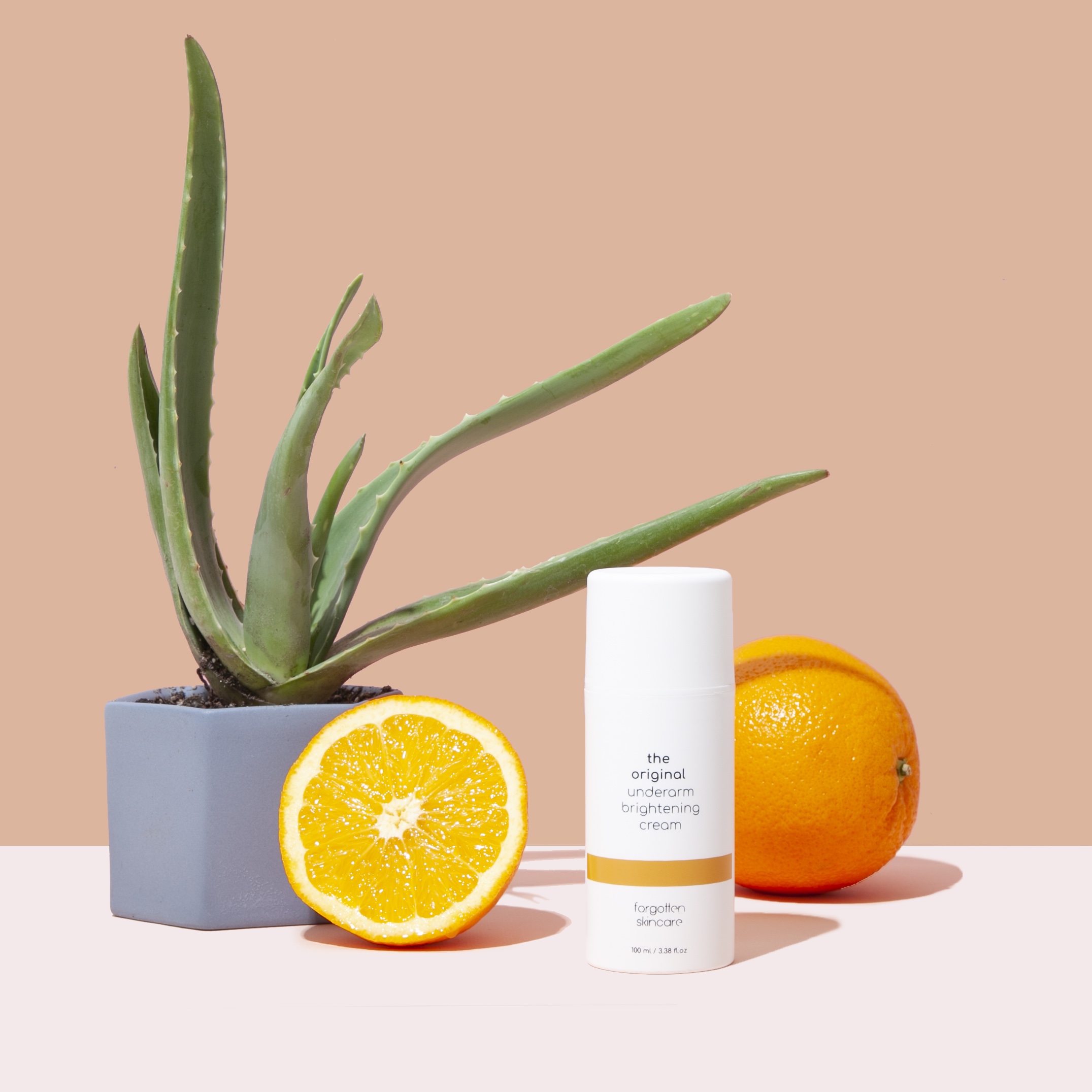 With $5,000 of her own money, Pottash began experimenting with formulas and social listening to understand underarm darkness, which she hasn't experienced. Through platforms like Reddit, she learned about the pain points. "It's a really sensitive topic that is rarely discussed," she says. "I wanted to create a brand that destigmatizes it."
Her first try at underarm merchandise was Pit Kit housed in beachy pink and green packaging. "I didn't feel like Pit Kit had legs, so I did a branding exercise and workshopped the name and redid everything," says Pottash. She emphasizes brands shouldn't be afraid to change course.
Pottash ditched the cutesy packaging and name in favor of Forgotten Skincare, a name that succinctly sums up the brand's mission. She switched from a scrub to an underarm cream and, in 2020, Forgotten Skincare debuted with The Original Underarm Brightening Cream, aka The OG.
"It's a really sensitive topic that is rarely discussed. I wanted to create a brand that destigmatizes it."
Pottash recently repackaged again to include the word "deodorant" on Forgotten Skincare's packaging. Odor busting is a benefit of The Original Underarm Brightening Cream along with skin tone evening. The new packaging will be streamed in as inventory sells through.
Consumer feedback presented another clarion need: products for inner-thigh hyperpigmentation. Pottash's answer was introducing Forgotten Skincare's The Down Low Inner Thigh Serum in April of 2021. The serum promptly sold out and accumulated a waiting list of 800 people. The serum has been freshly restocked.
The Original Underarm Brightening Cream retails for $32 and The Down Low Inner Thigh Serum retails for $28. The Strip Down & Raise Up Bundle, a combination of the two, retails for $60. The thigh serum slightly outsells the deodorant, but there is a high incidence of purchasing the set, says Pottash.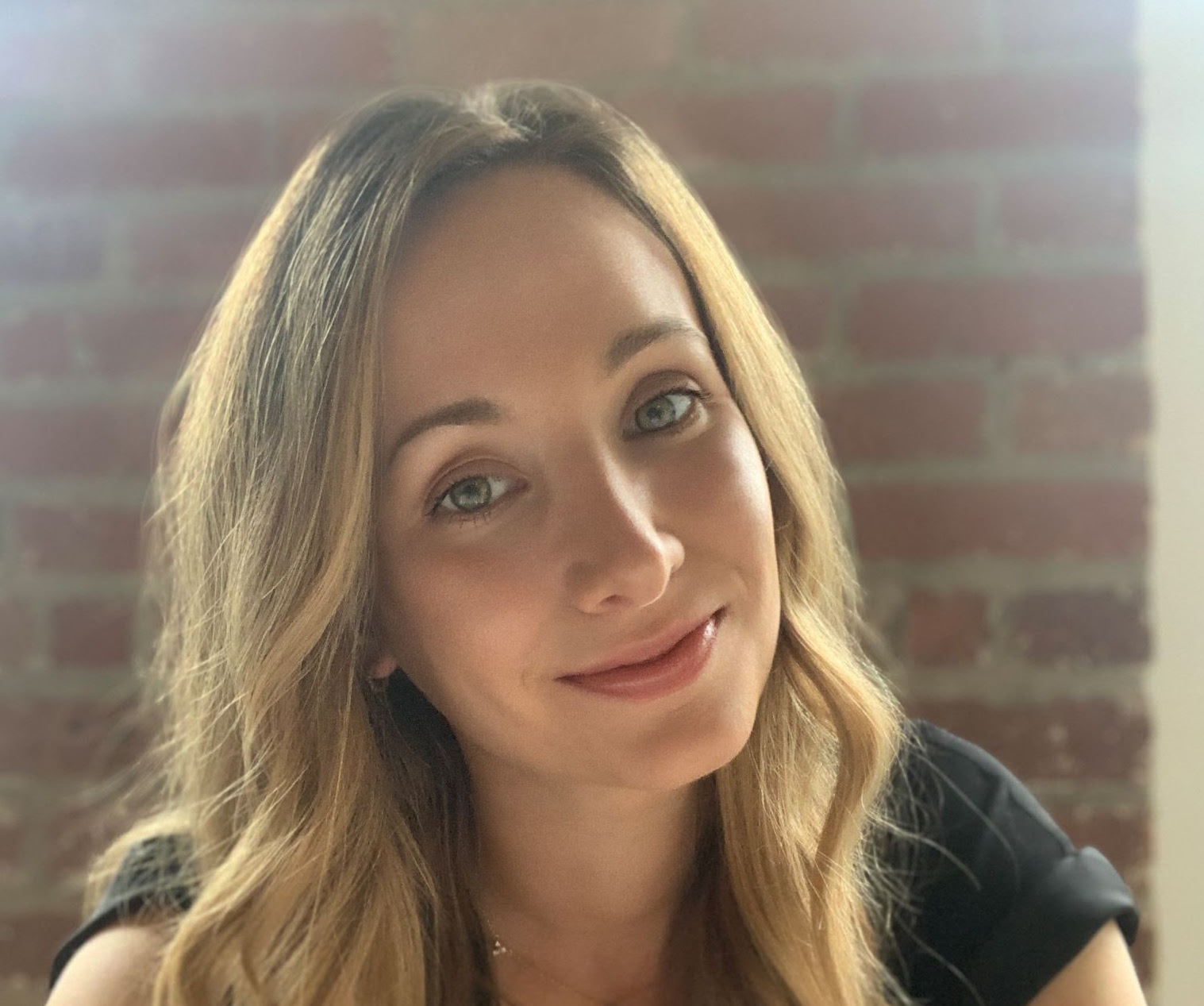 The initial roadmap for Forgotten Skincare was to focus solely on direct-to-consumer distribution. Urban Outfitters instigated a reconsideration of the roadmap. The retailer reached out to Pottash via Instagram earlier this year and, in August, Forgotten Skincare premiered on its website. In less than four days, Urban Outfitters' customers had snapped up 96 units of The Down Low Inner Thigh Serum the retailer had ordered.
BIPOC consumers are the largest customer segment for Forgotten Skincare. Its customers are primarily aged 25 to 35. People seek out the brand not only for body hyperpigmentation. They also seek it out to tackle razor burn and find a natural deodorant that's right for them.
Skin whitening or lightening is a controversial beauty topic enmeshed in a long history of colorism. Pottash is quick to stipulate Forgotten Skincare concentrates on brightening, not whitening or lightening. "Whitening versus lightening is one of the questions I get the most because the terms are used interchangeably," she says. "Our products are not going to change the color of your skin, but even out skin tone."
"Our products are not going to change the color of your skin, but even out skin tone."
Among the actives in the deodorant are vitamin C, salicylic acid and uva ursi extract. The thigh serum has papaya fruit enzyme, licorice root and niacinamide. Forgotten Skincare's vegan ingredients are carefully selected to produce effective formulas without harsh preservatives, artificial coloring or fragrance. The products are manufactured in small batches in a facility completely powered by renewable wind energy.
The pandemic has thrown Pottash some curveballs. She's had to deal with component delays exacerbated because her orders aren't as substantial as those from big brands. There was a period when Forgotten Skincare ran out of stock, a crimp on its cash flow. Pottash received investment from family and poured another $10,000 from her savings into the brand to pull through. In addition, she took out a bank loan to have cash on hand to pay for inventory. After leaving her full-time job, she freelanced to build up her nest egg and shifted to managing Forgotten Skincare full-time this year. "I'm very tight with my finances," says Pottash. "I know where every dollar comes in so I can plan."
Looking forward, Forgotten Skincare is on the hunt for ways to elevate its sustainability, possibly with aluminum or PCR (post-consumer recycled) tubes. Pottash is intent on accelerating its product launches beyond once a year and enlarging its physical retail footprint. International expansion is on the docket, too, and she's eyeing Canada, the Middle East and India. She's anxious to see how retailers merchandise Forgotten Skincare's offerings—hoping perhaps that shelf space will be devoted to "forgotten areas."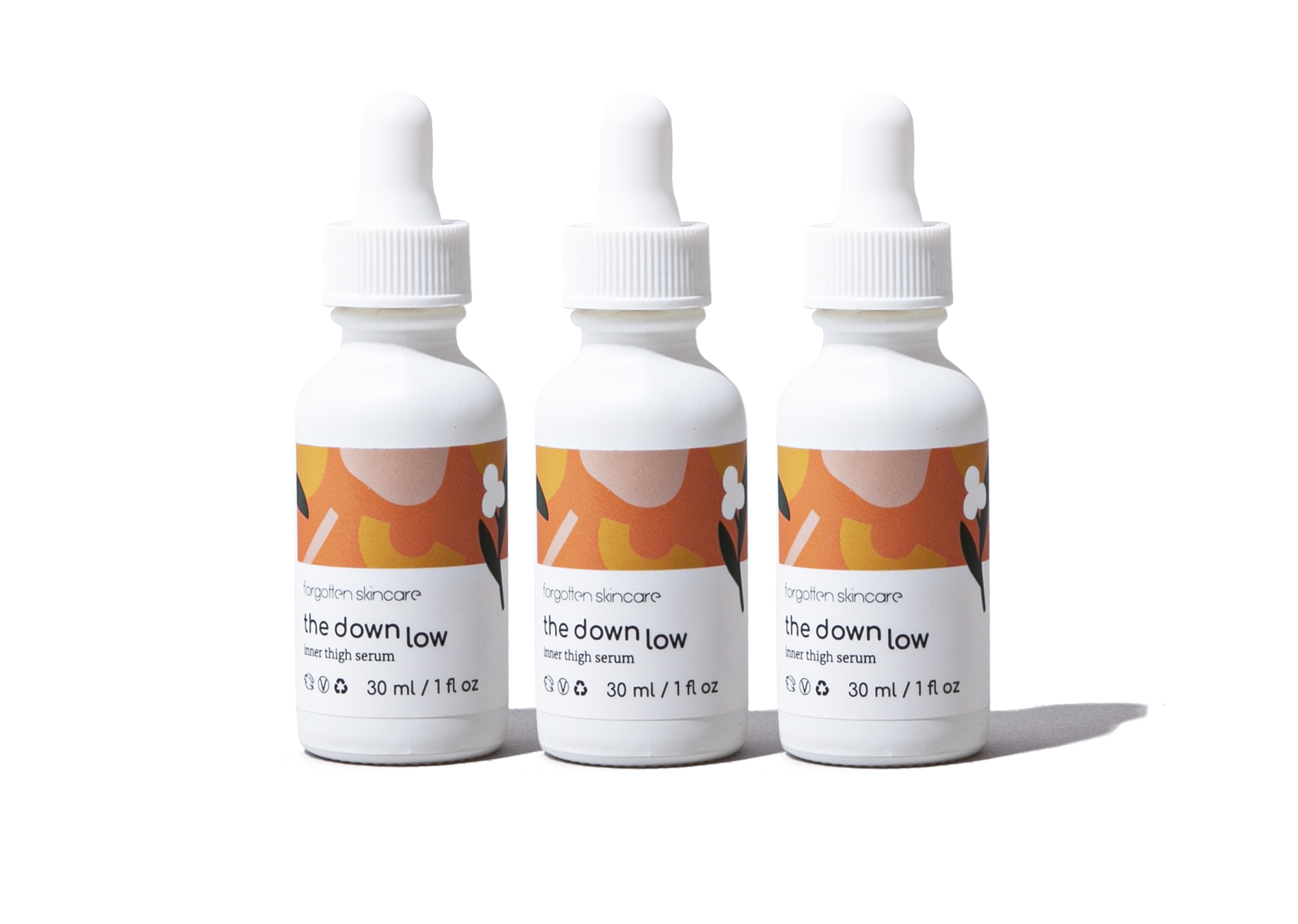 Pottash didn't specify Forgotten Skincare's future products, but she hinted she's working on an item that 57% of the brand's audience revealed in a survey they'd like to see. It will take Forgotten Skincare into the shower. A glance at the brand's Instagram account shows chatter about butt acne. Social media is at the core of Forgotten Skincare's marketing efforts. Pottash has tapped influencer marketing platform Octoly to assemble a stable of influencers for outreach and has hired a social manager as well.
Although, unlike many founders, Pottash didn't develop a brand to solve her personal beauty issue, she underscores she's honored to fill a product category that doesn't garner much attention. "I don't ever regret becoming an entrepreneur. It is the best decision I've ever made," she says. "I'm happy every day…even when I'm not."