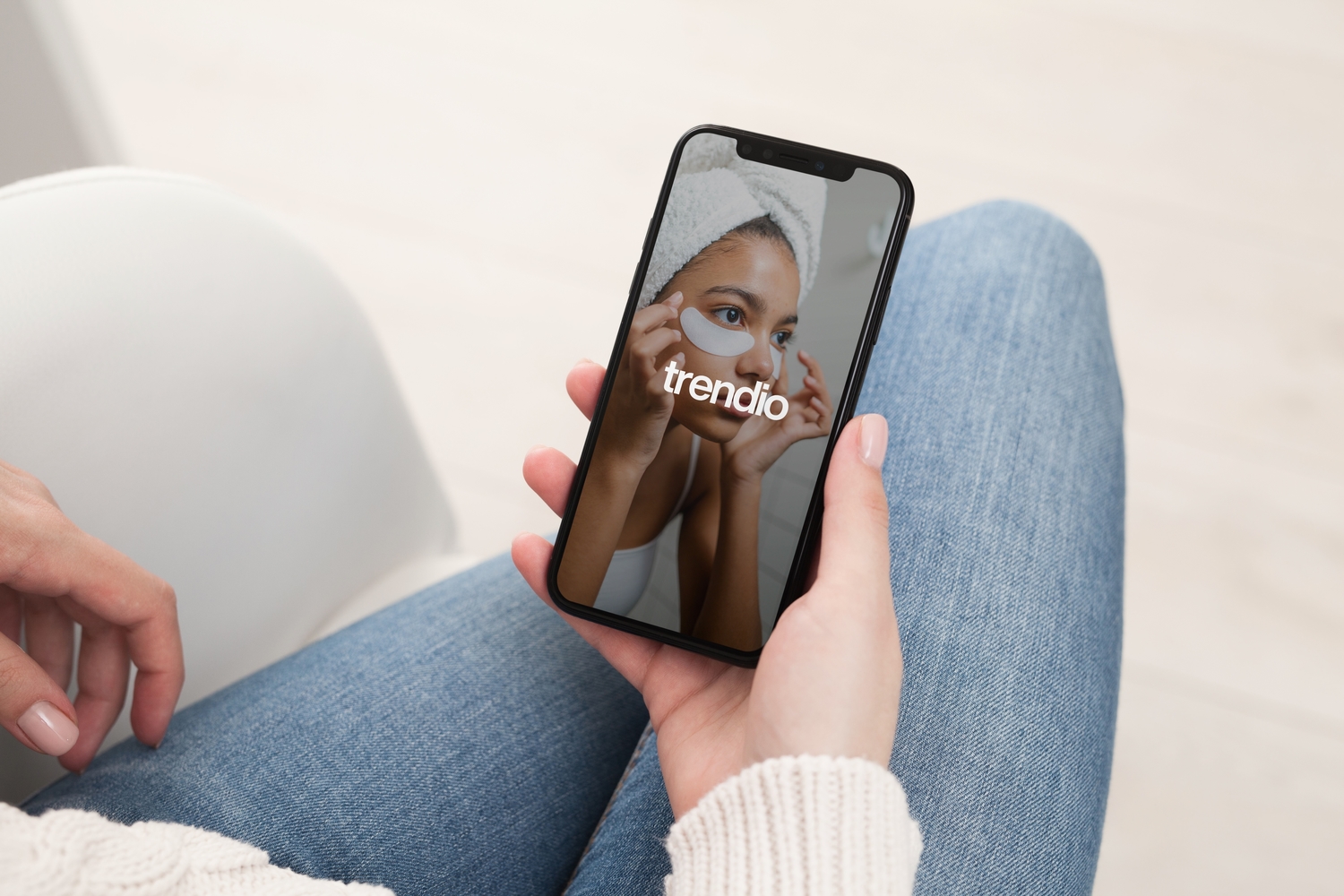 Former Amazon And CVS Executive Set To Launch Livestreaming Beauty App Trendio
Trendio, a video-focused beauty shopping platform, is set to emerge from a beta testing period in the summer to officially launch this fall.
The platform will be a competitor to Flip, Newness and Supergreat in a beauty industry that's discovered livestreaming to be an effective vehicle to demonstrate products and tell the stories behind them. It's the brainchild of Alex Perez-Tenessa, former VP of Amazon's Prime video for the United States and VP of beauty and personal care at CVS, and combines his passions for retail, video and beauty.
"At Amazon, I got a lot of visibility into new video technology and things that could be done to create a better shopping experience in beauty. We're coming to a pivotal moment now with technology, shopping and beauty, so it seemed like a good time to launch this," says Perez-Tenessa. "Trendio is for anyone who is tired of the guessing game involved in figuring out what's worth trying or not trying. It's for people who want a better discovery experience in beauty, which has become so difficult to find."
Investors seem to agree. In late March, Trendio closed on a $3 million seed round led by domestic and international venture capital and angel investment firms, including Madrona Venture Group, Kima Ventures and FAB Co-Creation Studio Ventures. Supergreat, Flip and Newness nabbed venture capital money in 2021.
"There's a need to discover and shop beauty in a more engaged, personalized way that connects people with high-quality products through entertaining content. Alex and David [Olmos, Trendio's CTO] are experts in both e-commerce and content, and they're positioning themselves in a new category that will be huge for the future of retail," says Odile Roujol, founder of FAB Co-Creation Studio Ventures.
The social commerce and livestreaming market in the U.S. is growing, yet small at the moment. Social sales constituted just 4% of U.S. online retail sales in 2021, but eMarketer predicts the U.S. social commerce market will more than double by 2023 to reach $56 billion in sales, although most sales will be generated through social media networks the likes of Facebook, Snapchat, TikTok and Pinterest. Accenture forecasts that the global social commerce market will hit $1.2 trillion by 2025, thanks in large part to China, where livestreaming is maturer than it is in the U.S.

Similar to its competitors, Trendio will specialize in shoppable live content geared to beauty consumers looking for fun and informative digital experiences. "We have this vision of a destination with best-in-class beauty content where enthusiasts can find content that's super relevant to their interests and be able to shop it" says Julie Novak, Trendio's VP of content. "We still want to have that authenticity, trust and sense of community that other live-streaming platforms have, but we really want you to be able to come and find someone who really knows what they're talking about."
Novak, a former licensed aesthetician and makeup artist, is an Amazon alumnus as well. She helped lead the e-commerce giant's livestreaming service Amazon Live. At Trendio, she's leveraging her expertise to building a curated network of professional beauty creators.
"What they've done at Supergreat and Flip that's really cool is create communities where your customer is also your content creator. You buy the product, love it and post a review. You're not an influencer per se, but maybe you want credits towards that next purchase or maybe you're just passionate about beauty," says Novak. "We're looking more for experts on Trendio like aestheticians and makeup artists to create a space where viewers can discover products, laugh about them, be entertained and also shop if they want. We have a more creators-first mentality, and we're willing to pay for good content."
While Trendio doesn't intend to contain troves of user-generated video reviews à la Supergreat, TikTok or Instagram, Novak says it will have pre-recorded video content. It won't have blogs and other forms of in-depth written content. A loyalty program will be implemented to unlock exclusive discounts and incentivize user interaction.
Besides its creator strategy, Trendio's technology may be its most compelling point of difference. Details around the proposition are a well-guarded secret at this point. "We believe we're going to be accessing customers at a moment that brands currently have trouble accessing," says Perez-Tenessa. He hinted that artificial intelligence will play a role in boosting content on the app.
Trendio has identified over 100 brands that it hopes to work with in the near future. It's currently in discussions with around 40 brands, although the summer beta testing period will likely feature a smaller number. Perez-Tenessa says Trendio is concentrating on what he describes as "premium" brands with prices between mass and luxury.
"We're trying to be selective and very curated to ensure that we're a relevant channel for the brands we want to partner with," he elaborates. "So far, the conversations with the brands have been very encouraging and very positive. We're offering an incremental distribution channel that lets them reach new customers in a very cost-effective way."
Trendio's workforce is international. Its technology and backend team is headquartered in Madrid under the leadership of Olmos, who formerly led online business at luxury fashion line The 2nd Skin Co. Trendio's business and creative content teams are based in Seattle. Along with Perez-Tenessa, Novak and Olmos, Leah Grubb, VP of category management, rounds out the leadership team. She recently served as the head of makeup at Glossier.
"When I think about beauty, you have YouTube, you have Instagram, you have TikTok to a certain extent, and then you have these creator communities like Supergreat and Flip," says Novak. "As a consumer, I want the experience of watching someone on YouTube combined with the ease of shopping that Flip provides. Maybe there's fun stuff as well like TikTok-style challenges, but it's still done in a way that's edited, cool and easy to shop from. I don't see anything yet out there that marries those experiences together—until Trendio."