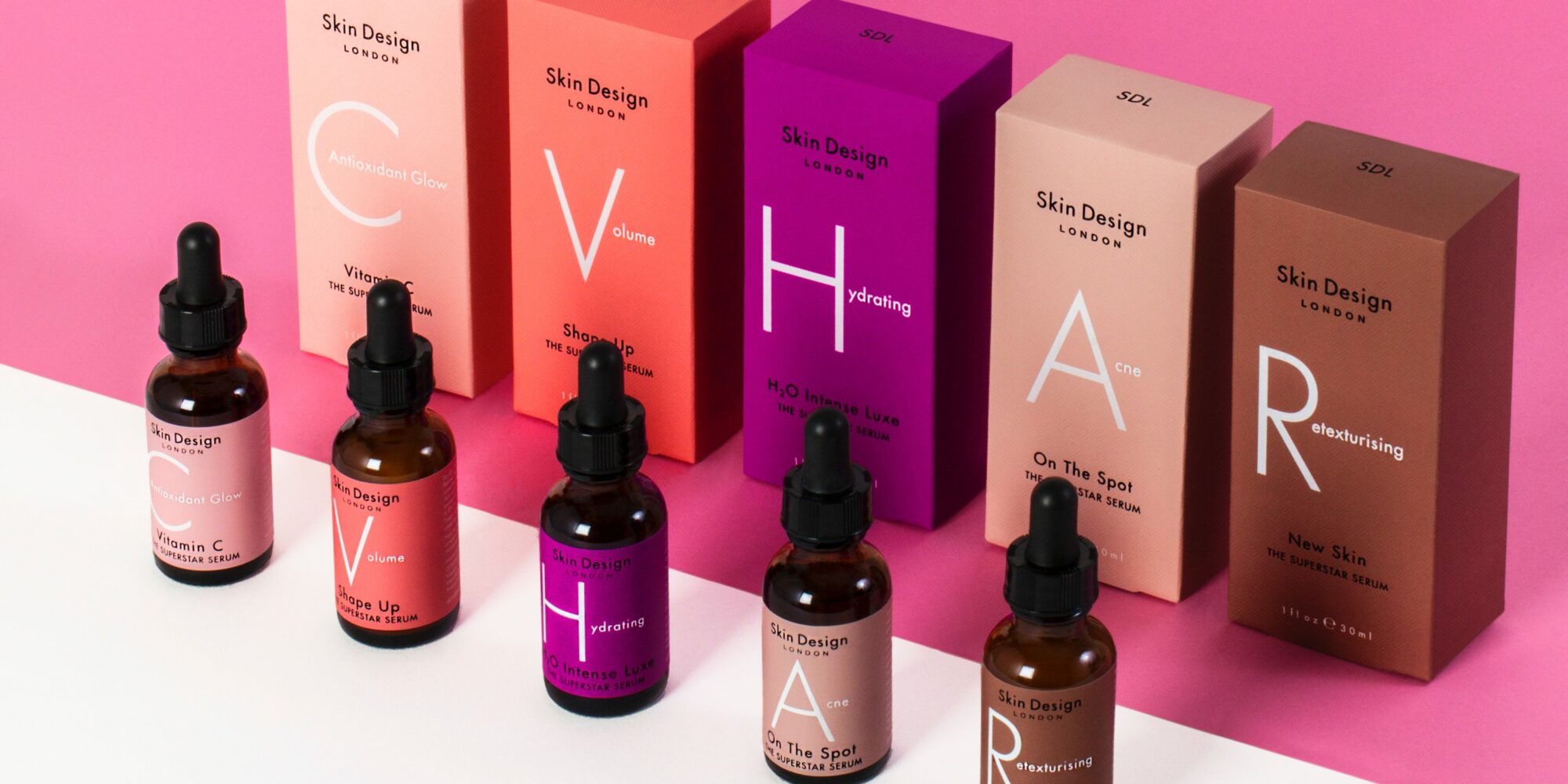 The Founders Of Odacité And Skin Design London Share Three Tips For Retail Success
Odacité founder Valérie Grandury has a clear rule of thumb when evaluating a possible retail partner—and it's not to place her clean skincare brand in every store possible. "We pick the people we want to work with because I want to make sure that we have the bandwidth to support them with what it takes to really be in that top three," she says. "That's always our aim, to be in the top three."
For an indie player, being a top-three brand within a category at a retailer requires discipline, deft management, fervent fans and loyalty-inducing products. Los Angeles-based Odacité, which was founded by breast cancer survivor Grandury in 2009 after her struggle with the disease inspired her to clean up her lifestyle and beauty products, has traded on those assets to travel to over 400 retail doors in 19 countries, including Cult Beauty and Space NK in the United Kingdom.
Last week, Grandury joined Fatma Shaheen, founder of Skin Design London and facialist whose brand emerged from her London treatment room, for Beauty Independent's spotlight webinar series on the British beauty business sponsored by CEW UK. Shaheen's approach with Skin Design London was to create approachable at-home versions of her professional skincare solutions. The brand launched in 2015 and, after a pivotal redesign, was picked up by Fortnum & Mason and Cult Beauty. Skin Design London is available at Shen Beauty and Goop, too.
In their webinar discussion, Shaheen and Grandury delved into how their brands have managed to succeed in the U.K., the power of being confident as a founder and advice they give to aspiring entrepreneurs.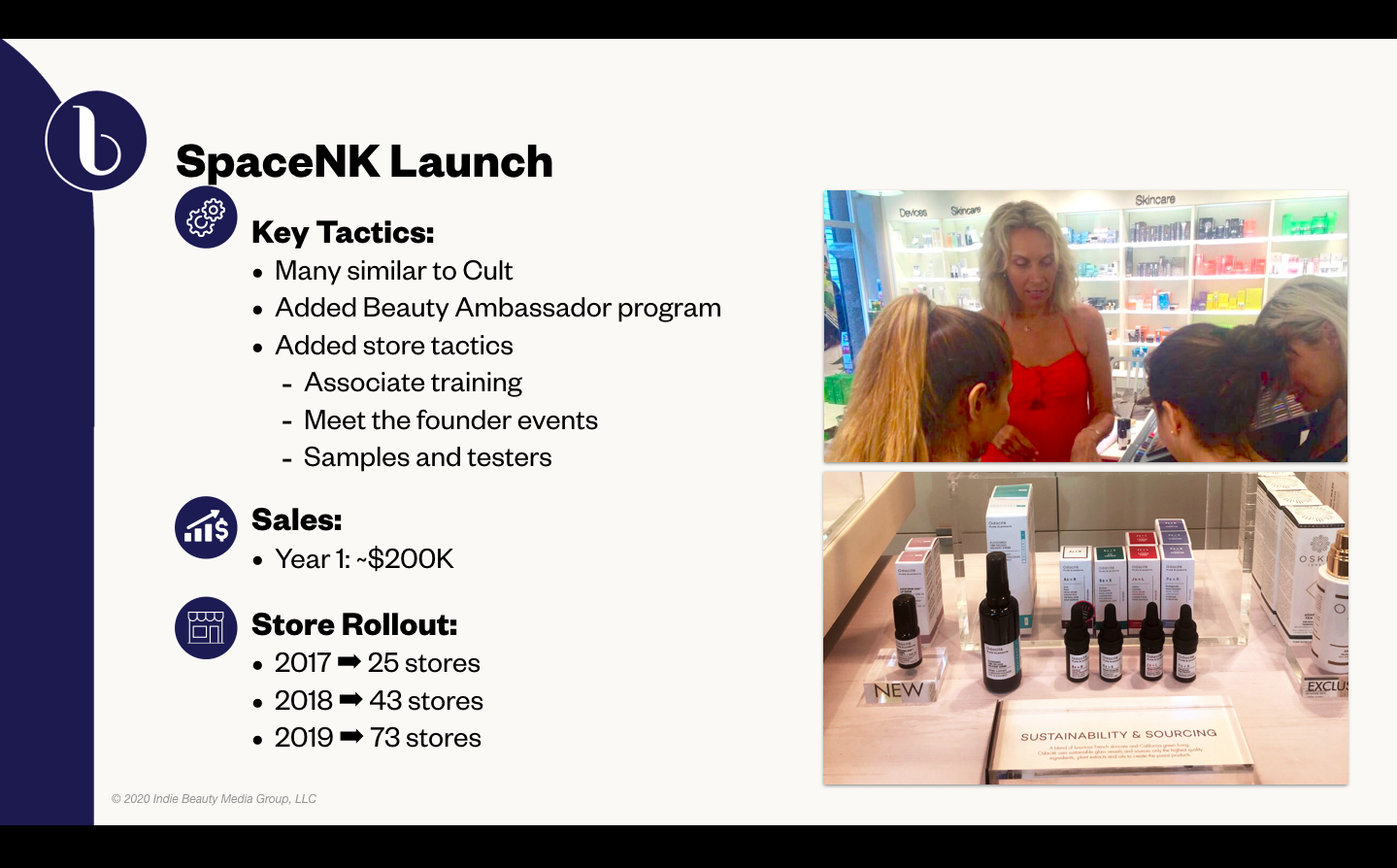 1. BE YOUR BIGGEST CHEERLEADER
While strong retail partners are key, Shaheen says don't expect them to do all of the work. "It's so important that you not think, 'Oh, this retailer is so big. They'll know what to do,'" she says. "No, you're one of many, so you've got to come with every marketing tool that you have and stand out." Shaheen stresses brand founders have to be confident about their products. "You know your brand well. You know what the client wants and what the consumer needs," she says. "You're bringing something new, that's why you're launching."
Grandury chimes in that founders shouldn't be dissuaded by the multitudes of brands are on the market. "There are hundreds of books written about love, but you can write it in a different way, and I think it's the same with beauty," she says. "It's really, for me, all about having authenticity, integrity and passion in what you're doing."
Grandury notes people, notably journalists, like to witness that passion in real life. At the start of Odacité, she didn't have the budget for a public relations firm and would reach out to writers personally to request face-to-face meetings. People almost always responded. "If you have something newsworthy, they really want to hear from, they want to meet you, and they want to talk about you," says Grandury. Shaheen has had a similar press strategy. Upon Skin Design London's entrance into Fortnum & Mason in 2017, she invited editors to receive treatments. As the treatments were being performed, she could talk about her brand extensively.
Consumers want to forge that IRL connection as well. "When you go into the stores and customers get a chance to meet the founder, people get really excited," says Grandury. "They love hearing about why the brand was created and why this new product is coming to market. It's important to really spend that time with people."
Pro Tip: It's OK to hire people to do some of the cheerleading for you. When Odacité launched at Space NK, Grandury hired a full-time beauty ambassador manager who went on to hire five other people on contract to raise awareness of the brand in the stores. She says, "We did the lot of the same marketing initiatives that we did with Cult Beauty…press launch, doing training, meeting people in stores, doing events, but we really needed to be on the ground there because Space NK is built on teams and on in-store support."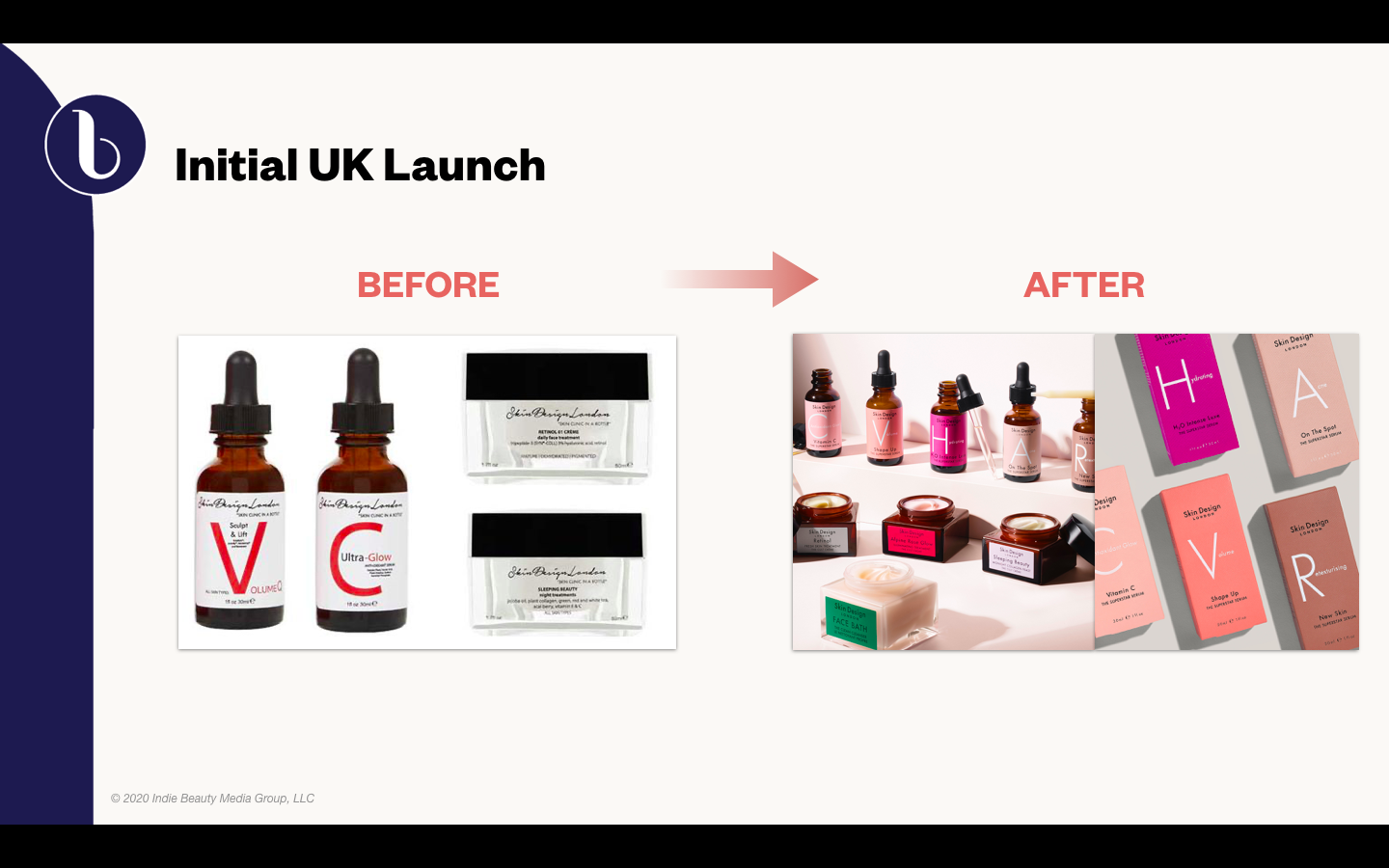 2. TAKE FEEDBACK SERIOUSLY
Harrods was one of the first retailers Shaheen pitched Skin Design London to. She promptly received feedback from a buyer at the storied retailer to change the brand's packaging. "I was very nervous, and she just said, 'I actually like your products. Efficacy is really good, consistency, whatever you've put in I really love, but I hate your packaging,'" recalls Shaheen. "She literally said those words: 'It's awful. Change it.'"
After the criticism, Shaheen spent six months giving Skin Design London a makeover. "I went to Harrods and Selfridges, and stood and looked at every brand and I thought, 'Right, we have to create something that stands out, but also shows the clinical side and pillars of the brand,'" she remembers. The packaging was transformed from black, white and red to warm shades of pink, purple and brown. The boxes for Skin Design London's serums include the letters CVHAR to distinguish their uses. The brand launched with Fortnum & Mason and Cult Beauty not long after the overhaul.
Shaheen admits she naively believed that, in order to make it in skincare, she simple needed quality products. "I thought, 'How can you go wrong? If your products work, everybody loves you, everybody's going to want this,'" she recounts. "I thought everyone was like my clients at the clinic. I was wrong."
Being open-minded helped Shaheen's business. However, she maintains it's critical for brand founders to know their brand, and recognize when and where to push back. "I knew I wasn't going to compromise on my formulation. I knew I had good product," says Shaheen. "I'm the expert in that sense. The buyer doesn't treat skin. The buyer's just looking at, well, how am I going to sell this?"
Pro Tip: If the product doesn't deliver results, it's not going to get very far. "Focus on making the best product possible, and it might not be like a crazy success in three years, but in the long term, it will be a success because your product is amazing," says Grandury. "There is no good marketing for a bad product."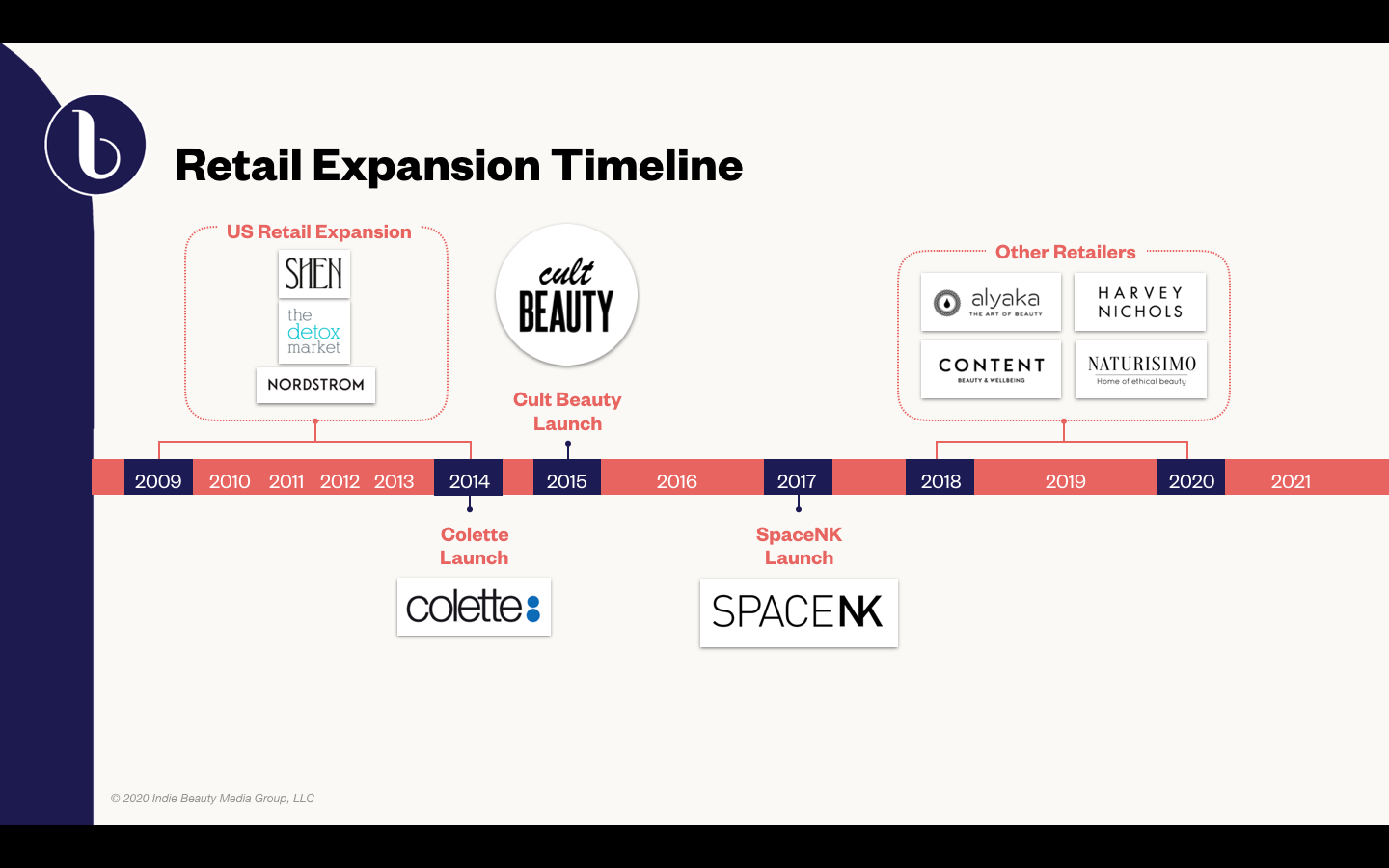 3. BE SELECTIVE
Shaheen and Grandury recognize that the beauty landscape in 2021 is very different than when their brands arrived on the market. If they were launching their businesses today, both agree they would kick off in direct-to-consumer distribution before exploring retailers. Grandury says, "Once you're established, pick retailers that can carry your voice and your unique message."
Shaheen and Grandury assert emerging brands shouldn't be afraid to be picky or start out small. "In the beginning, for me, I just thought, 'Oh, we'll go into retail.' We'll align ourselves in the early days with a big retailer, but it's quite hard in terms of sustaining the marketing, the staffing, everything," says Shaheen. "You also don't want to spread yourself thin by having many retailers. That doesn't really help you build your brand awareness into their demographic."
By whittling down their possible wholesale network to a few retailers, brand founders can form better partnerships. Grandury says, "I always tell my sales team, 'Listen, guys, I want to be the best in fewer stores rather than just another brand in many stores.'"
Pro Tip: Along with beginning in DTC, another piece of advice Shaheen has for new or soon-to-launch brands is to contact investors in the early stages. She says, "You always get different advice, like, 'Oh no, you need to get some momentum, you need to do this,' but I think, in the age now, beauty and wellness is so big that there's so many investors out there that will support as well."