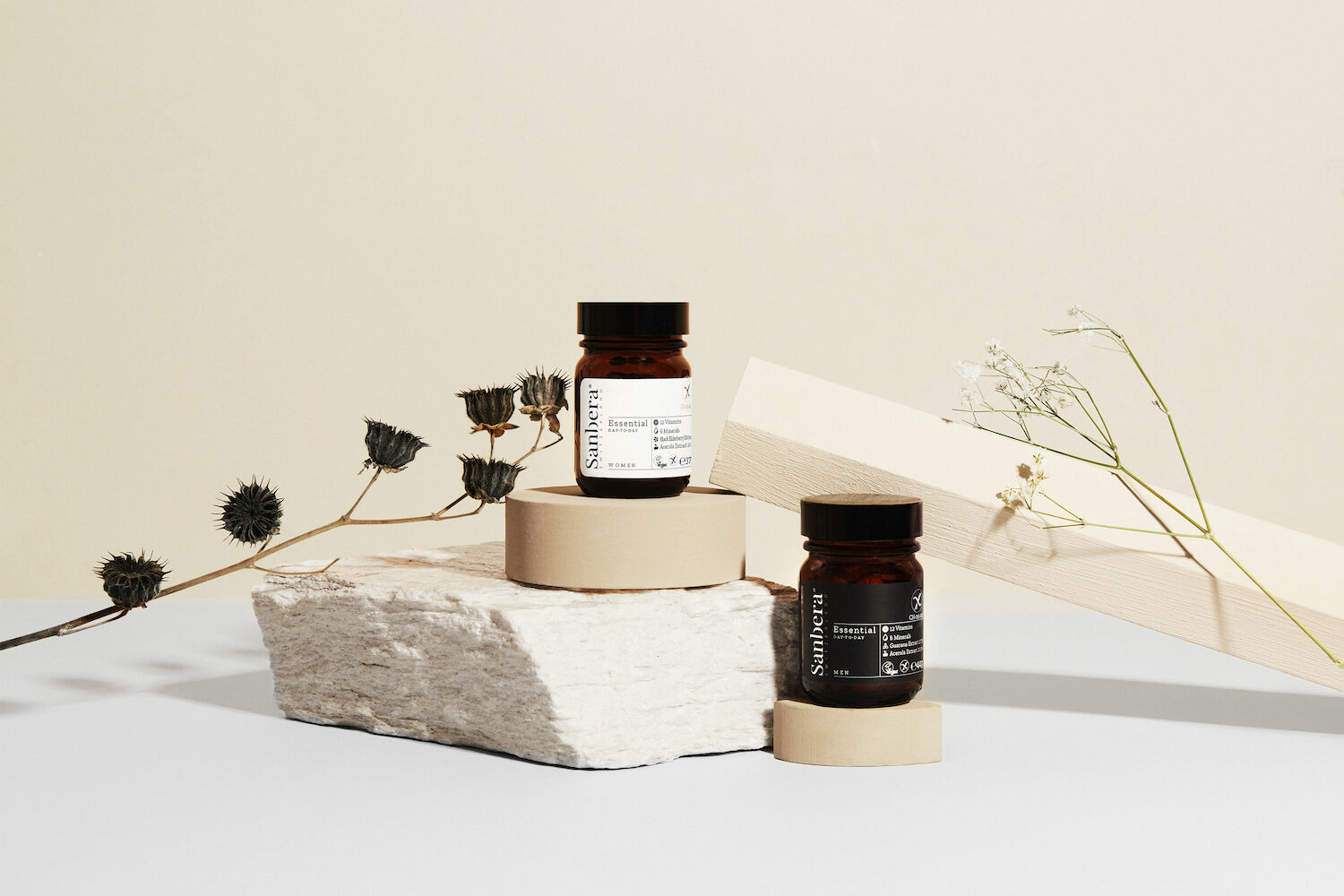 Four Emerging Swiss Beauty And Wellness Brands To Know
Outside of La Prairie, Switzerland isn't as renowned for its beauty products as much as its chocolate, cheese and watches, but that might be changing. There are a handful of new indie beauty brands coming out of the European country that have caught our attention over the past several months. From a high-grade supplement brand to a skincare device that received over $100,000 in pledges on Kickstarter, here are four Swiss beauty companies to know.
Sanbera: The supplement brand Sanbera is a hub for consumers investing in their health. Launched in 2021, it's seen its sales shoot up 300% since then across European markets. "People are taking their holistic health into consideration in a way that we could not have anticipated," says founder Tina Erni.  "We have seen a steady increase as consumers are paying closer attention to what is going on internally rather than just externally."
Erni learned the importance of health earlier than most. She suffered from a serious illness at a young age and, alongside treatment, she was conscientious about nutrition to maintain her health, and reconnect with her mind and body. Dissatisfied by the lack of purity and bioavailability of the supplements on the market, she made it a goal to produce her own.
Sanbera offers daily and nightly supplements for men and women based on dietary requirements for each. Its options—$117.99 Essential Day-to-Day and $149 Reload Time to Time—are composed of ingredients from organically grown fruits and plants. Erni enlisted the help of Swiss nutritional experts and doctors in the development of Sanbera's formulas, and also incorporated ingredients inspired by her Middle Eastern roots.
"While everything is designed in Switzerland, the Eastern influence around herbal remedies and the healing benefits of plants plays a big influence on the ingredients that are sourced," she says. "Using the most bioavailable and natural products on the market, we have created a blend that delivers results with Swiss efficiency, whilst cutting no corners when it comes to quality and natural credentials."
The brand is proudly self-funded. Erni was able to finance her dream after working as a COO for 18 years at RBR Capital Advisors AG in Switzerland. During the past year, Sanbera has established partnerships with British sustainable e-tailer Reve-en-Vert and Douglas-owned German online retailer Niche Beauty. The brand is working with agency Beauty Anthologie on its retail strategy for the United States.
Nume-Lab: Nume-Lab's skincare philosophy is less is more. "We always found our bath stash full of unused products either because they had overlapping functionality or they just don't do what they were promising," says founder Paulina Kostrzycka.
Nume-Lab's minimalistic four-product lineup covers the basics: A cleanser, serum, moisturizer and eye cream. They range in price from 45.5 to 77.07 Swiss francs or around $49 to $83. There are plans to release a night mask to round out the collection.
Kostrzycka always knew she wanted the products to include "clean" ingredients, but was aware clean beauty isn't an officially regulated category. As a result, she decided to get Nume-Lab's products certified Halal. The certification verifies it doesn't contain occlusive ingredients and collagen derived from animals, among other attributes. Nume-Lab's products are made in Switzerland.
"The Halal certification extends the certification not only to the final products, but as well to the raw material manufacturers, the entire supply chain," says Kostrzycka. "Therefore, it brings you to a higher level."
Nume-Lab launched in February 2020 right before the pandemic spread around the world. The timing drove the brand to focus on its online presence. Its website has a blog component featuring posts on the benefits of snail mucin extract and popular skincare TikTok trends. Nume-Lab has tapped influencer and athlete Saman Munir as a partner. She has over 296,000 followers on Instagram.
Nume stands for "new me" and is a nod to the feeling of regeneration its products aim to provide consumers. The brand's shell logo is inspired by Sandro Botticelli's "The Birth of Venus" painting. The blue gradation incorporated into the packaging is reminiscent of water. Kostrzycka explains, "As the legend goes, Venus was born out of sea foam and came ashore on a shell, Nume-Lab Switzerland is committed to putting you on the Venus shell and letting you start your own skin renaissance experience."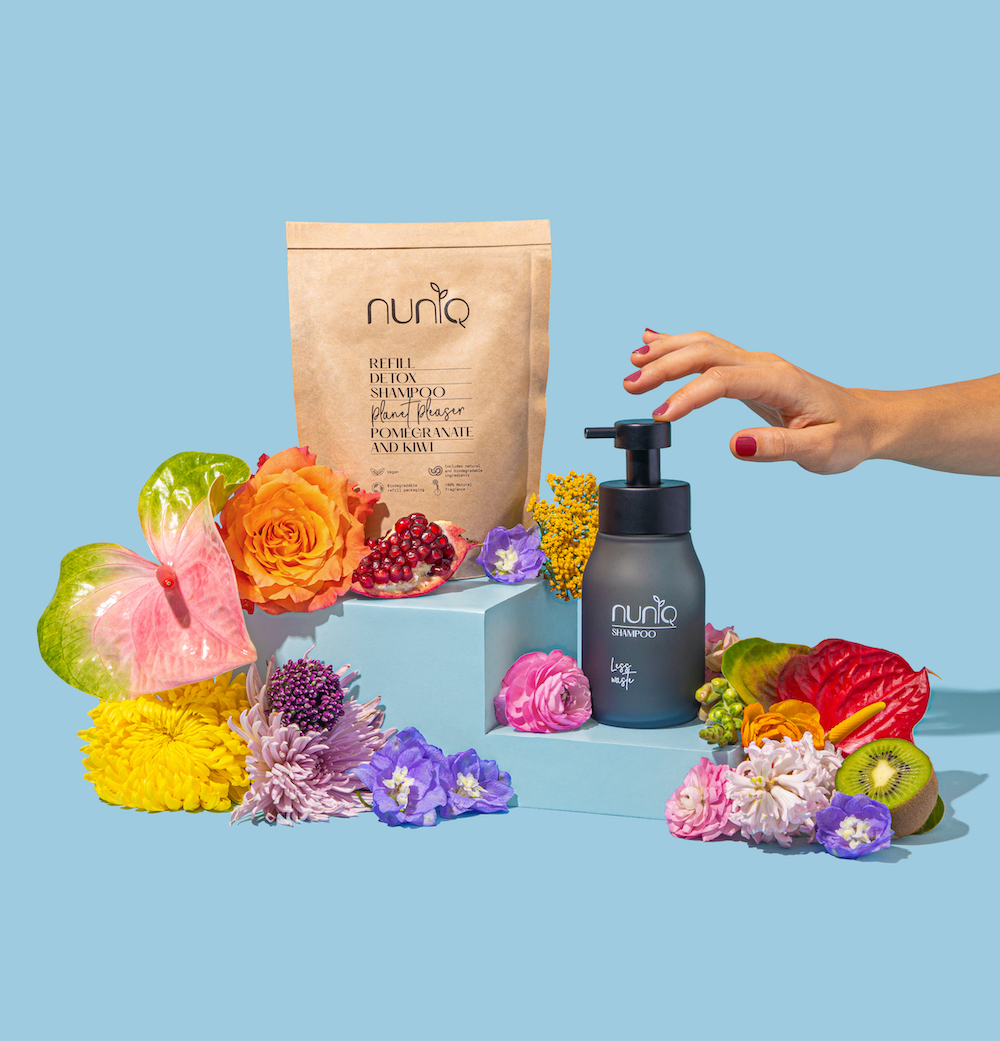 Nuniq: There are three standout characteristics Silvia Marquez attributes to Swiss culture and, in turn, her own beauty brand: quality, sustainability and wellness.
Nuniq offers easy-to-reuse refillable and recyclable haircare products. Its six products, including bestseller Planet Pleaser Detox Shampoo, Planet Pleaser Detox Conditioner, Head Turner Hair Booster and Jet Setter Hair Booster, are housed in either glass bottles or aluminum containers. The brand has biodegradable refill packets for its shampoo and conditioner, and one body care product, Drama Dealer Butter Scrub.
According to Marquez, the Swiss people dispose of 205 million single-use plastic haircare and other shower-related bottles a year, and a mere 5% of them are recycled. She says, "While recycling only won't solve our plastic problem, reusing will and using biodegradable materials helps."
A love of beauty is in Marquez's blood. She practically grew up inside her family's cosmetics lab in Spain. There, her fascination with the beauty industry was sparked. She went on to work for multinational beauty corporations. Prior to starting Nuniq with co-founder Carmen Serrano, she spent 11 years developing beauty products for the likes of Puig and Coty.
Nuniq was a hit at pitch competitions prior to its pre-launch in July 2021. Marquez and Serrano won a 2020 competition held by >>venture>> and came in third place during the Prix Iddea that took place the same year. The products are currently only available in Switzerland. Nuniq considers the country a test market and expects to expand beyond it in 2022.
"Our main goal is to have satisfied customers, which guarantee stable repeat sales," says Marquez. "We have demonstrated this with our pilot launch in Switzerland with a repurchase rate of 29%, and our goal now is to scale our model in selected countries with reliable and culturally aligned distribution partners."
Réduit: Paul Peros is no stranger to the beauty tech space. As former CEO of Foreo, he grew the company from a startup to a market leader generating $1 billion in annual sales in less than five years. With Réduit, he's hoping to repeat his success in the device segment. Peros says, "I knew there was a way to improve on the current beauty devices on the market, to apply truly innovative technologies such as enhanced delivery systems from the pharma world to the beauty industry. This led to the creation of the beauty innovations we have at Réduit today."
Réduit's assortment includes eight devices, and 10 Skinpod and 10 Hairpod treatments. The pods are inserted into applicator devices and diffuse a fine mist of active ingredients onto the skin and hair. The brand touts the process is designed "to ensure beauty ingredients are absorbed deeper and faster into skin and hair, replacing salon treatments and traditional beauty products."
The devices were created in tandem with ingredient and technology company Wellfully. They range in price from $99 for the Réduit Uni to $299 for the Réduit One Gold. Pods holding five milliliters of formula are good for up to 30 treatments and are priced from $24.90 to $44.90. Treatments address hydration, blemishes, dullness, conditioning and volume.
Réduit's latest creation is anticipated to be its most popular. The Boost application device uses personalized LED treatments to enhance the effects of skincare products. No pods are required. Peros says, "[The app] scans the barcode of your skincare to identify the active ingredients, then adjusts its waveform to push the right ingredients into your skin at the right depth for you." A kickstarter set up for the product already has 848 backers who have pledged 99,294 euros or more than $100,000. The device is currently available for pre-order.
Réduit has garnered interest from retailers. Peros shares that Réduit doubled its retail footprint in the last quarter of 2021 and is available in over 10 markets. The brand launched at Harrods in February and anticipates landing at additional retailers by the fall. 
Peros says, "With COVID easing and the Réduit Boost in our portfolio, we feel this is the right time to develop our presence, and we hope to see Réduit across over 50 retailers in the near term across multiple markets."