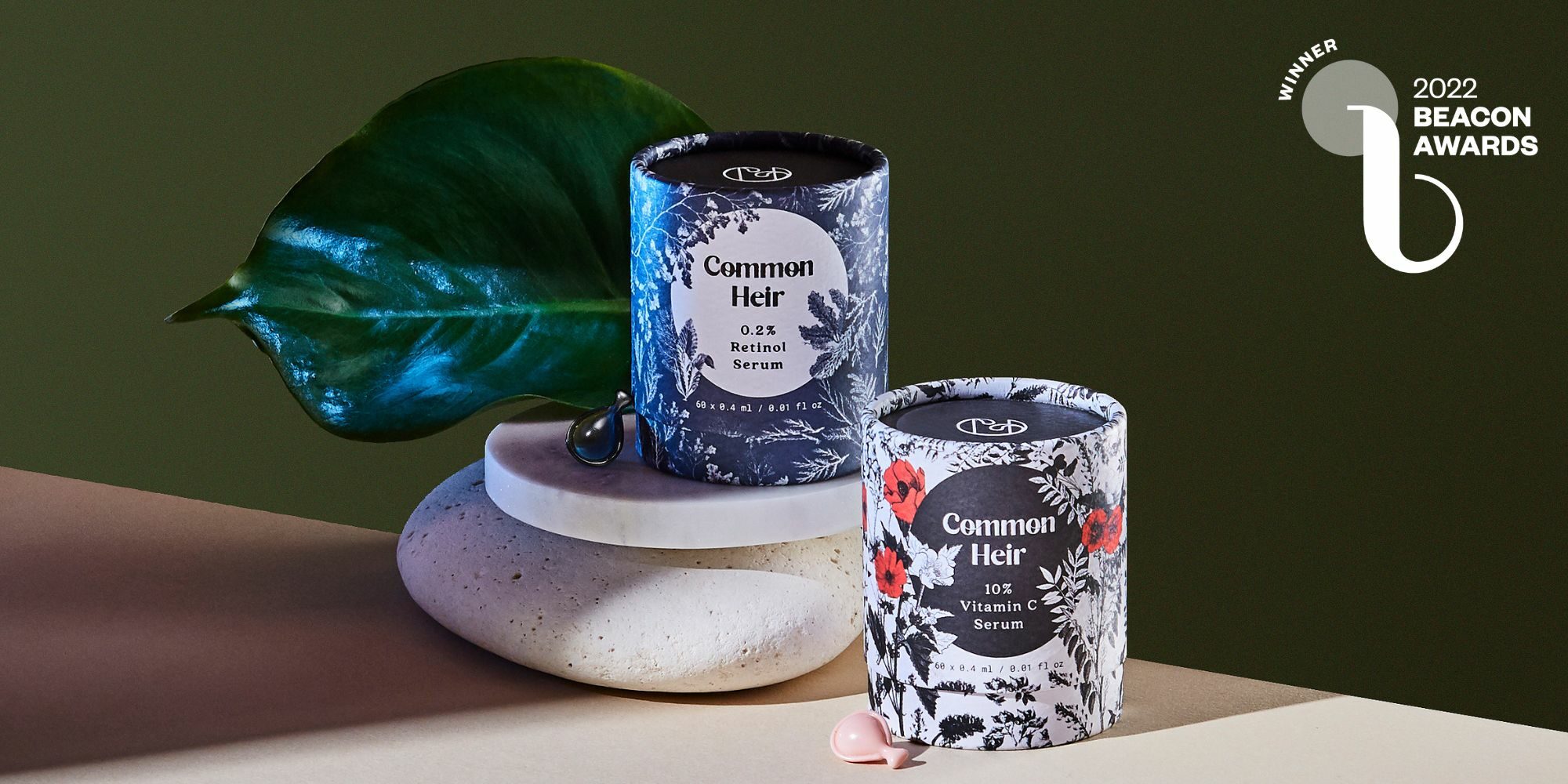 Four Keys To Beacon Award Winner Common Heir's Early Success
Just shy of its two-year anniversary,
Common Heir
has much to celebrate. 
The skincare brand's
sales have jumped
 3X year-over-year thanks to retail expansion and direct-to-consumer strength. 
It's available at Credo and Anthropologie, but DTC drives 70% of its business. 
Co-founders Angela Ubias and Cary Lin locked in $2.5 million in funding from

Trousdale Ventures
in February 2022, surpassing their original fundraising goal by more than $1 million. The money has been used for production, the product pipeline, retail support and staff. Common Heir relies mostly on contractors and
 has two full-time employees in operations and community management in addition to the co-founders.
Plastic-free Common Heir started with its signature 10% Vitamin C Serum featuring dissolvable seaweed casing and housed in a recyclable, biodegradable cardboard tube. Later, it added 0.2% Retinol Serum, Gua Sha Facial Sculptor and & Everything Nice Winter Candle. Prices range from $68 to $88. 
Last year,
 Common Heir was given the Beacon Award for Best Packaging.
Beauty Independent talked to Ubias about her brand's early success. Below, she details four steps Common Heir took to get to where it is today. 
1. Mentorship is Meaningful
No matter how well-equipped founders think they are, mentorship programs can provide major benefits, according to Bias. Prior to launching Common Heir, both Lin and Ubias had beauty backgrounds. Ubias had worked at contract manufacturer Texas Beauty Labs, now called The Goodkind Co., in product development. After beginning her career in financial consulting, Lin transitioned to a marketing role at Tatcha and then brand management positions at Proctor & Gamble and The Honest Co.
Still, they walked away from Credo's Credo for Change mentorship program for BIPOC entrepreneurs with new skills and knowledge. "I shout it from the rooftops: These mentorship programs, if you find one that feels like a good value fit, you're going to gain something from it," says Ubias. "I am a huge proponent of pursuing that regardless of experience."
Credo for Change outlined best practices for retail, including the transparent communication essential for fruitful retail partnerships as brands grow and the appropriate level of in-store support. The program was impactful in shaping Common Heir's identity, and it became the first brand from it to be onboarded in Credo's stores and on its website. Ubias says, "To have that stamp of approval and to have that partnership has been really wonderful for us."
2. Don't Wait On Retail 
Ubias encourages founders not to wait on retail because it can have a tremendous impact on awareness, but she cautions they should be selective about the retailers they opt to launch their brands in. During its first month at Credo, Common Heir was among a few brands in an endcap that fostered customer discovery. Ubias says, "That was prime real estate, and I think that's key, getting into any retail doors and understanding where your product is actually going to live in the store so you're hoping to optimize foot traffic that way."
Common Heir jumped on Credo's email marketing campaigns and cross-functional marketing opportunities. It hosted an Instagram Live session on the retailer's Instagram account that delved into incorporating Common Heir products into a skincare routine. One of its most successful retail support tactics has been handing out full-sized gratis products to all Credo store employees. 
Ubias says, "If you are able to do it, I think that is a really great investment that people don't talk about a lot because those are the people that are selling your products and you want them to be just as passionate as you are about your brand and what they're moving."
Ubias shares that brands should set aside tens of thousands of dollars for a productive entrance into a retailer with multiple doors and have enough inventory for three or four months without selling out.  Common Heir aims to enlarge its retail footprint this year as well as bolster its relationship with Credo.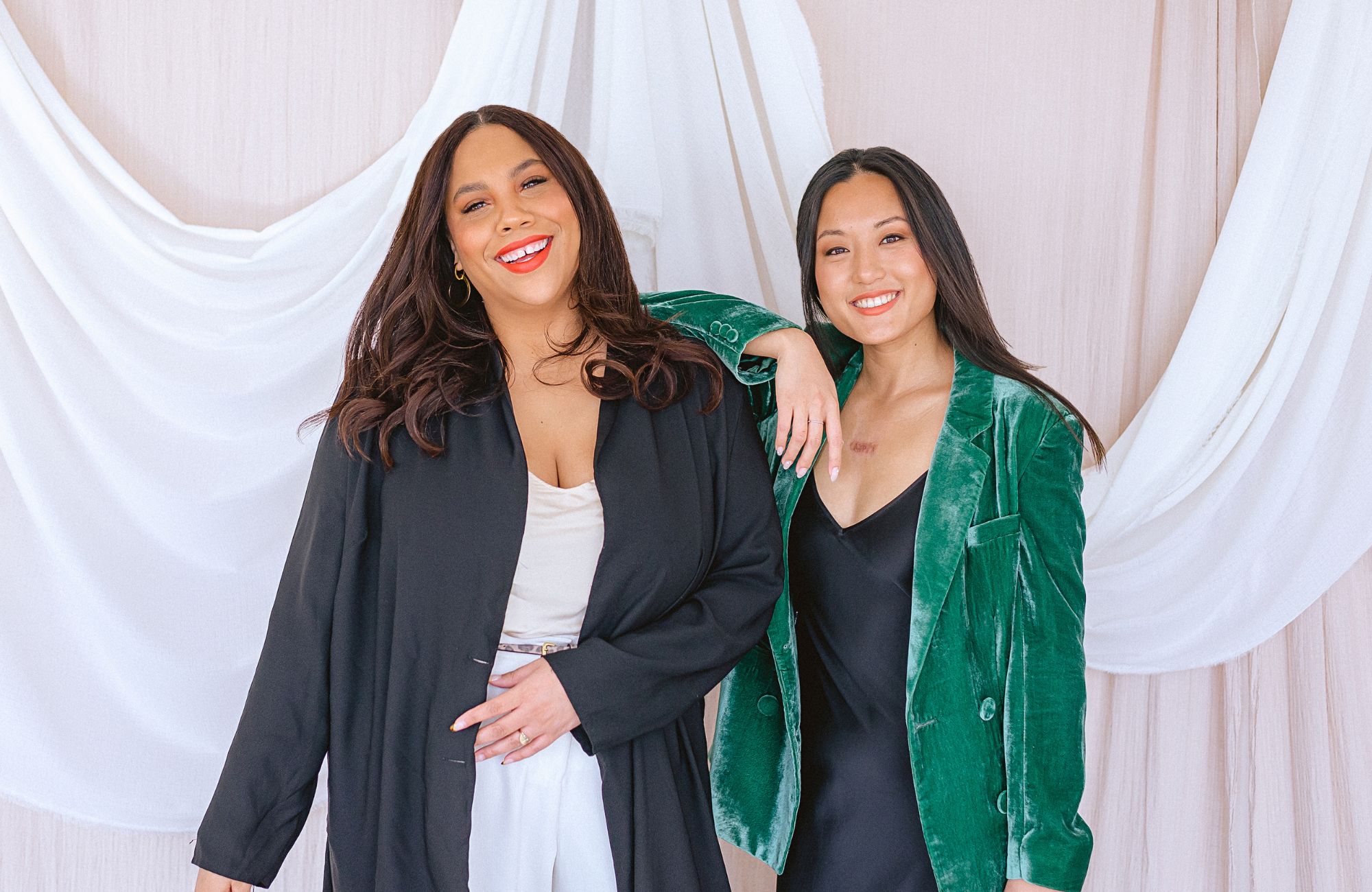 3. Validation And Experimentation Are Important
Common Heir's packaging and branding have been critical to it standing out in a sea of clean skincare brands. Ubias and Lin teamed up with freelance graphic designer Semira Chadorichi on the botanical print covering the brand's cardboard boxes. They spent seven months nailing down the packaging and nine months nailing down serum formulation. It took six weeks to find a manufacturer that met Common Heir's sustainability standards.
The brand asked aestheticians and beauty enthusiasts to test the initial iterations of its formula to collect feedback on application and results. It then commissioned third-party clinical studies to verify efficacy claims. "When we got that feedback from that first beta round, we knew that we had to figure out funding to make clinicals happen," says Ubias. "If we could afford it, [clinical studies] felt like the right move to make because it validated a premium brand from founders that, unless you were very, very in on the industry, no one knew who the heck we were." 
Email marketing via its own email roster and retail partners tends to be effective for Common Heir as is investing in building its community through creator partnerships and events with consumers and industry insiders. Ubias says, "That is more of a long game in terms of ROI, but there are a lot of benefits there to reap."
Reflecting on its path to date, Ubias wishes the brand would have experimented with TikTok sooner. It won't hesitate to try new social media platforms going forward. Ubias says, "Pay attention to anything that feels up-and-coming and throw at least a little bit of effort into whatever that new platform is because it's all a game of eyeballs."
4. Aim For Warm Intros To Investors 
Ubias recommends young brands develop a thorough list of investors interested in brands at their nascent stages along with those that write larger checks for brands at later stages. She suggests they send the list to people in their networks to identify if they have connections to investors on it and can facilitate warm introductions. Ubias and Lin mapped out an outreach plan for a curated group of investors they wanted to strike up conversations with. 
Ubias says, "We found that typically the best introductions that were made for us that ended up being the most fruitful were from other founders." 
Common Heir completed the fundraising process in just four months. "One advantage that Cary and I have and I think anyone that has a co-founder has is the division of responsibility," says Ubias. "I was working heavily on running operations and our retail relationships, which allowed Cary more opportunity to really pound the pavement and put basically her full-time energy into going out and drumming up investors for us."