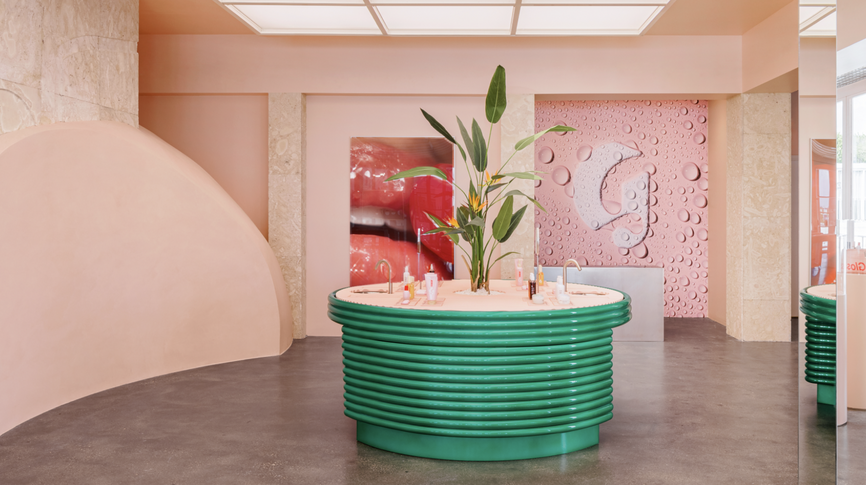 What Does Glossier's Impending Sephora Launch Signal About DTC Distribution In The Beauty Industry?
Last week, Glossier, a brand that epitomized the direct-to-consumer craze of the mid-to-late 2010s, announced Sephora will start carrying its products both online and in stores across the United States and Canada in early 2023. Glossier had short-lived pop-up shops at Nordstrom in 2019, but the brand's Sephora entrance will mark its first long-term retail partnership.
Launched in 2014 as an offshoot of founder and former CEO Emily Weiss's digital beauty industry fanzine Into The Gloss, Glossier quickly established itself as the ultimate no-makeup-makeup millennial brand. Its sleek understated packaging, dewy skin products and "real people" campaigns were antidotes to the Kardashian-style aesthetic cresting on social media.
Besides its website, beauty consumers could only shop Glossier's assortment at the brand's so-called showrooms, a restrictive distribution approach that added to its mystique. In 2018, Glossier reportedly surpassed $100 million in sales. The next year, it reached unicorn status with a $1.2 billion valuation. Last year, it secured $80 million at a $1.8 billion valuation. In total, Glossier has amassed about $266 million in funding.
Glossier's reputation isn't nearly as glossy as it once was. In the last few years, it came under fire from employees who accused it of racism and a toxic company culture, shuttered brick-and-mortar stores due to the pandemic, instituted two rounds of layoffs and appointed Kyle Leahy, who joined Glossier as chief commercial officer in 2021, as its CEO to replace Weiss. In light of Glossier's rockiness, the Sephora move could be viewed as a last-ditch effort to salvage its business.
However, Glossier has plenty it can boast about. Its name still has cachet with many beauty consumers, and it achieved more than most beauty brands have in digital distribution, albeit initially when customer acquisition costs were lower and competition was less fierce. Today, the online landscape is crowded and unforgiving, and people want to be able to shop their favorite brands anywhere, anytime.
Adapting to contemporary consumers' demands, Glossier is coupling its Sephora partnership with continued expansion of its own stores. So far this year, it opened locations in  Washington D.C., London, Los Angeles, Miami and Seattle. Locations in Atlanta, Brooklyn and Philadelphia are set to open soon.
To further explore Glossier's omnichannel shift, we asked 11 investors, e-commerce specialists, brand founders and beauty industry experts the following questions: What does Glossier's Sephora partnership say about the evolution of DTC beauty brands? Do you think DTC brands can no longer be as successful as they once were in the industry?
If you have a question you'd like Beauty Independent to ask beauty entrepreneurs, executives, investors, consultants and other experts, please send it to editor@beautyindependent.com.