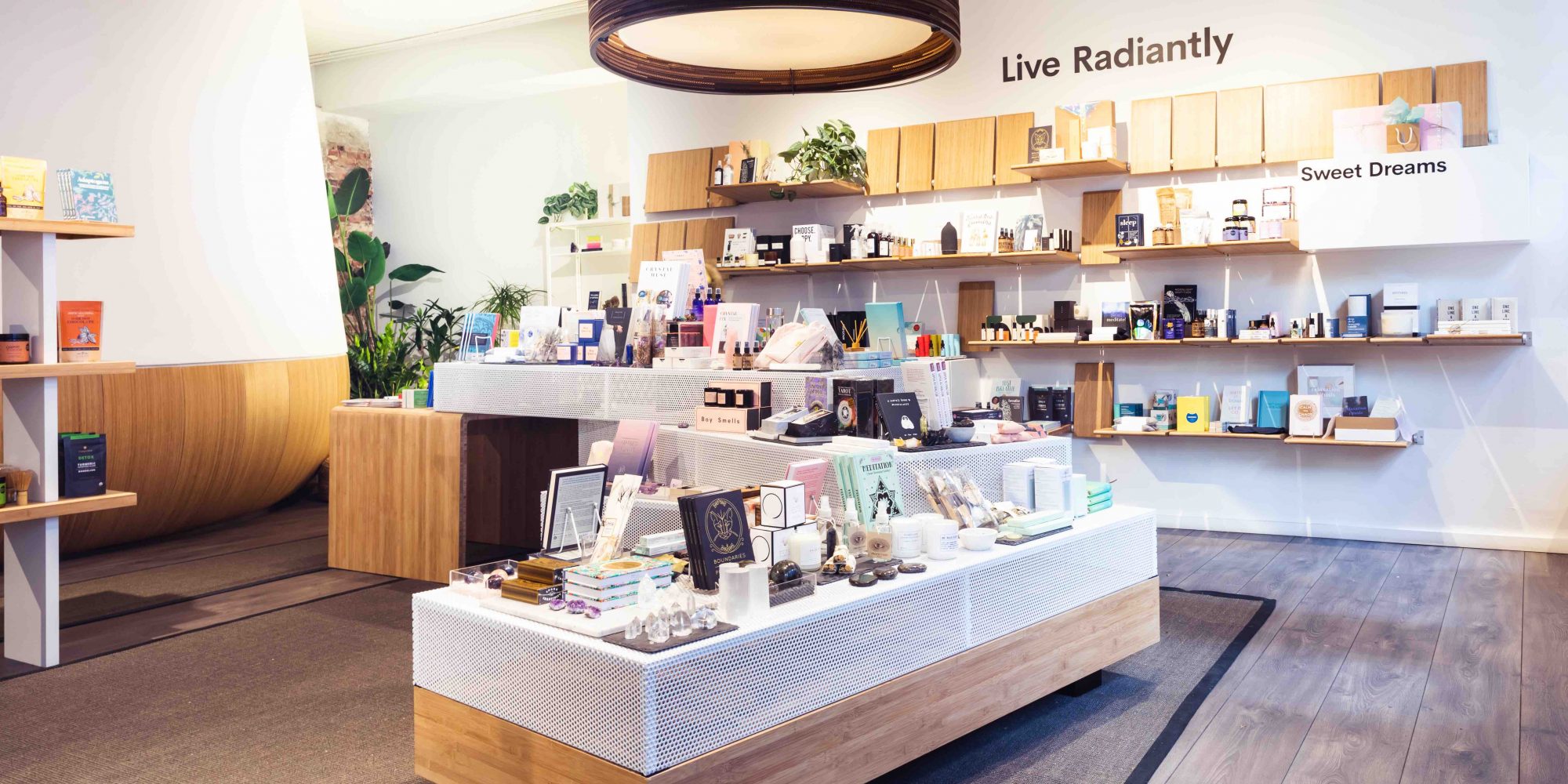 Inside Meditation Studio Inscape's Intention-Based Retail
Shaina Rosenthal learned the buying ropes at Rachel Shechtman's Story, the retailer centered on ephemeral thematic installations that was acquired by Macy's in 2018. Now, she's applying what she learned to Inscape, the Manhattan meditation studio founded nearly four years ago by Intermix creator Khajak Keledjian that's building a serious business selling beauty and wellness merchandise. People flocking to its meditation sessions will discover products that prolong their Inscape experiences beyond its doors. "Our customers talk to our team about their entire lives. They will tell them they're having trouble with this or that. Our team becomes like therapists," says Rosenthal. "Obviously, we recommend meditation, but we also recommend products for their aches and pains or for their PMS or perhaps for focus during work, when they don't want to be sleepy. We curate products around intention." Beauty Independent asked her to elaborate on bestselling brands, e-commerce, events and Inscape's forthcoming CBD items.
How did you become a buyer?
I moved from Dallas to New York for school and went to FIT. I got my associate's degree in fashion merchandising, and I graduated with a bachelor's degree in international trade because I figured that learning more about business would get me further than just learning about patterns and fabrics. While I was in school, I got a job as a sales associate at Story. When I graduated, I was hired as merchandising coordinator and, then, became assistant buyer before becoming head of product development for special projects. I was there for four years. I never wanted to be a buyer. It didn't interest me, but I had the traditional sense of what a buyer is. I thought it was going to be picking this sweater in this color and buying this many. When I realized there was a creative aspect of it, and it wasn't just about worrying about the top line, I became really interested. It was fun to meet a ton of cool brands, and I brought in cool brands big and small.
From there, I did some consulting and helped with pop-ups. I became connected to Inscape through a previous co-worker. It was a small, hands-on company. They had been around for about a year, and they had only a few products. They were seeing that they were getting more interest in the retail aspect, so it was becoming another channel for them. They wanted to bring in someone with experience in buying to oversee it. I started in April of 2018 and, by the end of the year, retail had become over 50% of the business. We've really grown into becoming much more of a retailer, and it looks really different from when I began. We have launched two e-commerce websites—our main page and our CBD page—and we are working on more collaborations, private label and events to grow our brand outside of being a meditation studio.
What did you bring to Inscape from your years at Story?
I learned a lot from Rachel Shechtman about merchandising. I learned to not only merchandise things to look pretty, but in a way that makes sense to the customer. So, a customer can go to one area and know they what they are looking at. It's also easier for the staff. If the customer says, "I'm having trouble focusing," they can say, "Here is our focus and clarity section." From there, they can say, "We have capsules, teas or essential oils," to hone in on the product that's right for them. I also think there's a way to have fun with it. So, when people are looking for crystals, perhaps there are crystals in a different format, and I like to add books that can put a smile on someone's face and offer something for them to discover.
What was the retail assortment like when you started at Inscape?
When I first started, it was a lot of the typical meditation products. It had candles, Japanese incense, and books by yogis and gurus. It was very sparse in terms of product depth. One of the first brands I brought in was Herbivore. I brought in self-care products, and I also wanted to find elevated versions of the products we had. Some of the candles we had were homemade with earthy scents from very small brands. With incense, I didn't want to do ones that smelled like a typical meditation studio. I wanted them to be in pretty packaging and have essential oils scents that you wouldn't be what you would expect. One of the things I enjoy most is curating around books because there are so many interesting gift books. I brought in books that made meditation more inviting and not so technical for people new to meditating.
I wanted to show the Inscape lifestyle. So, you come in, you mediate, you have healthy snacks and supplements. You can relax and, then, you take all that home with you so, when you are at home using our app, you can build a self-care ritual around it. I thought about what I would want to make my house zen without sacrificing my aesthetic. I set up standards for the products, so we wouldn't bring in just regular supplements, for example. I had never meditated before or been in this health and wellness space, but, if it is something that I wanted to use in my own life, it would be something I would want to bring in for the customer.
What are the product standards?
Nontoxic ingredients are important. Not all of our products are 100% organic or natural, but the ingredients are nontoxic. They are cruelty-free and sustainably sourced. I rely a lot on EWG, and I research every ingredient. My team and I try every product. We take concerns seriously. If a brand meets all of our guidelines, but something happens in the production later or consumers have a negative reaction to it, we are quick to remedy that. With CBD, we check all the lab testing. We make sure they do what they say they do. A lot of it is about building trust with a brand. Once we've vetted a brand, we know that, any product they show us, we can trust. I like to look at it through the customers' eyes. I don't want the customer to say, "This did nothing for me." The whole point of the products we have is that they do something for you. Whether it's to boost energy or to calm you down, they should work.
How was it to join a company based around meditation when you hadn't meditated before?
When I first came to interview, they had me take a session before I met with the founder. The best way to get into anything is to try it. I was very scared at first because I didn't know if it was part of the interview process, and they were seeing how I did. But I ended up letting myself go, and I got really inspired. So, when I was going through the products, I had an idea for them to be more intention-focused. I thought, "If somebody was coming into our store, they might have an intention like perhaps to sleep better." So, now, there's a whole section dedicated to sleep. Coming from my background working on hyper-specific merchandising, I wanted to curate products around central themes. Starting with when you wake up in the morning through your day when you are stressed until you come home and want to relax and go to sleep, I wanted to create rituals for your everyday.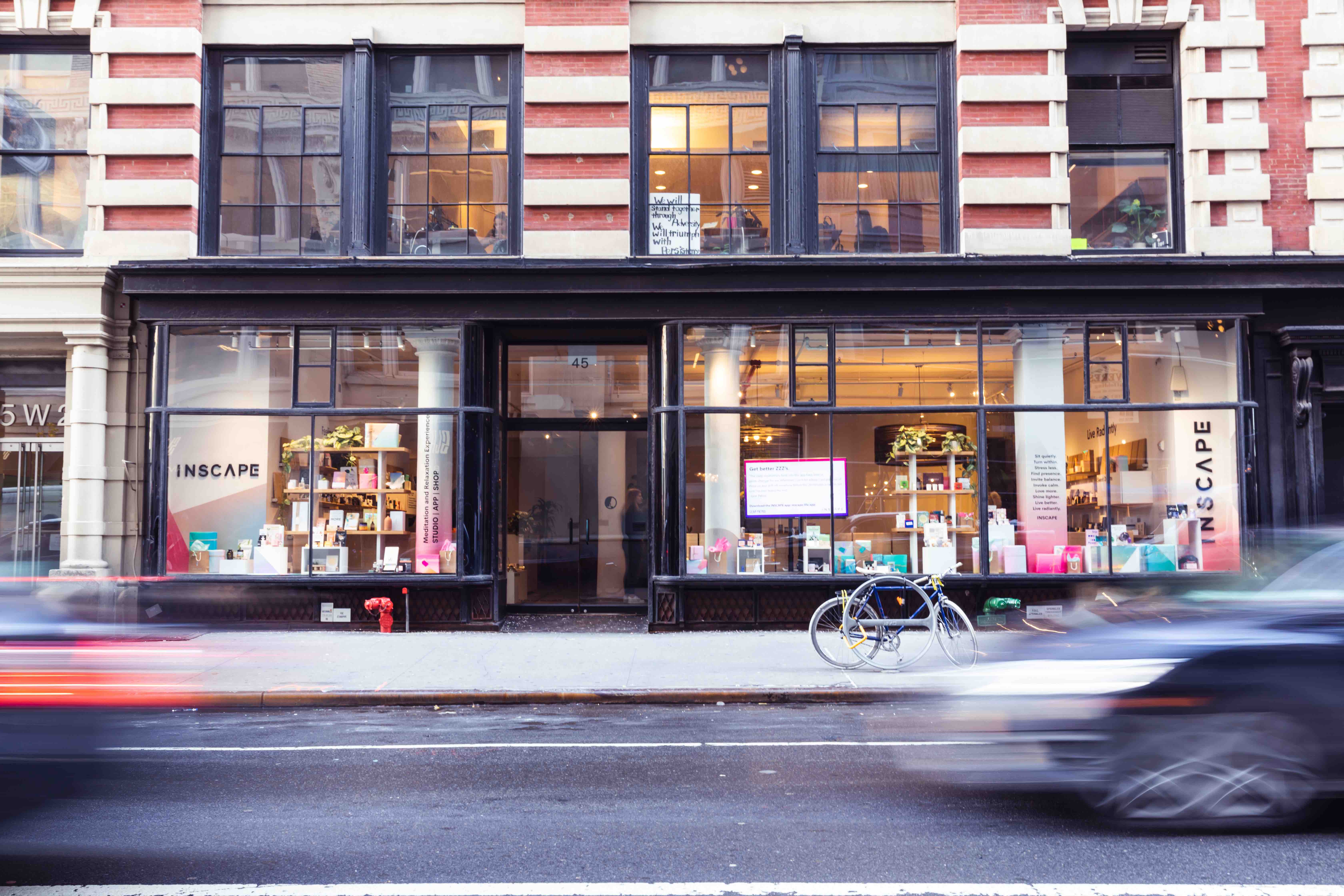 How many brands does Inscape carry today?
We have about 400 brands in rotation. We still have some of the core products that were here when I started, but we've really increased the categories we've seen an interest in. We have items that are giftable that can also be personal purchases. Candles and aromatherapy are bestsellers. We are increasing our assortment of skincare, and bath and body products. We're not trying to compete with Sephora or Credo. We curate an assortment of skincare, and bath and body products that complements the whole relaxation and meditation lifestyle.
Last year, CBD was our biggest category for sales. You can add a CBD add-on before sessions, and we have snack and candy sections with CBD products, and we have a refrigerator with CBD beverages. We are aware that the CBD market is saturated. There are stores down the street carrying CBD and even CVS has it now. We want to make sure we have products others don't have. So, we are working with small brands that don't really have that much distribution yet, but have great products. We are also launching our own CBD line, so that's something no one else has.
What products sell well from the CBD selection?
The most popular subcategory of CBD is our tinctures and edibles, from gummy bears to tea. People feel more in control with that rather than taking a capsule or vaporizer where you don't get to choose the amount as much. When people are new to it, we have them start at a base level and build up. If you are taking a capsule with 30 milligrams, you can't really take 15 milligrams. But, with a tincture, you can take half of a dropper. When we first brought CBD in, we thought, "Let's try everything." We even had CBD toothpaste. We quickly saw that people are coming to us for CBD to solve something, and we are weeding out the things that are using CBD just because they have access to it. I get a kick out of all the different CBD things out there like CBD athletic wear and bedding, but we are going back to our original ethos of everything coming from an intention and helping with a mindful lifestyle.
What's the bestselling CBD brand?
Our top vendor is Plant People. They are great partners because they are local, and we have developed a really great relationship with them. We do lots of activations with them. Their products are very high-quality. We also do well with Lord Jones. I call that an anchor brand, where it's not necessarily exclusive to us, but someone is coming in looking for that Lord Jones product. If we don't have it, they will go somewhere else. Wildflower is another one that does well. Besides that, we always try to bring in a new cool brand. We're just getting in Kaleidoscope Labs.
Tell us about Inscape's CBD products.
It's our first foray into private label. We found a manufacturer, and we've tried our products and we really trust the quality. It's an all-organic and non-GMO product that's 0% THC. When we were looking for who we wanted to work with, we wanted it to be 0% THC. We are starting with one [tincture] that's 500 milligrams with CBD and MCT oil. It's nice and pure with no flavor. We are also starting with a 1,000-mg. [tincture] with lavender, vanilla and MCT. It has a lovely light flavor. In our space, lavender- and vanilla-scented essential oils are our top-selling scents, so we thought we would put those together in our tincture. Everything goes back to our mission of modern wellness, self-care and living an intension-based life. We are pairing it all with our app. So, when you purchase the CBD, you get a trial of the app, so it brings it full circle. The bottles match our merchandising and branding, which has a gradient pattern. We are going to be doing CBD topicals as well. Our next products are going to be a hand cream and perhaps a gummy. We are trying to keep our products priced on par with the market. The 500-mg. [tincture] is $60, and the lavender and vanilla one is $120 for 1,000 milligrams.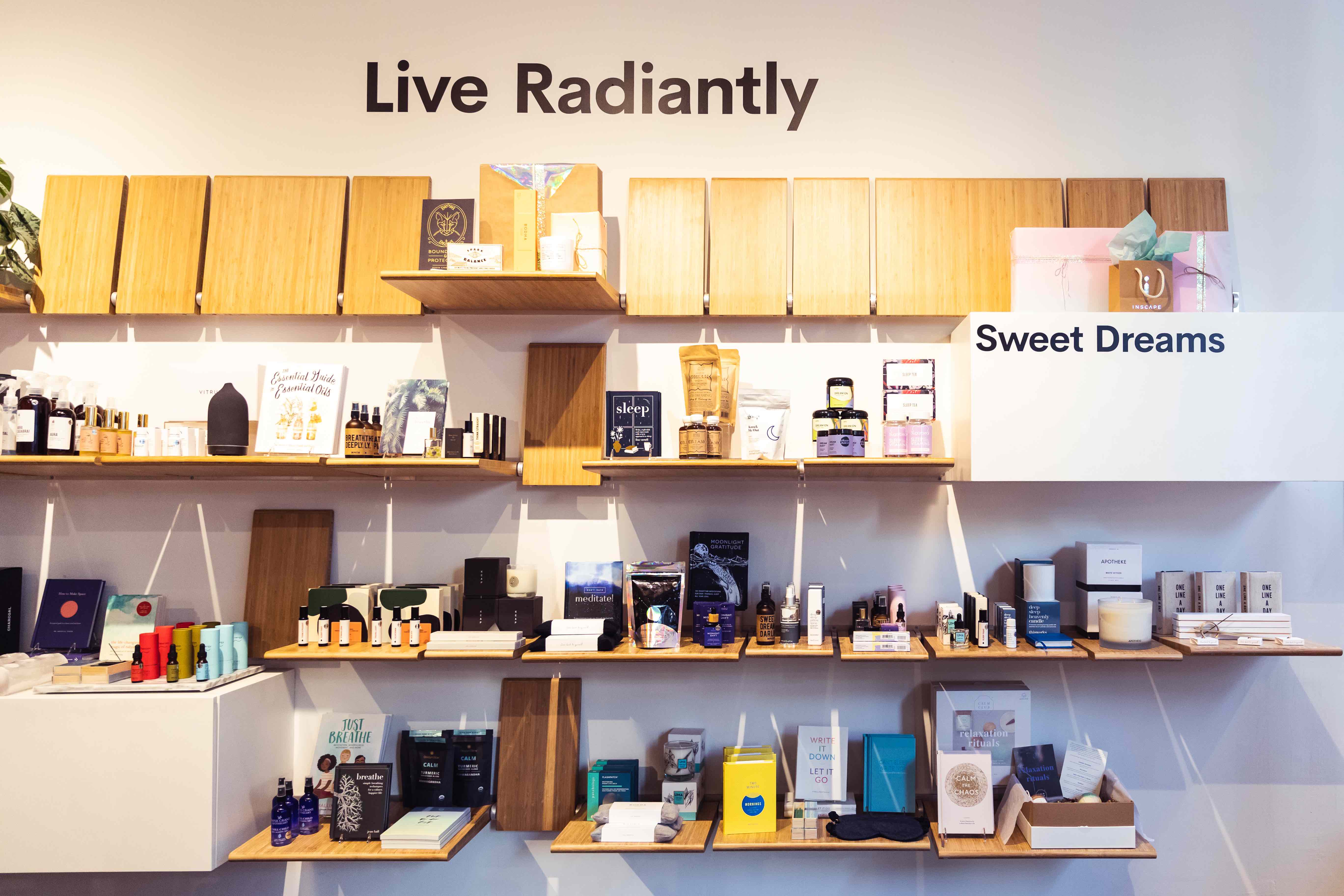 What are bestselling beauty and wellness brands?
Our essential oil products are really great sellers. With Vitruvi, people can customize their own essential oils. It's a less scary way of approaching essential oils. They have scents that can work together or by themselves. Before every session, we put a little dab of Uma's oils on people's wrists. They have Pure Bliss, Pure Calm and Pure Energy. So, we pair the oils with the session theme. A lot of times, people will come out of a session and ask, "What did you put on my wrist?" Moon Juice, Sakara and Goop are anchor brands, and they have high ROI. Also, tarot card decks do well, particularly The Wild Unknown by Kim Krans. Candles do really well, and two top candle brands are Boy Smells and Apotheke.
Is the website selection the same as the selection at Inscape's studio?
On the websites, it's a smaller selection because we like to test the product in-store first. Because we are a small team—it's me and one other person—and our office is downstairs from the studio, it's easy for us to go upstairs and see how products are doing. We want to make sure, when we are taking time to write all the copy, photograph products and upload them, that we are going to actually see the benefit of doing all of that. If the product does well with the audience in our store, we figure it will do well when we present it to the country. Right now, e-commerce is just a small portion of sales. We didn't launch it completely until the beginning of last year, and the CBD site didn't launch until the spring of last year. We are in the middle of a website redesign right now and have hired an outside agency to help us grow it. It should be completely finished soon, and it will include more storytelling. We are launching a blog with content from our vendors, interviews and product roundups. This year, we anticipate it will be a much bigger percentage of sales.
What's your approach to events?
We are still in the process of figuring it out. We want to try different things and see what is actually bringing in people. We have done flash facials, which we think are nice add-ons, but things like a tarot card reading or a sampling from cool brands like Moon Juice or Plant People, those people are really excited to come in for. It's about finding different brands to activate the space, and it helps to have founders there. It helps not to just have a product to try, but someone talking about the brand and having a session to pair with it.
How do you incorporate products into meditation sessions?
I focus my time on the retail part, but I work in partnership with the facilitation team. The people in the sessions with you are facilitators. They are there to help you get situated, tell you about what is going on and start the session, but they are not narrating the session. I work with them to find out what they think would be best because they know about what goes on in the mediation rooms just like I know about merchandising. We did a CBD add-on because people were buying CBD to take it before a session. For $5, you can add on CBD from one of our brands. People will come out and say, "I loved that experience, which bottle did I use?" Then, they will buy the bottle. We do a lot of crystals in the room, too. If we do a big clear quartz crystal, they will say, "I loved the energy of that, do you have something small I can buy?" I don't want to turn the meditation rooms into a selection of retail products, so I want to include products that are meaningful for sessions and not overstep that.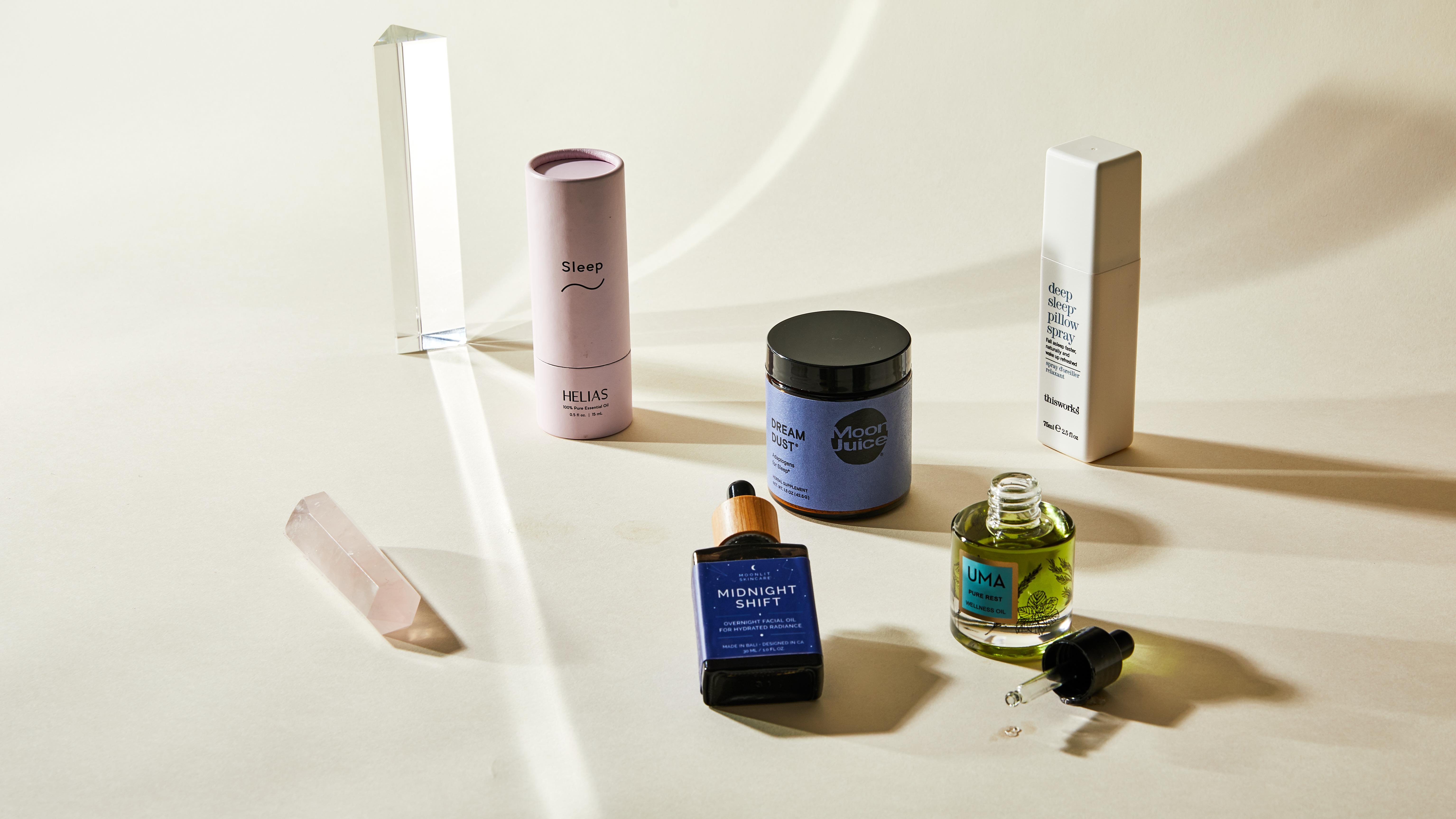 What are long-term goals for Inscape's retail?
We want to do more exclusive product. We are working with certain vendors to create products in specific color ways or with specific scents or with an intention that mirrors their expertise. Also, we really want to grow in the modern meditation space. So, we have some gorgeous crystal sound grids that you hit with a tuning fork and a travel meditation pillow. We are transforming the old practice into something more modern for today's lifestyle.