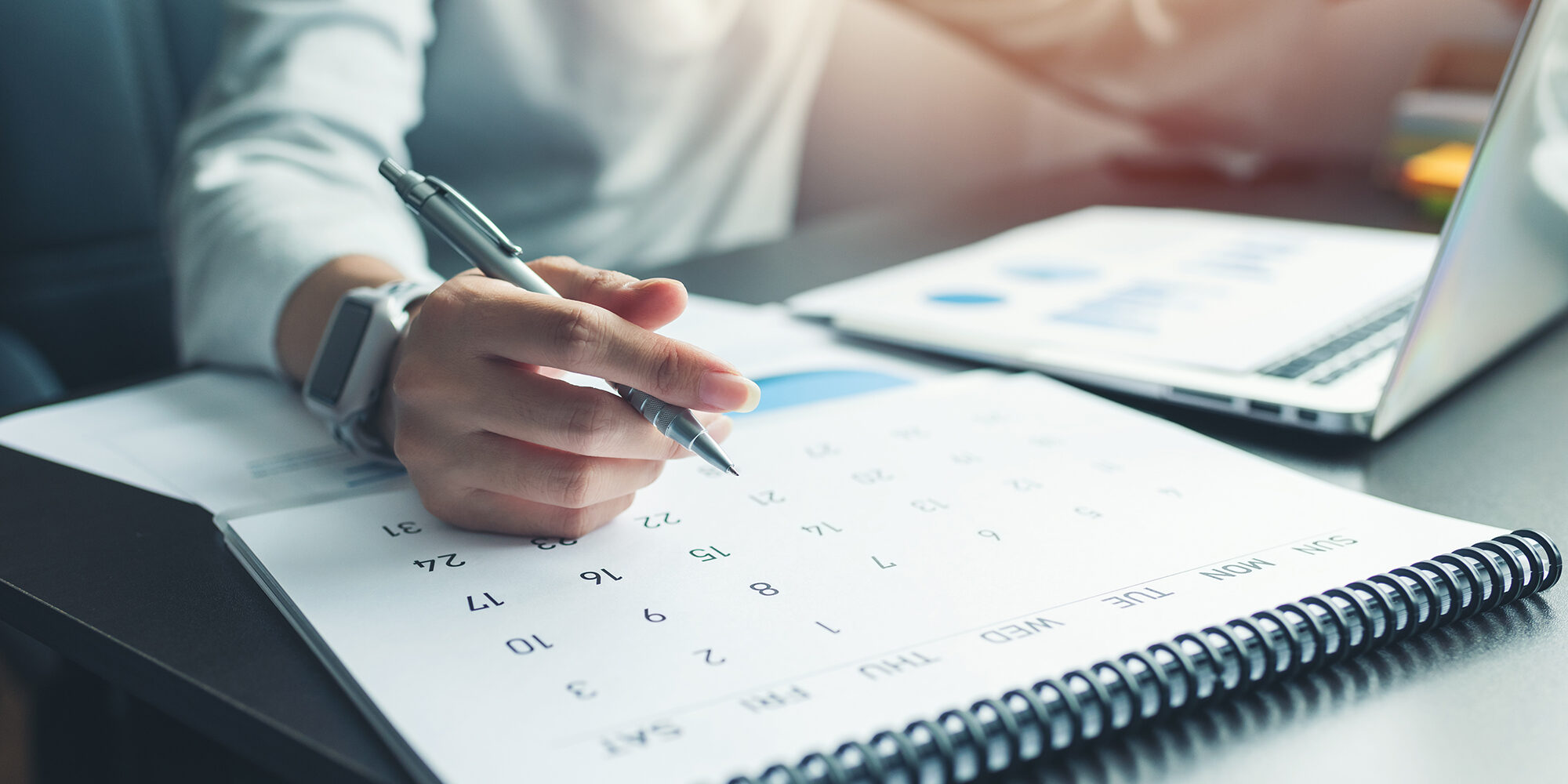 Leading Retail Brands On 2020 Pivots And 2021 Forecasts Amid Uncertainty
This year has been unlike any other, creating unforeseen challenges for entrepreneurs, from supply chain shortages and soaring unemployment to a work-from-home revolution and e-commerce boom. Persistent questions about the effects of the pandemic and economic conditions are leaving brand founders uncertain about how to allocate their budgets and establish business priorities for the year ahead. 
Amid the precariousness, three brand leaders—Greg Starkman, co-founder of Innersense Organic Beauty, Beatrice Dixon, founder of The Honey Pot Company, and Kurt Seidensticker, founder and CEO of Vital Proteins—shared their approaches to forecasting for 2021, potential hurdles they're planning for and what they believe will heighten their brand in the near future. 
Greg Starkman, co-founder of Innersense Organic Beauty
2020 Pivots: When the coronavirus disrupted business in the United States in March, the clean haircare brand, which is distributed in over 7,500 salons, spas and retailers, including at Credo, Ulta Beauty and The Detox Market, saw its wholesale operation come to a screeching halt. It refocused on its direct-to-consumer presence, which experienced a sales spike in the second and third quarter of this year. Its online gains reflect overall strength in the U.S. prestige haircare segment. Market data firm The NPD Group reports sales in the segment rose 11% in the third quarter. 
Supply chain issues were tough for Innersense this year. Its bottler closed four times and worked at a reduced capacity for most of the year, instigating a backlog that affected production timelines. Packaging wasn't easier. Innersense ran into difficulty acquiring packaging such as foam bottles. "It really forces you to think and plan forward at a level that you wouldn't have thought you would have had to," said Starkman. He added, "It puts a lot of pressure on us because we have a lot of growth opportunities, but how can we go after that business if I'm not sure if I'm going to have the inventory?"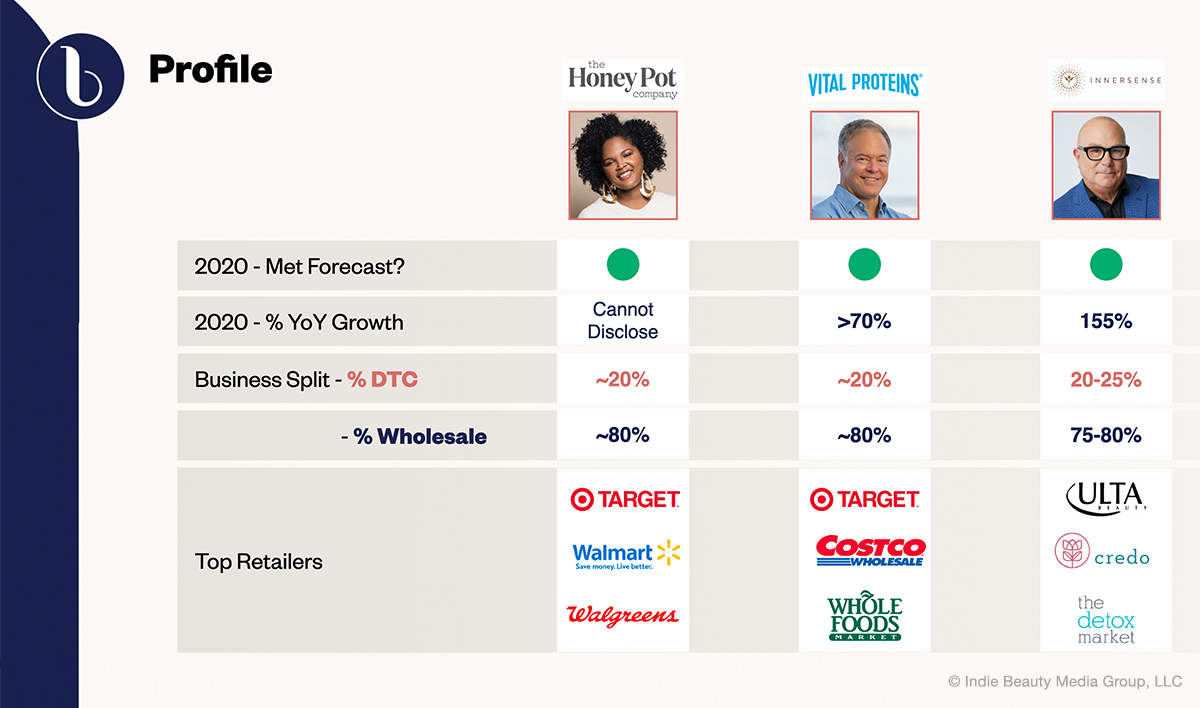 2021 Priorities: Starkman feels bullish about 2021 and predicts Innersense can realize 65% growth, a figure the brand surpassed this year. "It's not about growing a new market, it's just about capturing market share and creating superfans," said Starkman. Retailers, especially in the clean beauty space, have begun to grasp haircare's potential, as categories like skincare and cosmetics stumbled. Innersense has more than doubled the headcount of its marketing team, paying in particular attention to its digital talent. On top of its marketing push, the brand has brought in managers to bolster professional and consumer education, including virtual training.  
In January 2021, Innersense will triple its inventory and fulfillment capacity. "These are investments that I had planned to make earlier in 2020 and got very conservative," explained Starkman. He elaborated, "As we crossed the mid-year threshold, there was no reason for us to continue to be conservative. Our 2021 targets are really aggressive. The stimulus package put a lot of free cash in the marketplace that we were able to enjoy the benefits of."  
Key Expenditures: Digital platforms like Facebook and Google makes up about 12% of the brand's marketing spend. Starkman expects to ramp up its marketing on YouTube and TikTok in the coming months. Currently, influencers account for about 5% of Innersense's spend, but Starkman anticipates increasing the brand's influencer efforts, too. Out of its budget, 5% is dedicated to brand education, an important aspect especially for salons. Learning a lesson from the supply chain constraints that roiled 2020, Innersense is stocking up on components as far as 60 weeks out. 
Beatrice Dixon, founder of The Honey Pot Company
2020 Pivots: Retail business for The Honey Pot, which is sold in 20,000 doors of retailers the likes of Target, Walmart and Walgreens, surged in the second half of 2020. "People were stocking up. Sales never stopped," said Dixon. The Honey Pot wasn't immune to supply chain issues. Procuring raw ingredients from abroad was hard. A handful of the feminine care brand's products are made in Europe and Asia,  and it air-shipping them to the U.S. at higher cost to stay on schedule with retail fulfillment. Dixon asked herself, "Do I keep volume up and sacrifice margin or keep my margin, but suffer lower sales?" She decided to do what she could to satisfy retail partners rather than risk being pulled off their shelves and concentrated on them over The Honey Pot's DTC channel. "We can't afford to fuck around with our retailers,' said Dixon. She noted, "I need that real estate desperately. DTC does not yield the volume of sales like retail."
2021 Priorities: The Honey Pot's focus for next year is building up inventory. It's meeting with key retailers monthly to check in on stock availability as the brand prepares for another year of healthy growth. Dixon is setting up back-up manufacturers to provide another layer of inventory support. She's spent the past several months evaluating possibilities. "This year, when we had issues with our manufacturers, whether that be domestic or overseas, we were kind of beholden to them," said Dixon. "We love our main suppliers, but we have to have a back-up plan."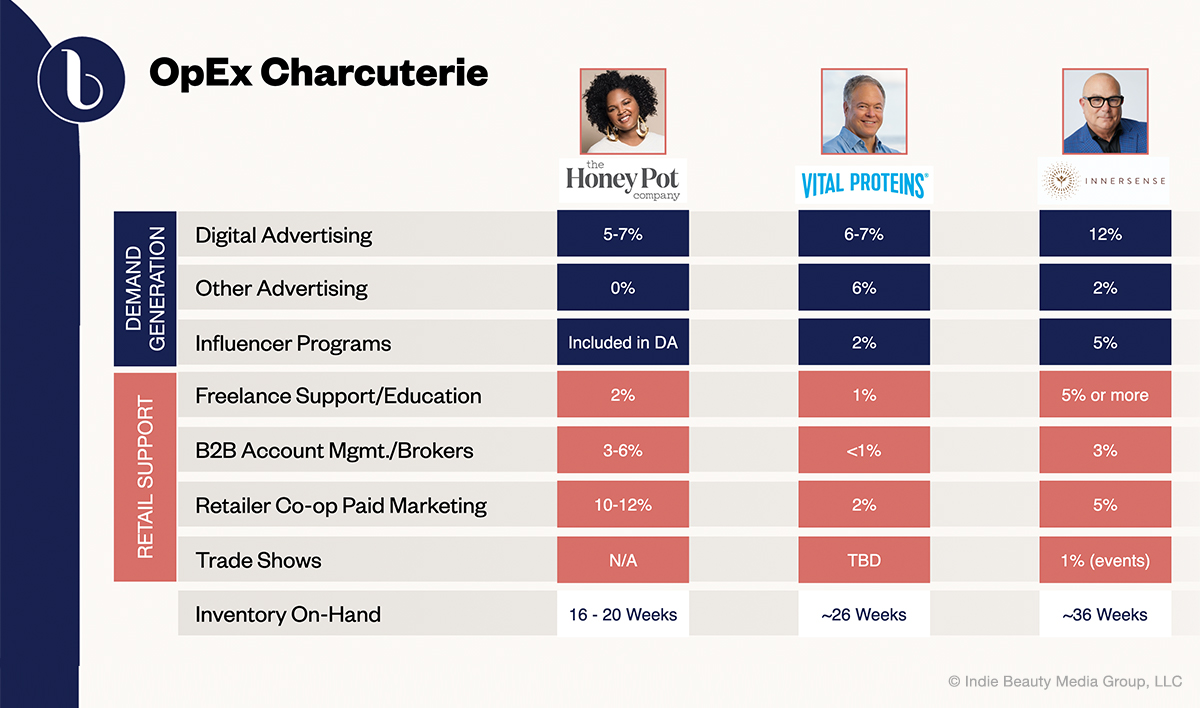 Key Expenditures: The Honey Pot's digital ad budget is 5% to 7% of sales, down from 15% to 20% during the brand's launch and immediate post-launch phase. Dixon emphasizes digital marketing, specifying Instagram followed by SMS and email campaigns as her brand's targets, and trade marketing performs well. The Honey Pot's wholesale focus means it doesn't commit substantial resources toward digital consumer acquisition strategies. "It's just not an area that we can compete in, which is the reason why we've gone after the volume retail play," said Dixon. "We're not having to go and buy our customers. I know some of my competitors are spending like half a million dollars a quarter, if not more." The Honey Pot allots between 3% and 6% of its budget to broker commissions to establish and grow its business with major distributors. "It's important for us to have those brokers because they really understand how those retailers work and how to deliver your message," said Dixon, a former retail broker. "They help with the mountains of paperwork that has to be done when you're going into category review season." 
Kurt Seidensticker, founder and CEO of Vital Proteins 
2020 Pivots: Vital Proteins, which is available in 40,000 retail doors, including at Target, Costco and Whole Foods, has manufactured its products in-house since its inception. Prepared for significant growth in 2020, it had 26 to 30 weeks of inventory on hand at any given time, a move that allowed it to largely avoid supply chain issues. In late January, Seidensticker recognized there may be interruptions due to a potential pandemic and started stuffing the supply chain. For instance, Vital Proteins amplified its Amazon supply to fulfill 16 weeks of orders versus four weeks in case of a rush on orders at the e-commerce giant. While the brand's sales in some physical retailers, notably Whole Foods, dipped, they climbed through e-commerce. 
"Consumers were really leaning into the wellness trend, focusing on what they put in their body, so collagen was just a natural part of that," said Seidensticker. The collagen product specialist shifted event staff—pre-pandemic, it used to run or participate in 10,000 live events a year—to positions in e-commerce or other areas within the Nestlé Health Science-owned company to avoid mass layoffs. Seidensticker said, "As a CEO, you're just constantly adapting to what is being thrown at you, always staying on top of the trends and trying to predict."
2021 Priorities: Vital Proteins is anticipating 70% growth in 2021, thanks in large part to its partnership with Jennifer Aniston. The actress was announced as Vital Proteins' chief creative officer in November. Seidensticker says much of Vital Proteins' marketing resources in 2021 will support promoting the partnership. It will be creating television commercials and escalate its digital media spend. The brand is enlarging its e-commerce staff to hone in on retargeting and intensifying awareness via Instagram and influencers. 
Key Expenditures: Seidensticker recommends spending around 20% of a brand's total revenue on marketing. Currently, a third of Vital Protein's marketing budget goes to digital initiatives and a third toward TV commercials. Only 2% is apportioned to influencers. Participating in retailer co-op paid marketing programs has been effective for the brand. "You have a targeted consumer, and you're able to get that message to them," said Seidensticker. Vital Proteins' sales at Costco jumped 30% to 40% after the brand was featured in a mailer from the club retailer. Seidensticker has a small budget reserved for trade shows in case they reemerge in 2021. He said, "If they happen, I'll be there."