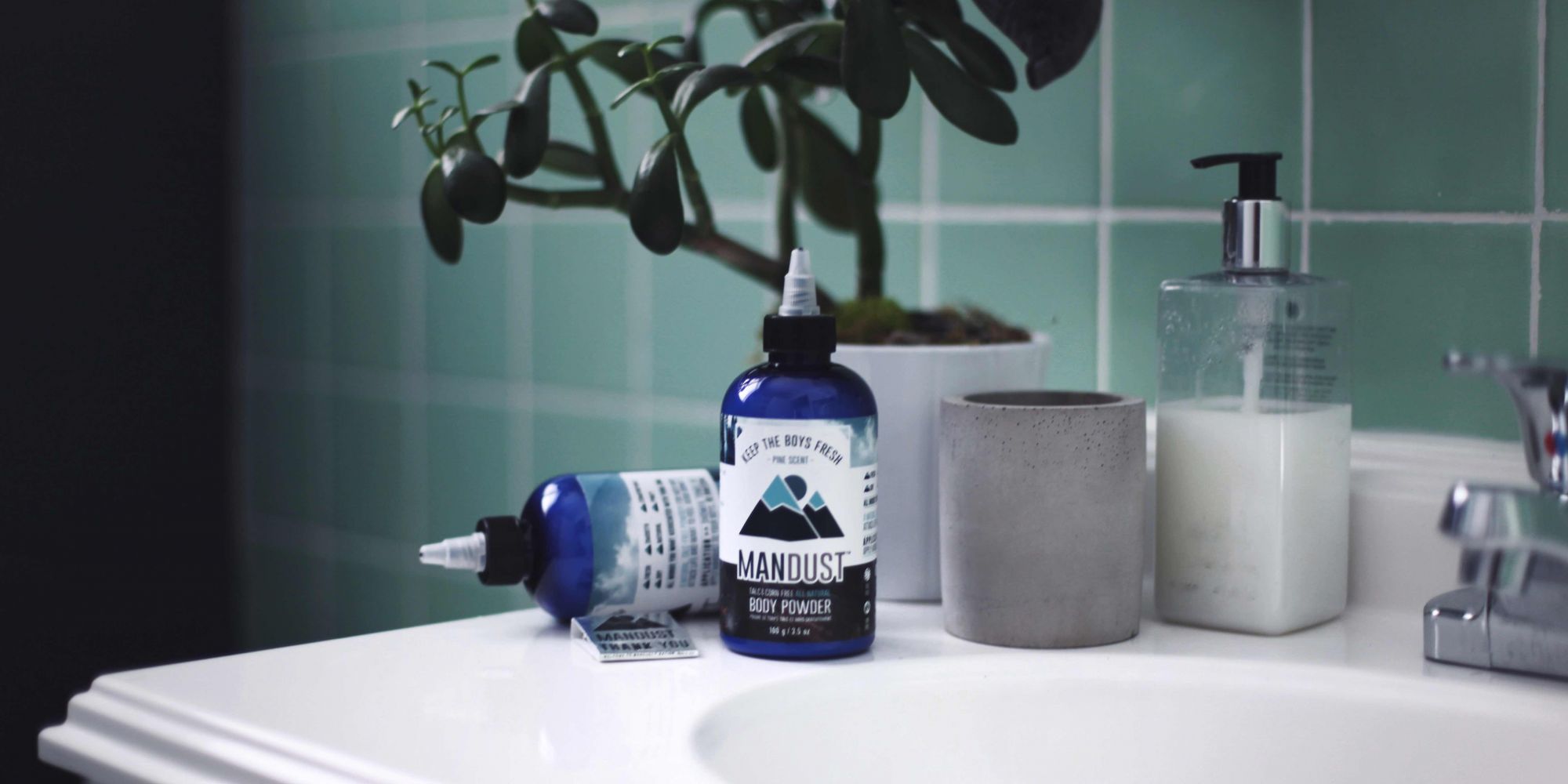 Mandust Is Out To Naturally Address Sweaty Parts In More Parts Of The World
Mandust isn't settling. The body powder specialist is expanding across its home country Canada, where it recently entered The Truth Beauty Company, and setting its sights on the U.S.
The good news for the talc-free alternative to Gold Bond as it spreads is that perspiration isn't limited to a single geographic region, and neither is customers' interest in natural remedies for it. Propelled by escalating demand, Toronto-based Mandust's sales are on track to triple this year.
"People are discovering it, and realizing it's a product they want in their bathroom and toiletry or gym bags," says founder Adam Hoffman. "There's a lot of great word of mouth driving it. It's a good product. People come back, buy it again, and tell their friends about it."
Hoffman's personal and professional lives collided to lay the foundation for Mandust's concept. Outside of work, he's an eco-friendly product enthusiast. At work, he's director of business development at basketball training center Athlete Institute. During his day job, he noticed athletes dousing themselves in baby powder containing ingredients he didn't think were beneficial and smelled not so spiffy. While not doing his day job, he thought he could whip up a better solution for their sweat and stench.
"We were taking it one step at a time and wanted to launch with one product," recounts Hoffman. "I had a goal to do one thing toward the project every day. Whether it was one little thing or one big thing, it was a nice way to keep momentum going to put all the pieces together to launch the product."
Ingredient research was often a daily objective. In his investigation of talc substitutes, Hoffman stumbled across arrowroot and cornstarch. He ruled out cornstarch because of possible adverse reactions to corn compounds. Hoffman decided on arrowroot and combined it with white kaolin clay, zinc oxide and essential oils, which give Mandust a piney aroma. The product is priced at $21.95 for a 3.5-oz. size and $9.95 for a 1-oz. travel size.
"You don't have to use a lot. When you rub it gently into your skin, it doesn't leave a white residue," says Hoffman. "Some powders are a little grainy or rough, and don't have ingredients to make your skin soft, and that's what we have. It creates a nice feel that makes you dry, smooth and really comfortable."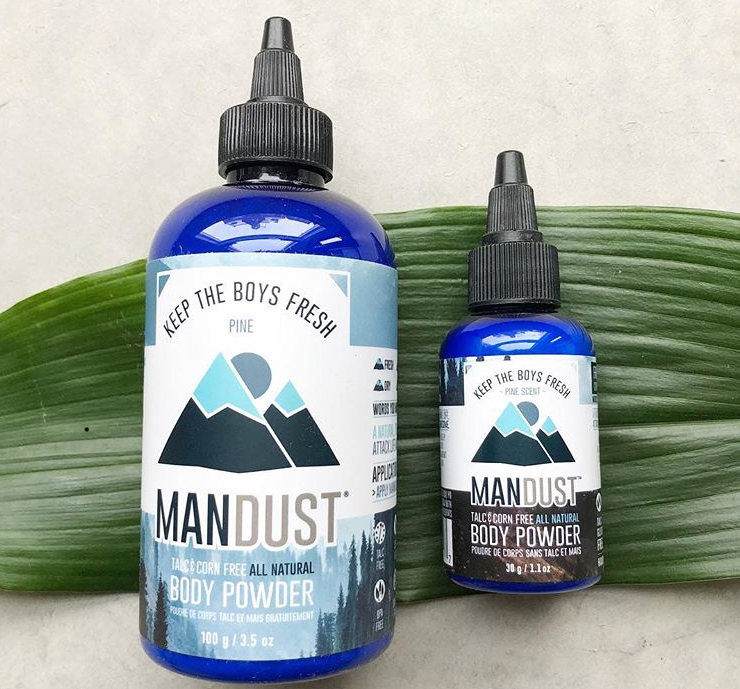 Before Mandust made its debut in October 2016, it was picked up by two retailers: Purdy Natural and Desi's Boutique. The early distribution successes boosted Hoffman's confidence to further reach out to retailers and, today, the brand is carried in 40-plus Canadian doors. Hoffman believes it performs well in general stores, spas and natural beauty retailers such as The Truth Beauty Company. He forecasts it will break into the U.S. within the next few weeks or months.
Jennifer Freitas, founder and CEO of The Truth Beauty Company, calls Mandust "magic dust." She elaborates that it's a "great product idea, and one that was needed. Over the years, I have had my athletic clients ask for a body powder to prevent chaffing. So, when I heard of Mandust, I knew it would make sense. [It's a] multi-use product for the whole family and is priced reasonably."
Mandust added Ladydust to its product lineup in November and is expected to release a baby option soon. Ladydust has a citrus scent and its label is predominantly purple as opposed to the blue characterizing Mandust's design. Hoffman teamed with his sister Carly Hoffman, founder of Muskoka Design, on packaging that incorporates mountains and trees to represent his passion for the outdoors. Mandust is tweaking its bottle to move from recyclable plastic to recycled fiber.
As the brand grows, it's sorting through how to best handle scaling up production. Currently, Mandust manages manufacturing itself in an around 700-square-foot space. Hoffman estimates its existing capacity will be sufficient for a year or two more. He's considering the possibility of outsourcing production to a contract factory, but isn't sure that's the right strategy for Mandust.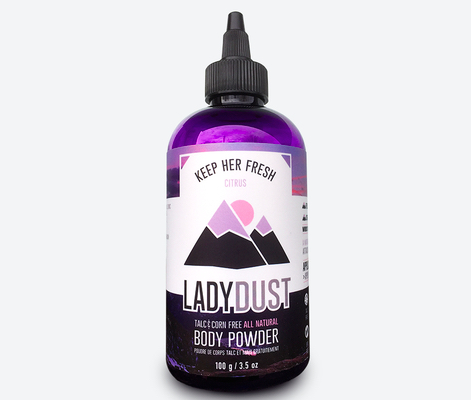 "We don't want to lose that part of the business just yet, if ever," says Hoffman. "Ideally, we would always have our own space with our own equipment. I like being in control of the quality and knowing exactly what we are dealing with, how the bottles are filled and that the space is cleanly. I don't like the idea of somebody else taking over that process unless we develop a great relationship with someone."
For now, Hoffman is focused primarily on forging great connections with Mandust's customers and retail partners. He approximates 70% of customers switch to Mandust from a competitive product and 30% haven't used a body powder prior to Mandust. Those converting to Mandust are seeking to avoid talc and didn't enjoy the odors of the powders they previously applied to their bodies. On Mandust's website, sales are split equally between men and women, but women are the majority of the customers in the stores where Mandust and Ladydust sells.
Speaking of stores, Hoffman is intent on improving Mandust's business in its present distribution even as it enlarges its retail network. "A huge goal for us is to nurture the relationships we have with the stores that took chances on us," he says. "It's not satisfactory to us to just get into a store. We want to continue to develop the relationships with our retailers and be part of their worlds however we can, whether that's coming in for pop-ups or donating products to charities they're involved in."