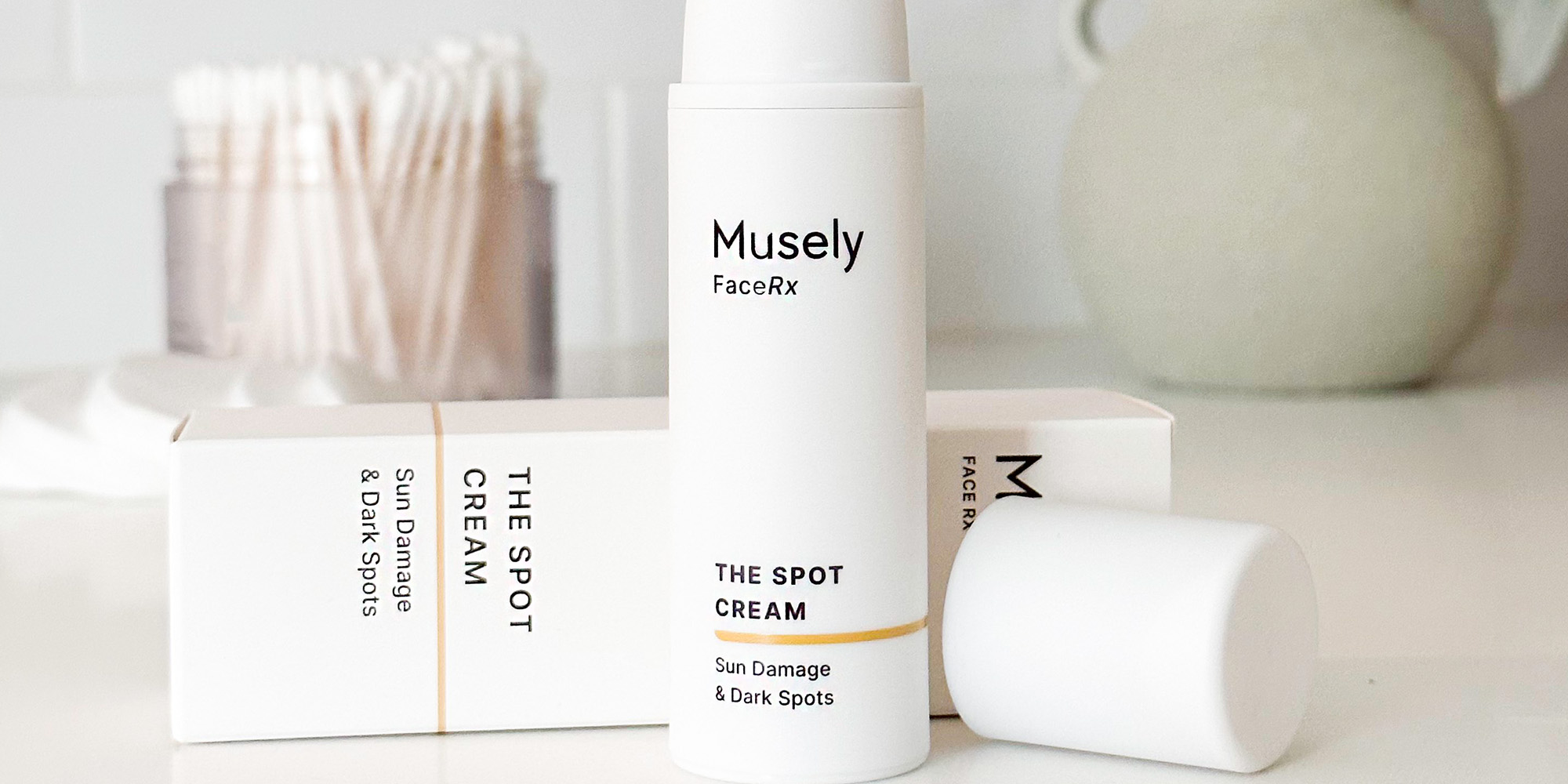 Musely Refines Its Design To Set The Stage For Its Next Phase Of Growth
Musely has undergone a rebrand that reflects its evolution since introducing prescription skincare four years ago and tees it up for future growth.
The company reports it's poured millions into upgrading its design to eliminate the bright pink that was a signature of its packaging to date in favor of a subtler palette appealing to its broad base of customers, who range in age from their thirties to their eighties, but have a fortysomething median age and are increasingly males, not the demographics typically associated with bubbly pink. Modern farmhouse aesthetics—think subway tiles' clean lines, wood accents and earthy tones—were the inspiration for the rebrand.
"The cleanness represents the clinical nature of our solution. The wood represents that we are warm and approachable. So, it's a comfortable home, which happens to match our telemedicine," says Jack Jia, founder and CEO of Musely. "You can do all of this at the comfort of your home, so you don't have to go anywhere to get your prescription medications. And the modern farmhouse generally is more affordable. It's cheaper to buy than your very ornate, decorative home."
Nine months in the making, the rebrand, which doesn't completely ditch the pink (it's hanging around in a muted shade), is also intended to give Musely, today focused on the United States, a design that could work when it extends abroad and beyond prescription topical skincare into wellness prescriptions in a "live better" component of its offering.
Jia mentions that, in the coming months, the company will be rolling out two to three medications outside of the dermatology field informed by findings of the about eight pharmacists and 20 doctors on its team on ingredients that have positive impacts on well-being. In total, it has over 100 employees. Musely has already released ingestible products The Spot Pill and The Hair Pill to combat dark spots and hair thinning.
Global expansion is further out. Jia anticipates it will happen in the next couple of years. Headquartered in Santa Clara, Calif., Musely has been preparing for it by researching and sending scout teams to three to four international markets. Jia didn't specify the exact markets. However, he explains Musely expects to venture to countries with relatively high incidences of conditions its medications address.
"For example, 40% of Brazilian women have melasma, and that's much higher than the U.S. population. About 6 million U.S. women have melasma. However, the rosacea we treat is more a fair skin-inclined condition. There, maybe Northern Europe would be more interesting," says Jia. "Then, there are age spots from the sun, which pretty much anybody can develop, but certain cultures are just more sensitive to it. That tends to be more Asian culture. In fact, we over-index on Asians. Even within the U.S., we two to three times over-index on dark spot treatments in the Asian population versus other ethnicities."
"We are probably one of the most efficient in terms of marketing and return on marketing spend in our industry."
Musely is a long way from its start as Trusper, a lifestyle and beauty tip content platform launched in 2013. In 2017, Trusper morphed into an e-commerce marketplace and app that had 900 skincare products and a few thousand lifestyle products. It specialized in organic and natural products. At the time, Jia says he began to realize that many skincare products, despite the promises they make, are glorified moisturizers. "We joke that it's scented water," he chuckles. "Do you need to spend $300 to get scented water on your face? Probably not."
Musely's telemedicine model skips the scented water in favor of skincare medications. The model consists of three-minute doctor visits and compounded prescriptions sent directly to people's homes. Musely figures its doctor visits cost $20 compared to at least $200 for standard dermatologist visits, and its treatments cost $50 to $110 compared to $400 to $1,000 and above for standard treatments from dermatologists. And it figures its compounded prescriptions have 10 times the effectiveness of standard over-the-counter treatments.
Musely was born with two products under the FaceRx umbrella—The Spot Cream and The Anti-Aging Cream—and bright pink was its signature color because it was Jia's wife Cherry's favorite color. Now, it has 15-plus medications and 100-plus formulas for dark spots, anti-aging, hair loss, rosacea, body care and more. Along with The Spot Cream and The Anti-Aging Cream, bestsellers include The Body Cream and The Private Cream.
In 2019, Musely had fewer than 10,000 patients. This year, it crossed 600,000 patients. Jia says the company's revenues have doubled from last year, and it strives to continue to double annual revenues. He estimates that over 50% of Musely's customers arrive at it organically. The company casts a wide advertising net across several major platforms such as television, Facebook, Instagram, Google and TikTok, and has an extensive influencer program. It prides itself on using the results of real patients to court customers skeptical of skincare due to slathering on product after product with little to show for it.
"We are probably one of the most efficient in terms of marketing and return on marketing spend in our industry. If you look at Hims, Hers or Roman, even Curology, they burn a lot of money to get the same amount of revenue, where we have maintained pretty much breakeven in the last couple years, and in total, we only burned a few million dollars," says Jia. "We raised about $42 million. We have most of that, more than 50% of that money still in cash with no debt."
While Musely's competitors Curology, Roman, Hims and Hers have headed to retail, Jia conveys that he's not interested in Musely going down that path. "If you look at Hims and Hers' financial report, even with their early entry and their pretty prominent location at Target with an endcap, the revenue is very, very small, and the margin contribution is even smaller. It's pure marketing," he says, emphasizing, "Our business model is very different. The unit economics are very different. We decide to focus on what we're really good at, which is efficacious compounds of medication."
Jia underscores Musely's main job is to convince Americans—there remains tens of millions that haven't tried prescription skincare and haircare remedies—that it can be trusted to deliver prescriptions that perform better than the average drugstore jar of cream. Its rebranding and the removal of bright pink is part of the effort to command trust. Jia says, "That pink, I don't know whether that's trustworthy or not, it's flashy, but it maybe doesn't represent the trust that we want."