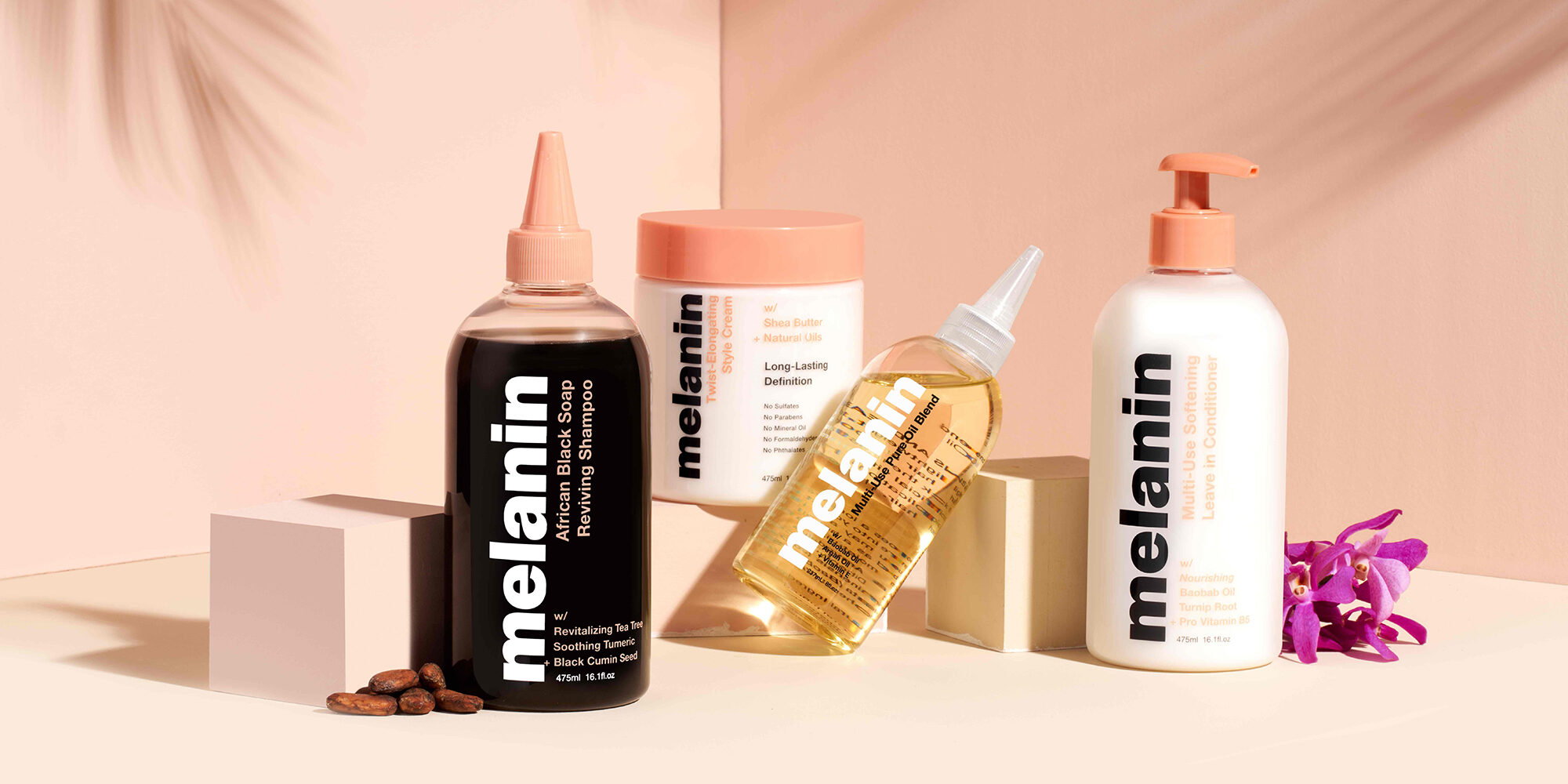 How Natural Hair Influencer Whitney White Built A Brand That Quickly Sold Out At Ulta Beauty
In 2015, when Business Insider heralded Whitney White as Michelle Phan of the natural hair movement, the influencer hadn't followed in Phan's footsteps to sell products. Three years later, she launched Melanin Haircare, a brand she runs with her sister Taffeta based on haircare recipes she whipped up to care for her 4A and 4B hair. Last year, the brand rolled out to Ulta Beauty stores nationwide and, within its first month at the retailer, its sales exceeded annual expectations by 5X. Today, White, whose YouTube channel Naptural85 has 1.21 million subscribers, balances social media, motherhood and Melanin Haircare—and she's quick to acknowledge multitasking isn't always easy. Although TikTok has blown up in the beauty space, she's held off on it to do it on her own terms in a way that fits with her schedule, a tactic she's adhering to more to preserve her sanity. "It's definitely a gen Z platform. I'm a millennial, so I'm not even trying to get in that space and embarrass myself yet. However, I'm figuring it out in a way that is authentic to me," says the 35 year old. "I'm a business owner and have two kids, and being on all the social media sites is a full-time job, so I haven't been in a rush." Beauty Independent talked to White about the birth of her YouTube career and brand, Melanin Haircare's affordable luxury positioning, her long-term vision for it, and why she's (mostly) OK with her gray hair.
What led you to becoming a content creator?
I went to school for graphic design. I worked hard and a professor recommended me for an internship at a local company that's a big sports brand. I started out as a contractor because, since the economy had crashed at that time in 2008, they weren't hiring, but I enjoyed being a contractor, and I didn't want to be an employee. That was my first taste of entrepreneurship. My mom had been working at a company that laid her off, so I liked that I was able to do my own thing.
I always loved doing my hair, and I went natural or stopped using chemicals on my hair in college. My hair was growing out when I started my job and graphic design was more boring than I thought it would be. It was more exciting to do things for yourself than for companies. As I was learning about my natural texture, I was researching, and I couldn't find a lot of information about my specific hair texture, just a few videos. YouTube wasn't that big back then. So, thought, "I can make videos. When I figure something out about my hair type, I will share it with other women like me."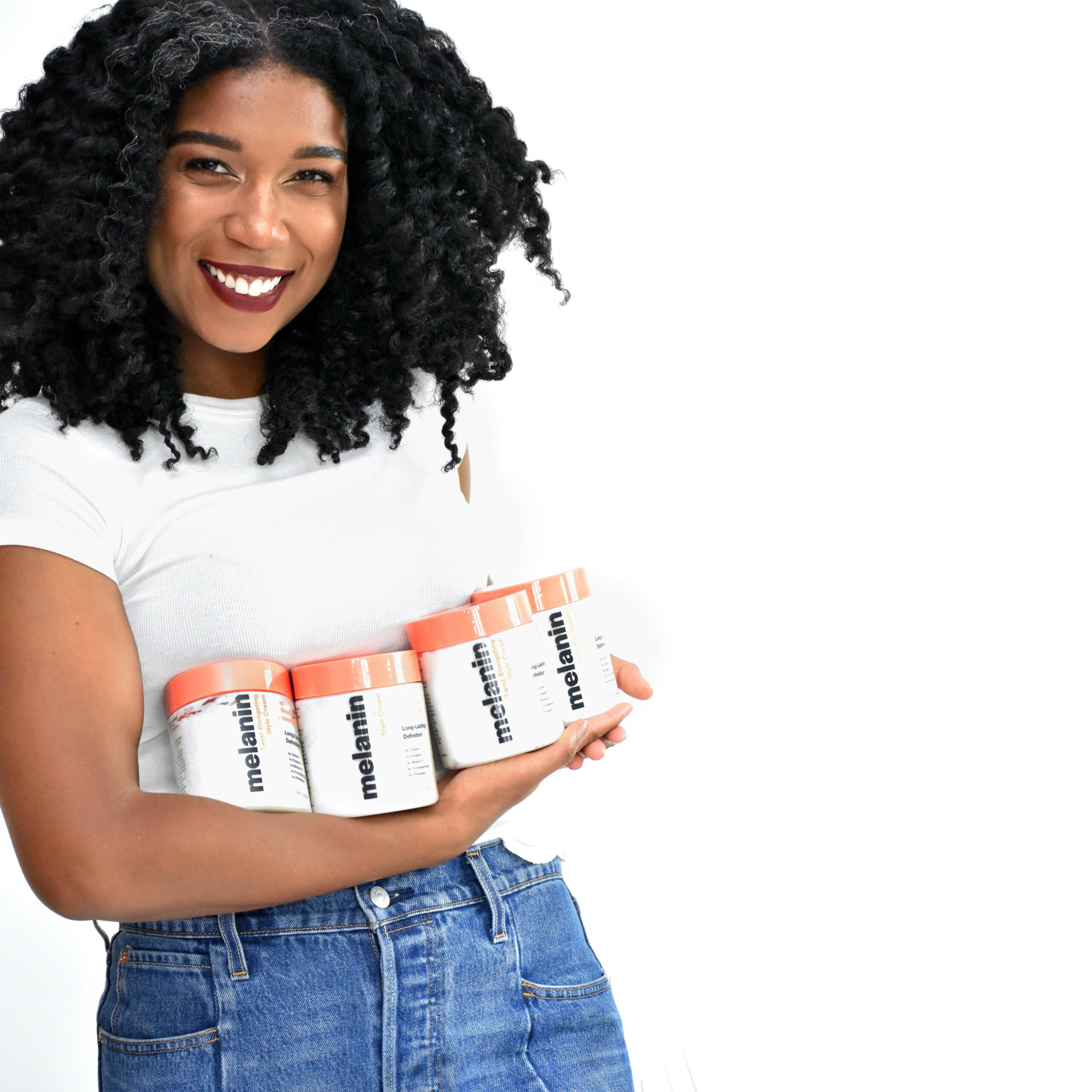 When did your YouTube channel start really taking off?
It was around 2011/12, and I decided to move out of the state for an opportunity or what I thought was an opportunity. I ended up waiting tables. At that time, YouTube had just started to invite more people to their partner program. I applied, made a little bit of money from that and started taking it more seriously. Then, in 2014, I started noticing my channel really taking off, and my personal brand started becoming more well-known. My videos were more stylized than most in the space, and I was uploading very frequently every single week.
I loved doing DIY. That was my thing. I truly love haircare, and I was having fun. At that time, I made it a point to respond to every single comment I ever received. It was a lot of work, but, if you ever commented on my channels, you were going to get a response back. I am still super focused on my community, but I have two kids. I had to stop responding to every comment around the time my first daughter was born, but that was a hard decision. I thought, "I have to give attention to my daughter or my audience. I can't do both," but it was always really helpful to know what my community wanted from me.
When did the idea of the product line pop up?
It was pretty early on in 2012, but I wasn't thinking about it seriously. I was getting requests because a lot of people wanted the buy the DIY products from me. I really had no interest in that because my biggest motivation was sharing DIYs because the products available were so expensive. I had just graduated and couldn't afford the products. I was really showing women that you don't need to pay a lot of money to have beneficial products. So, when people were asking me to sell them products, I really fought it. That wasn't what I was trying to do. I don't want to make money off of you.
I kept on getting more and more inquiries. Once I realized that women weren't making the products correctly—they couldn't get the look or feel that I was getting—or they didn't have time to make them, then I was like, "OK, I can actually sell products to help them." Once I started looking at it as providing a service, I thought, "How could I do it in a way that would benefit not only me, but them?"
What did Melanin Haircare launch with and why?
We figured out our name and incorporated in 2015, and we launched for sale on e-commerce in 2018. Our first products were the Twist-Elongating Style Cream and the Multi-Use Pure Oil Blend. Our community asked especially for those. We were really doing what they wanted from us. Pretty much everything we have launched is based off of my DIYs.
A styling product provides the best indication that a hair product is quality. Cleansing products are super important, obviously, but styling products are the last step in setting your hair. We decided to launch with styling so that people could get the feeling of the quality of the products. Also, we were going by which products we had finished first. We were working with manufacturers to perfect my DIYs, but that takes a long time. We don't purchase readymade formulations.
What's the price range?
One of our taglines is, "Affordable luxury, simple natural haircare." All of the DIY products were things you could make at home. They were simple and easy. In order to come to terms with selling them, I wanted to make sure that it wasn't just going to be a company that made my pockets rich. If I was going to sell a product, I wanted the community to get something out of it. The products are extremely high quality and, if you look at the key ingredients like hops extract, turnip root, vitamin E and aloe vera, they are all natural and safe. In the EWG database, the ratings of the products are all extremely low.
We also supply them in large sizes. For example, a leave-in conditioner would usually be supplied in an 8-oz. size, and we do 16 ounces. Everything is bigger because we don't want customers to run out. Even for the larger sizes, they are priced affordably. The prices are between $16.99 and $19.89.
What's been your distribution strategy?
We launched online mainly because that is where our target market is. We are selling to the natural community, and they are online, so e-commerce made sense. We knew, after we launched online, we would want to start getting into retail, but we weren't concerned about when that happen. Everything we do is very organic. Because our community is online, we didn't have to rush to retail. That was really nice, but we did end up launching in all Ulta stores nationwide and online.
We were contacted by one of the Ulta buyers, and we were in talks with a few other retailers. We were really lucky that the brand was popular online, so we had retailers coming to us, and we were able to choose which one to start with. Ulta was really a great first choice for us. They have a great program for companies that haven't been in the retail landscape before. They are really patient. Also, we love Ulta stores. We love shopping there, so it was a great fit. We also got along with the buyers really well. So, we went along with our gut feeling.
Did you really launch Melanin Haircare in all Ulta Beauty stores at once?
Yes, we launched in them all at once. Luckily, we had been selling for a year, so we weren't hurting for funding. Everything was timed really nicely. Also, when you first launch in the store, the quantities are pretty conservative. So, even though we were at all doors, we were able to make it work. There was a 10-week period during the holidays where we were sold out in all stores and online. That was during COVID, so the distribution channels were really backed up. It was a tough moment, but we survived those 10 weeks.
Our partners understood and our community understood. We are very transparent with the community. We literally let them know about every little thing. For example, there was a moment where we couldn't secure our signature peach pumps for our leave-in conditioner because all of the pumps were going toward sanitizer. So, we had to go with plain white pumps because that's what I they were putting on sanitizer. I explained the situation to our community. Our company is very unique in that I have direct access to customers. They know my heart and trust in what I'm trying to bring to them, and they know we were trying our best to get the products out.
What's your approach to YouTube now?
That's an evolving process. I've always been really open with every single thing I'm doing on my journey, whether it's my hair or my life. The main difference now, which I'm kind of sad about, is that I can't share as much when it comes to the business. I'm afraid of letting too much out of the bag before we are able to launch. While I can't share all the nitty-gritty details, I can give overviews. I don't want to eliminate the community from the journey altogether. I'm also not working with as many brands because I have my own hair brand. I have gotten offers, but it just doesn't feel right. Everything else is the same. I still vlog and do hair tutorials.
How does Melanin Haircare deal with influencers?
We do all organic promotions right now. Anybody that we feature on our site, they are a paying customer. We haven't done any influencer deals yet. We like that potential customers can go and see that testimonials are from real customers. That's not to say we won't work with influencers in the future, but we will only work with influencers that truly love the products.
The big thing that I've learned from being an influencer myself is the type of respect that I would give to an influencer that we work with. I've been fortunate to work with a lot of brands, and I'm friends with many of the brand owners to this day. There's always times where you may have a sour relationship and, from those, I've learned how to treat or not to treat an influencer. You can be a nice person and still get business done. You don't have to be a hardened boss to be a CEO. I learned to have grace and be humble. I've had experiences as a creator where I was looked down on, and I would never want anyone else to feel that way.
What's a shift you've made that's been helpful to you and your brand?
Letting go of perfection is a shift that I thought was really helpful. When I do things, I tend to try to do things perfectly all the time. When I launched Melanin Haircare with my sister, I was on social media all the time, then I had to take care of Melanin Haircare. Letting go of feeling like I needed to be on social media all the time was really good for my mental health. You know they say, "Make sure you are consistent on social media," but I was really exhausting myself trying to do that.
In 2019, we hired one employee and, this year, we hired five new employees. So, for the first two to three years, it was three people doing everything. It was just a lot. I really had to let go of having a perfect upload schedule. That was hard for me because I felt I was letting my community down, but I had to make sure that my mental health was there for my kids and my business. Also, I was handling everything down to the details of the bottle and every social media caption, but it's OK not to have every social media caption be perfect. I had to be OK with letting some of that go and a big part of that was hiring to people to do parts of the job I was doing. You have to trust that they are going to do it. Just because it's not how you might do it, it's not that it's wrong.
How do you see the natural haircare segment evolving?
When I first started, it was all about curly hair products making curls defined and popping. It didn't matter what the ingredients were. A big reason why I was into DIY was because I hated all the synthetic chemicals. Online content creators didn't want the silicones and parabens, so we started making our own products. Over time, companies started seeing the trends and paying attention to what influencers were doing. So, they were like, "Oh, the influencers like natural ingredients, so let's do that." So, we are now seeing a change in the natural hair and curly hair market to focus on not just how the hair looks, but what is in the products. It's not about having perfect curls, but having healthy curls. It's about having healthy hair and loving your texture. I think that has a lot to do with the ingredients we share in our videos. For example, rice water. That's now in hair products.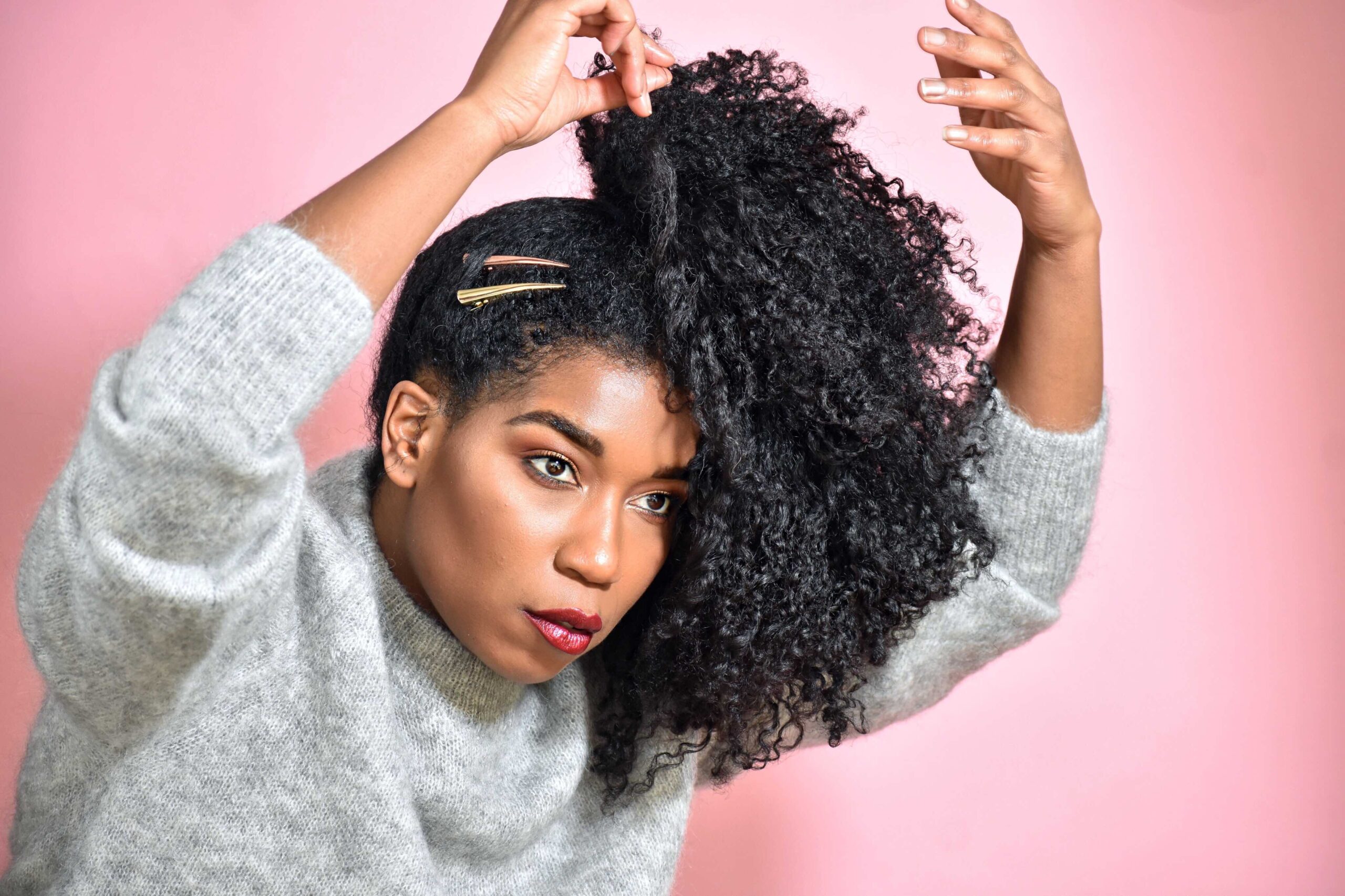 You seem to be embracing gray hair. Did you always embrace it?
When I first started having it, I didn't mind it. I was like, "OK, I have gray hair. That's cool." As it was coming out more, I was becoming a little bit more disturbed by it. I did a video where I dyed it. Then, I noticed I could still see the gray coming through, but it looked orange. It was not a good look. So, I decided that, at that point, I really didn't want to get caught in the whole hair-dying cycle. I'm just going to embrace my gray hair, and let it do its thing. For now, I'm trying to accept it, and the community likes it, but I try not to do things just because the community likes it.
There are days when I think it looks good, and there are days when I think it looks absolutely horrible. We all go through days where we don't like our hair and other days where we think it's awesome. I am trying to age gracefully and, for now, I'm OK with it. Social media is where young kids thrive, so I don't want to look older than I am. Unfortunately, entertainment is harder on women than it is on men as far as aging goes. So, I have days where I feel bad because I feel I'm old, but it's a daily process.
What's the long-term vision for Melanin Haircare?
I love the idea of a family-owned brand. I would like for the brand to be in my family long after I'm gone. I am trying to build something for the kids, and I would love Melanin Haircare to be a brand that the community is really proud of. I don't want the brand to be put in a box. There are so many possibilities for what it can be. We want to continue to build out the haircare as well as the lifestyle aspect of the brand. We want to protect our legacy for our family and for the community as well, so it feels authentic. I feel Melanin Haircare is a brand that's a positive for the community. They can buy natural products at affordable prices and, therefore, it provides a value to them. I want to retain that value for the community and not become something that is solely for profit.