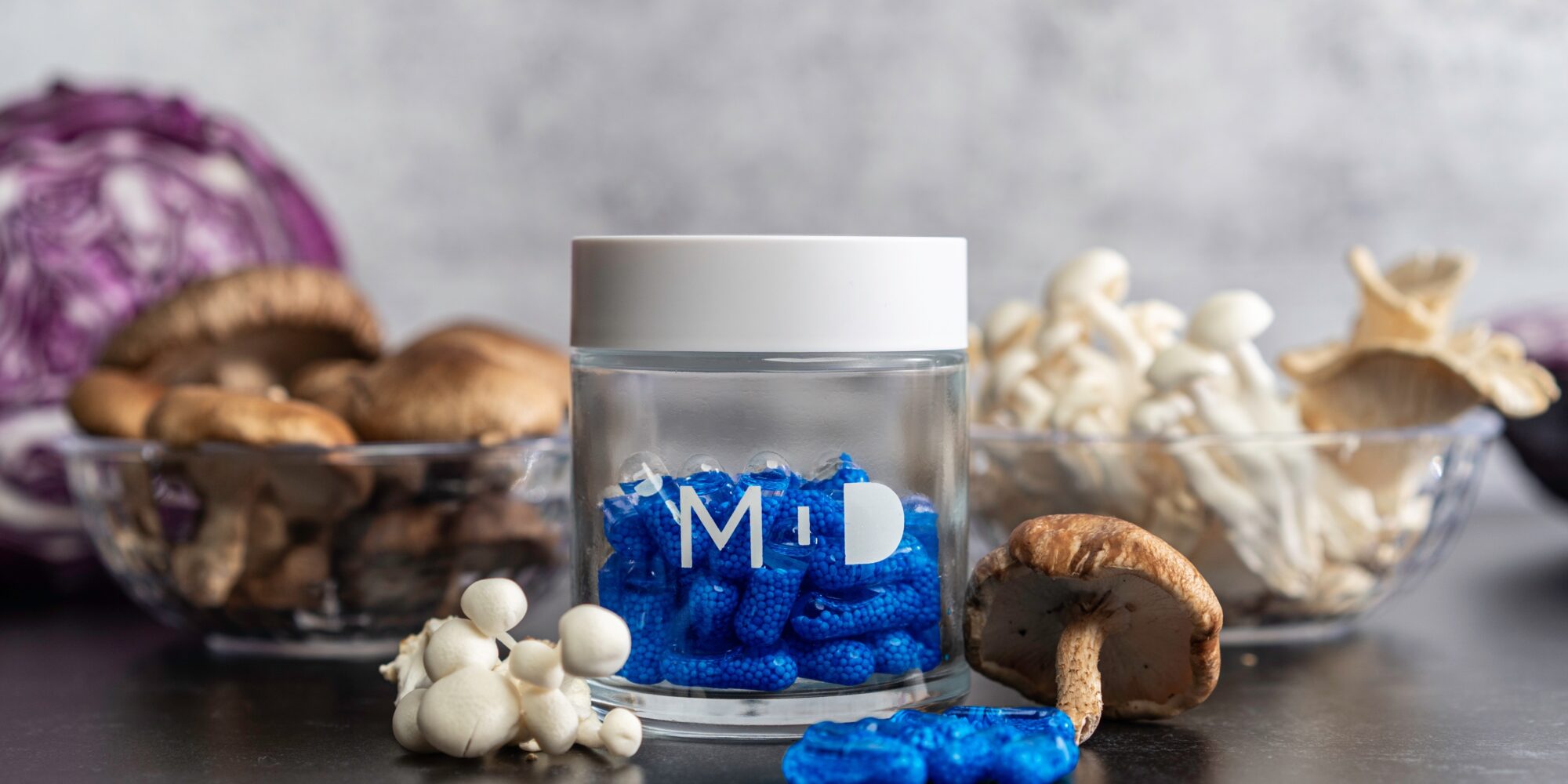 A New Crop Of Wellness Startups Is Joining The Mushroom Rush
In recent years, mushrooms have gone from side dish to nutritional supplement staple. Now, a new crop of startups is seizing on the myriad of mycelium opportunities that abound across the wellness space.
Interest in functional fungi has exploded as consumers have become more aware of the manifold purported health benefits of ingesting mushrooms like reishi, lion's mane, chaga, and cordyceps. According to data analytics platform Trendalytics' report Top 100 Trends of 2021, search volume for the mushroom varieties tremella and snow mushroom has jumped 187% and 57%, respectively. Trendalytics predicts the upward trajectory will continue for both terms through this year.
The global pandemic has been a significant driver in the mush rush. Among mushrooms' benefits are their immunity-boosting properties, and COVID-19 has increased demand for mushrooms in consumers looking for ways to fortify themselves against the virus. In its report, Trendalytics points out searches for "immunity supplement" are also up 88% year-over-year. Wellness data firm SPINS' findings correspond with Trendalytics' findings. For the 52 weeks ended Oct. 4 last year, sales of functional mushroom ingredients surged 49.9%. Simultaneously, mushroom supplement sales spiked 63.5%.
Adding fuel to the fire is consumer adoption of microdosing the mushroom-derived psychedelic psilocybin. The practice, subject of Ayelet Waldman's book "A Really Good Day," has become increasingly popular with people looking to self-treat conditions such as depression, anxiety, PTSD and ADHD.
The movement gained momentum as two separate psilocybin therapy programs were granted breakthrough therapy designation by the United States Food and Drug Administration to address depression in 2018 and 2019. In the research organization Global Drugs Survey's examination of 110,000 people in 2020, 16% had used psilocybin in the last 12 months, compared to 14.8% in 2019 and 9.2% in 2018. Of the 16%, about 10% took a micro dose to self-treat "psychiatric conditions or emotional distress."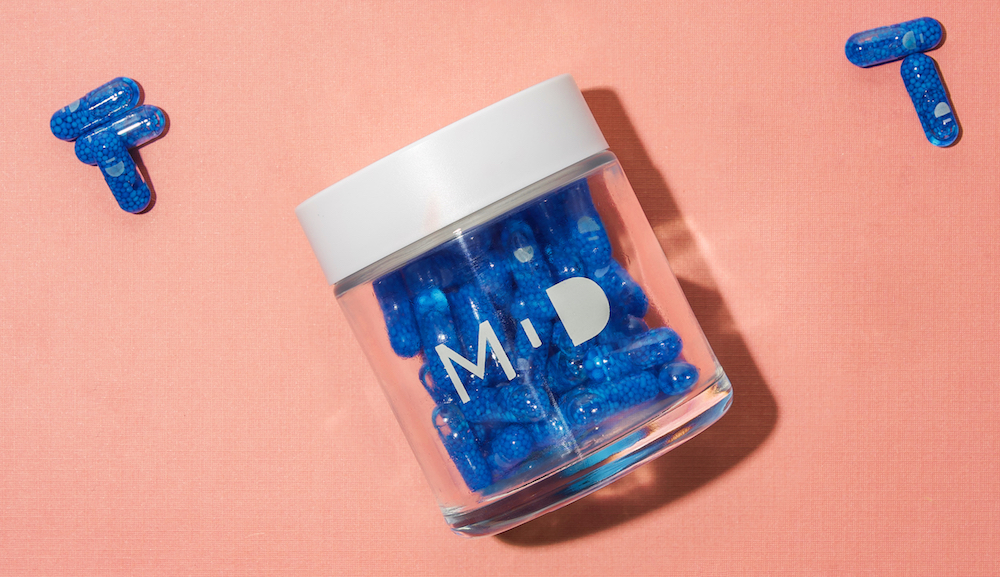 Microdosing is the practice of taking a sub-perceptual dose of a psychoactive substance, usually around 10% of a normal dose. For psilocybin, that's about .1 to .4 grams. The individual doesn't experience the hallucinatory effects that happen when the substance is taken at a larger dose. Most microdosers typically take psilocybin several days a week following one of several microdosing protocols.
Last December, the San Francisco Psychedelic Society teamed up with Flow State Micro to offer a six-week online instructional course called The Microdosing Movement. Over 4,000 people from around the world took part in the program, showing global interest in what is increasingly being considered by many as another part of their overall wellness routine.
Adam Bramlage, formerly an entrepreneur in the cannabis space, started Flow State Micro as a microdosing coaching practice two years ago. Two months ago, Flow State began selling functional mushroom blends on its e-commerce site. Bramlage will have a psilocybin microdosing product ready for sale once psilocybin is legal.
The combination of COVID-19 concerns, potential emotional and physical benefits and the intensifying fascination with microdosing have been integral in fueling a startup surge in the mushroom space. This year, several companies have entered the wellness market with functional products while simultaneously developing psychedelic mushroom offerings. They're hoping to be well-positioned when therapeutic and recreational use of psilocybin becomes decriminalized more widely. Classified as a Schedule 1 drug in the U.S., the use, sale and possession of psilocybin is illegal under federal law. However, cities have been decriminalizing it and, in November last year, Oregon became the first state to decriminalize psilocybin. 
Mushrooms—functional, medicinal and magical—are, of course, not novel to humans. Indigenous cultures across the world have been incorporating them for centuries into healing rituals. Traditional Chinese medicine practitioners have recorded the use of mushrooms since the 29th century BC. Compendium of Materia Medica, a foundational text of TCM published in 1578, describes around 2,000 medicinal substances, 20 of which are mushrooms.
Modern research proving the benefits of mushrooms has been lacking, but the science seems to be catching up. Last year, Host Defense MyCommunity, a 17-mushroom blend supplement formulated to provide immune support was found in a peer reviewed study to "support regeneration of cellular tissue in the body." Host Defense is a supplement range from Fungi Perfecti. The founder and chief science officer of Fungi Perfecti, Paul Stamets, is a leading innovator in the field of mycology, the study of fungi. 
Part of the 'shroom boom, Mushroom Design soft launched in October 2020 with one product, MULTImmunity, a multivitamin infused with nine mushrooms paired with the vitamins B1, B2, B5, B6, B9, B12, C, D3 and E. "Psychedelics are the future, but what are we doing about mushrooms now?" asks co-founder Ashley Southard. "How can we warm people up to what mushrooms do for the body outside of the pockets of the East and West Coast that know the benefits? Medicinal mushrooms are so beneficial for cognitive support, for cholesterol management, for immune support, everything. We decided to create this brand to bring mushrooms to the more mainstream." 
MULTImmunity contains 325 total milligrams of mushrooms in each daily serving. Southard, a former yoga teacher who founded health and wellness marketing agency Healer Collective, has been ensconced in the wellness world for years and suffered a health scare caused by excessive mushroom intake. She believes people heaping adaptogenic powders into every liquid they drink are putting themselves at risk and sees sharing this information as addressing a missing aspect of current functional mushroom education.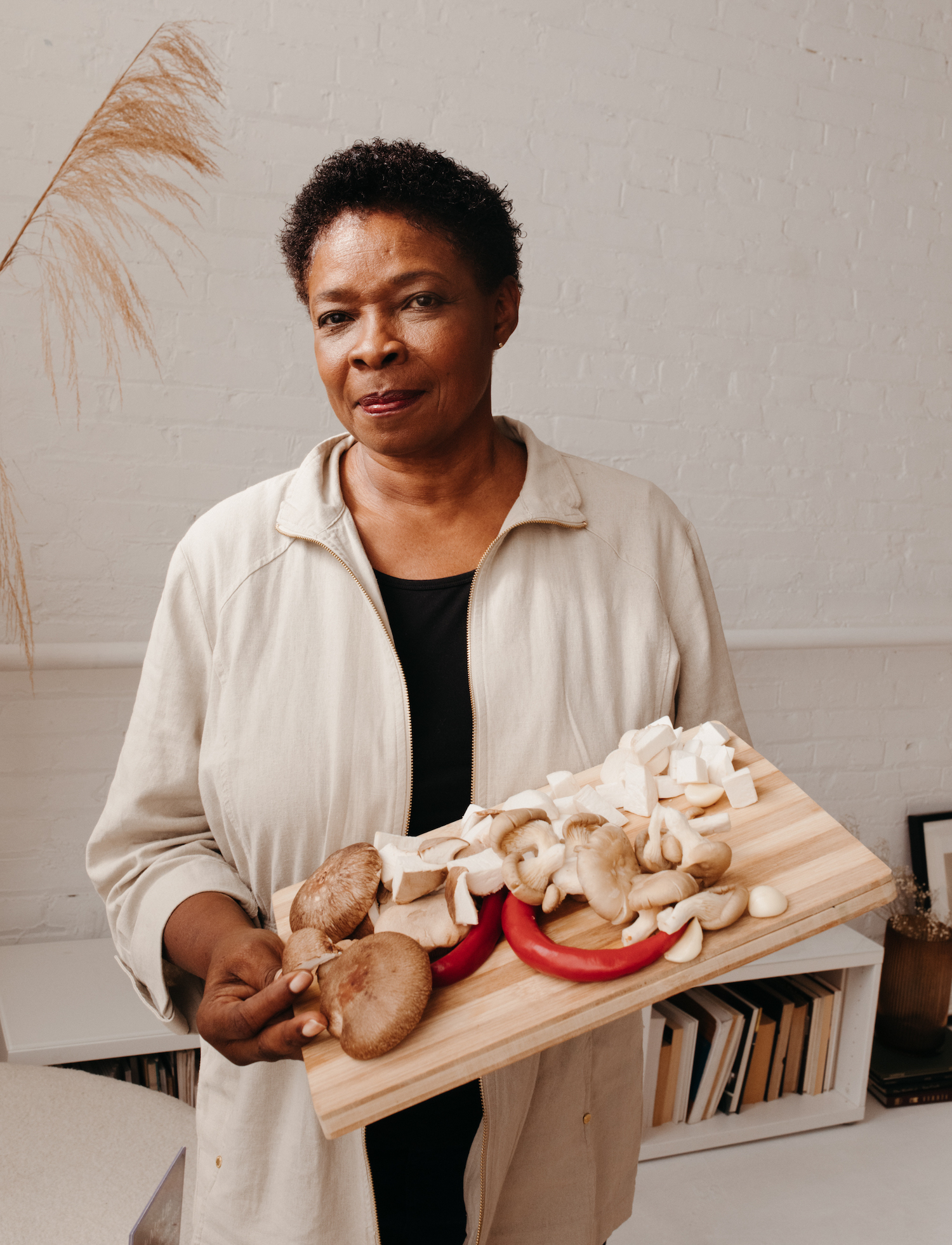 "I had my annual blood exam, and everything was normal except this one marker," she recalls. "They were like, 'This is so weird. This has to be an error.' They redid the blood, and it came back again." Southard went to a hematologist to get an in-depth analysis. "He goes, 'This doesn't make sense. You're really healthy. This is rare. What are you taking?' I tell him, 'I take my B vitamins because I'm vegan and my mushrooms.'" The hematologist told her to stop taking the the mushrooms and come back in two weeks for another test. When she did, her results were normal. "Too much of anything is a bad thing," she says, adding, "I would say if you're taking more than 400 to 500 milligrams of mushrooms a day of any kind to pull back."
The aesthetics of many mushroom-based wellness brands—Moodbeli and Apothékary, for example—are heavy on muted earth tones, gentle greens and browns. In contrast, Mushroom Design features bold royal blue branding. Even the capsules are filled with blue microspheres that house the product's the active nutrients. They serve a purpose, too, as they're designed for maximum absorption and bioavailability. The blue, while bright, is a natural pigment derived from cabbage. "We need to expand the market and the way to do it is to meet people where they are with an exciting brand," says Southard, noting that many psychedelic mushrooms turn blue when picked them, so Mushroom Design's bold hue is an homage to that process. 
The brand is keen on opportunities in the nascent psychedelic shroom segment. "We have our whole R&D scientific team in the background working on that," she says. "This brand was created with the wellness benefits and the mental health benefits of all mushrooms in mind."
True to its mushrooms-for-the-masses strategy, MULTImmunity is sold on Amazon, though its price of $59.99 for a one-month supply places it on the premium end of the supplement market. Mushroom Design's main distribution strategy is direct-to-consumer. On the brand's website, customers can sign up for a monthly subscription that shaves $10 off the price.
Wake, another new mushroom specialist, is currently sold in the U.S. and entering Canada next month. Similar to Mushroom Design, Wake is "dedicated to democratizing wellness," declares Nichole Creary, the brand's VP of marketing. "In our corporate social responsibility work as well as our diversity, equity and inclusion work, we are really focused on inviting folks to the table who have traditionally felt like wellness, as far as an industry, wasn't being made readily available to them." 
Wake has launched with five products. Four are single-mushroom supplements of lion's mane for brain health support, cordyceps for energy and breath support, reishi for mood support and turkey tail for immunity support. Wake's one blend, Comprehensive Health, combines lion's mane, turkey tail and cordyceps. Comprehensive Health is priced at $75 for a month's supply. The rest of the products are $45. Creary predicts the single-mushroom supplements will be bestsellers. Additional launches are planned for the spring.
Further down the line, Wake's assortment will include psilocybin products. The company grows psilocybin as well as other medicinal mushrooms in Jamaica under the care of Terri-Pauline Smith, CEO of Wake Jamaica, and her group of female mycologists and farmers. Creary says Wake will focus on its functional mushroom products first, but will also "encourage people to continue to pair our functional use products with their macro or microdosing, depending on which avenue of that they're undertaking."
That mushroom pairing is referred to as "stacking," the practice of taking psilocybin together with other mushrooms like lion's mane to enhance the effects of the psilocybin. "We definitely believe in microdosing as a brand and as a company," says Creary.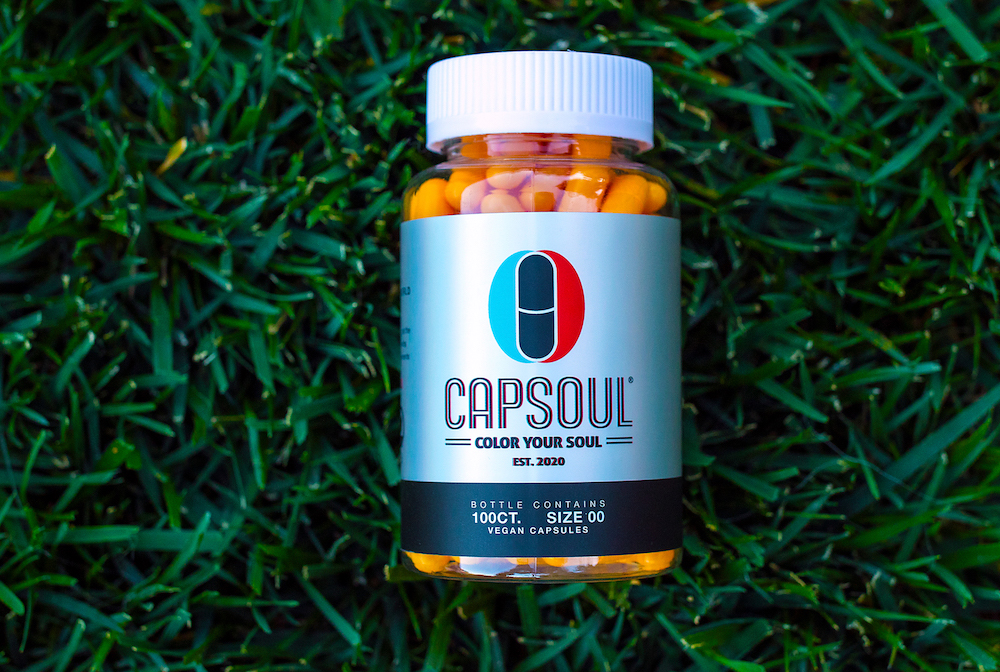 Though they grow the magic kind, Wake's first year focus will be educating consumers about the uses of non-psychoactive mushrooms. "A lot of times, when you talk about mushrooms, the automatic assumption is very hippy-dippy oriented, with a level of miscommunication or misunderstanding around mushrooms," says Creary. "So, at launch, for us it's very important to level set with our consumer base so they understand that functional use does not have psychoactive properties." Smith is bullish on consumers' adoption of all types of mushrooms. She says, "There is such a strong movement towards plant based medicine and food as medicine that it's very easy to explain things. Also, mushrooms are so delicious." Smith expects off-the-shelf microdosing products to be broadly available in North America over the next year or so.
On the topic of legalization, Southard is a bit more bearish, but does see distribution of psilocybin products down the road. "There's so many factors, political, legal, but I do believe within five years psilocybin will be able to be purchased in a similar way to marijuana, at dispensaries with age requirements and limitations, nationwide," she predicts. "Certain states like Florida, California, I think two to three years. In Canada, it's going to be probably two years with a caveat that it really depends on how this is done responsibly, if we take what we've learned from the cannabis industry."
Another young company betting on the imminent legalization of psilocybin is CapSoul, the latest venture from Olivia Alexander, founder of cannabis brand Kush Queen. A number of cannabis entrepreneurs—in addition to Bramlage and Alexander, Field Trip founder Ronan Levy and Aurora Cannabis co-founder Terry Booth are two others—have migrated to psychedelics, looking for the next plant wellness white space. For Alexander, the shift was personal. 
"I've been pretty burnt out with cannabis," says Alexander. "I've been in this so long that it's changed. The company keeps growing and I'm still loving it, but there was a period where I was so burned out. Everything in the space is now the same." Last year, Alexander started experimenting with microdosing and was amazed at the profoundly positive results. "My creativity's back," she enthuses. "I'm more of my authentic self. I saw a massive improvement…Then, because I have my business, I do what I do. I'm just driven to make products."
CapSoul has a selection of five technicolor empty vegan capsules. The empty capsules can be filled by consumers with powdered mushroom blends, including psilocybin stacked with functional mushrooms. "The idea is that we're going to start to help people along their journey of building their wellness experience," says Alexander. "Then, we're going to get into functional mushrooms, turmeric, really high-quality powders and wellness supplements that are great for building your own custom capsules. We have a kit that is for growing your own mushrooms at home. We're building a lifestyle brand that is psychedelic without selling anything that's illegal yet."
Alexander, an old hat at building robust social media communities, has been connecting with people on TikTok. She's been outspoken about her microdosing journey and her openness has attracted a community of over 102,000. The seasoned cannabis entrepreneur says it's easier to talk about microdosing than it is CBD on TikTok. "Cannabis is really blocked in TikTok and the algorithm is super aggressive in its suppression," she says. "On Instagram, I used to be able to post content and, then, eventually it would catch up with you. Not on TikTok. It's taken down immediately. If you show cannabis, if you show CBD, if you say anything. I was just messing around over there because I couldn't get anything Kush Queen related to really stick. It was kind of an accident. Now, I have this whole audience who wants to talk about psychedelics with me."
She adds that authenticity and relatability, a common refrain heard about what works with Gen Z, has been key for her success on TikTok, Z's favorite network. "People are discovering me as a real human and not as a CEO, not as a person who owns the company, just the real Olivia. At this point, we're building a community of people who are curious about psychedelics and who are here for the mental health conversation."
She's confident the community will spar sales for CapSoul as she's seen an increase in Kush Queen revenue as a result of her TikTok activity. "I've found that people are more inclined to buy things that they see you using," says Alexander. "There's a certain culture of, 'stuff you've seen on TikTok.' It's a very interesting subset of consumers." On top of functional mushroom and adaptogenic powders, future launches for CapSoul will include LSD microdosing gummies.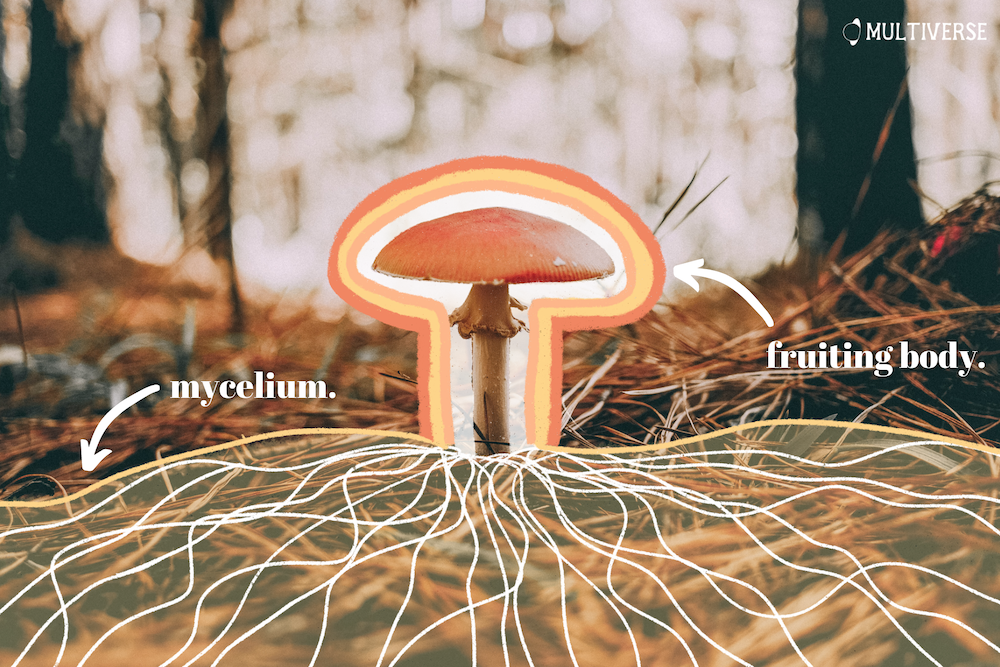 No big wellness movement is complete without the emergence of dedicated marketplaces. The CBD craze was punctuated by the launches of cannabinoid-centered retailers like Fleur Marche, Poplar and Miss Grass. The mushroom rush has e-tailer The Multiverse. Launched earlier this year, the online shop features a curated selection of high-quality functional mushroom products and educational content on the powers of fungi. "We're also building our own in-house mushroom-based CPG brand, SuperMush," shares The Multiverse co-founder, Tracy Komlos. "Our first product will launch this summer."
Prior to The Multiverse, Komlos was founder of Pangea Dreams, a retreat for women entrepreneurs. Business ground to a halt when COVID-19 hit, and Komlos pivoted to mushrooms. Komlos and Alli Schaper, her co-founder at The Multiverse who previously co-founded wellness product subscription service Live Zigii, are close to finalizing a $1.5 million pre-seed round that will go toward developing SuperMush and expanding The Multiverse's third-party merchandise assortment. Currently, The Multiverse carries about 30 different brands, with products spanning beauty, wellness and lifestyle categories that includes Tamin Teas, Moonshine supplements and Black Magic soaps.
"We want to position ourselves to be the Thrive Market of the entire mushroom space," says Schaper. "It's small, but we want to make sure that it's very high quality at all times. We're going to be partnering with dog food companies that have mushrooms. We're going to move into clothing, accessories, beauty, skincare, the entire ecosystem of everything that mushrooms can touch. One of the things that people are really excited about is mushrooms in different things."
Will The Multiverse get into the psychedelic space in the future? Komlos and Schaper are watching legal developments closely, taking a wait-and-see approach. "Everyone is very excited about the potential future legalization, so everything we're doing will be based on the political climate and the legalization," Komlos says. "As we can make functional mushrooms more sexy and accessible and cool, we'll keep tabs on what's happening in the second space as well. In the future, we'd love to eventually move into that space."
KEY TAKEAWAYS
The COVID-19 pandemic has been a factor in sparking consumers' interests in mushrooms. Mushrooms have purported immunity-boosting benefits.
Consumer spending on mushroom supplements has increased 63.5% during the pandemic.
After two separate psilocybin therapy programs were allowed by the U.S. Food and Drug Administration, people have been treating conditions ranging from PTSD to ADHD with microdoses of the mushroom-derived psychedelic psilocybin.
Several companies have launched in recent months offering high quality ingestible functional mushroom products while also developing psychedelic products to be ready when psilocybin is decriminalized in the U.S.
One expert believes psilocybin microdosing products could be publicly available for purchase in the next year. Another thinks it will take five years for psilocybin to be sold in dispensaries, similar to cannabis products.
Among the new spate of startups are the brands Flow State Micro, Mushroom Design, CapSoul and Wake, and e-tailer The Multiverse.