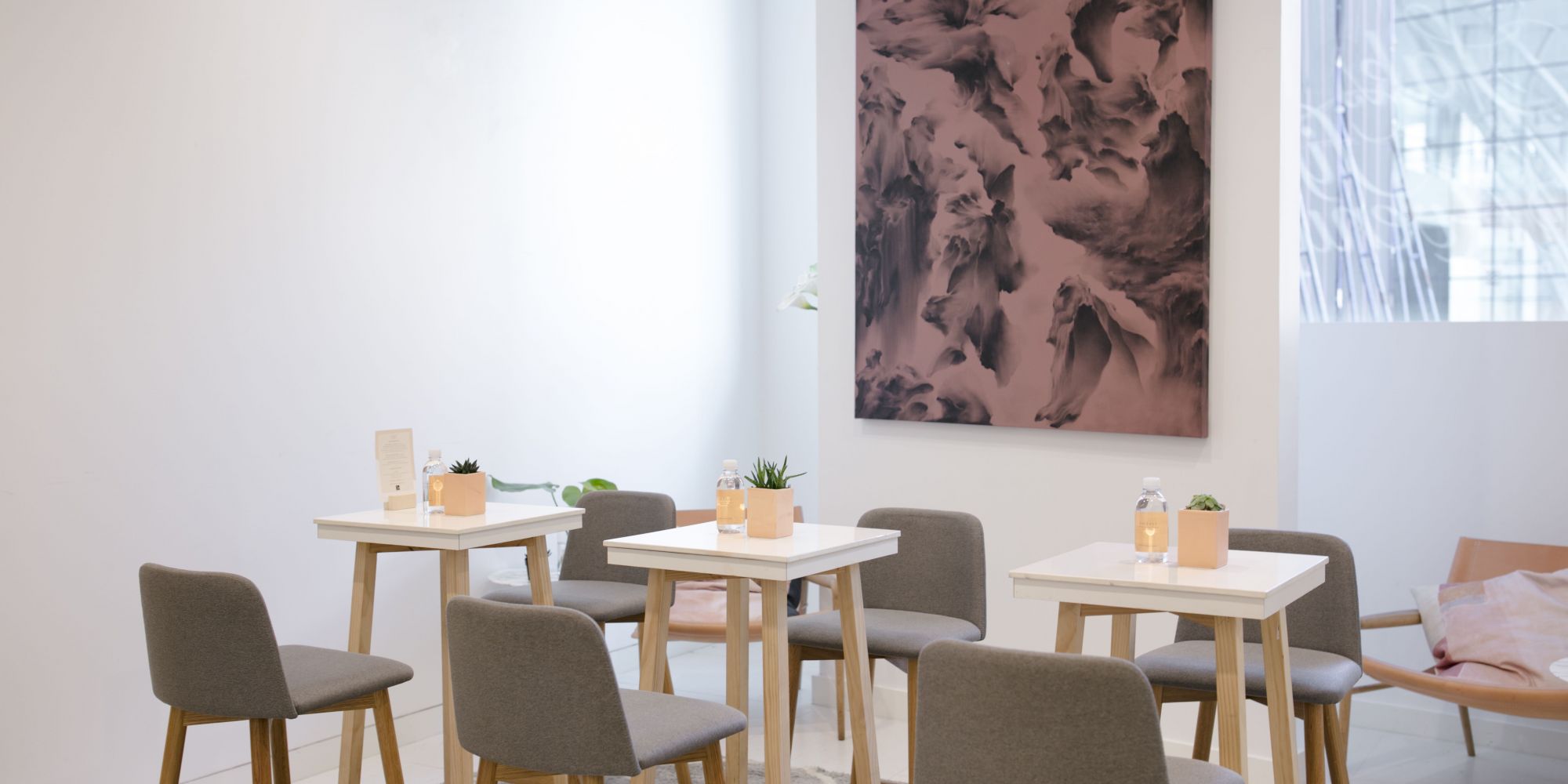 The New Nail Salon Is A Zen Refuge For The Frazzled Working Woman And Mom
Like a blowout or bikini wax, a professional manicure is a combination of routine maintenance and brief respite from the daily grind, a small form of pampering disguised as primping. But a new class of salons is changing the way women keep up their nails, starting with the places where they get them done.
The nail salon ascending today is healthier, less crowded and all-around better looking. It's a wellness oasis and sanctuary from the frenetic world surrounding it. The reimagined nail place is rising as the nail salon segment has engaged in a bit of soul-searching following stagnant sales and a damaging exposé by The New York Times three years ago on the working conditions endured by nail technicians.
Beauty Independent talked to several nail industry experts to find out what it means to get polished in our modern age and where they think the nail salon is headed. Read on to discover more about the new movement in nail care.
Healthy Havens
As consumers become aware of the potential dangers of toxic chemicals in polishes and salons, there's been a shift toward creating safer salon environments and polishes with better-for-you formulas.
Sundays, a boutique nail studio in New York City's NoMad neighborhood, sprang from CEO Amy Ling Lin's concern over the toxicity of ingredients she discovered in the products she stocked in earlier salons. "I used to just take everything that was delivered to me — buying lotions in big buckets. I just assumed if everyone was using it then it should be fine," she says. "Once I started researching and realized how toxic they were, I checked everything we used. And I said, 'I don't need six preservatives in one lotion.' So, now, we make our own, a fresh batch every two or three weeks with healthy ingredients."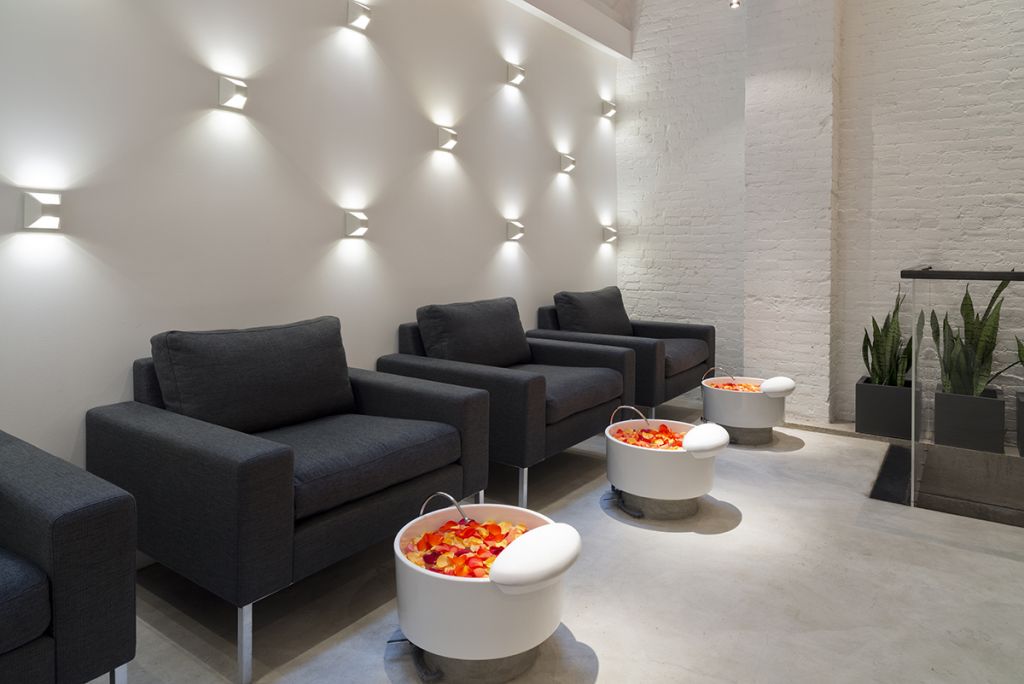 Many high-end salons are militant about the types of products they bring through their doors. Jeanne Chavez, president and co-founder of Smith & Cult, a purveyor of cool-kid polishes featuring an eight-free formula, says, "Consumers now are extremely conscious of what is in polish and the salons are accommodating in return." Jin Soon Choi, founder of Jin Soon Hand & Foot Spa and JINSoon, a 10-free line of nail polishes, explains, "Safer nail polishes that do not use harsh chemicals are good for the client and the technicians."
Healthy practices don't stop with the products used. They encompass locations where services are happening. Notes Choi, "New [New York] laws are being implemented requiring ventilation to the point of filing and application of nail polish."
Beauty editor-founded and -approved nail art studio Paintbox is a ventilated wonder. It has an HVAC system designed by a NASA engineer. "People come into our space and they say, 'Oh, I don't smell nail polish,' and that's the HVAC system," says CEO Jane Hong. However, she asserts that the real danger to staff and clientele is the removal process, detailing, "With hard gels and acrylics, the powders and dusts that come up during removal are the toxins that are being breathed in." In addition to its sci-fi HVAC, Paintbox has a strict policy of only working on natural nails and soft gels to diminish exposure to removal-generated dust in its salon.
Eco Warriors
In the brave new nail world, clean extends beyond the salon environment to the earth. Eco-friendly owners are undertaking initiatives that do right by Mother Nature. Olive & June, a buzzy Beverly Hills nail salon, has adopted a so-called waterless manicure that skips the soaking step of a traditional service. Founder Sarah Gibson Tuttle praises it as both environmentally- and nail-savvy. She says, "Soaking your nails, which is done to soften the cuticles prior to cuticle care, contributes to faster chipping of your polish."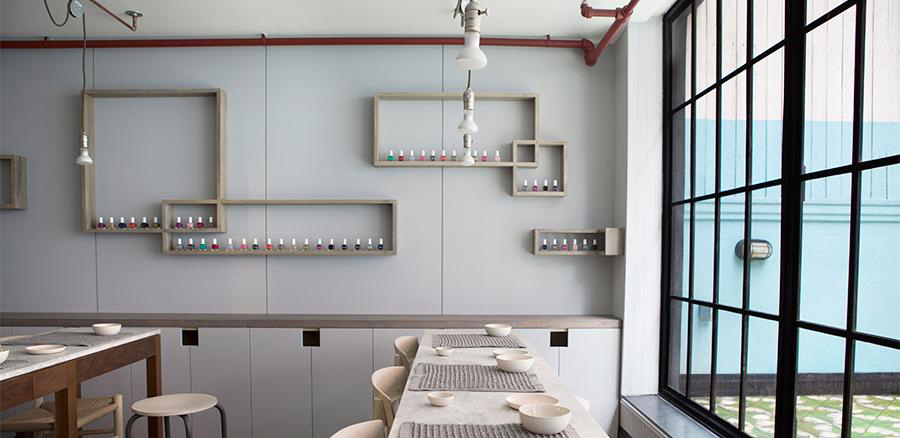 After manicures are done, Tenoverten considers the lifecycle of the products used to complete them. It's implemented a program to recycle old polishes. Nadine Abramcyk, co-founder of the New York staple, says, "Since they are HAZMAT [hazardous materials], they can be hugely contaminating to our water." Tenoverten accepts empty polish bottles from clients at any of their six New York locations, ensuring that bottles can be disposed of properly no matter where they come from.
Solace In Space
The typical corner nail joint is the beauty equivalent of a New York subway car. They're filled with people, and less-than-pleasant smells and chatter. Not exactly the sort of place a customer wants to linger, which is perhaps why women have long accepted the "get 'em in, get 'em out" nail service model.
Thanks to salons like Namaste Nail Sanctuary in Studio City, Calif., a manicure no longer feels like semi-civilized chaos. "We're about quality over quantity," says co-founder Mecca Elliot. "We don't want to be a factory nail salon that has 25 to 30 chairs, and everyone [rushing] in and out, and you feel like you're being rushed because the next person is coming in."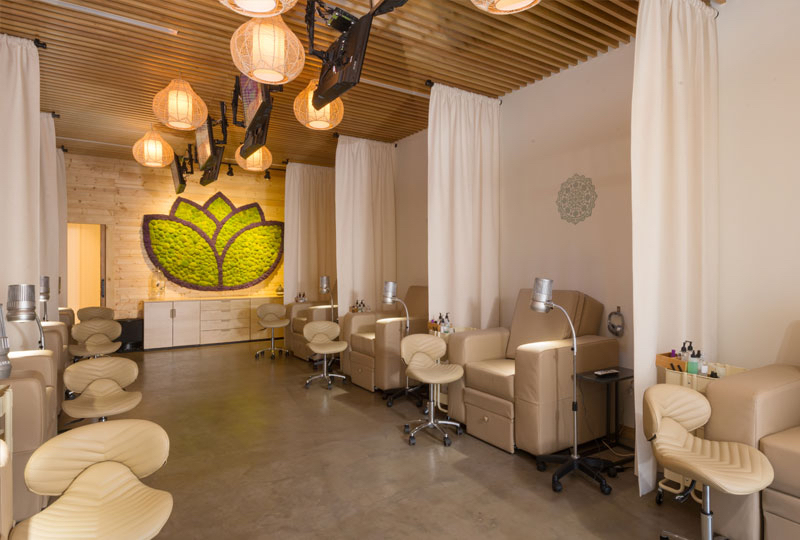 Elliot, her co-founder husband Michael, and vice president of training and franchise support Lia Smith capped the number of chairs in Namaste's roomy salon at eight. "We felt that was really important to think about not packing every single solitary square inch of your space with body," says Smith. "If you have 25 chairs in a 1,000-square-foot space, you have women practically shoulder to shoulder. If I'm right on top of the woman next to me, how can I be relaxed?"
Smith shares that Namaste's chairs are spaced exactly 41 inches apart, and each chair contains privacy drapes that can encircle it for customers yearning for me-time. She elaborates, "If you look to your right or left, you can't see the person next to you. Our guests feel a little bit more like it's just their space."
Zen Vibes
As mindfulness and spirituality become prevalent in commerce, is it any wonder they've crept into the nail sector?
Sundays and Namaste offer guided meditations with manicure services. Ling Lin comments many women come to nail salons as an escape from their responsibilities and re-center themselves. "I used to try to engage clients in conversation, and some of them would tell me that they didn't want to talk because they wanted time to themselves just not thinking about anything," she says. "The repetitive motion of painting was therapeutic in a way, and they just wanted to focus on that."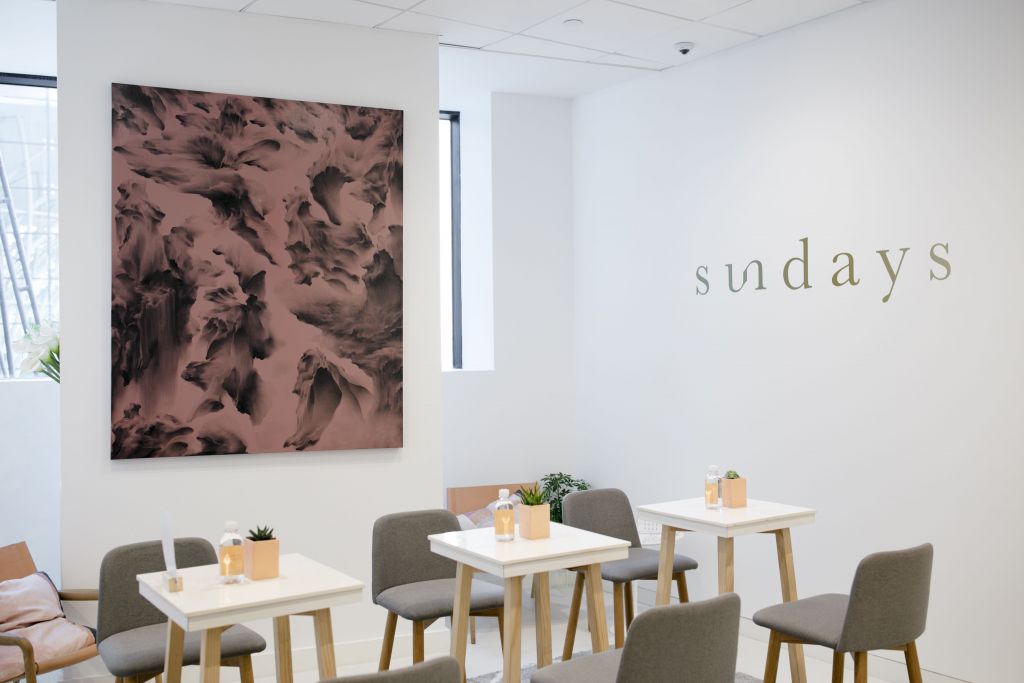 Customers requesting Sundays' Guided Meditation + Manicure service option are handed a headset that plays soothing meditation mantras and music before they're given a full manicure and essential oil hand massage. "The client can be in their own zone and not be affected by the people next to them," says Ling Lin.
At Namaste, Elliot, a meditation instructor as well as nail salon entrepreneur, took it further by providing each customer with Dream Master, light therapy glasses paired with headphones programmed with a soothing sounds playlist from wellness guru Deepak Chopra. "We allow them to just have that experience and, for those who are using a device to meditate for the first time, they come out of it like I don't know what it was, but something happened [to me]," she says. "There's a knowing inside all of us that we need something like this to reconnect and find internal peace."
Polish brands are getting in on the mindfulness mania. Last year, Nails Inc. launched Mindful Manicures, shimmery nail colors and a topcoat infused with crystals the brand touted as spiritual energizers, cleansers and healers. "As we continue to seek the means to pursue a mindful existence in a frantic world, many have found crystals, with their own bioelectrical fields or vibrations, have the ability to affect our mood," claims Nails. Inc founder Thea Green. "Even if you're a non-believer, this is a beautiful on trend nail polish collection with a feel-good message."
Care Over Flair
While it might seem counterintuitive, nail salon industry experts say manicures and pedicures are often not the main reason clients frequent nail salons. "We have quite a few of clients, especially moms, coming in just for a relaxing moment and, sometimes, they don't even paint their nails," says Ling Lin. "We also have a growing amount of male clients who come in and don't apply nail polish. They are coming in just to find time for themselves."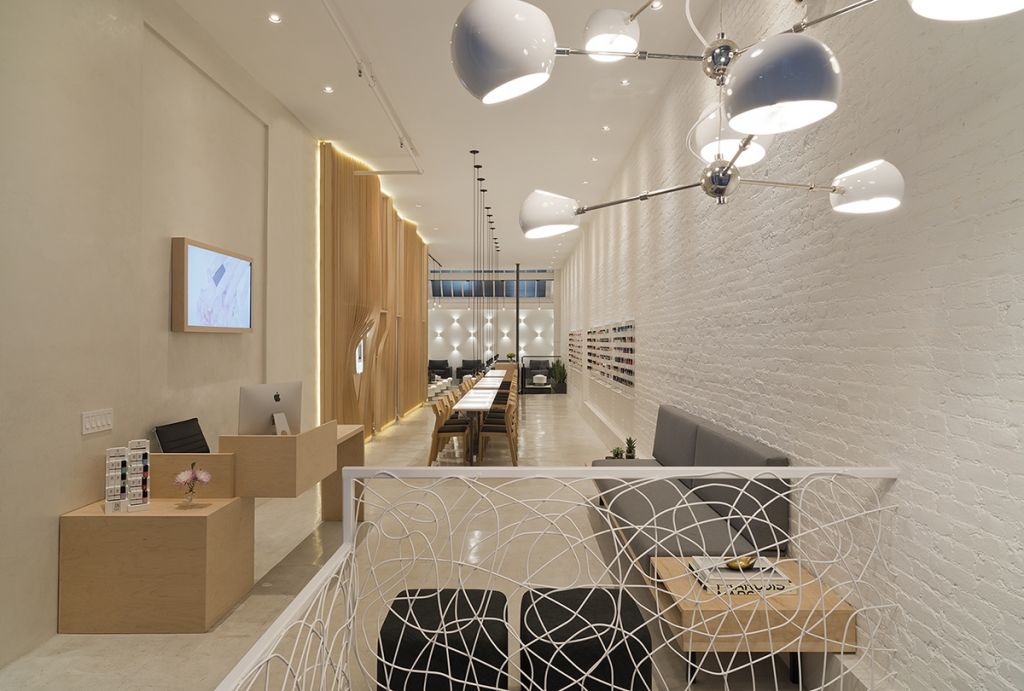 Nail care and self-care go hand-in-hand, pun intended. Nail care is a surging element of the nail salon service portfolio as customers seek to rectify derelict nails. "We definitely see a growing interest in overall nail health," says Abramcyk. "People want to make sure they aren't damaging their natural nails by overusing gels and the like. They are coming into Tenoverten for rehabilitation."
Ling Lin mentions she charges the same price for manicures without polish as she does for those with, figuring clients are paying for time with a technician to obtain the service of their choice. Other salons have upped their game in the care portion of a nail services to give clients targeted care treatments and charge extra for them.
Choi's menu boasts specialized treatments incorporating rose petals, milk and honey. Namaste has introduced what's dubbed "experiential treatments," including the Fire & Ice Finish, which it describes as an "elegant, enhanced hydration treatment that begins with a melted candle moisturizer applied to knees, elbows, arms, and hands, followed by an invigorating herbal ice massage." It's likely Fire & Ice-style services will multiply as the demand for healthy, wellness-focused nail care picks up steam.
The latest nail services and salons are largely isolated to urban areas and premium destinations that command a pretty penny for services. That's not to say they aren't broadly translatable. It's merely a matter of getting salons across the country on board. "This industry is a huge industry," says Ling Lin, "and we just tried to start this trend of being a nail salon that focuses on health and wellness. Hopefully, more and more people can start doing something similar and, together, we can change the industry."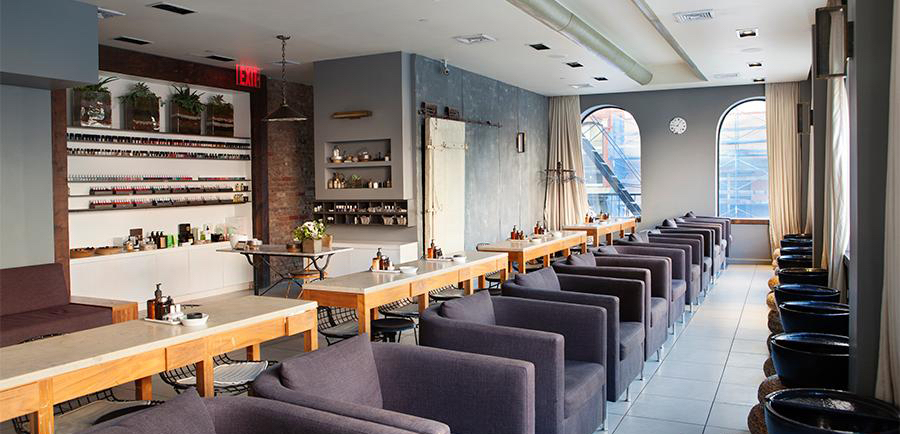 Takeaways
Concern for client and employee health has led salon owners to upgrade everything from the polishes used for manicures to ventilation systems.
More consumers look to nail salon services as wellness respites rather than merely primping occasions.
Nail salons and polish brands have rolled out treatments and products that include guided meditation and healing crystals.
A desire for strong, natural, healthy nails has drawn many consumers to nail salons for nail care-focused treatments, with many opting to skip polish altogether.